Photos by Sarah Mosteller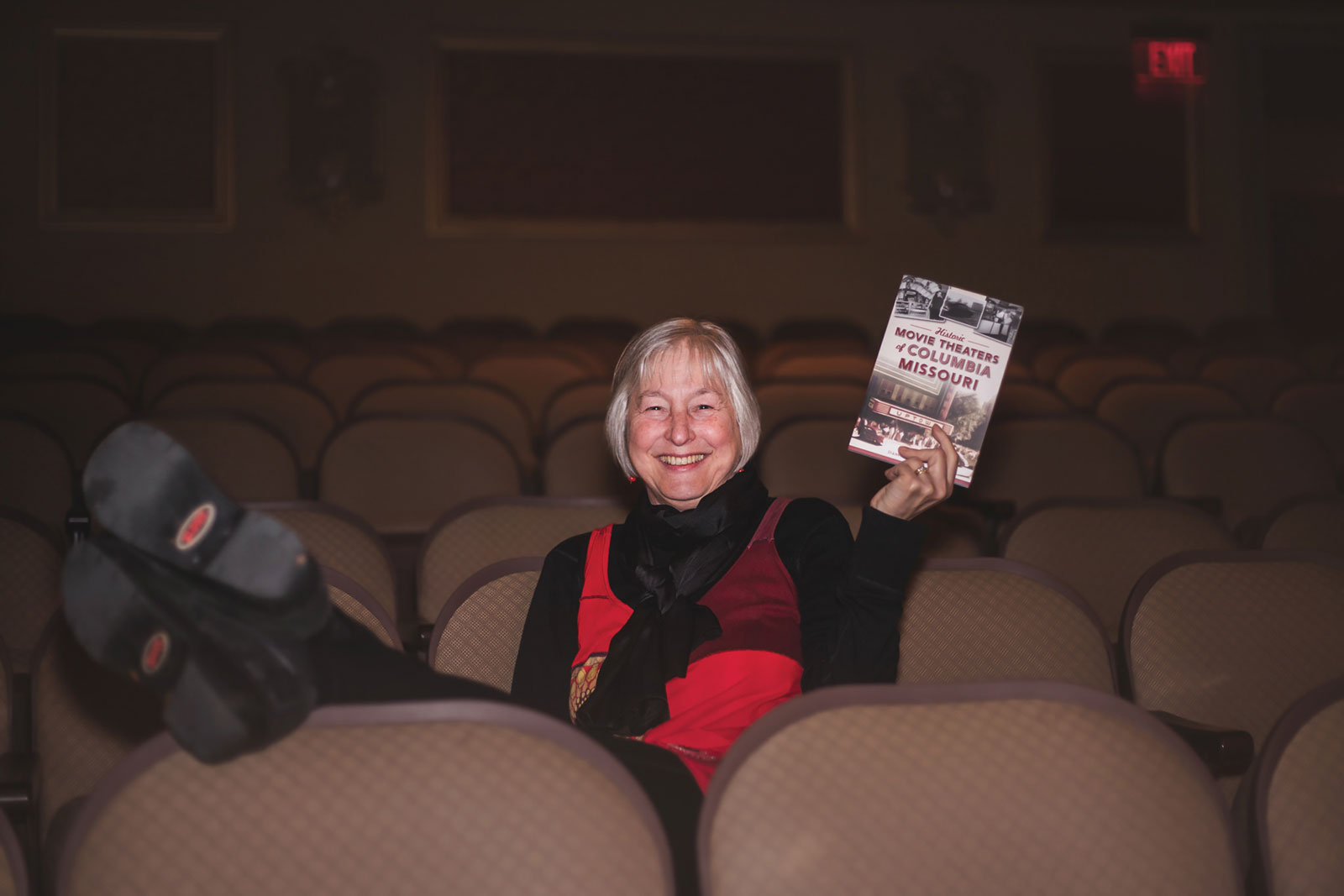 Dianna Borsi O'Brien's book is a labor of love devoted to local theaters.
Dianna Borsi O'Brien describes herself as a "hyper-local girl."
Originally from Ohio, she's a Mizzou graduate and a former adjunct journalism professor at MU, and she's passionate about preserving our town's history.
"I love Columbia," she says.
That's why she's made it her mission to advocate for historical buildings in our community. Her book, "Historic Movie Theaters of Columbia, Missouri," details the rich past behind 28 theaters in our area.
"Everyone has a story to tell about going to the movie theater, whether it's where they had their first date, their first kiss, their first job, or simply enjoyed family outings," Dianna writes in the first chapter. "Movie theaters are a part of everyone's lives. Even if you can stream a movie, there's something special about going to a movie theater and sharing that experience that gives us a sense of belonging and community."
The first movie audiences ever experienced in Columbia was at Haden Opera House in 1897, Dianna writes on her blog, CoMoHistoricPlaces.com. "The first movie wasn't much and was simply noted in the newspaper as a moving picture exhibit," she writes. "Movies back then were novelties and were often only a minute or two with no plot or storyline. Just as movies and movie theaters grew up, so did Columbia."
"The city and the country have undergone tremendous changes in the economy, technology, race relations, class, gender roles, and sexual mores," Dianna writes.
Each theater she profiles speaks to a different historical moment, and she finds value in all of those moments. And she hopes to preserve those moments, by preserving our buildings. "SOS," she says. "Save our Stuff."
Dianna organized the book so that each chapter is devoted to a specific theater, in order of its inception, and each chapter provides an in-depth look at the past and present of each theater, from The Airdome, to The Hall Theatre, to The Missouri Theatre, and everything in-between.
She got to know the places — and the people who made them such an important part of our landscape — intimately.
"Writing this book," she says, "I felt like I became friends with these guys."
Dianna loves Columbia, and she's formed a new group to help "do things that aren't getting done."
It's called CoMo Preservation, which started meeting in May 2022. The group continues to grow and thrive, and Dianna hopes it will continue on that path.
Their mission statement: "Preserving historic buildings: Enriching today and tomorrow."
"Through advocacy, education and salvage, we will increase awareness of the importance of historic preservation," Dianna says, "and find ways to offer people and institutions alternatives to demolition."
---
Dianna's book can be purchased through CoMoHistoricPlaces.com or via Arcadia Publishing. The CoMo Preservation Facebook group is Comohistoricplaces, and there you can find details about how to join and when and where to attend meetings.