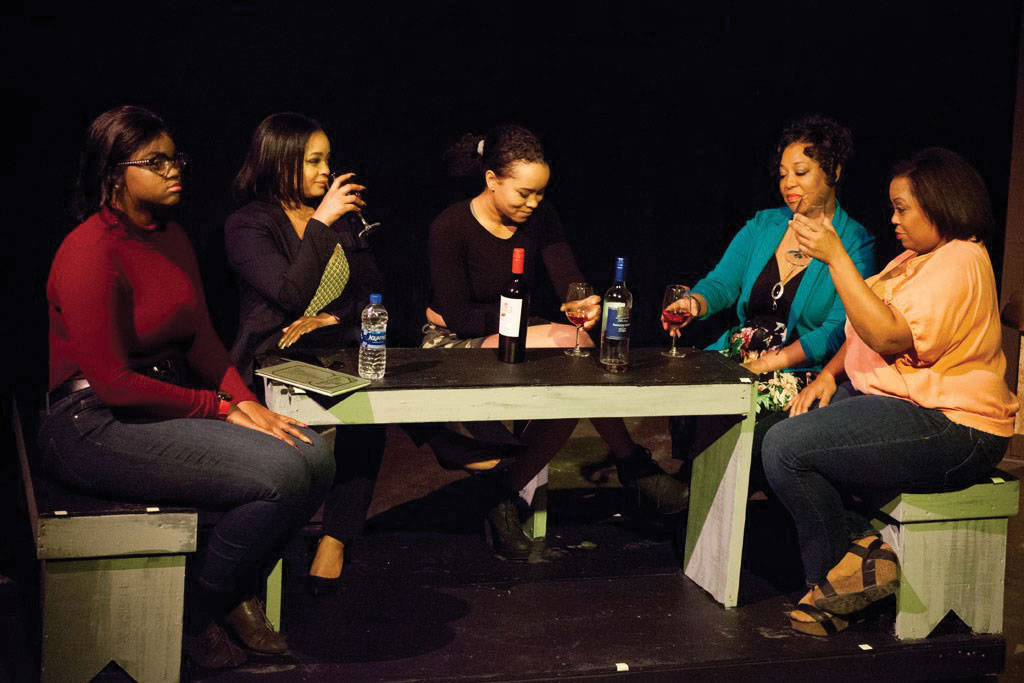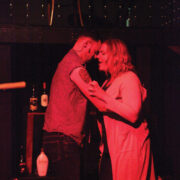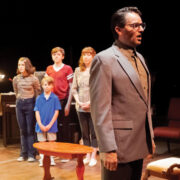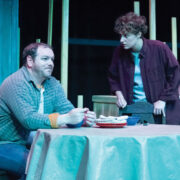 View Gallery
For over a decade, Talking Horse Productions has used community theater to give lesser-known shows their night in the spotlight.
Amongst the unassuming warehouses of COMO's North Village Arts District, you'll find Talking Horse Productions — an intimate community theater where aspiring actors, local playwrights, and smaller works get their chance to shine.
The Vision
In January 2012, Talking Horse Productions founder Ed Hanson, debuted the organization's first show in a small theater at Cafe Berlin. Over the past decade, they've grown into a larger and more permanent space of their own — though their productions still retain the same intimate feeling.
In a theater that seats 70 people, there is not much room for "elaborate costumes, advanced technology, and intricate set designs." Rather than letting the space limit them, Talking Horse uses their compact scale as a chance to highlight productions driven by details. The Talking Horse Productions' mission and vision come from Ed's love for "smaller works, driven by intense characters and rich dialogue."
According to artistic director Rochara Knight, Talking Horse Productions doesn't shy away from productions focusing on social issues.
"We also like to shine a light on some of our own issues that are happening within our society. During this time, whether it be like race, or LGBTQ, or anything like that, we're sort of that theater that doesn't shy away from those topics, because it's an educational point. We need to be able to have conversations about it." Rochara says.
With a small space and a clear vision in mind, Talking Horse Productions gives ample spotlight to their characters.
"That's also what makes it kind of special. You know that going into that show that even if you have a smaller role, you're going to be seen. You're going to be heard. It's going to be important, and people are going to notice you." Rochara says.
Talking Horse Productions has been able to build a strong, local theater community by providing an abundance of opportunities to local aspiring playwrights, directors, actors, and others.
"We are able to give an opportunity to local playwrights who may have never had their scripts produced before they come to Talking Horse," Rochara says. "We want to see that those people get those works produced and get some feedback on things like that. We really help to be an outlet for some of those newer playwrights and directors and actors."
Get Involved
Talking Horse Productions just wrapped on a rock musical titled "Murder Ballad" and is preparing for their last show of the year, "The Thanksgiving Play." The Talking Horse's Starting Gate New Play Festival is also just around the corner. This is an opportunity for playwrights to participate in a workshop over the summer creating and receiving feedback on two, 10-minute plays. After workshopping their productions, the shows are put on at the festival.
Looking ahead to the 2023 season, Talking Horse Productions has plenty in the works.
"We've just announced our 2023 season. Starting in February, we'll have 'Seminar,' in April will be 'I Love You, You're Perfect, Now Change.' In June it's 'Final Arrangements,' August is 'God of Carnage,' October is 'Girlfriend' and December is 'Any Questions?'" Rochara says.
You don't have to be an actor, director, or playwright to get involved. Talking Horse Productions is always looking for volunteers, whether you're interested in technology or working behind the scenes.
---
Don't miss Talking Horse Productions' last show of the year, "The Thanksgiving Play." Tickets can be purchased through their website; talkinghorseproductions.org.