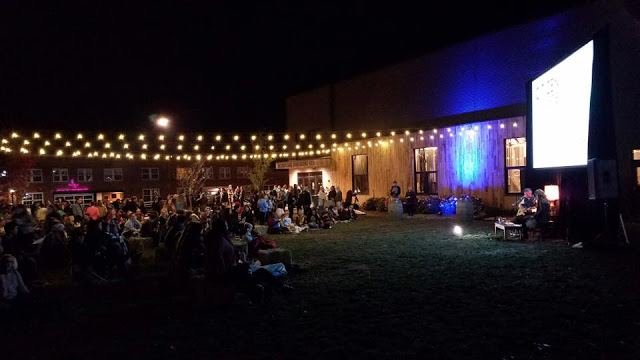 Citizen Jane hosts parties, panels, pitch sessions, and more.
Citizen Jane Film Festival is almost here! Our annual event takes place October 26-29 and marks the 10th edition of this incredible celebration of independent film by independent women. Though film is the foundation of our festival, this year Executive Director Barbie Banks has worked hard to make Citizen Jane a full-on festival experience.
The first day of the fest is the CJ Summit, a symposium that focuses on an issue facing women in film. This year's theme is Intersectionality, addressing the past, present. and future of representation on screen and off screen within the film industry. Friday kicks off with CJ Film School sponsored by local technology gurus/producers Good Wizard, a day of panels and discussions populated with visiting guests on an array of film-related topics. The Film School will be a little different this year, breathing some life-think, game show style talks and lively pitch sessions into the dusty idea of panels.
Following the Film School will be our Opening Night Gala, taking place in a tent under the stars on Stephens College campus. This year Bleu Events/Fresh Ideas will be stepping up to cater our opening night reception, ensuring it will be a grand event as guests raise a glass to the incredible films to follow. After Opening Night festivities, head to Logboat Brewing Company for Under the Moon, a free outdoor screening of short films to get you in the spooky spirit of the crisp autumn CoMO night!
Saturday brings the ever-popular CJ Late Night Dance Party hosted again at the newly renovated Social Room in downtown Columbia, while Sunday morning brings the filmmaker brunch, a lovely affair of cocktails and bites where you can mingle with fellow guests.
After brunch, join us on a guided tour of the current exhibit of the Stephens College Historic Costume Gallery. Stephens owns hundreds of pieces of fashion history, curated and exhibited throughout the year. During the fest, a show starring fashion icon and Stephens alum Joan Crawford will be on display.
Other exciting collaborations include Greenhouse Theatre Project, Talking Horse Story Slam, a volunteer party at Dogmaster Distillery, and more. Keep an eye out on our Facebook page as we roll out our entire slate of films and fetes!
To get in the spirit of CJ, be sure to check out our monthly CJ Suggests pick at Ragtag Cinema, this month the documentary film Step. The film follows the members of a high school step team in Baltimore Maryland as real life collides with dreams. "Step" is an expression of the powerful transformation, inspiration, and community that creativity can nurture; truths that we hope everyone can experience at this year's Citizen Jane Film Festival as well.
See you at the movies and the Citizen Jane Film Festival October 26-29!