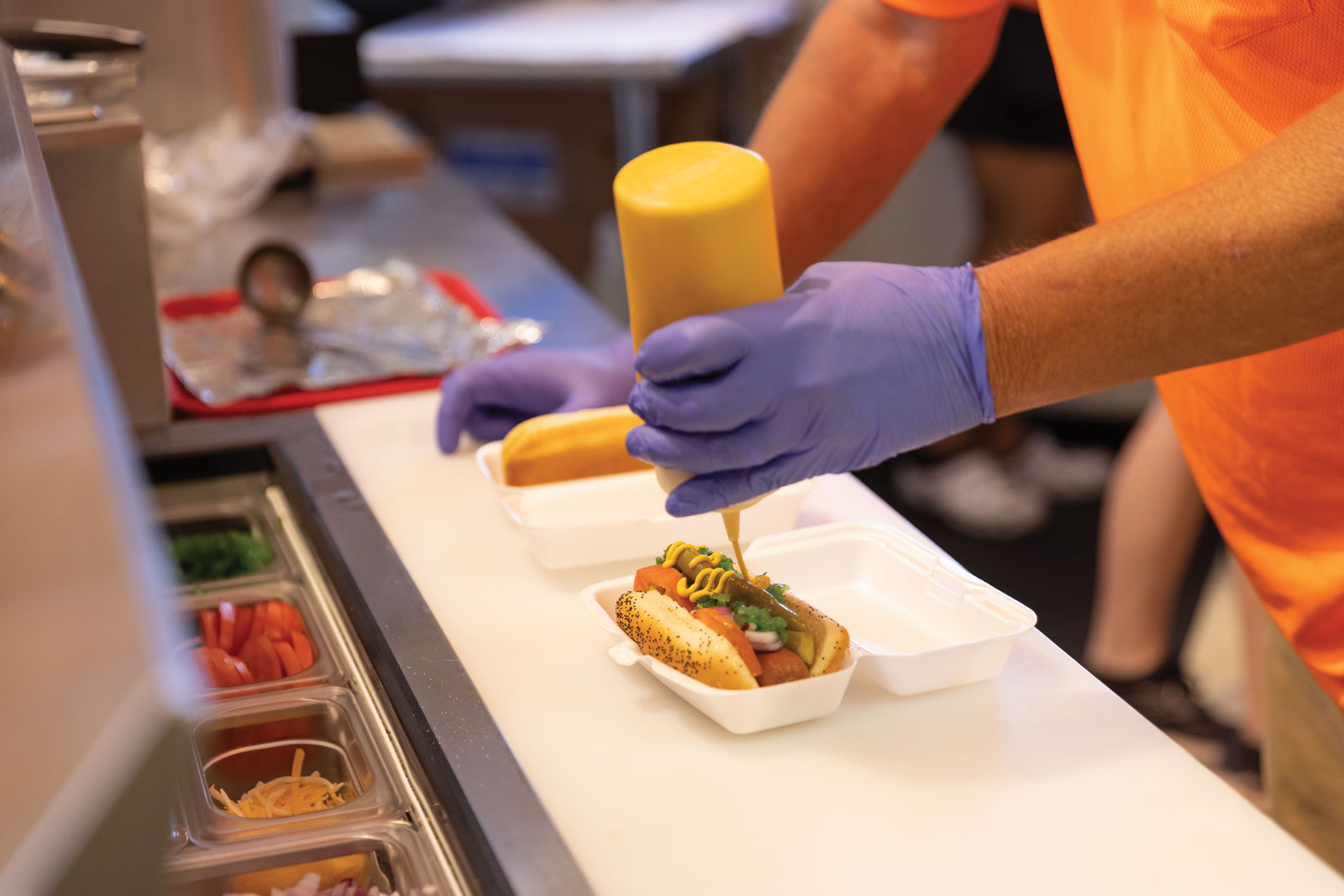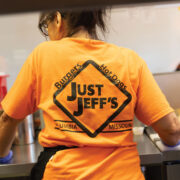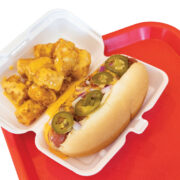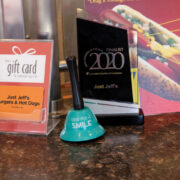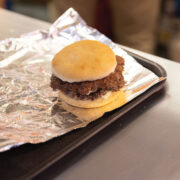 View Gallery
How a series of coincidences led Just Jeff's owners down the path of delicious success.
Although Just Jeff's started as a one-man show — hence the name — Jeff Spencer and his wife, Nicole, now work with an incredible team to keep up with the ever-growing customer demand. 
"I pretty much had a mid-life crisis — I just wasn't happy," laughs Jeff Spencer as he remembers when he started. "I could have gotten a Corvette or a girlfriend, but I settled for a hot dog cart."
In 2013, Jeff left truck driving behind to sell hot dogs from a cart on the MU campus. But not just any hot dogs. Jeff says the first of many "coincidences" that led him to where he is today was the choice to serve Vienna All-Beef, authentic Chicago-style hotdogs, to a student population that, at the time, was approximately 60% Illinois-based. "As soon as I put my Vienna Beef sign out, the line was a mile long every day."
Born and raised in COMO, Jeff has fond memories of cooking from an early age. He recalls spending time at a family-owned livestock auction in Boonville. "Mrs. Harvey, who ran the restaurant, babysat me because I was too little to go in the back. I was 10 years old and stood on a chair and flipped burgers," recalls Jeff.
"I remembered the seasonings that lined the shelf above her head, so when I started making burgers on the side grill of my hotdog cart, I tried to replicate the same combination she used."
Within two years, Jeff's campus hot dog cart success allowed him to open his first permanent location on The Loop. The new restaurant offered a drive-through, walk-up window, and patio seating. Plus, it featured Just Jeff's already famous variety of hotdogs, cheeseburgers and expanded menu options such as chicken tenders, a pork tenderloin sandwich, tater tots, crinkle-cut fries and locally made Backer's Potato Chips.
"During COVID-19, the Business Loop location stayed busy because we were able to continue to serve people; they just had to maintain social distance while they stood in line. We were used to doing a lot of to-go orders prior to the pandemic where other restaurants had to quickly figure it out – it was actually one of the best years we had," says Jeff.
Just Jeff's great success led to the opening of a second in 2019 south COMO location. The new restaurant featured an elevated, open kitchen design that Jeff prides himself on being one of the cleanest in COMO. "Customers can see their food being cooked and think that's pretty cool," says Jeff.
The Green Meadows Just Jeff's is managed by Nicole, Jeff's wife, whom he met on a blind date 13 years ago. According to Jeff, neither of them wanted to go on it, another "coincidence" on the path to success.
"When I met her, she was an elementary school principal in Pilot Grove. Neither of us had ever even worked in a restaurant. Nicole was smart enough to figure it all out and lead me in the right direction. I couldn't do it now without her."
Jeff says they work hard to provide the highest level of customer service at the two locations, which are both open Tuesday-Saturday from 10 a.m. to 3 p.m. "I'm still shocked every morning when I wake up how much business we did the day before."
Jeff still utilizes his two hot dog carts for on-site caterings, including a recent event at Warm Springs Ranch in Boonville where he fed over 750 per day. Over Memorial Day week, Jeff fed the MU football team and hopes to be feeding the Kansas City Chiefs in the near future.
"It's our customers that make our success possible — the people of Columbia really want local and show a huge amount of support. As a startup, if you can be local and be good, they will come to you. Sometimes I think our customers think they are just as successful as I am. They feel like they are a part of our success and excited for it."
Today, Just Jeff's has 17 full-time employees, and some would argue, the best burger in town. The most popular menu item according to Jeff, is the double cheeseburger. "Our burgers are smash burger-style and I use high-quality, 80/20, certified Angus ground chuck." Jeff says most menu items are sprinkled with the homemade seasoning blend of his childhood.
In an effort to help other restaurant startups, Jeff became involved in the Business Loop Community Improvement District. That organization, along with the Regional Economic Development Group Inc. and The City of Columbia, founded COMO Cooks, a shared commercial kitchen available for rent. The project provides food producers in the greater COMO area with an affordable space to scale up their businesses without the high cost of construction or ownership.
Jeff loves being a part of the strong support network of local businesses in Columbia. "The cost of starting a restaurant can be a barrier, and I wanted to find a way to help those folks," says Jeff.
As for the future, Jeff plans to work hard to sustain his two current locations, along with their menus and catering. "With the state of the economy and the increasing price of food and supplies, I am trying to maintain what we have now. We just don't know what is going to happen — you've just got to dig your heels in and hold on to what you have."