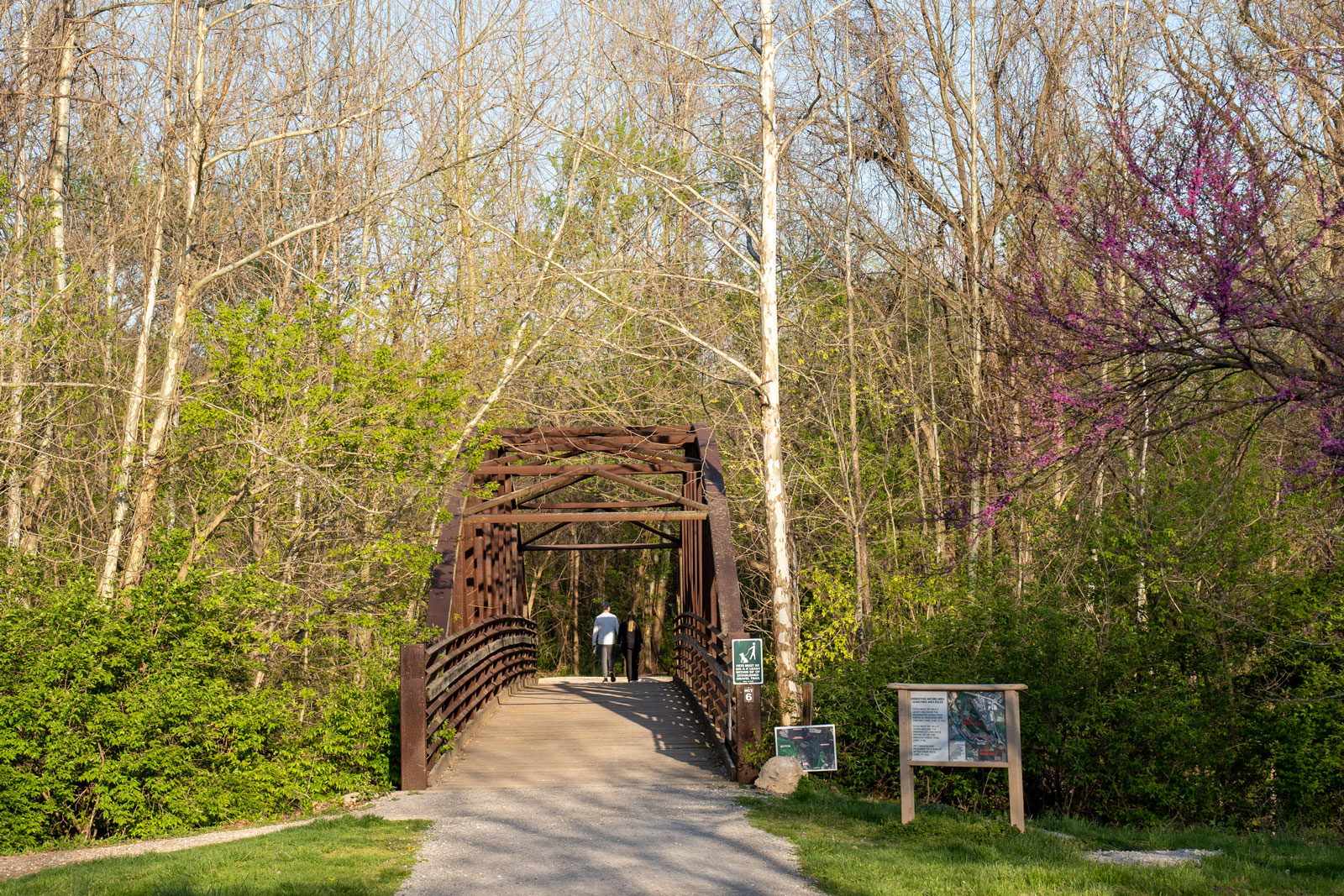 Columbia Offers Easy Access to Hiking and Nature
COMO is a great spot for many things, from healthcare and education to arts and entertainment. As COVID-19 drove more and more people outdoors, the city's abundant natural resources and proximity to hiking trails has become yet another reason to celebrate our town and its natural beauty. 
"People don't think about how great we have it in COMO with all our nature access that is hidden within the city," says Jake Dalton, assistant store manager at Alpine Shop on East Broadway. "There is so much for people to take advantage of."
In addition to selling equipment for outdoor sports and activities such as hiking, Alpine Shop "sells" the outdoor opportunity that COMO offers. The store features an entire shelf of free maps and brochures for visitors who want to learn about the city's parks, running trails, hiking trails, and other outdoor areas. 
"When the pandemic first hit, there were a lot of people coming into our store looking to get into hiking, running, kayaking, anything outdoors," Jake says. "As the weather has been warming up, a lot of people start to come in for running and hiking shoes so they can get outside."
As the air becomes warmer and the sun shines brighter, these expert tips for hitting the trails will help provide you an enjoyable and safe outdoor adventure.
"People don't think about how great we have it in COMO with our nature access that is hidden within the city. There is so much for people to take advantage of." 

– Jake Dalton
Plan Ahead
Before heading off into the woods, take the time to plan your route. Some trails loop around, making it fairly straightforward to get back to your starting location. Others go on for miles and connect with other trails along the way. You'll want to know where you're headed and how far you're going so you have an understanding of the amount of water and snacks you'll need along the way. The Missouri State Parks website has plenty of information about the assortment of trails in COMO and across the state, including maps and detailed information about each trail's distance, surface type, estimated hiking time, available shortcuts, trail type, elevation, GPS location, and conditions.
"Know the trail well, know the area, and know the route you're going to take," Jake says.
And despite the wonders of modern technology, when you're planning a hike, it's good practice to rely on some of the time-tested basics.
"Always bring a paper trail map, just in case," Jake says. "But most of the trails in Columbia have pretty good cell reception. Because we do have so many outdoor areas close to the central part of town, you will most likely have cell reception if you get in a pinch and need to call someone."
It's always a good idea to let someone know where you're going beforehand and how long you plan to be gone. That way, if you get lost, or in the event of an emergency, someone knows you're missing and has an idea of where you were planning to be.
Get the Gear
A water bottle is a must-have for any hike, especially longer ones on warmer days. If you plan to be out for a longer hike, don't forget to toss some trail snacks into a backpack or waist pack.
Footwear is another essential for hiking. Walking shoes, trail running shoes, or hiking boots will all get the job done.
"The biggest difference between a hiking boot and a trail running shoe is how rigid it is," Jake says. "Most hiking boots are a thicker material and will give you a lot of ankle support, and it is a little bulkier than a running shoe. A running shoe is designed to be light, not as waterproof as a hiking boot, but lighter and more breathable."
Whether you wear a mid-ankle or low-ankle hiking boot, your choice will offer a more intense grip on the bottom for navigating challenging terrain. Running and walking shoes vary between brands, so the weight of the shoe and the thickness of the material will differ.
Whatever you choose, "give yourself a nice cushion to treat your body right on a hike, walk, or run," Jake says.
Select the Perfect Spot
From gravel trails to paved trails, boardwalk trails to caves, and rock formations to sinkholes, COMO has plenty of hiking options. Rock Bridge Memorial State Park is one of Jake's go-to spots. Just minutes from Columbia, Rock Bridge boasts a large cave system with rock bridges, sinkholes, a spring, and an underground stream located at the Devil's Icebox.
"There are a ton of interconnected trails and boardwalk trails, and it is a cool place to see creeks and rock formations," Jake says.
Those evaluating the options will find that there is something for everyone at each trail.
The MKT Trail goes right through town and connects to the Katy Trail that spans the entire state. The MKT Trail is a multi-use, 10-foot wide trail built on the old railbed of the MKT railroad. It begins in downtown's Flat Branch Park and ends nearly nine miles later at the Katy Trail State Park. Once the MKT meets the Katy, hikers have the option to continue on to the latter, which extends 240 miles from St. Charles to Sedalia. 
Forum Nature Area is a trailhead for the MKT Trail, located off of Forum Blvd. The nature area has a parking lot, restrooms that are open year-round, a water fountain, and stretching stations. It also contains a 1.8-mile limestone trail that loops through the park.
Flat Branch Park begins downtown, running along Flat Branch Creek and extending across two city blocks. In addition to access to the MKT Trail, the park also offers a gazebo, picnic areas, spraygrounds, a playground, and more features that make it a convenient and family-friendly option.
3M Flat Branch-Hinkson Creek Wetlands is a great option for hikers who appreciate wildlife. A 1.25-mile nature trail loop takes hikers along the wetland trail, which is lined with educational signs about the environment. 3M Wetlands is also listed as a world hot spot for bird sightings, according to e-bird.org.
For a longer hike within the city, the Bear Creek Trail is a 4.8-mile limestone trail that links Cosmo and Albert-Oakland parks. Located in northern Columbia, the trail runs east/west across the northern part of the city, following the natural drainage system of the Bear Creek.
As summer approaches, Jake says Alpine Shop is hoping to organize events where novice hikers can learn about the activity's basics. Plans for group hikes are also in the works.
While the pandemic undoubtedly encouraged more people to hit the trails for a hike, walk, or ride, Jake says he hopes the good weather and proximity to trails will motivate more people to lace up their hiking boots and head outside.
"I encourage people to get outside more," Jake says. "And see what the city has to offer."