More Than Just a Blanket and a Basket
Photos by Keith Borgmeyer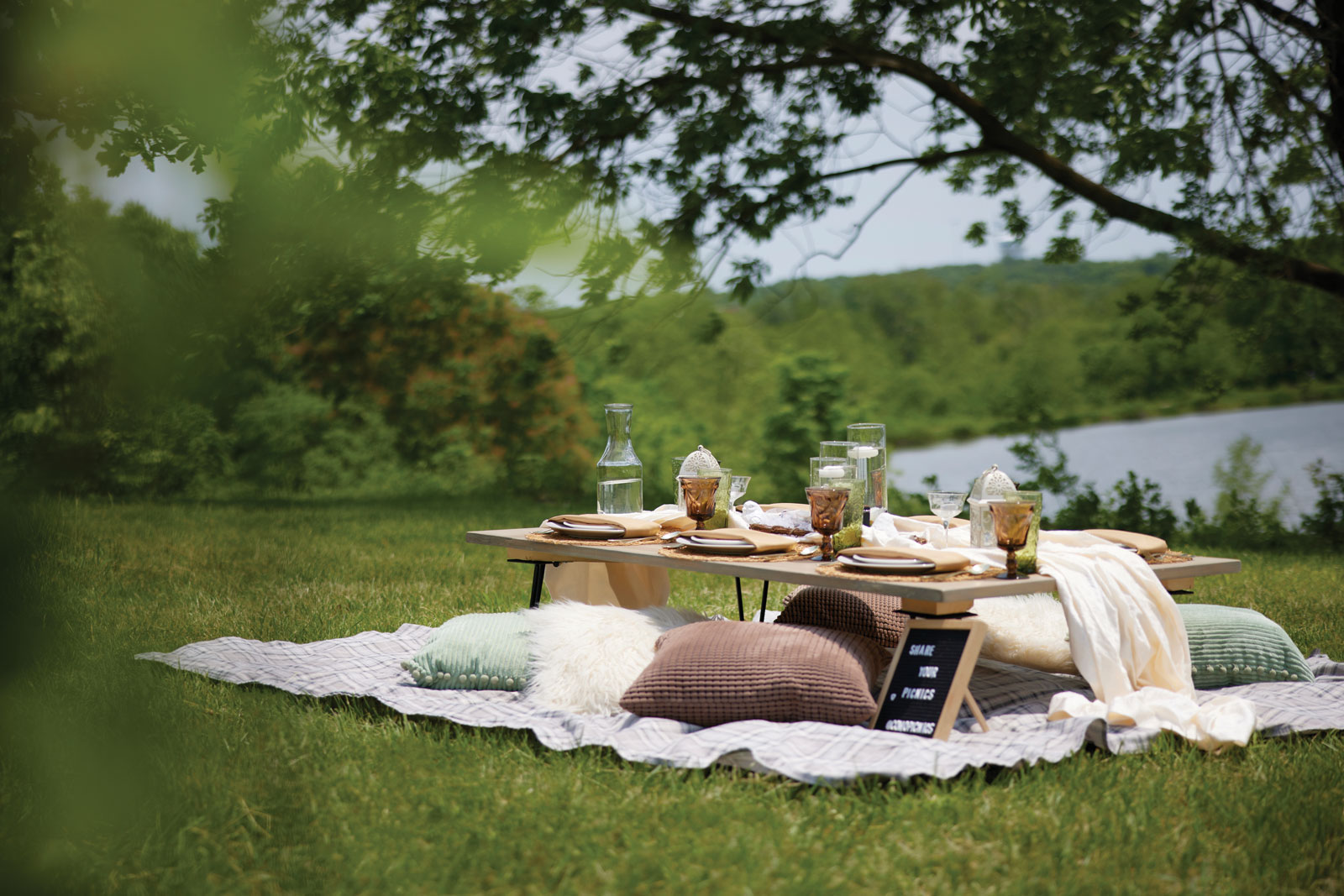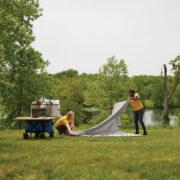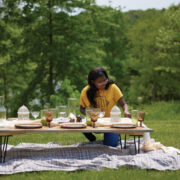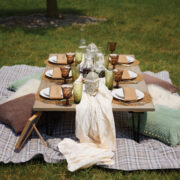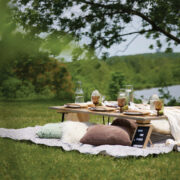 View Gallery
CoMo Picnics brings luxury celebration experiences into the heart of Mid-Missouri.
If a woven basket and checkered blanket is what comes to mind when you think of a picnic — Andrea Lyn Seppo is here to challenge that. CoMo Picnics offers extravagant picnics for any occasion. "By hosting a luxury picnic, you can turn everyday experiences into a celebration," says Andrea Lyn, CoMo Picnics director of events.
Andrea Lyn owns the business with her husband, Jonathan, the company's director of business development. The couple had been researching and tracking the luxury picnic trend that was popping up on the east and west coasts. In August 2021, they decided to bring CoMo Picnics to life and became the first business to provide the luxury picnic experience in Mid-Missouri.
An Array of Services
CoMo Picnics offers three design package options: seasonal, signature, and customizable. The seasonal designs change depending on the time of year the event is taking place, but the signature designs are always available.
Some of the signature designs, which according to Andrea Lyn "merge traditional and modern in each design," include "Pretty in Pink," "Wine n' Dine," and "Down to Earth." The custom designs are unique to the client's event, and the CoMo Picnics team works collaboratively with the host to come up with the design.
With the help of their Lead Picnic Creator, Mercedez Waters, the team at CoMo Picnics is always ready to help bring dream celebrations to life. All picnics start at $150, then go up in price depending on the size of the party and the number of attendees. For groups larger than 12, pricing starts at $25 per guest with set-up fees. Each picnic includes a blanket, a table, pillows, all dining ware, and the décor associated with the chosen package.
Most picnics are set using a low-profile table, but accommodations for a taller table can be made upon request. CoMo Picnics also offers upgrades to any picnic with an extra fee. Some available upgrades include a tent, letter board sign, flower bouquet, balloon garland, and more.
Should the weather not cooperate, the CoMo Picnics bubble tent options are a helpful option. The tents allow for a warm event in the winter or a bug-free event during the warmer season. Food and drinks, besides chilled water, are not included in the picnic packages, but hosts are welcome to pick up takeout from a local restaurant, prepare their favorite recipe, or use the catering option CoMo Picnics provides as an upgrade. The team is happy to set the scene for any food choice you like.
CoMo Picnics also offers a blanket package starting at $20, which includes a blanket, tarp, and a few pillows. This is a great option for local outdoor concerts or a unique get-together with friends. No matter the chosen package, CoMo Picnics will create a memorable and stress-free experience.
Location options
Whether hosting an intimate date night, a fun birthday party, a romantic proposal, or finding an excuse to get together with friends, Andrea Lyn and her team are ready to help bring the vision to life. They can bring the picnic to the location of your choosing or pick from one of CoMo Picnics' predetermined locations such as Cherry Hill Square, Stephens Lake Park, or Nifong Park.
CoMo Picnics services all of Mid-Missouri and will travel anywhere within a 2-hour drive of town with additional travel fees. If there is rain in the forecast on the day of the event, the picnic can be moved indoors or rescheduled to a different day — the CoMo Picnics team is flexible and available for quick accommodations when necessary.
The Picnic Process
Booking a gathering with CoMo Picnics can be done directly through their website, comopicnics.com, where you can find all the information on the packages, upgrades, and locations offered. On the day of the event, CoMo Picnics makes sure its team takes care of everything.
All set up is done by the team about 30-90 minutes before the start of the picnic, and the space is available for up to 2 hours. If an event needs to last longer than 2 hours, simply reach out to the CoMo Picnics team to make it possible. When the event is over, the team will come back to tear down and clean up everything.
"Customer service is what sets us apart from other businesses," says Andrea Lyn. The team loves to take care of their clients.
Plans for the Future
CoMo Picnics has gone through tremendous growth in its first year of business, and there are already plans to continue that growth in the future.
Andrea Lyn and her team are looking to expand into the corporate world to provide a fun experience for events such as work meetings and team outings. They are also working to broaden their reach to various academic campuses in mid-Missouri.
CoMo Picnics has a heart to serve others and give back to the community. They have been fortunate enough to be able to donate picnics to various events and organizations and hope to continue to pay it forward in the future.