The Stuff Dreams Are Made Of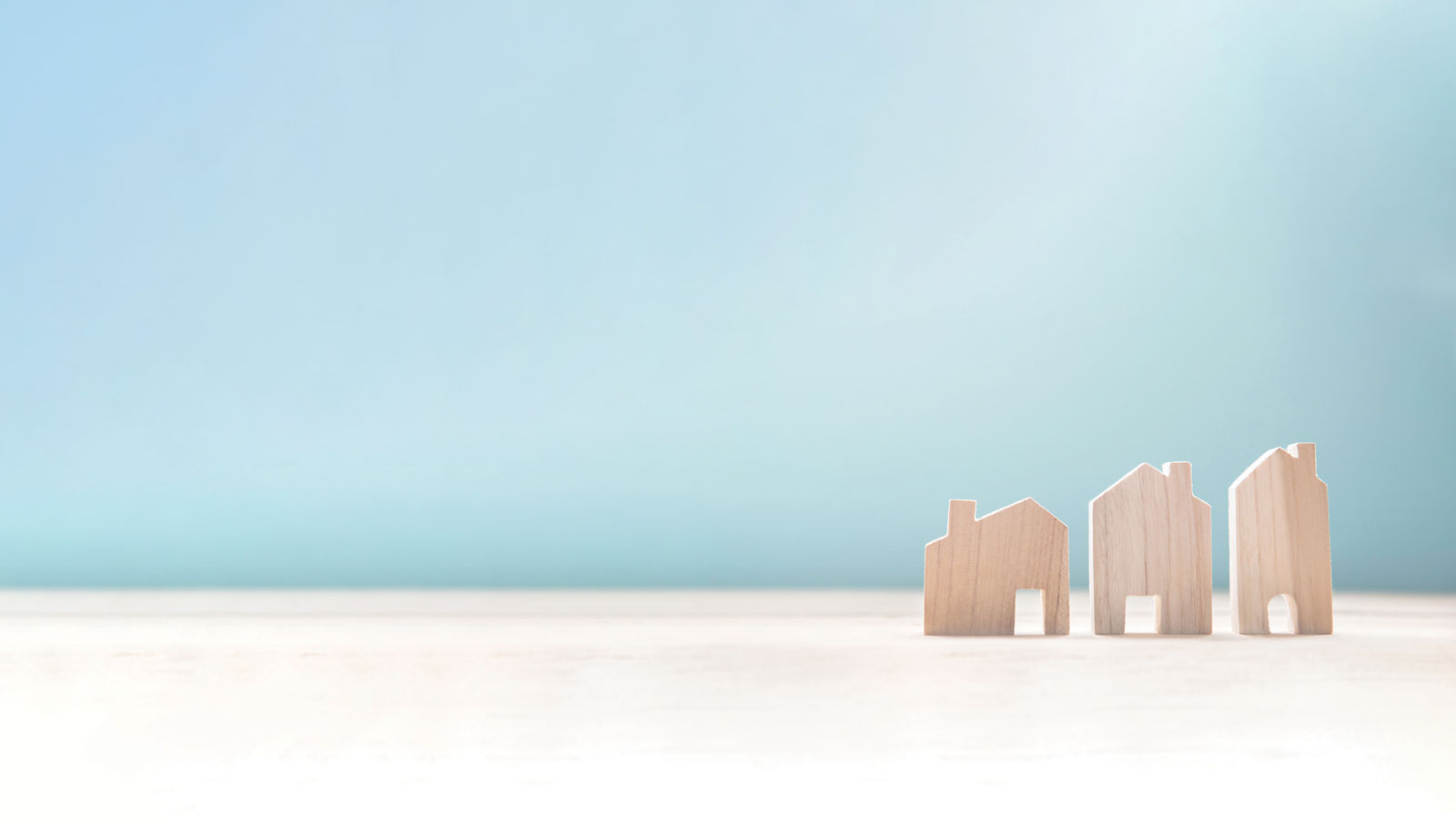 The City of Columbia's Home Ownership Assistance Program and Community Land Trust help make a part of the American Dream come true.
Home ownership may be the most visible symbol of achieving the American Dream. For some people, however, there may be significant barriers standing between them and the keys to a place of their own.
Communities are stronger when more people are homeowners. Studies show that homeowners are healthier, more engaged members of their community, and that children living in these homes tend to do better in school and stay out of trouble. Homeowners build more wealth over time and stabilize their neighborhoods.
The City of Columbia and the Columbia Community Land Trust are working to increase the number of people who own homes in Columbia by addressing affordability issues facing low-to-moderate income first-time homebuyers. They're setting dreamers up for success.
"A" Is for Affordability
The City of Columbia's Housing Programs Division is fully funded by two major grants from the U.S. Department of Housing and Urban Development (HUD). According to Darcie Clark, housing specialist with the City, the Division uses HUD funding to target affordable housing, neighborhood revitalization and stabilization, and economic development benefitting low-to-moderate income residents buying homes in the city limits.
For potential first-time homebuyers in that demographic, the Home Ownership Assistance Program provides forgivable loans from $5,000 to $10,000 to be used for closing costs.
The Columbia Community Land Trust is a community-based nonprofit organization governed by a board of directors. Representatives on the board are divided into equal thirds of community leaders, neighborhood representatives, and former Land Trust program participants.
The trust owns the land on which homes are built which helps keep home prices more affordable. Those who purchase a home through the trust have their mortgage reduced to 80% of the sales price, so they begin ownership with 20% equity in their home.
To be eligible for either program (you can only choose one), residents must meet income requirements set by HUD. Those currently range from a high of $45,750 for a single-person household to $86,300 for a household of eight. Maximum purchase prices for existing homes range from $177,000 for a one-bedroom house to $340,000 for a four-bedroom house. For newly constructed homes, the range is from $243,000-$467,000.
Assistance Program participants must have a combined average credit score of 600 or higher and can't have more than $15,000 in assets such as bank and investment accounts. They must pay at least $500 in cash toward the home's purchase.
Because these programs reduce the cash required to get into a home, the houses need to be in good shape. In other words, participants can't buy a fixer upper.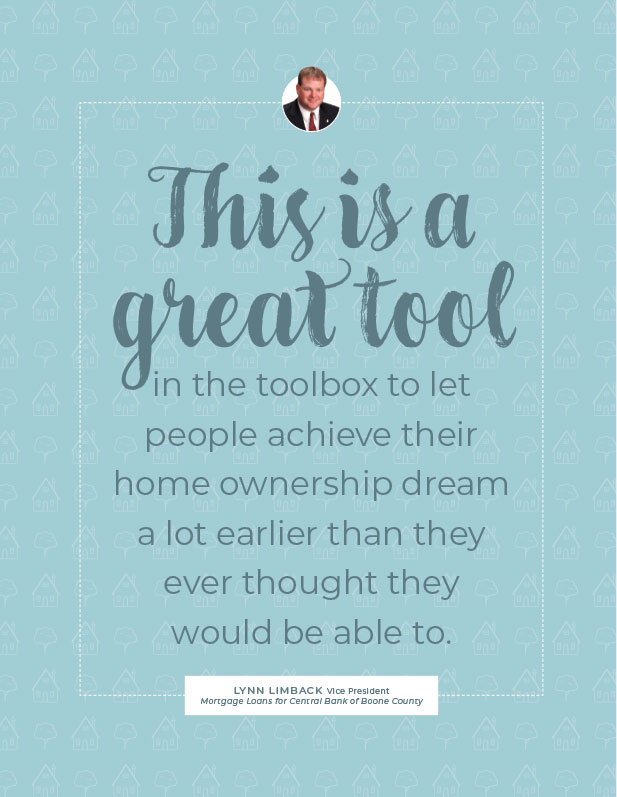 Confronting the Cash Crunch
"One of the biggest barriers to home ownership is down-payment funds," says Lynn Limback, vice president of mortgage loans for Central Bank of Boone County. "It's a problem for buyers, no matter where they're looking for a home."
That down payment requires cash based on the type of loan funding and the price of the home. For most conventional home loans, a down payment of 20% of the sales price is required to avoid private mortgage insurance (PMI). Loans financed through Fannie Mae or Freddie Mac currently require a 3% down payment, and Federal Housing Authority (FHA) loans are 3.5%. That's $4,500 to $30,000 on a $150,000 home.
Buyers need another 3-6% of the sales price in cash to pay for closing costs. Closing costs are the processing fees paid to the mortgage lender, such as fees for title searches, appraisals, and points on the mortgage. For that $150,000 house, that's another $4,500 to $9,000.
The trust's 20% equity means the down payment and closing costs are reduced, as is the amount of money the buyer must borrow in a mortgage. The Assistance Program provides cash for closing costs, so the buyer needs to have less saved before they purchase a home. Both programs require the homes be occupied by the homebuyers who forfeit some advantages of the program if they sell. For example, the Assistance Program's grant is forgiven after 10 years. If the buyer sells the home before then, a prorated amount of the grant must be repaid, albeit at 0% interest.
"The largest barrier our customers run into for home ownership is having enough funds for a down payment and closing costs," Lynn says. "The Home Ownership Program allows someone to get into it with less of those upfront costs than they would normally have to try to save for."
"If I tell someone they will need to save $10,000 to get into a house, they'll know they can never do that because they live paycheck to paycheck. This is a great tool in the toolbox to let people achieve their home ownership dream a lot earlier than they ever thought they would be able to," Lynn says.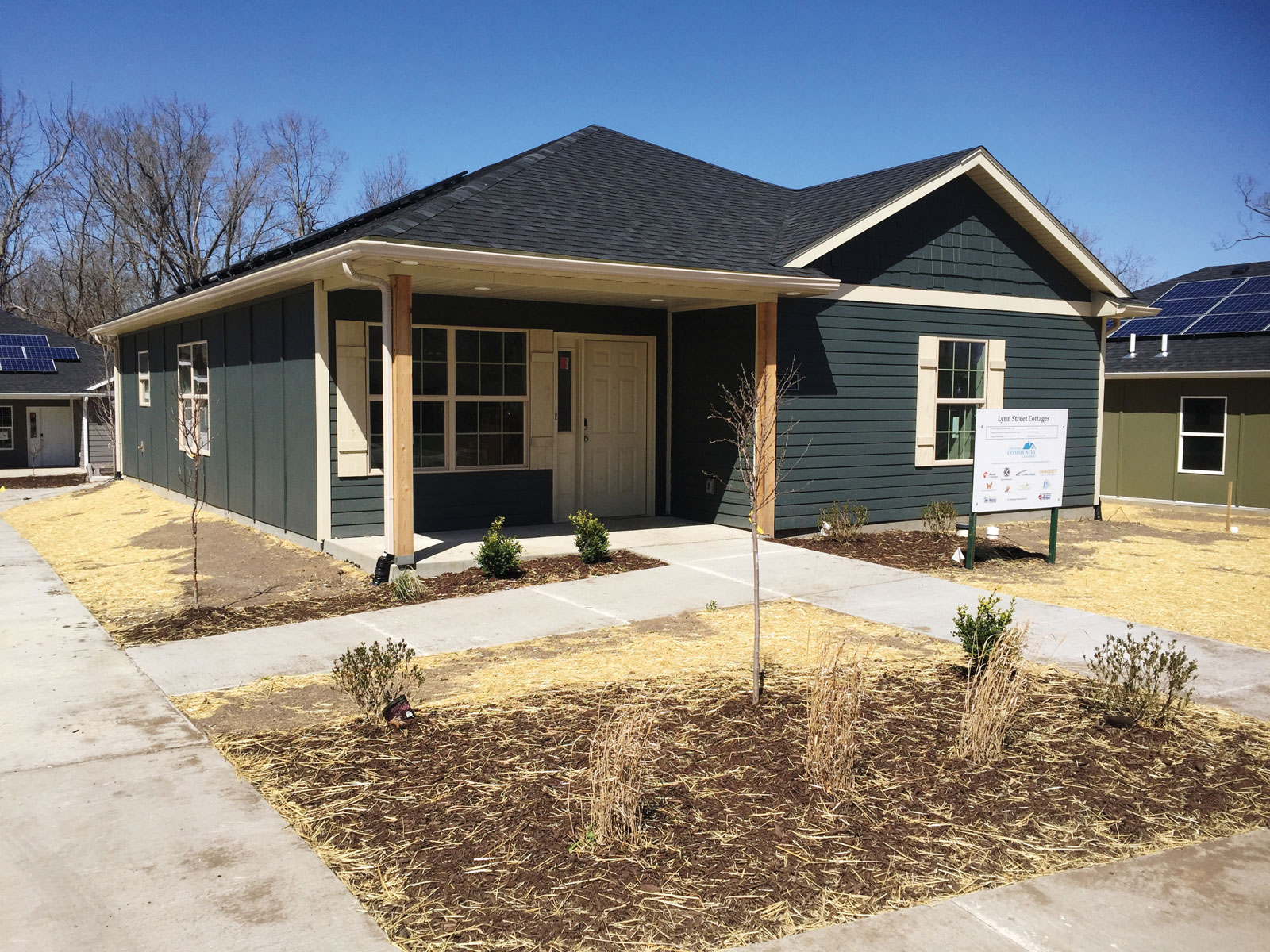 Setting Up Buyers for Success
"Our calculator takes a look at several different parts, basically to make sure that our homebuyers are successful," Darcie says. "Things like their childcare costs and costs of living in general are important considerations for one's financial stability. We want to make sure that our assistance amount is appropriate for that household."
One major indicator of success is whether the prospective homebuyer passes muster to qualify for a loan through a lender. Before applying for the Assistance Program, the buyer must be under contract for the purchase of a home. If the lender finds their income, credit score, and debt-to-income ratio makes them a safe risk for a certain mortgage sum, they're more likely to be able to get into and keep their home.
Another key to success is the first-time homebuyer's understanding of what it takes to purchase and maintain a home. That's why a requirement for the Assistance and the Trust programs is completing a homebuyer education program with a certified HUD housing counselor. That makes Julie Rauch with Catholic Charities of Central and Northern Missouri a very busy individual. She's currently one of two certified HUD counselors in 38 counties.
"So many people are paying such high rent that they think they can get a house for less," Julie says. "They don't think about the money required up front, the closing costs along with the down payment. And that monthly payment may be cheaper than your rent, but once you become a homeowner, you have other expenses of maintaining the home and replacing things. Those are expenses you need to save for every month so when the times comes, you're able to pay for them," she says.
Both Darcie and Julie recommend that residents interested in buying a home begin the HUD education process early so they have the benefit of fully understanding the financial resources they'll need to be successful homeowners.
Julie says part of the HUD education program is now online which means participants can work at their own pace. When Julie meets with prospective homebuyers in person, she can specifically address areas that buyer needs help with. For example, Julie says some have no idea about all those upfront cash costs. Others need help with finding ways to plan for ongoing maintenance costs. And many have the necessary income to buy a home but may need to spend some time cleaning up their credit and improving their credit scores.
"The Home Ownership Assistance Program helps people who haven't been able to save much money up until this point. If I can help a potential homeowner understand the importance of being in control of their finances and save for the future, the program can help them get into a home much sooner which allows them to build wealth for their future and have more housing stability," Julie says.
Making Dreams Come True
In 2020, the City worked with 50 first-time homebuyers. Those numbers dipped in 2021 due to the pandemic, but five new homebuyers were serviced in the first quarter of this year.
"With spring and more homes being on the market, we're already seeing more applications," Darcie says. "We're definitely seeing average home prices going up. So of course, it's hurting our low- to moderate-income families trying to get into homes that much more."
Finding assistance with buying a home any time is good news. Finding it when higher prices and mortgage rates threaten your hopes? Now, that's the stuff dreams are made of.