The Art of Healing through Ayurvedic Herbs
Photos by Keith Borgmeyer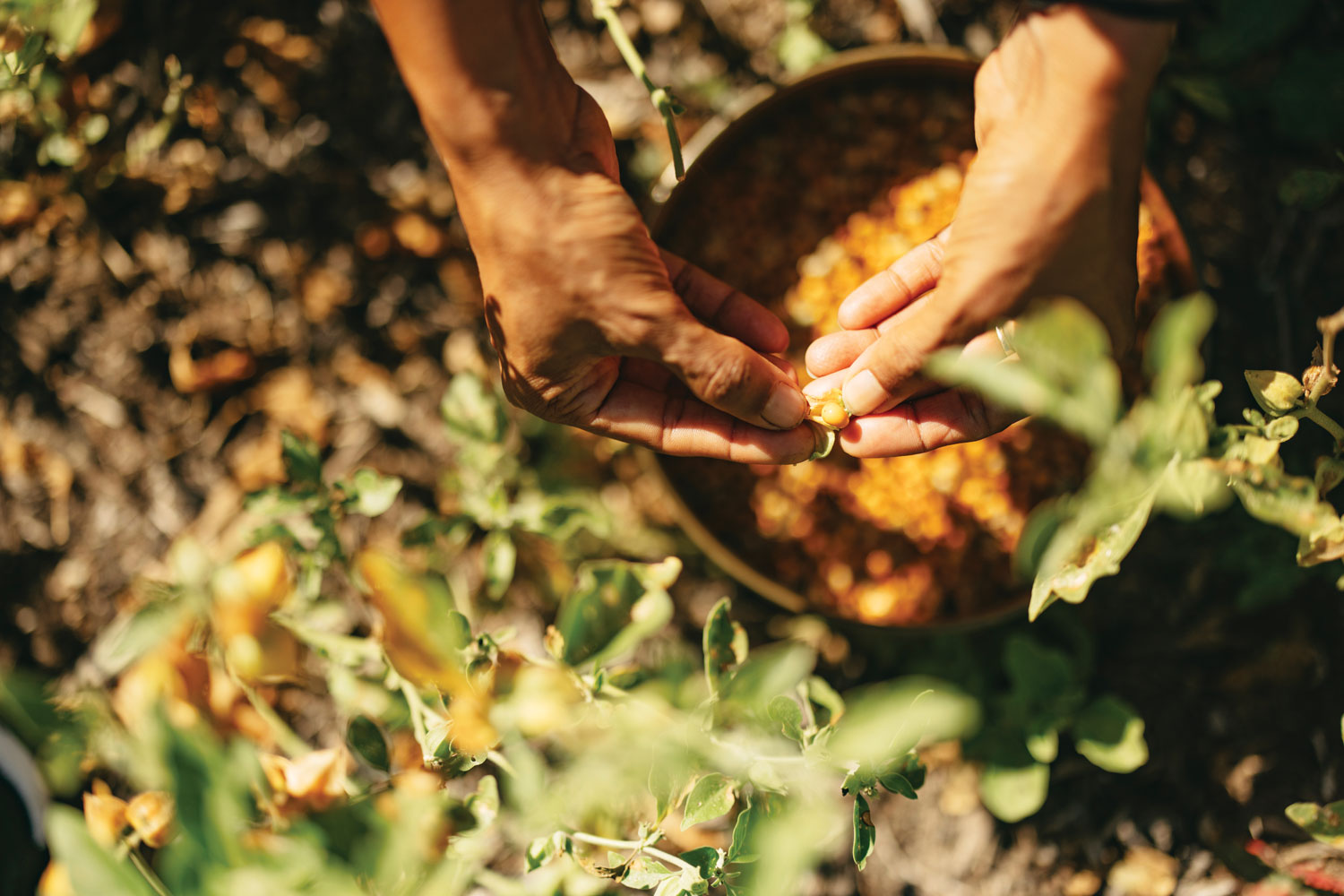 Raw Roots Turmeric offers fresh, all-natural healing products to Columbia.
You might never guess that in the backyard of her home in south Columbia, Ranjana Hans is growing a variety of Ayurvedic herbs (including turmeric, ashwagandha, and tulsi) and using them to create healing, health-boosting pastes, soaps, beverages, and syrups for her local community.
Growing up in India, Ranjana remembers her mother and her grandmother using turmeric in various culinary and medicinal applications. She recalls her father picking tulsi leaves from the family herb garden saying, "Be sure to eat the leaves and you will not get sick."
"When I was a child, my mother would serve us golden milk — a mixture of milk, turmeric, cinnamon, ginger, and sweetener — before going to bed because it's good for sleeping," says Ranjana. "Later, I learned it also has natural anti-inflammatory, antioxidant, anti-arthritic, and anti-cancer benefits."
In 2003, Ranjana and her family moved to Columbia when her husband, a research scientist, took a job at MU. A few years later, it was chronic knee pain that made her go back to her roots — literally, relying on turmeric to ease her pain. But she quickly realized that the powdered version she purchased at the grocery store had little to no effect, and the root in its fresh form was difficult to find and quite expensive to purchase.
"I discovered that, using the powder, you get the color and taste, but you don't get the anti-inflammatory properties — when it becomes a powder, it loses it nutritional and health value. I found that by using the fresh root, the nutritional values of the plant are preserved without losing the healing properties," says Ranjana.
"Once I healed completely, I began thinking that I know a lot of people who are complaining about inflammation and pain. I felt I should share with others this natural way to heal the body."
Ayurveda, a natural system of medicine, originated in India more than 3,000 years ago. The term is derived from the Sanskrit words ayur (life) and veda (science or knowledge). Ayurvedic herbs like turmeric, ashwagandha, and tulsi are used for many reasons: to maintain overall health; to boost immunity; to support mental clarity and focus; to calm the nerves; to improve digestion; to protect the body from toxins and support the detoxification process; and to support innate healing processes.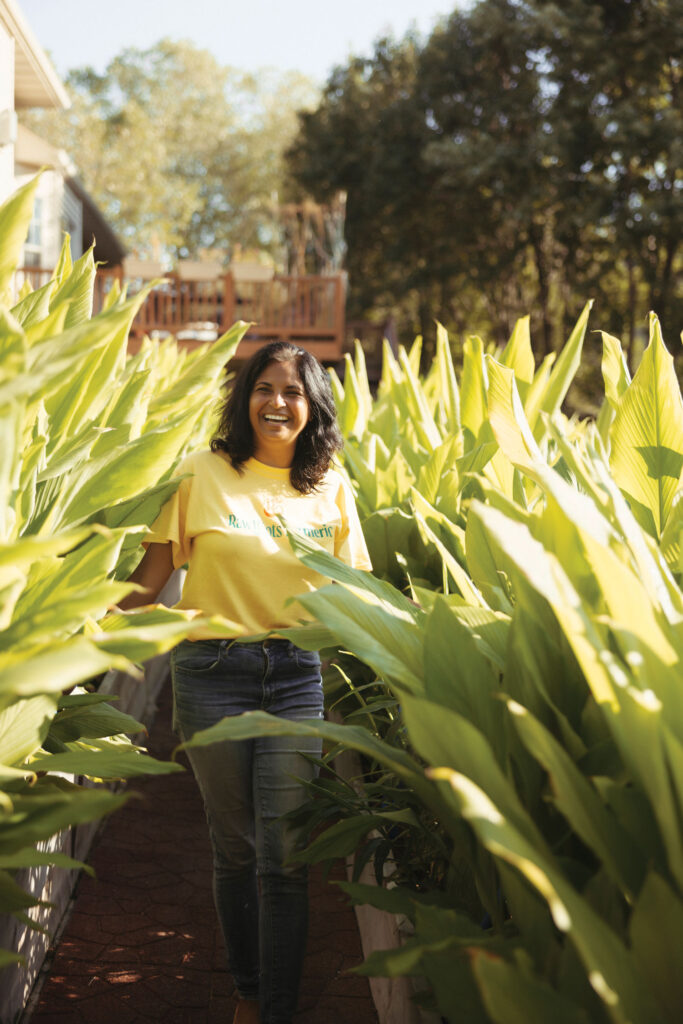 "Once I healed completely, I realized that I know a lot of people who are complaining about inflammation and pain.I felt I should share with others this natural way to heal the body."

Ranjana Hans
---
Over the years, more and more people in the United States have become aware of the health benefits of these herbs. Both ashwagandha and tulsi are classified as adaptogens, meaning they can help your body manage stress and promote mental balance.
Ashwagandha is best known for its ability to promote energy and stamina without stimulating the heart. As a body-balancing herb, it also addresses insomnia and can boost brain function, lower blood sugar and cortisone levels, and help fight symptoms of anxiety and depression.
Tulsi, also known as "holy basil," contains vitamin C, which acts as a natural immunity booster and keeps infections at bay, plus vitamin A, calcium, iron, zinc, and chlorophyll.
The main component of turmeric is curcumin, which gives the herb its signature golden color and its anti-inflammatory and antioxidant properties. Ranjana learned that curcumin becomes more effective when it's paired with black pepper or a healthy fat, such as avocado or nut butter, which she began adding to her pastes. Some pastes are savory; others lean to the sweet side.
Ranjana says when she began developing her products, she spent several months experimenting with the ingredients to ensure maximum nutrition. "I know exactly what I am putting in these jars," she says. The turmeric and cinnamon paste, for example, is especially delicious in golden milk, but Ranjana says you can add a teaspoon to any beverage, including coffee or even yogurt.
"The pastes are very versatile and there are so many different ways you can utilize them," Ranjana shares. You can try blending the fresh turmeric paste into salad dressings, curries, or peanut or almond butter. The Raw Roots Turmeric website offers an array of recipes, including roasted masala tea and stir fry.
Through Raw Roots Turmeric, Ranjana hopes to make these healing herbs an accessible and natural part of other people's daily routines. Her products are available at the Columbia Farmers Market, Clovers Natural Market, and Hy-Vee, as well as her website. Ranjana sells a variety of raw turmeric, ashwagandha, and tulsi leaf pastes, along with turmeric ghee, turmeric relish, roasted masala, dried tulsi leaves, and jaggery syrup.
"My goal is to promote health and wellness in my community by turning these simple, raw ingredients into products that are ready to use," Ranjana says. "Nourish Café in downtown Columbia even uses the turmeric in their lattes."
Ranjana says she and her family have learned a lot about growing the herbs. "Turmeric takes seven to nine months to grow. We start sprouting turmeric inside in November, then in early May, we plant it in raised beds in the garden, then harvest in September. We keep an eye on the weather and harvest before first frost. This year, we covered our raised beds with a winter blanket and left some of the roots in the ground, where it will stay fresh until we harvest it."
Raw Roots Turmeric is a family affair, as Ranjana's husband helps with the gardening and her children help with labeling and setting up their stand at the Columbia Farmer's Market each Saturday. "I love to share my products with the locals and educate them on the benefits," she says. "Plus I'm telling them it is grown here and there are no preservatives, no additives, no artificial colors. It is pure product."
As her products gain popularity in Columbia and demand continues to grow, Ranjana has begun looking for ways to grow turmeric, tulsi, and ashwagandha on a larger scale, with hopes of one day selling on an international scale. In order to take the first step toward increased production, they recently rented land south of Columbia where an additional 20 raised beds were built. They will plant there this spring.
She also says that, early this year, Raw Roots Turmeric will be partnering with Bluebird Composting on Rangeline (the previous Wilson's Garden Center), where they will sell herbal plants for home gardens as well as the full line of Raw Roots Turmeric products. "We are excited for this new opportunity and plan to be ready to go by March at the new location," Ranjana says.