Photos provided by Laura Rowe Photography & Design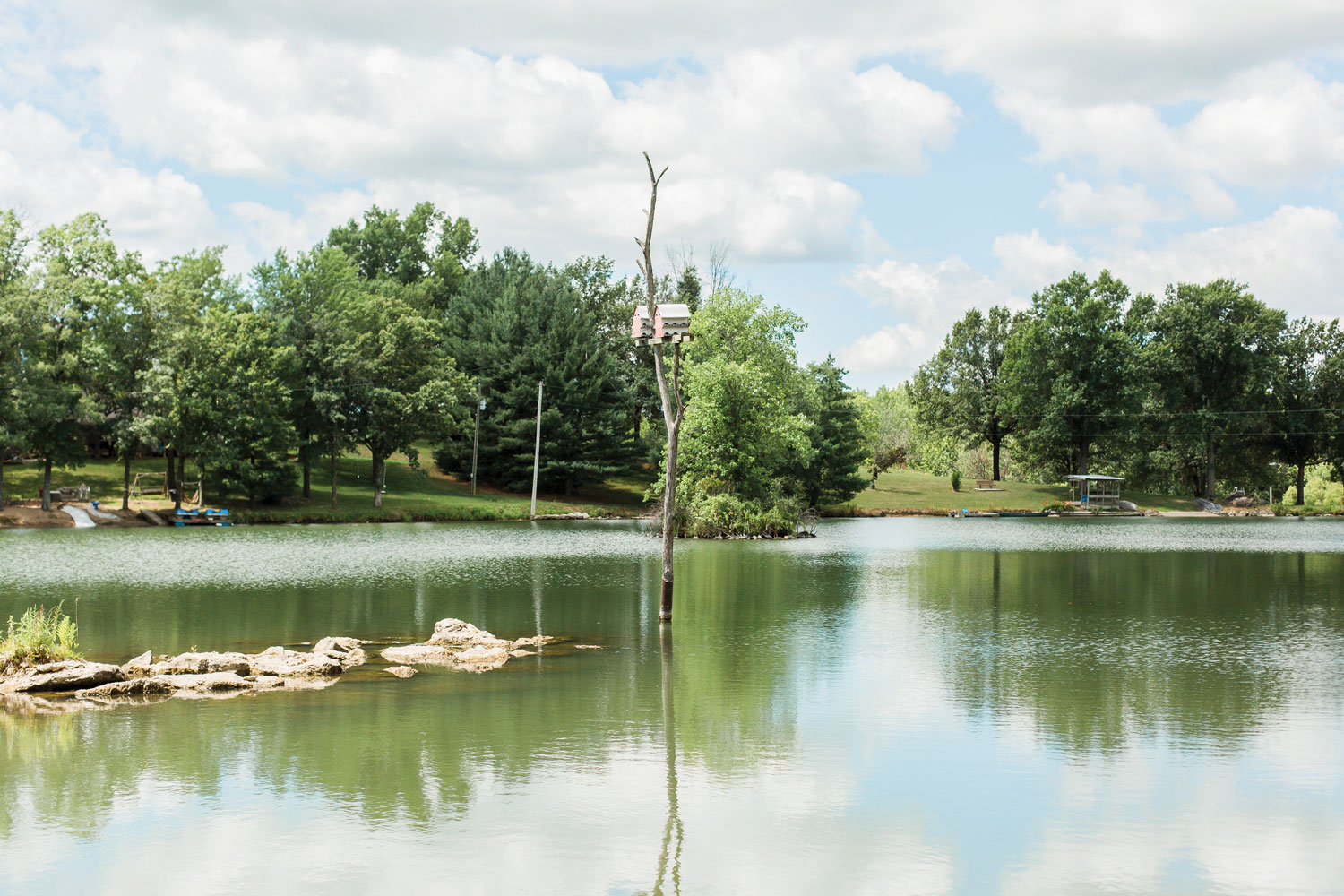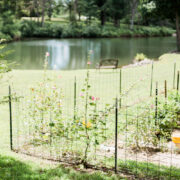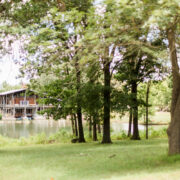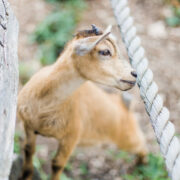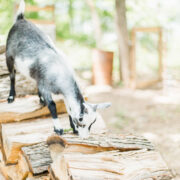 View Gallery
This Fayette bed and breakfast offers a healthful retreat.
Just 30 to 40 minutes northwest of Columbia, nestled in the woods of Fayette, lies what can only be described as an oasis. Breathe at JJ's Folly Bed & Breakfast offers a rustic retreat like no other. If you like log cabin charm and outdoor recreation, you're in for a treat — bonus if you're into yoga.
Bryan and Catina Topash bought the scenic property, which had been operating as a B&B since 2012, in 2017 and added a twist by offering yoga to guests. Catina isn't your run-of-the-mill yoga instructor. She is an independent contractor for YogaFit, a national yoga teacher training program, and her YogaFit retreats for instructors attract yogis from all over. And she has local students and clients who come to the B&B for yoga classes and yoga therapy.
"Yoga is not just a practice of physical postures. It's a way of life and a way for us to connect with ourselves on all levels of our being: physical, emotional, mental, and spiritual. Through my work as a yoga therapist and yoga teacher, I have witnessed life transformations for those dealing with anxiety, depression, physical ailments, trauma, and more," Catina says. "Yoga gives us the tools to connect to ourselves and others at a deeper level, to slow down and find gratitude for all that life brings us. What we learn about ourselves on our yoga mat is in essence what we can bring to the world — a greater capacity for empathy, connection, and love."
You can come for the B&B and get in some yoga on the side, which might include aerial yoga, goat yoga, or even paddleboard yoga, but you don't have to be into yoga to enjoy your stay. You can just enjoy the swimming, fishing, and paddle boating on the 20-acre lake; hiking the three-quarter-mile nature trail; and taking in the endless views from a deck, patio, or your own cozy room.
Getting to Know the History
The property known as JJ's Folly was built in 1970 by Julius Johnmeyer. The 5,500-square-foot estate that overlooks the lake was home to "JJ" and his wife, Grace, along with their seven children. By all accounts, JJ was a character, a flamboyant man who loved life and who was keen on doing spectacularly daring things, like skydiving on his 79th birthday. His over-the-top personality is how the property became known as "JJ's Folly."
In 2012, Julius and Grace's daughter, Connie, remodeled the home and opened it as a B&B. Catina is friends with one of JJ and Graces' 24 grandchildren, Elizabeth, who told Catina in 2016 that the property was going up for sale and would be perfect for yoga. In January of 2017, Bryan and Catina Topash bought the property and began hosting guests that April. Judy Johnmeyer Strodtman, another of JJ and Grace's children, now lives across the lake from her childhood home and is the only neighbor on the property.
"The first day we walked into the home and Connie Johnmeyer walked us through, I could immediately feel that there was an energy in this home that was inviting and warm," Catina remembers. "We have been so grateful to be able to share that with guests and yogis who have walked through our doors. I always tell them that it's such a blessing for us to build on the positive energy and harmony that was already in the home by having others stay with us and share the peace and joy they bring to Breathe."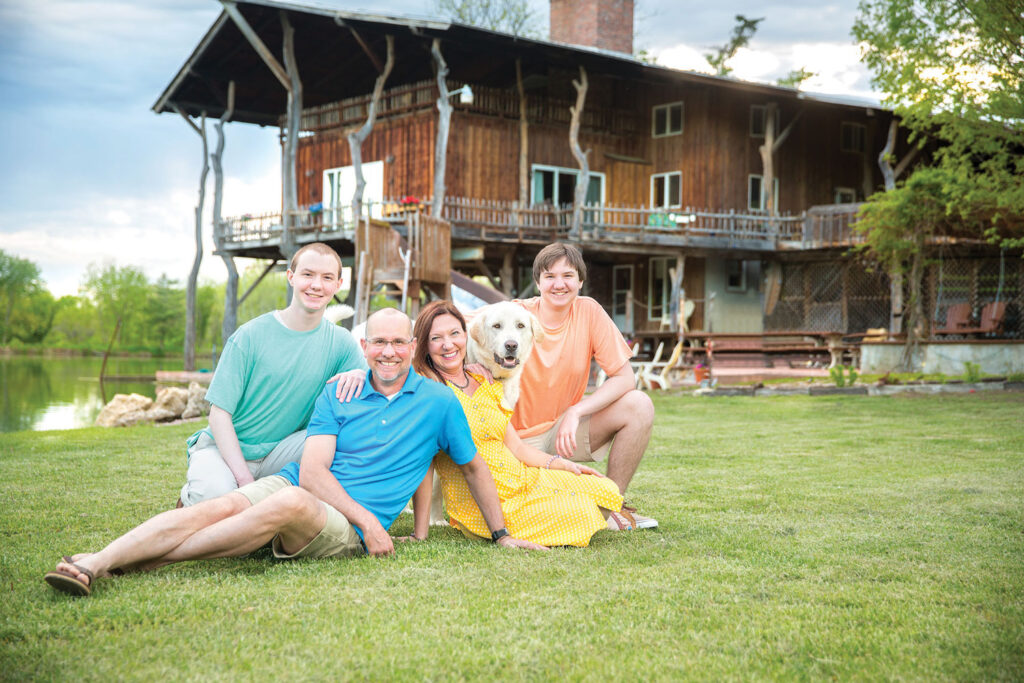 The Topashes grew up near Hallsville, in Brown Station. They married in 1996 after Catina graduated from MU. They lived out of state for a few years, during which time Catina earned her master's in music and worked as a professional flutist before the couple moved to Columbia in 1999. They had their first son, Skylar, in 2000, and then Brayden in 2003. Bryan, 52, works at 3M in Columbia. In addition to running the B&B, Catina, 48, has been the fitness director for Wilsons' Fitness in Columbia since 2004. She teaches yoga there, as well as yoga therapy, and trains other yoga instructors. She is a certified yoga therapist through the International Association of Yoga Therapists and is certified in personal training, pilates, and group fitness through the American Council on Exercise. Catina also practices sound therapy and offers sound baths (think Tibetan singing bowls and therapy tuning forks) that promote relaxation and a sense of balance.
Taking the Tour
Your trip to solitude begins when you pull off State Route W onto County Road 400 and down the long gravel drive to Breathe. The enormous home and its lake emerge into view on your left, breathtaking. As you cross the little wooden bridge over the lake and up to the house, you are likely to be greeted by one, if not both, of the Topashes' enormous white abkashes, a Turkish breed of herding dog that can grow to 140 pounds, or by the family's herd of Norwegian dwarf goats, whose milk Catina uses to make cheese. (She also uses them in goat yoga.) A number of chickens running about provide fresh eggs.
The size of the home and its interesting features will capture you next. A wide deck to the left leads down to a patio directly on the water, complete with picnic tables, firepit, and a few boat slips where guests can slide into a canoe or paddle boat. Or you can follow the deck as it climbs to the second floor, wrapping around to the other side of the house overlooking the lake. You'll notice long, slender Osage orange tree trunks built into the interior and exterior — and they're structural. Breathe's website aptly compares it to something out of "Swiss Family Robinson," as you truly feel like you're in a treehouse. There's even a tree-branch ladder you can climb to go between the second-floor balcony and the main floor deck.
"Yoga gives us the tools to connect to ourselves and others at a deeper level."

— Catina Topash, owner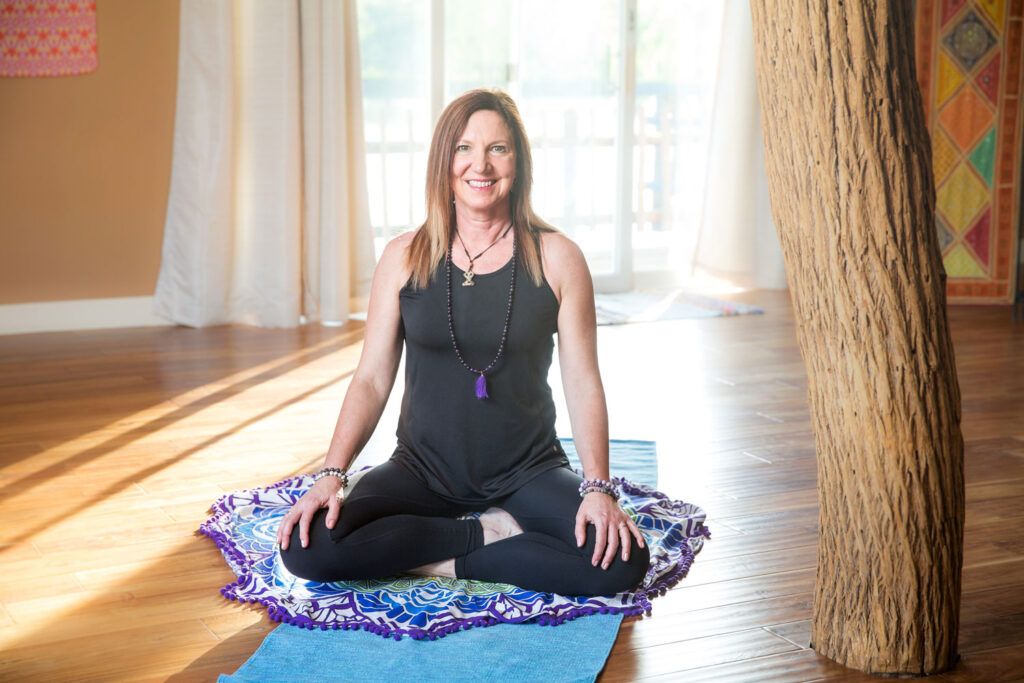 ---
The interior has wide open spaces on the main floor, which is loaded with rustic touches like shiplap and wooden ceiling beams, and more windows overlooking the lake than can be counted. Beyond the kitchen and dining room lies a huge yoga studio with a never-ending view of the lake. A wooden spiral staircase off of the living room takes guests to the B&B suites on the second floor. There are four guest rooms — two with private baths and another two that share a bathroom. One of the upstairs suites includes a living room for those who want a little more space. Each room has a theme, like "Air and Sound" or "Peace," to set the mood. The second level also boasts an enormous covered patio that serves as an outdoor yoga studio. The terrace level of the home offers the Sun Suite, a small apartment with a living room and kitchen, which Catina says is ideal for honeymooners. Guests enjoy Catina's healthy, homemade breakfasts; in addition to her eggs and goat cheese, Catina cooks with produce from her summer garden and sources locally as much as possible, including pork from Sullivan Farms and turmeric from Raw Roots Turmeric.
The rooms book for $109 per person per night, while the apartment goes for $139 per person per night. Guests can book from the Breathe website. Whether you're looking for yoga or an amazing destination for your wedding, family reunion, or company retreat with health in mind, you won't find anything like the accommodations at Breathe.
"Waking up every morning in this space in the country with animals, nature, a lake, and serenity is amazing," Catina reflects. "I will say, though, that getting to share our lives and home with all the wonderful people we have had the fortune to meet is the best part. We are hardwired for connection with other human beings, and that is so necessary for our health and happiness. We have built that into our lives by welcoming people into our homes, sharing food and conversation, and even practicing yoga together."