John Fabsits & Elizabeth Leatherman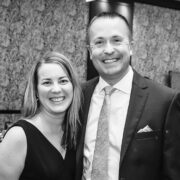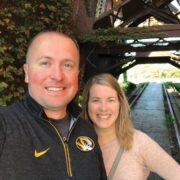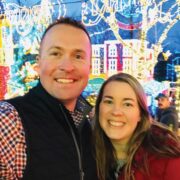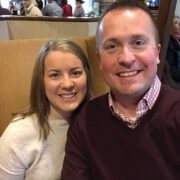 View Gallery
John and Elizabeth, both 20 under 40 alumni, discuss their first date, their love of the local music scene, and the key to a lasting relationship.
How did you meet?
John: Lenoir Woods — we met at the assisted living center. We were introduced by a mutual friend at an EPIC young professional casino night.
What was your first date?
Elizabeth: I remember our first date very vividly; John was newer to town, and we couldn't decide what we wanted to do, so we stopped by a hotel to grab a local travel guide for inspiration. The result: dinner and a movie.
What keeps you busy during the week?
J: Being the executive director for the Boy Scouts of America keeps me busy with events, meetings, and community functions across the 33 counties in central and northeast Missouri we serve.
E: Our weeks are typically busy with work for both of us, community events, and picking up hickory nuts in our backyard. (It's kind of a running joke between family and friends.)
What do you like to do in your free time?
J: We always find ourselves on the go. When we have free time, we travel, attend Mizzou football and basketball games, and we always make time to attend country music concerts.
What brought you both to Columbia?
E: I moved to Columbia in 2002 for college. We moved to Cleveland for four years and then recently returned for John's job. We are so glad to be back in this great community and closer to family and friends!
What is your favorite art or culture activity in Columbia?
E: Attending concerts at any of the live concert venues in town. Whether it's supporting local bands or national artists traveling through, our venues in town are some of the best.
What are some of your favorite outdoor activities?
J: Nothing like a good run or bike ride on our trail network. Columbia's outdoor places at Pierpont and Logboat are some of our favorite places to relax.
E: My favorite outdoor activities would be kayaking or going for a hike. We also love to hang out on any outdoor patios around town.
What is your favorite restaurant in Columbia?
E: There are so many to choose from, but a favorite for me would be Sophia's or Addison's.
J: So many good choices. I can narrow it down to Booches, Flat Branch, CC's, and Addison's
What is the key to a lasting and healthy relationship?
J: Communication, love, laughter, and lots of liquor. (The last bit is a joke.)
E: Laughter, being each other's biggest cheerleaders, and making sure I just sleep in the car on road trips so I don't bother John with my backseat driving.
What is the best quality of your partner?
E: John is such a hard worker; he makes me laugh and just lives life to the fullest. He also does his own laundry and cleans. I'll take it!
J: Having such a supportive spouse; Izzy is my biggest champion. When I was hired with the Scouts, our board said that they got a two-for-one deal.
What does the future hold for the two of you?
E: Right now, it's hard to look past a month or so with the pace of work, but we both plan to continue growing personally and professionally, take life one day at a time, and live in the moment.
What is unique about your relationship?
J: I am not sure about anything unique. In almost 10 years of marriage, we have never had anything more than minor disagreements.