Elevating Tradition at Casa Maria's Mexican Cantina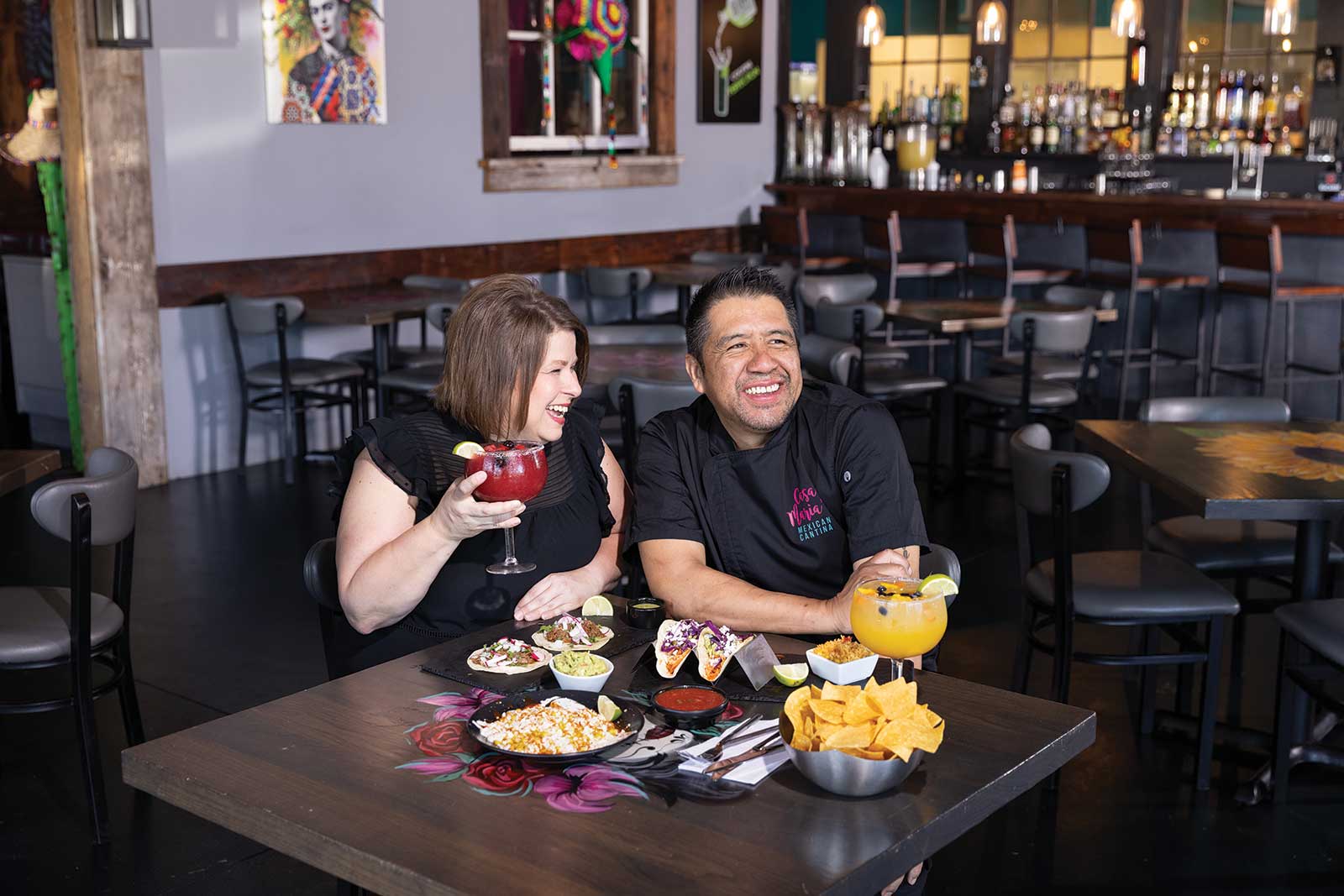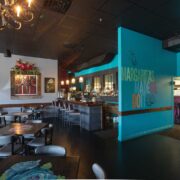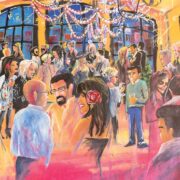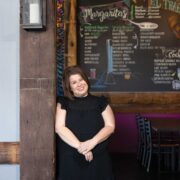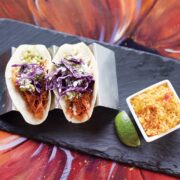 View Gallery
Quicklybecoming known for its authentic yet modern cuisine, colorful array of cocktails, and eye-catching interior, Casa Maria Mexican Cantina is blazing new trails in Columbia's Mexican restaurant scene.
Originally from Gonzalez, Tamaulipas, Mexico, chef and co-owner Jesus Mendoza came to the United States in 1996 and moved to Columbia in 2013. Growing up in a family that was passionate about food, he spent most of his life working in kitchens. With many years of experience under his belt, Jesus dreamed of opening his own establishment with a menu of his creation.
"After 25 years, I was eager to do something on my own," he says. "I wanted to fuse all of the techniques that I've learned into modern Mexican cuisine."
The Start of a Partnership
Co-owner Crystal Umfress moved to Columbia in 2000 to attend Columbia College and subsequently fell in love with both the town and community. After 10 years of teaching at Columbia Public Schools, Crystal decided to pursue her passion for nonprofits, including marketing and event planning for organizations such as Serve It Up CoMo, Primrose Hill Teen and Adult Challenge, and Tigers on the Prowl. In 2014, she started Charitable Solutions, an establishment created to provide resources for nonprofits.
At a fundraising event, she met Jesus and discovered his talent in the kitchen. She began regularly hiring him as a chef for events, and the two became friends, and then partners. Realizing they made a great team, they began to plan the opening of their own restaurant, making Jesus' dream a reality. "We are both really hard workers and always on the go. We have always worked well together from collaboration to execution," says Crystal. "Jesus strives for the same level of excellence that I push for, whether working with restaurants or planning events."
For nearly a year, they created and tested recipes for sauces, marinades, and drinks, working to craft a one-of-a-kind menu featuring flavorful and original Mexican delicacies with an innovative flare. In November, they signed a lease for the 136-seat location on Grindstone Parkway (formerly Babbo's Italian Eatery) and opened Casa Maria's Mexican Cantina just four months later, in early February 2021.
"We did a soft opening that weekend and sold out. It's been nonstop ever since," Crystal says.
A Menu to Make Your Mouth Water
Named after Jesus's mother, Maria, Casa Maria Mexican Cantina has quickly become known for its variety of one-of-a-kind dishes. Drawing inspiration from two generations of family recipes combined with native delicacies from Mexico, Jesus was able to create a flavorful and unique menu.
The menu is studded with traditional Mexican fare such as the pozole, a soup with hominy, seasoned pork, and a tangy broth served with lettuce, radishes, onion, jalapenos, and limes. The succulent Mexican street corn is grilled and smothered in mayo, lime juice, salsa, and cojita cheese. The tres enchiladas features tinga chicken, steak, and cheeses smothered in Jesus's mole sauce.
Fresh ingredients and bright flavors are used to make popular dishes such as the colorful tinga tacos, a combination of smoky shredded chicken with an avocado mash topped with red cabbage queso fresco, or the fiesta bowl, with spiced shredded barbacoa, cilantro lime rice, black beans, lettuce, pico de gallo, guacamole, and corn salsa.
The full-flavored and popular queso fundido showcases melted white cheddar cheeses with spicy Mexican chorizo over poblano rajas, sprinkled with cilantro and served with flour tortillas for dipping. The barbacoa tacos include three corn tortillas stuffed with shredded, seasoned beef and garnished with fresh chiles, radish, cilantro, and onions, all topped with homemade avocado salsa.
Casa Maria's also offers an array of seafood dishes. The stuffed poblano pepper is overflowing with grilled shrimp, scallops, and crab, drizzled with a creamy chipotle sauce, and served with grilled seasonal vegetables. The arroz Cozumel pairs grilled shrimp with scallops, zucchini, squash, and peppers on a bed of rice topped with creamy queso.
"We are excited to provide Mid-Missouri with a more upscale Mexican dining experience," says Crystal. "Casa Maria's offers modern Mexican cuisine created with authentic, bold flavors while using fresh ingredients in a vibrant, festive atmosphere."
In addition to the tantalizing menu, Crystal and Jesus teamed up with local bartender Isamel Mendez to create an innovative cocktail list. Casa Maria's creative margarita list includes more than 20 varieties of traditional and specialty margaritas, served either frozen or on the rocks. The award-winning mango habanero margarita is perfectly sweet yet surprisingly spicy, and the triple berry margarita is infused with fresh fruit. Both are crowd pleasers. On Tuesdays, customers can try one (or two) jumbo margaritas during the all-day happy hour for only $5.
A Fiesta for Viewing
Upon entering the restaurant, guests are pleasantly mesmerized by the vibrant murals adorning the walls of both the main and side dining areas painted by local artist Cindy Scott. The paintings include what Crystal refers to as the "fiesta version" of Columbia's famous Big Tree, as well as flowery depictions of the agave plant, an important export of Mexico.
During Casa Maria's first Cinco de Mayo celebration, Cindy also live-painted three large canvases depicting the exciting events of the evening, which now hang inside. The finished works include lively, painterly vignettes of bartenders handcrafting multi-colored cocktails, diners enjoying their fare and conversation, and the sparkling patio filled with happily celebrating customers.
Crystal and Cindy met while co-chairing Tigers on the Prowl, a local fundraiser that brings together Mid-Missouri charities, sponsors, and local artists. Cindy was one of the artists chosen to paint a five-foot fiberglass tiger to be auctioned off to benefit select charities in Columbia. Their shared passion for helping others and supporting the community created a lasting friendship.
"Cindy and I worked on numerous charitable causes together, and Jesus and I fell in love with her art. We could not have created Casa Maria's culture without her vision and talent," says Crystal.
Casa Maria's also boasts a small but adorable light-strung patio for outdoor seating as well as a private event space inside. They also offer curbside pick-up. Having only been open for three hectic and busy months, Crystal says they are ready to expand. "Catering events has been an area that Jesus and I both love, and it allows us to stretch our creativity," she says. "We are excited to work with the community and be a part of bringing individuals together!"