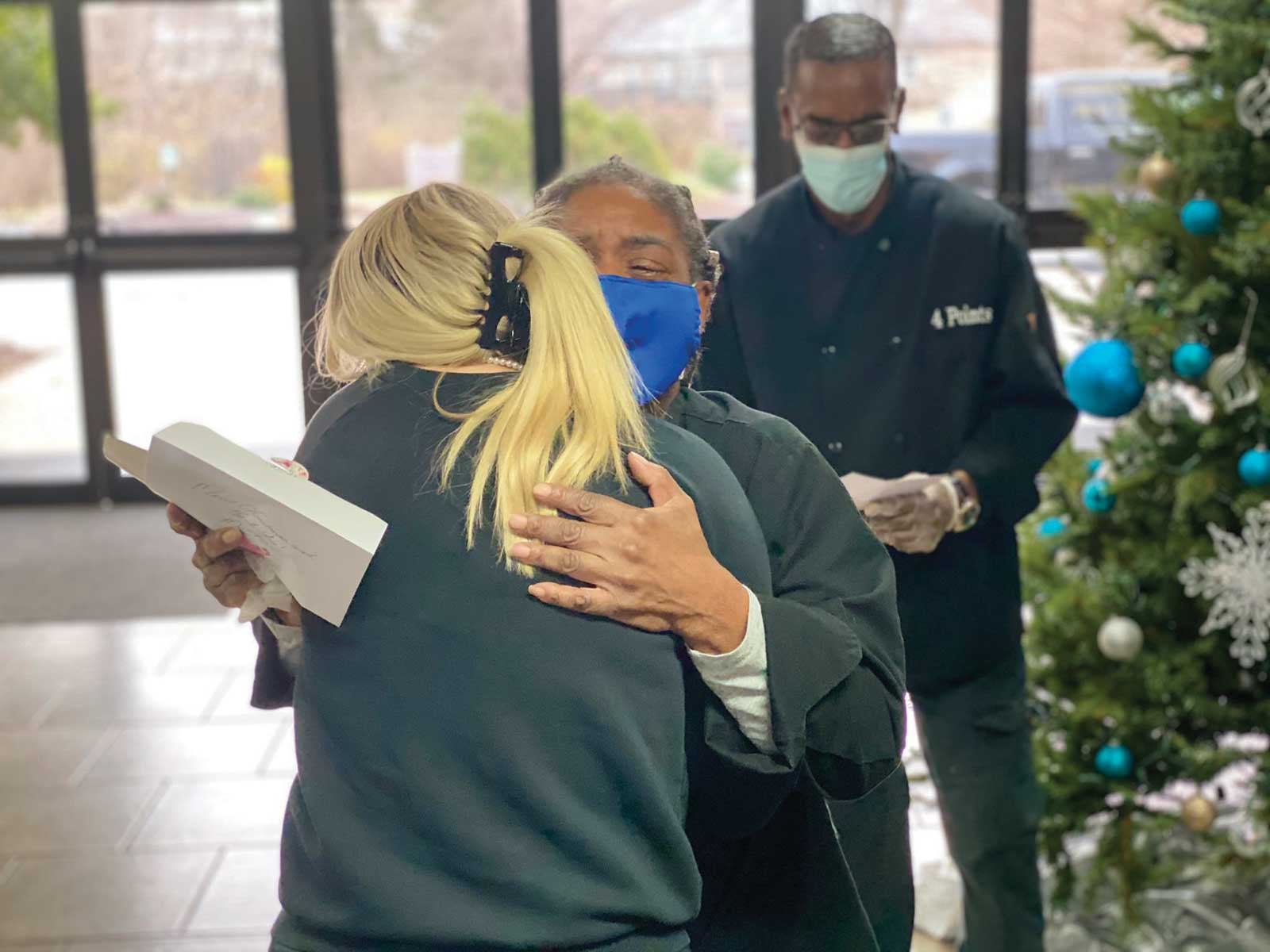 "Miss Kim" makes lunch and lifetime memories for the students of Christian Fellowship School.
They say that the way to someone's heart is through their stomach. 
This is certainly the case for Kim Hornes, better known as "Miss Kim," who has captured the hearts (and stomachs) of the students and staff alike at Christian Fellowship School.
"I knew from the moment she walked in the building that there was something special about her," says Mia Rudisaile, a 2021 graduate of CFS. She describes Miss Kim as being "a beautiful soul" who cares deeply for every student, from preschoolers to high school seniors, giving as much love and care to the kids as she does her cooking.
In addition to Miss Kim's fantastic skills in the kitchen, she is always there when the students need a shoulder to lean on. "I have learned that she cares more about others than herself and is willing to put herself in harm's way to ensure that everyone around her is happy," Mia says. "Without a doubt, every time she gave me a warm hug, my day would instantly get better."
Miss Kim works for 4 Points Catering, cooking meals for the students and staff at Christian Fellowship School. However, she wasn't always playing lunch lady for K-12 kids. When Josiah Williams began 4 Points Catering, along with Amaya Williams and Travis Rudloff, he turned to Miss Kim, who had previously worked for his father, knowing her prowess in the kitchen.
Miss Kim worked with 4 Points Catering at MU as a cook for fraternity houses. When Josiah offered her the opportunity to work at the Christian Fellowship School, she says, "I was like, 'okay, well, what about the frat boys?' I had been cooking for them for so long and I knew all of them. I said 'who's gonna take care of my babies?'"
Little did Miss Kim know; she would be going from having 50 or 60 "kids" to having hundreds.
"I have a ton of kids," she says. "I have, like, 344 more children! Praise God!"
Since then, Miss Kim and her kitchen counterpart, Kelvin Bush, have been working together at the school. "He bakes a whole lot," she says about Kelvin. "He does so much, and we help each other. It's not just me, it's us two. We do this together!"
"Businesses like 4 Points Catering are woven into the fabric of our community and become part of our family," says Max Vikhter, head of school. "In a time of such division, our student population is blessed to cross paths with minority-owned businesses and diverse vendors. Most importantly, it is vital that our students of color see themselves represented through positive role models within our school environment."
"It's just beautiful," Miss Kim says about Christian Fellowship School. "I just love it over there. The kids run up and hug you and kiss you and say, 'Oh, Miss Kim, what's for lunch? What are we gonna do today? Can I help you?'"
"When I come in the door, everybody screams and hollers, 'Hey Miss Kim! Hey Kelvin!'" she continues. "The little preschoolers and kindergarteners are just the cutest little things—when we're cutting up fruit, they say, 'Hey, Miss Kim, can I have some fruit today?' and I just give them some fruit while they talk to Kelvin and me. It's just — everything. Walking down the hall and getting hugs from all the kids, and people telling you all day long 'we love you; we love you, thank you so much.' It brings joy, and that makes the food taste better!"
"Oh, they're keeping me young! I can feel the love every day," Miss Kim continues. Unlike a lot of people, Miss Kim cannot wait for summer vacation to end. "Even now, I was talking to Kelvin this morning, and he said, 'I just can't wait to get back to work! Don't you miss all of our kids?' And I just said, 'Yeah, I know!' It's just beautiful people over there, from the bottom to the top. Even the maintenance crew. Everybody eats, and it's just beautiful. I can't wait to get back!"
The love Miss Kim feels for students and staff is more than reciprocated.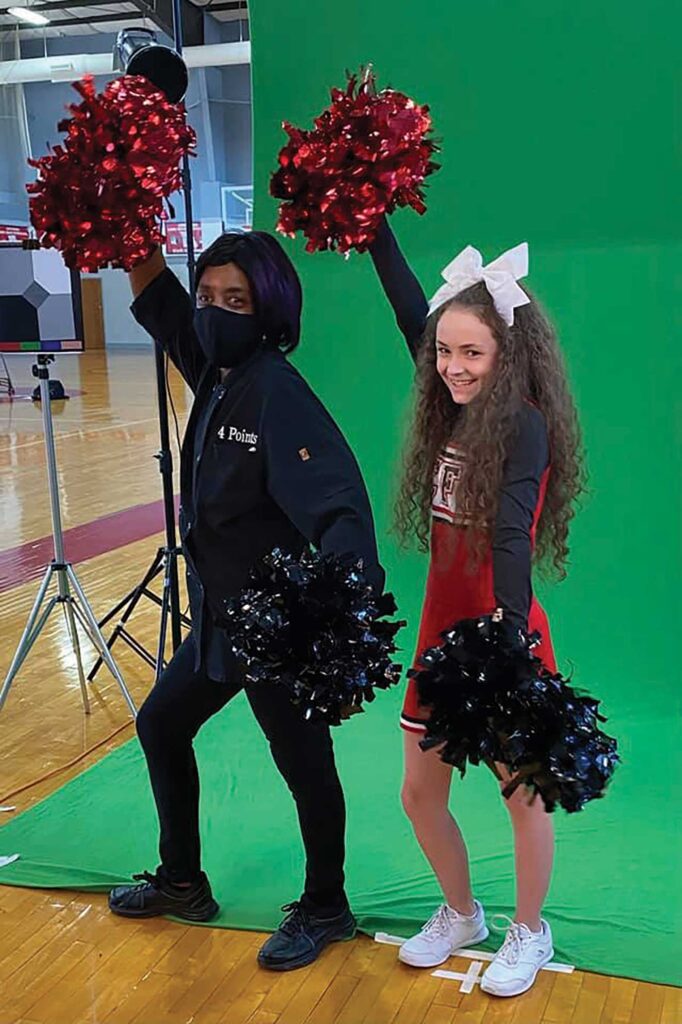 "Miss Kim will go to the ends of the Earth to make sure you are not hungry. When she finds out you didn't have time for breakfast it is the equivalent of a toddler finding out they got coal for Christmas," Mia jokes. "You will be handed food of some sort and asked to enjoy the rest of your day."
"I could go on for ages talking about the many great interactions she and I have had," says Mia, who has witnessed Miss Kim's cooking feats first-hand. "I went through an obsession with sweet potato fries. When I realized 4 Points had an option of that as a side dish, I jumped for joy. I mean, literally."
After Miss Kim found out how excited Mia was about the sweet potato fries, she took matters into her own hands and made Mia a fresh batch of crispy, golden, sweet potato fries the very next morning.
Mia remembers this fondly, saying, "That is by far a memory that I will hold onto for a lifetime."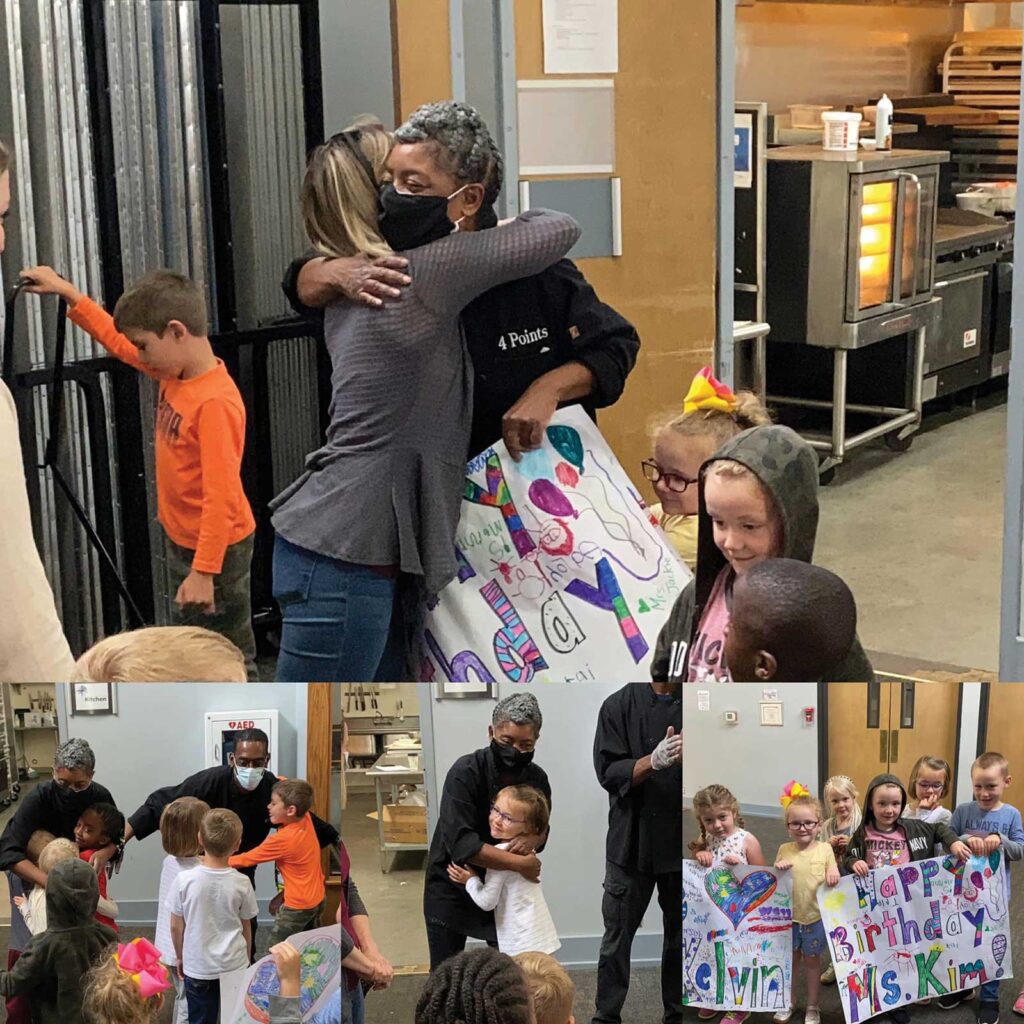 Mia says that Miss Kim's wonderful attributes are more than could ever be described.
"Moral of the story, Miss Kim is an amazing human being that everyone should get to know," she says. "Her cooking is something to look forward to — Miss Kim is for sure the next Gordon Ramsay."
Despite Miss Kim's delectable food, she insists that she is a cook, not a chef, because she never went to culinary school. Instead, she learned her skills from her loved ones. "I learned to cook from my mom and grandmother, aunts and cousins. I've been cooking all my life," she laughs as she says. "You know, I just cook!"
Additionally, Miss Kim is one of the remarkable few that doesn't need a how-to when it comes to the kitchen.
"Honey, I don't have any recipes," she says. In fact, neither she nor Kelvin use recipes of any sort, saying, "I have nothing written down. I just cook, taste the food, make sure I would want to eat it before I serve it, and that's it!"
However, Miss Kim does have a not-so-secret secret recipe, which becomes evident when you see her interact with the students.
"I cook straight from my heart. It's just love, that's it. That's the recipe."