Bringing the Party with Airmagination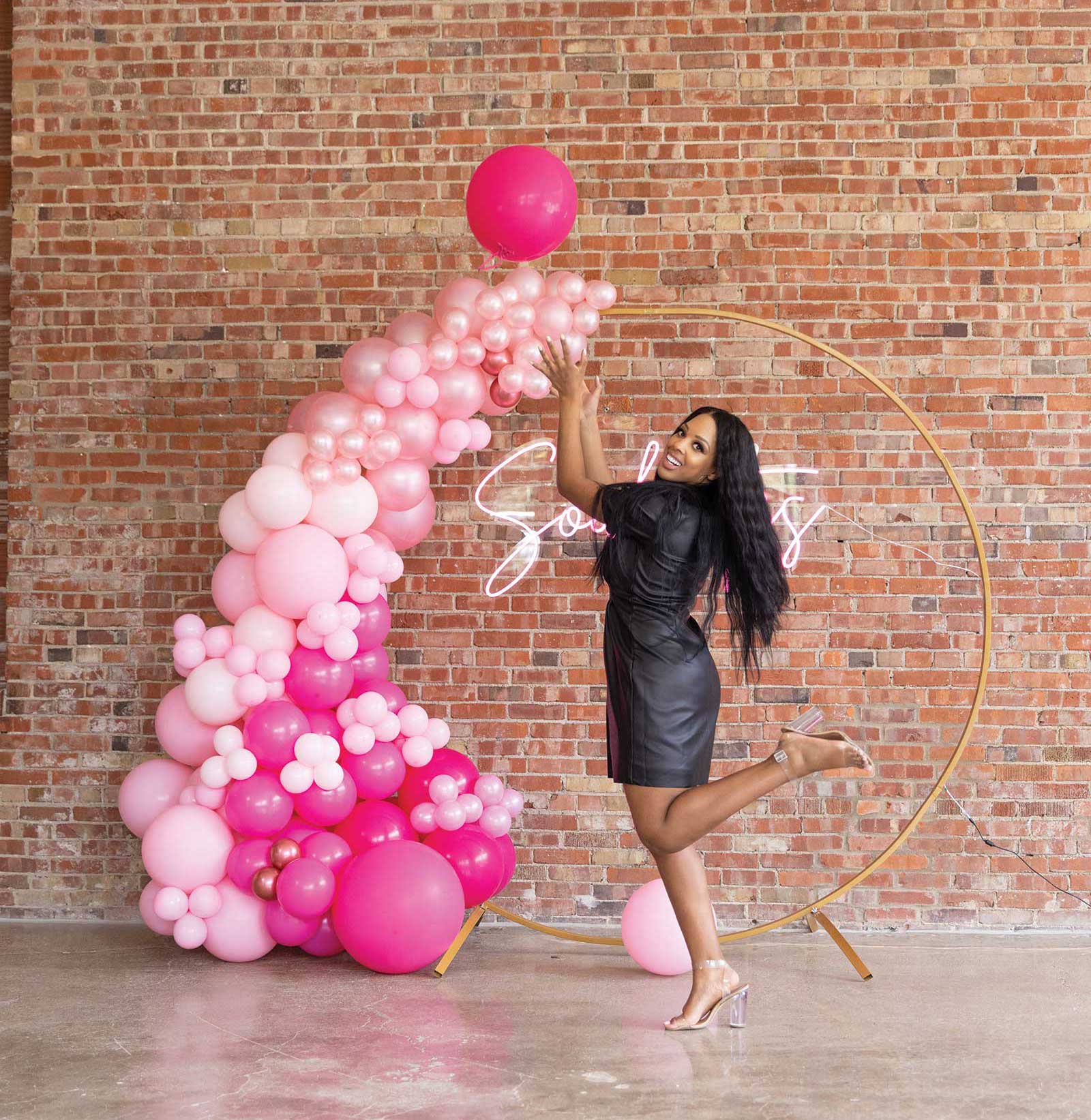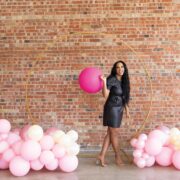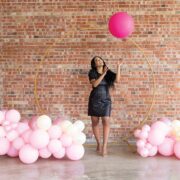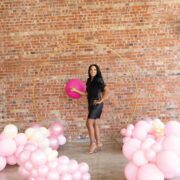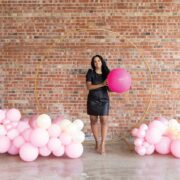 View Gallery
How to make your next event pop.
Crafting and styling balloon arches, garlands, backgrounds, neon signs, and event set-ups is an artform at Airmagination — a balloon styling and decoration company. The main allure of the business remains the "organic" balloon installations. Various shapes, sizes, and colors of balloons turn a bar, doorway, or wall into something unearthly. "Naturally, balloons elevate the mood of any occasion," co-founder Destiny McKnight says. "But this is more than just balloons. Our displays bring attention and can make any event pop."
As a Texas native, Destiny explains that balloon art is a big deal around the state, so she and her husband knew that this was something the community of Columbia needed. The couple began learning the art of the industry last year during the stay-at-home orders that wreaked havoc on events. "It was the perfect time to learn the art of balloons and plan the business before events began to pick back up again," Destiny says.
With eight months under their belt, Destiny says she is proud of the work she and her husband have done. "Airmagination is a space where I can dream, be inspired, and bring a different form of art to Columbia's event scene," she says. "We're helping others turn their ideas into something incredible."
Crafting the Perfect Display
Airmagination has made a name for itself — in both the residential and commercial worlds. Look over their list of clients, and you might see a few names you recognize: Veterans United Home Loans, Ronald McDonald House Charities of Mid-Missouri, Missouri Women's Business Center, ACA Business Club, and Regional Economic Development Incorporation (REDI), to name a few. "As much as we do balloon installations for commercial business, we are also creating displays for events at people's homes. We've created balloon displays for bridal showers, birthday parties, and gender reveal parties," Destiny explains.
The process begins with a consultation. "We discuss inspiration, whether the event is indoors or outdoors, how many people will be at the event, and the size of the space the event is being held," Destiny says.
The way Destiny crafts and styles a balloon installation differs from project to project. A 12-foot balloon garland hoop — such as the one featured in the pictures — can take as long as three hours and as many as 100 to 250 balloons, depending on the scale of the design the client desires. "What we're doing isn't a step-and-repeat process with the same size balloons and colors," Destiny explains, adding that their balloons are blown up with air and hand-tied. "We use professional-grade balloons that are as small as five inches up to balloons as big as 36 inches."
Destiny's favorite balloon display has been a "too-bright" graduation party for three high school graduates. "We created a very over-the-top backdrop that incorporated a whiteboard from Sawdust Studios and lime green, yellow, orange, hot pink, purple, and teal balloons," she says.
Other notable balloon installations, Destiny says, have been a pastel-colored unicorn backdrop for a child's birthday, a pink champagne bubbly balloon garland display, and a boho-chic backdrop for a bridal shower.
Looking Toward the Future
Destiny and her husband already had the future in mind when the couple launched Airmagination in January. "We could have easily named the business 'Destiny's Balloons,' but because we didn't know where it would take us, we wanted to establish a brand," Destiny says.
The CEO at InCast Marketing in Texas, and mother of two, explains that she sees the business continuing in three possible ways. They could keep Airmagination as a side-gig, add more people to their team, or sell it. "There's a lot of next steps that we're considering because we want to do what's best for the future of our business," Destiny explains.
Whatever those next steps are, Destiny thanks the community for the overwhelming support. "As a startup, it's not easy, especially when my husband and I didn't know anyone when we moved to Columbia," she says. "But we've hit some crazy milestones in the last few months. It wouldn't be possible without the support of the community."