Booches the Legacy that Lives On
Photos by Keith Borgmeyer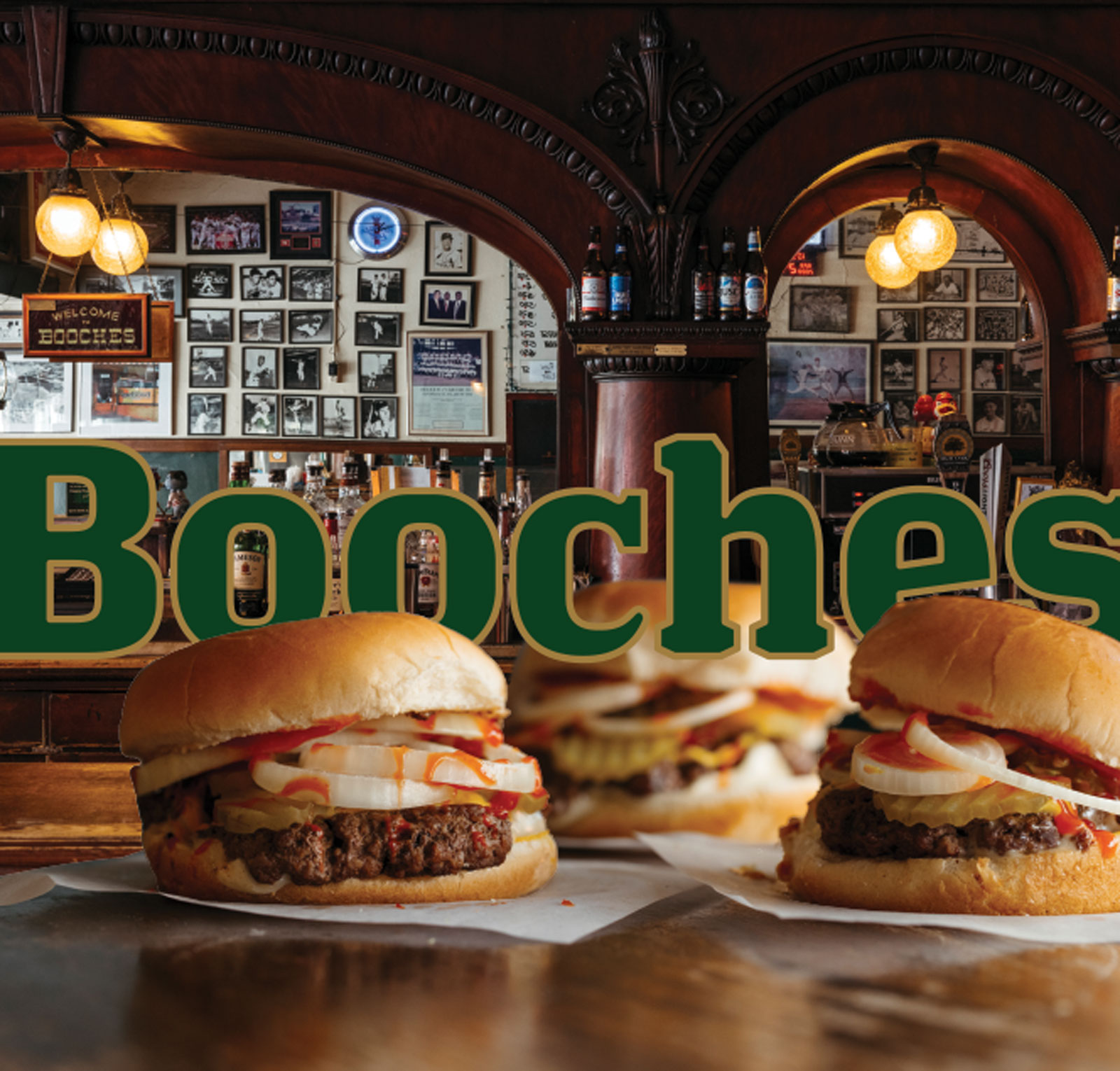 The universal and inevitable response to the question "What's Booches?" is always accompanied by a jaw drop and genuine gasp of shock.
"Wait … you've never had a Booches burger?"
At Booches in downtown Columbia, there is no perfectly cooked steak. No token appetizer gracing the minimalist menu, which hangs in its singular location on the wall. No fryer. There aren't even plates, and there are only occasionally utensils.
So, what is it that makes this hole-in-the-wall bar and grill so iconic?
While location, ownership, and customer base may have changed over the years and with the times, Booches Billiard Hall's mainstays have remained endearingly the same. In fact, that may be the secret to its success.

Founder Paul Bucher Venable was born on January 29, 1867. As the story goes, Paul, was nicknamed "Booche" by up and coming poet Eugene Field, who felt that "Bucher was no nickname for a little boy." Paul opened Booches in 1884 at its first location at 706 E. Broadway as a proper gentleman's billiards hall — no liquor, gambling, or women allowed. That building was later torn down and replaced by the Hetzler Building in 1898.
In 1887, Paul's billiard hall moved to 918 E. Broadway, the present location of Blanc Studio. In 1895, Booches moved to 922 E. Broadway, which is now Poppy. That stay was short-lived, as Booches moved to 1001 E. Broadway in 1896.
During the late 1800s and early 1900s, Booches was primarily a student hangout featuring billiard tables and snooker (a game similar to pool). Paul was nicknamed "the students' friend," as his clientele comprised mostly college students and he had close ties with MU.
Paul's life was cut short at the age of 46 when he died on September 12, 1912, due to a complication during gallbladder surgery in a St. Louis hospital. Upon his passing, Booches was moved to the second floor of the Virginia Building (now the Atkins Building on Ninth Street) and shared space with J.C. Green, who owned the Tiger Barber Shop. In 1926, Booches Billiard Hall moved to its sixth and final home at 110 S. Ninth Street.
During Prohibition in the 1930s, it was rumored that clandestine drinking and gaming would carry on within Booches behind a trap door in the back. It was some time in the 1940s, after the end of World War II, that the regulars morphed into an older crowd, and historic photos show the first flat-top grill signifying the addition of food service around the same time — although initially it was the ham sandwich they were known for, and liquor by the drink wasn't served until 1982.
Leonard and Earl Morris purchased Booches in 1925 and it stayed in the Morris family until it was bought by lifetime Columbia resident Ed Barnhart in 1957. Like many local businesses, Booches did not seat Black people during the period of racial segregation until Ed made the change. Interestingly, prior to his ownership, Ed was one of the only baseball players born and raised in Boone County to play in the major leagues. He played for the St. Louis Browns in 1924.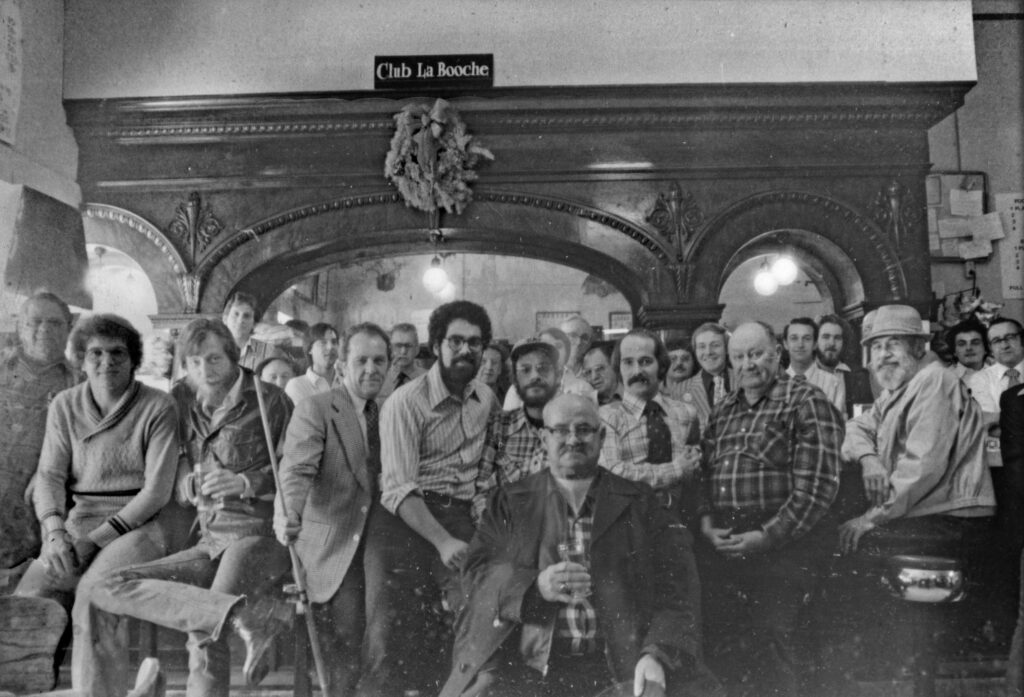 Women were also barred from Booches until the early 1970s, when the bar changed hands again, coming under the ownership of college friends Jerry Dethrow, Robert Rappold, and Mick Jabbour in 1974.
Robert Rappold and Jerry Dethrow met and became fast friends in Hermann, Missouri, where they grew up. Their friendship developed, and together they attended MU, where they both studied creative writing and met Mick Jabbour.
Driven by a shared love of poetry, the three self-proclaimed poets bought Booches in hopes it would give them some spare time to work on their writing. It was during that time Jerry and Robert published four issues of Review La Booche, a nationally published literary journal featuring poetry, prose, sketches, and photographs by contributors of such celebrity as William Stafford, Elton Glaser, and Frank Stack along with local and regional contributors. The review was short-lived, but revived in 1990 for a fifth and final issue.
Robert is quoted in the Missourian as saying, "Booches is one big lyrical poem. Just look around." Perhaps there is something poetic about a bar, burgers, and pool hall that brings people together.
The owners were also looking to draw in a younger crowd, being pretty young themselves at the time. Robert was 28, and in the same article said, "Our mainstay is the older crowd, but we want to attract new people who appreciate the atmosphere and can carry on the tradition." The trio were instrumental in creating the long-standing legacy we know and love today.
In 1993, Jerry Dethrow became the sole owner before he sold it to longtime managers and current owners Charlie Kurre and Rick Robertson in 2004. When asked how to make a Booches burger, Rick replied, "A lotta love."
While the history of Booches spans 137 years and multiple downtown Columbia locations, there are some things that have stayed steadfastly the same. Six of the 22 original pool tables purchased in 1914 are still available for customer use, and the tables and chairs are nearly a quarter of a century old.
Bigger than a slider but smaller than a normal burger, a Booches burger looks quite unassuming when served. It is a dream for the indecisive, with only a single cheese option: a melty American-Swiss combination binds the patty and slightly undersized white bun, allowing the grilled meat and gooey cheese to ooze out the sides.
The burger is served on a modest square of wax paper without a plate or utensils. First-timers are advised to order more than one, which they will inevitably want.
The menu now also features chili, bratwurst, hot dogs, and a Reuben. There's soup on Fridays made fresh that morning and vegetarian options include either an egg or a grilled cheese. Choice of a side is easy — just pick a flavor of locally made Backer's potato chips.
As for accolades, there have been many over the years. In 2000, USA Today listed Booches as one of the top 25 burger restaurants in the United States. In 2019, Joan Niesen and Laken Litman of Sports Illustrated named Booches burgers No. 1 on the list of "Greatest College Town Eats." Booches was also inducted into the Boone County Hall of Fame in 2016.
Booches Billiard Hall is brimming with nostalgic charm that can only be described as comfortable, authentic, and real — qualities that seem harder to find as the years go by. It seems like most everyone in and around Columbia has at least one Booches story to tell, and if you don't, it might be time for a visit. Don't forget to bring cash.