A Tiny Kitchen With Big Flavor
Photos by Anthony Jinson and Sadie Thibodeaux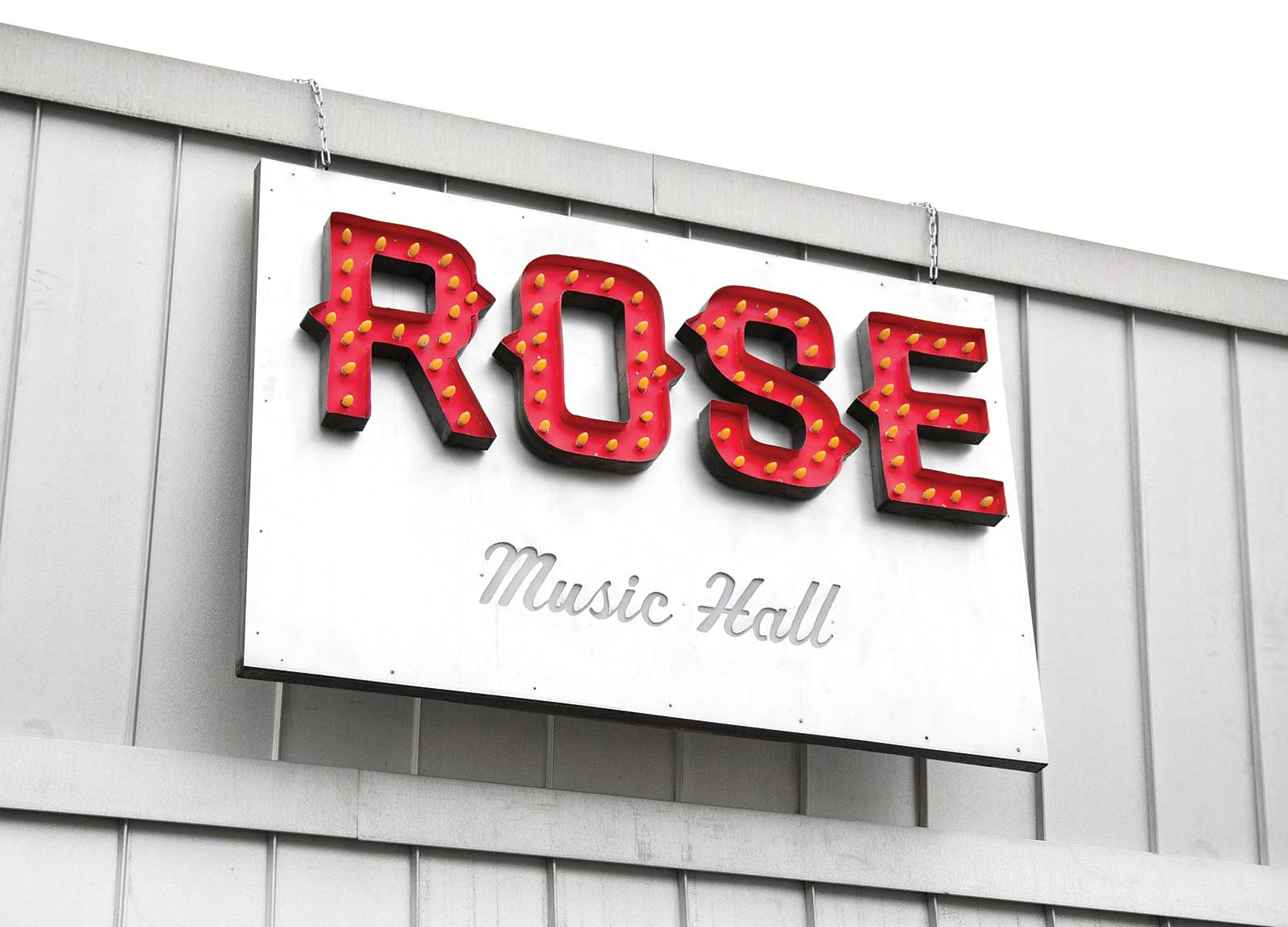 Rose Music Hall's food legacy.
Pizza Tree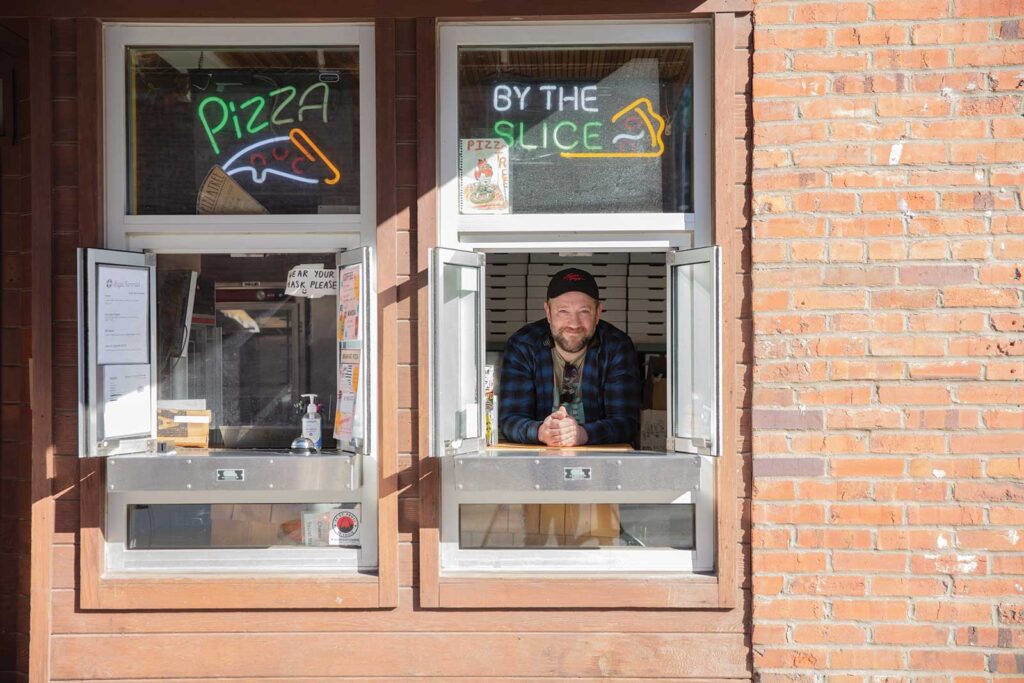 A Columbia native since 1999, John Gilbreth gained experience in a variety of Columbia kitchens, building his culinary skills as he went. While working at The Blue Note in 2013, John became acquainted with Richard King, then the owner of The Blue Note and Mojo's, now known as Rose Music Hall. John approached Richard when he heard Mojo's food vendor, Sunflower Waffle Co., was departing. "I went up to Richard and said, 'I'm doing this pizza thing — what do you think?'' John remembers. "He gave me a handshake deal and let me get my start." 
Once the deal was done, John set out to open in Mojo's in seven days — which he did, serving his wares from the small space's split window for the next year.
John gives credit to both Richard King and Josh Bowles, general manager, for letting him test the waters. One of John's greatest moments was making pizza for a member of the Wu-Tang Clan. "It was a pretty monumental night," he says.
The Pizza Tree shop — or "pizza house," as John calls it — is now located in downtown Columbia on Cherry Street. It offers both classic and "adventurous" pies for takeout, delivery (the largest delivery range in Columbia, claims John), and a walk-up window for late-night customers.
A new addition, Goldie's Bagels, is operated by John's wife, Amanda Rainey. The two  actually met at Mojo's. He recalls: "There was this hot girl coming around eating pizza all the time. She's been eating Pizza Tree since June 2013."
Ozark Mountain Biscuit Company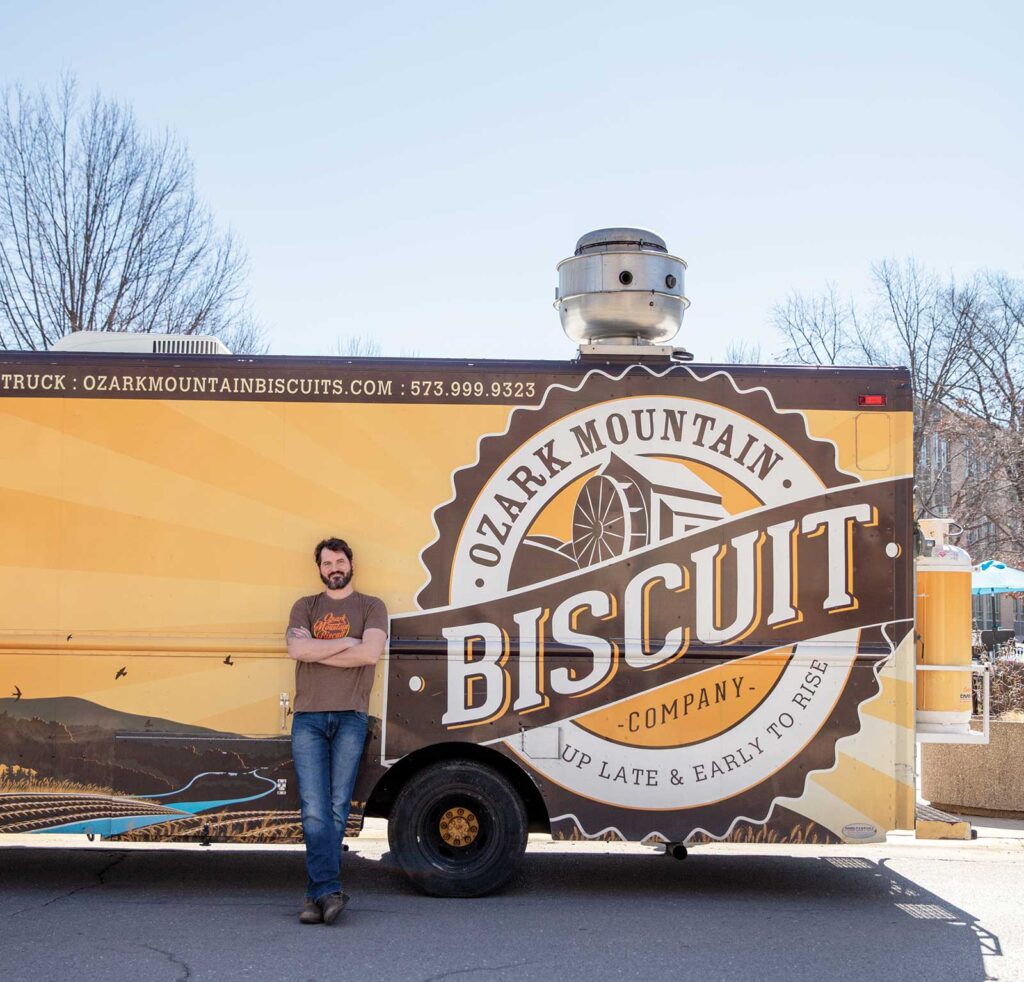 Despite getting a degree in history from MU, Bryan Maness fell in love with food and the restaurant industry during his time spent in Columbia. He cut his teeth in an array of kitchens, including Broadway Brewery, where he climbed from manager to executive chef to general manager. 
As he watched the food truck scene begin to explode, Bryan itched to join the craze. Realizing the financial advantages to a restaurant on wheels, Bryan opened his truck, Ozark Mountain Biscuit Company, for business at Pride Fest in August 2013.
Having worked as a sound man at Mojo's "back in the day," he was approached by Richard King and moved into Mojo's in February 2014. There, he continued to serve food inspired by his Ozark family roots — southern food, including Cajun catfish and chicken-fried chicken biscuits. "It was a great fit. But after a year, I realized I had maximized the space and needed more room," Bryan says.
After leaving Mojo's, Bryan continued working with Richard King and served his biscuits from his food truck at Mojo's, The Blue Note, and the Roots N Blues N BBQ Festival. Finding success at the festival scene, he took his truck on the road for the summer. With a staff of 40, Ozark Mountain Biscuit Co. served its delicious biscuits at music festivals from New York to California, including Bonnaroo and Electric Forest. "At the bigger festivals, sometimes we would have three stations set up around the grounds," Bryan remembers.
Still serving Columbia from a number of locations, Ozark Mountain Biscuit Co. is ready to take the next step forward by opening a brick-and-mortar restaurant this summer. Their new space will be located in the newly renovated 9,500-square-foot Diggs Meat Packing Co. building on Rogers Street, near Logboat Brewing Co. and Walt's Bike Shop.
"I hopped around trying to find the right location and fit for our restaurant, but it all worked out pretty well," Bryan says. He plans to keep the truck operating and have more availability for weddings and catering. "We'll keep doing mobile operations, but we really want to have a place where people can come and sit down and enjoy the food with us, not always take it away," he says.
South Florida Style Chicken & Ribs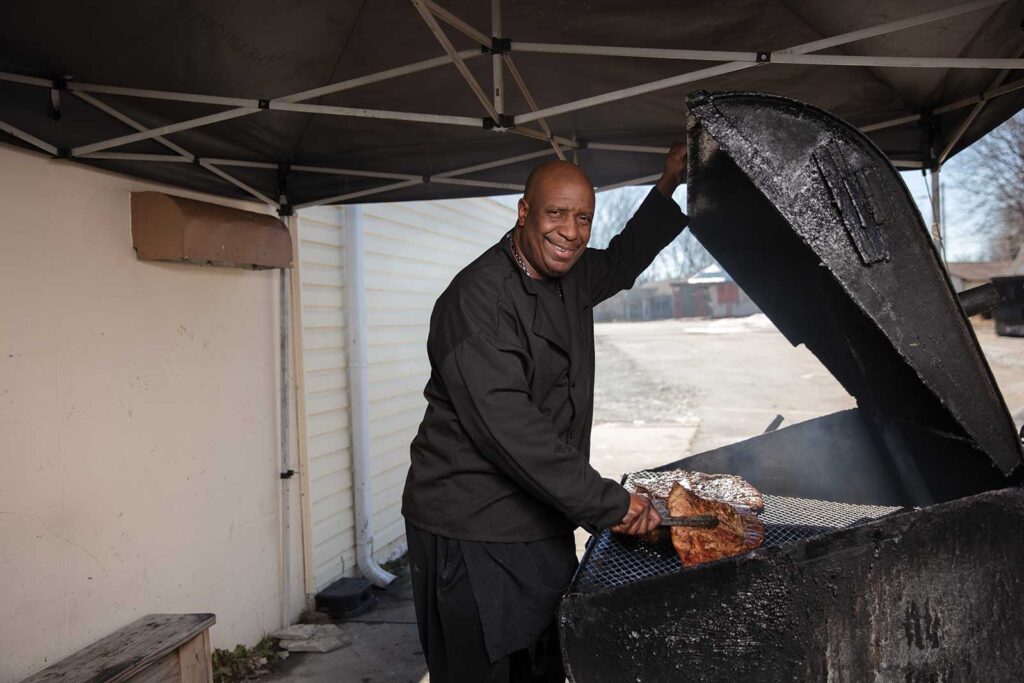 Originally from South Florida's Boynton Beach, the Nathan family followed their son, a newly signed Mizzou football player, and transplanted to Columbia in 2018. It was then that Gerald, his wife, Kim, and their children started serving their delectable southern-style dishes from a food tent at various locations around Columbia.
Gerald was invited to move the operation — South Florida Style Chicken & Ribs — into Rose Music Hall in June 2020. While concertgoers loved his food, the pandemic kept his stint brief. But, as Gerald is known to say, "God is good," and the Nathans found the perfect spot to open their first brick-and-mortar location on December 5.
Since then, Gerald says, business has been booming. "The space, the décor — it's awesome," he says. When asked if he had done the decorating, Gerald replies, "Yes, ma'am, of course I did."
The bigger space made room for a bigger menu, including Cuban and pastrami sandwiches, a variety of wraps, fried squash, oxtails, and turkey wings. "We do it all," says Gerald, who still maintains his food tent at Cooper's Landing and Veterans United Home Loans.
To add to the list of recent successes, Gerald and South Florida Style Chicken & Ribs recently became CoMo Chopped champions. A Heart of Missouri United Way fundraiser, CoMo Chopped brought together six Columbia restaurants and six celebrity chefs who created a unique dish to compete for one of three awards: judges' choice, most dishes sold in their restaurants, and most money raised for United Way. Gerald says he not only made a new friend when they teamed him up with Veterans United Home Loans celebrity chef Barby Wulff, but they also won!
The Nathan family continues to aim to please each and every customer who comes through the door of South Florida Style Chicken & Ribs, standing by their company policy of "try it before you buy it."
Gerald says, "I tell everybody, 'We'll find something that you like.'"