Something to (Trash) Talk About
Photos by Charles Bruce III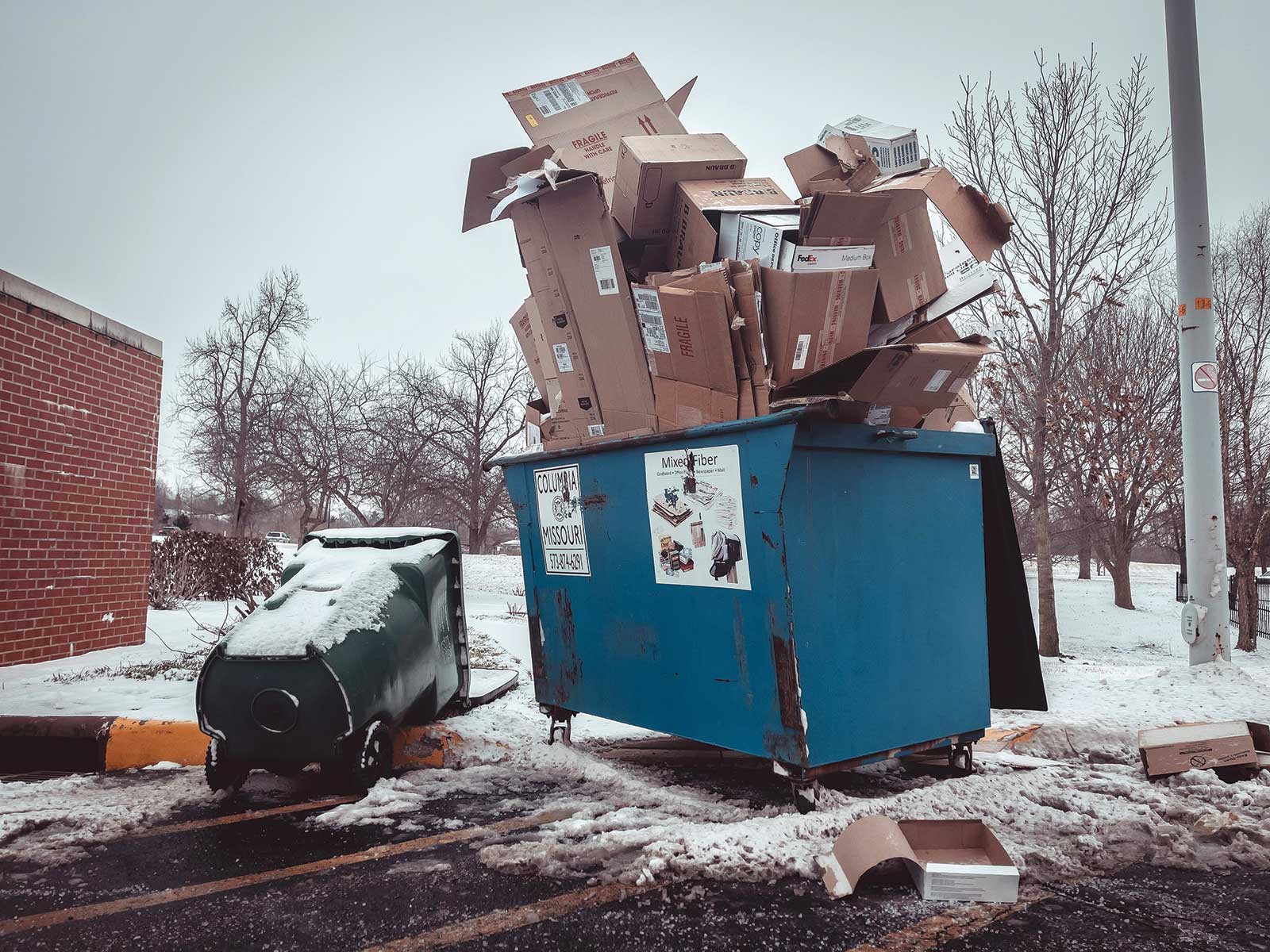 The city of Columbia launches a new trash and recycling program amid roll cart controversy.
There's a lot of trash talk going on in Columbia. Not at Faurot Field or Mizzou Arena, but in households throughout the city and City Hall. 
The inspiration for such in-your-face dialog is trash itself. Garbage, like most issues these days, has become extremely divisive. On February 1, 2021, the city of Columbia launched a new curbside trash and recycling program, the Pay as You Throw (or PAYT) model. It harkened the return of curbside recycling after a seven-month absence, but the controversy surrounding how our trash disappears continues.
A Brief Recent History of Columbia's Trash
In 2015, city representatives held "trash talk" forums around town to discuss a hybrid system of roll carts and bag collection to serve its 35,000 residential customers. A citizens group, the Solid Waste Advocacy Group, placed an anti-roll cart proposition on the March 2016 municipal ballot, basing its argument primarily on costs and the unsightly appearance of roll carts.
The measure passed with 54% of the vote and put a new ordinance on the books banning roll carts and prohibiting the city from even discussing them for six months. Steve Hunt, Columbia's solid waste utility manager, says with roll carts off the table, the city had to explore other ways to deal with the challenges of residential waste pickup. Residents were left literally holding the bag.
In July 2020, the city halted curbside recycling due to ongoing staffing shortages exacerbated by the pandemic. About the same time, another citizens group, Columbia MO Citizens for Roll Carts, formed to show support for a PAYT system that would include roll carts. Amy Vandergriff-Belcher, who launched the effort, says her initial concerns were about the health and welfare of the collectors.
"Workers were riding on the back of trucks, falling off and getting hurt, poked with needles, cut by glass, and breaking bones," Amy says. "Besides [being concerned for] their safety, the city was paying nearly a million dollars in workers' compensation claims just for sanitation workers."
The pro-cart group asked the Columbia City Council to put a measure on the November 2020 ballot to let voters revisit roll carts. In August 2020, the council narrowly defeated the request, with some members saying it was a citizen's petition that banned carts, and it should be a citizen's petition to reverse it. So Amy's group began gathering signatures supporting a ballot measure to repeal the SWAG ordinance, allowing the city to discuss the possibility of an automated system.
"We have around 2,000 of the 3,219 signatures we need," Amy says. "The pandemic makes knocking on doors difficult. We know the support is there, so we're not worried. As pandemic conditions improve, we'll finish collecting signatures and get the issue on the ballot."
The Dumpsters Runneth Over
Meanwhile, the absence of curbside recycling created overflowing conditions at the city's 11 recycling drop-off locations. The fact that residents were dropping off their recycling didn't resolve the utility's staffing problems. Now that curbside pickup has resumed, the drop-off locations are far less inundated.
"We did see a big increase in usage of drop-off recycling sites," Steve says. "In fact, we pretty much doubled the normal recycling tonnage at them."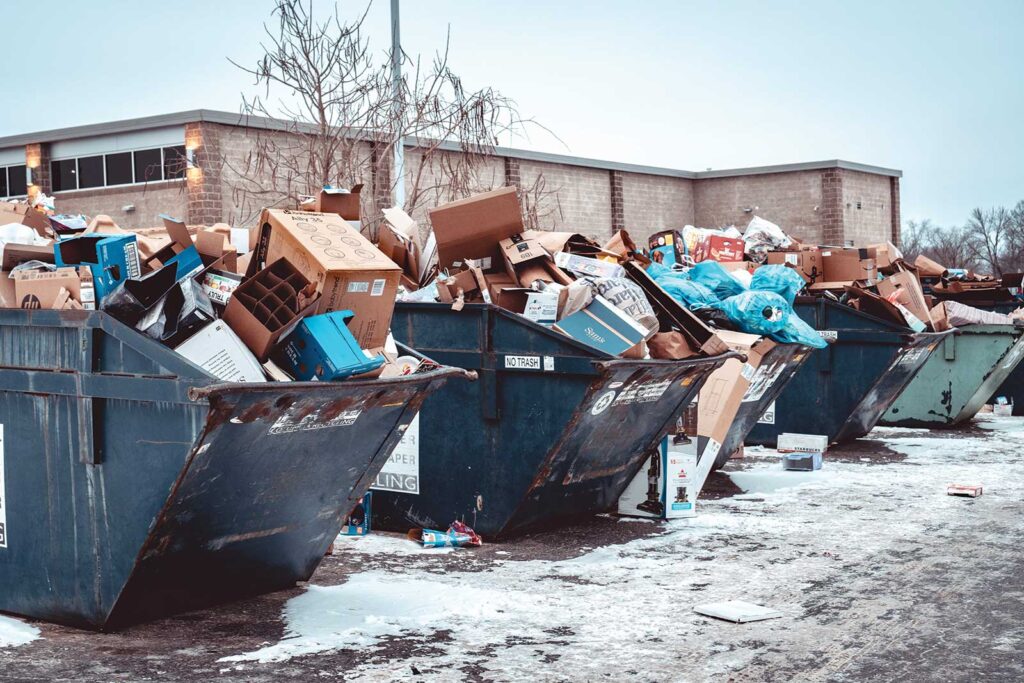 Even during the best of times, recycling was a complex undertaking. "It costs a lot more to provide recycling services than we can ever get back by selling commodities," Steve says. "In years past, we could get a lot more money for those commodities than we can now. For us, it's more about keeping as much as we can out of the landfill."
Collecting, sorting, and baling recyclable waste is one part of the equation. Having a market for that waste is another. According to the Institute of Scrap Recycling Industries Inc., U.S. exports of plastics to China from 2018 to 2019 decreased by nearly 65% as the country suppressed its own voracious appetite for using recycled plastics to manufacture new, cheap goods to export back to the U.S. Even before China's changes, glass recycling had been problematic.
"We have a bunker of glass because we have no place to sell or send it," Steve says. "We're willing to give the glass material away just to keep it out of the landfill."
The Issue of Staffing Issues
Staffing has been the bane of curbside pickup administrators for years. Staff must have a commercial driver's license to operate the heavy, tandem-axle collection trucks. Attracting those drivers is tough when the city can't afford to pay as much as trucking companies and other businesses, even after bumping the hourly pay rate up to $17.
The city pays temp agencies to provide staff, which Steve says costs an additional $600,000 per year. Shortages are exacerbated when workers isolate or quarantine due to COVID-19 exposure. And the physical nature of collections results in a near-constant string of injuries sustained by staff.
Above all, the job is difficult, dangerous, and drudgerous. Workers spend every day getting on and off a big, smelly, loud truck repeatedly, bending down, picking up, and throwing heavy bags.
"We have 28 positions in residential collections, but only 16 filled," Steve says. "Every truck has one driver and one person picking up bags and throwing them in the back. Automation is a more efficient, cost-effective, and safer way to operate curbside pickup."
Automation, of course, requires roll carts, which brings us back to that polarized subject. SWAG argues that startup costs to retrofit or buy trucks with lift mechanisms and purchase the roll carts are exorbitant. Steve says cost savings, like curtailing work injuries and lowering employee turnover, would provide a return on the investment. He also says a 96-gallon cart costs about $40 with a 10-year warranty, the standard life for residential use. The bags currently provided by the city cost about $30 per year, or $300 per customer over a 10-year period, so the carts would pay for themselves in less than two years. SWAG would argue they're still unsightly.
The Current State of Residential Waste
Barred from considering automation, the city adopted a PAYT collection program. Households continue to pay the rate of $17.37 per month for weekly curbside trash and biweekly curbside recycling. But unlike before, residents are required to use the black trash and blue recycling bags with the City's logo printed on them. No logo, no pickup. The rate includes vouchers for 104 trash and 54 recycling bags, which can be used at City Hall, Gerbes, Hy-Vee, Menards, Moser's, and Schnucks.
As PAYT began, Facebook chatter on pages hosted by the roll cart factions indicated shared discontent with being unable to use less expensive generic trash bags. But the logo is an integral part of the PAYT program because it tracks the number of bags used.
To develop the program, the city worked with WasteZero, a company dedicated to increased recycling and reduced landfill tonnage. WasteZero estimates that the 35,000 tons of trash the city collected in 2019 can be reduced by 6,000 tons as the program boosts recycling by 2,000 tons and encourages the reuse of 4,000 tons of items.
"We provide a basic number of bags as part of the monthly utility fee," Steve says. But if people need more than the number allotted, they have to buy additional logoed bags at a cost of $2 each."
Residents who produce more trash pay for the privilege by purchasing additional bags, but they don't pay a premium for collection. The city picks up all "official" bags on the curb as long as they weigh less than 50 pounds.
Residents can also continue disposing of leaves, grass clippings, and other yard waste in the logo bags. Bulky items that don't fit in the bags, like household items unsuitable for donation, will still be picked up curbside; however, residents need to schedule a pickup by calling the Solid Waste Utility or completing an online form.
PAYT is designed to be more equitable and to encourage reuse, recycling, and composting to reduce landfill volumes, a key component of the city's Climate Action and Adaptation Plan. The program should also improve working conditions for collection staff by reducing the number of bags.
All Controversy Aside, Less Waste is Better
Mike Szydlowski is a science coordinator for the Columbia Public Schools and a regular contributor to the Columbia Daily Tribune on science issues, including recycling. He believes that over time, PAYT should incentivize people to generate less trash, not only by reusing, recycling, and composting, but by avoiding food waste and other things packaged with unrecyclable materials.
"Landfills are expensive," Mike says. "Research shows that 40% of our trash is recyclables, so if you use four bags a week for trash, you could almost reduce it to two just by recycling. And that would keep a lot of trash out of the landfill."
Which side of the roll-cart controversy is he on?
"It's amazing how personal removing trash from your driveway has become," Mike says. "This is such a first world problem, and we're pretty spoiled to even be arguing about roll carts. We take for granted here that we can produce all the trash we want and then it just disappears. It's not like that everywhere."
"If roll carts are easier for staff and safer, I'm good with that," he says. "I'm just thankful that when I put my trash out, it simply disappears."