Photos by Keith Borgmeyer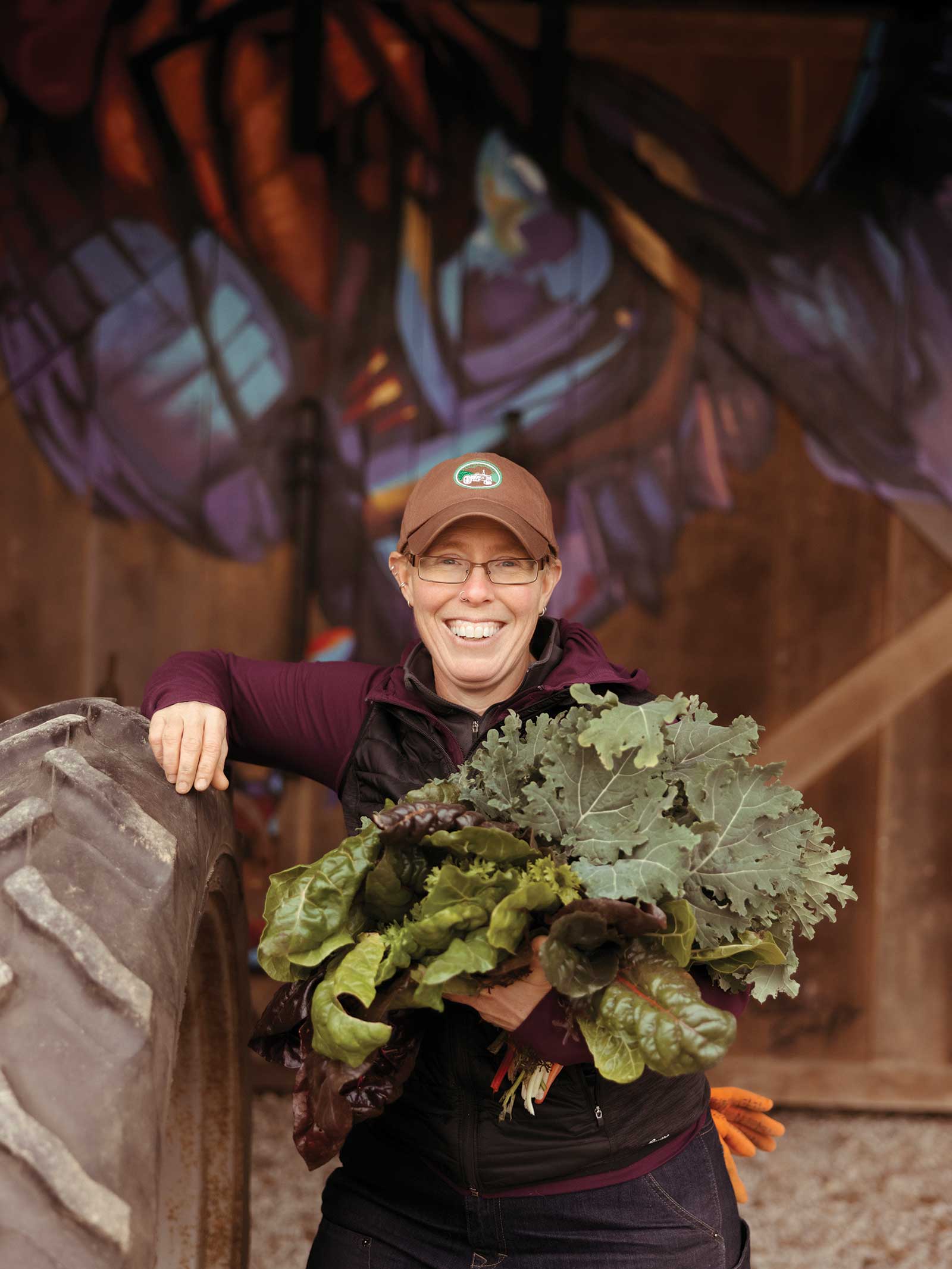 Liz Graznak is pursuing her passion from the ground up with Happy Hollow Farm.
Liz Graznak runs electrical lines, but she's not an electrician. She installs floor drains, water lines, and frost-free hydrants, she fixes heavy machinery, and she builds structures, but she's not a plumber, a mechanic, or a carpenter. She's an organic farmer who has built a business providing sustainably grown produce and fresh-cut flowers to the residents of Columbia and surrounding areas.
The owner of Happy Hollow Farm, located 45 minutes outside of Columbia in Moniteau County, Liz has proudly carried the title of "FarmHer Liz" since January 2010, when she left her job at Superior Garden Center to focus on farming the land she and wife Katie purchased in November 2007. During her first year of business, 19 members of Community Supported Agriculture, or CSA, purchased boxes of produce during the 32-week growing season from May through December. This past season, 87 CSA members purchased boxes for the season. By all accounts, Happy Hollow Farm has grown steadily both in happy, dedicated customers and in its ability to sustain itself as a small business. But despite Liz's educational background, her hands-on experience, and her unwavering passion and commitment, forging her way through the world of organic farming has required her to pull every conceivable tool from her shed.
Learning the Skills
"It was really hard," Liz says. "It still is hard . . . Academic experience means nothing when it comes down to practical knowledge of growing food and all the things it takes to grow food. I've had to learn construction skills, plumbing skills, and electrician skills. I've had to teach myself about soil science, what to do to improve my soil, and how to have a better understanding of how microbes work in the soil."
In fact, Liz believes no other profession demands such a broad range of skills. Though she was fortunate to watch and assist others on their farms before running her own, she says the time she spent doing so was "100% not enough" to learn all the skills required to successfully grow quality, sustainable food while keeping a business afloat.
"The fact I would have to develop so many different skills that have nothing to do with growing food — I think that is the biggest and most surprising thing," she says.
Born and raised in Columbia, Liz left Columbia to attend college in Iowa. As she anticipated graduation, she applied and was accepted to the Peace Corps, but a placement would take almost six months. Without a clear direction in mind, she decided to spend a summer in Ithaca, New York, where her younger sister was working towards a degree in plant breeding at Cornell.
"The people who do this type of research need to hire extra help short-term for the summer to help with field work," Liz says. "My sister's professor was in the process of hiring, so he hired me to be on his field crew studying wheat and oats."
Towards the end of the summer, the professor received word that he received a research grant to study a new grain called teff, an indigenous grain used in Injera, the traditional Ethiopian flatbread. He had to hire paid research assistants who would also receive the added benefit of free tuition in Cornell's graduate program in plant breeding.
"At the same time, I received notice from the Peace Corps that I was placed in Haiti," Liz says. "I could go to Haiti or get a free ride to Cornell and get paid to do research. That's what I decided to do. It wasn't because I was super passionate about plant breeding, but it was thrown in front of me, and it would have been foolish of me to turn that down."
There, Liz was first introduced to the idea of community-supported agriculture, which connects producers and consumers to create a more transparent and profitable local food system. During her time in New York, she became part of a community of people who supported a local farm. After attending a campus lecture presented by a well-known small-scale vegetable farmer, Liz says she was energized by the realization that she could design a career focused on farming.
"I loved grad school, but it wasn't my calling," Liz says. "When I found the farm and started getting involved, I started realizing you could make it a career. I didn't ever think it was a possibility for a career. It opened a whole world of possibilities for me."
The Road to Happy Hollow Farms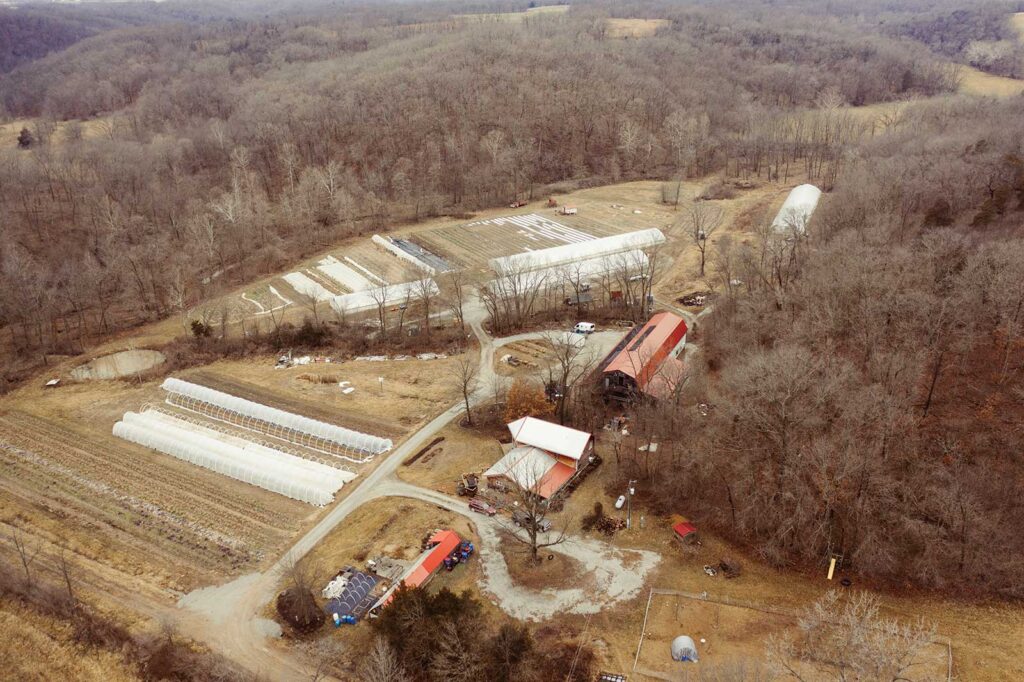 Armed with a master's degree in plant breeding from Cornell, plus plenty of hands-on farming experience, Liz returned to Columbia, where she spent her days working at Superior Garden Center, steadily growing her savings account with an eye on pursuing her dream.
"No bank was going to give me a loan to buy a farm while working on a farm," she says. "I worked for five and a half years until I had an income that was reasonable enough for a bank to give me a loan to buy a farm."
Liz's background in academia proved useful because, as she quickly learned, owning a farm requires a lot of DIY work — including research, reading, attending conferences, and asking the right questions. She says she picked up tips and tricks from friends and neighbors who had the skills she wanted to learn. She has been integrally involved with every construction project on the farm, from building the first barn to building an insulated and heated barn addition to constructing an improved wash and pack shed capable of processing 500 heads of lettuce every week.
"I'm the one who rents the trencher and digs the trench and lays the electric line and water line to put in the frost-free hydrants and connect all those water lines to the well we had drilled," Liz says. "I'm the one who is doing all that."
At any given time, Liz says she has 30 or 40 different crops growing at Happy Hollow Farm, and every year, she grows around 100 different items, including arugula, basil, beets, bok choy, broccoli, broccoli rabe, brussels sprouts, cabbage, carrots, cantaloupe, cauliflower, celeriac, cilantro, cucumbers, dill, eggplant, endive, escarole, fennel, garlic, ginger, green beans, kale, kohlrabi, leeks, lettuce, mustard greens, onions, parsley, peppers, radishes, spicy greens, summer and winter squash, and much, much more.
While a typical grocery store might offer two options of head lettuce, Liz says she loves growing and eating an array of varieties and flavors.
"There are so many different varieties of head lettuce that look so different and taste so different," Liz says. "I could just grow a couple different crops and sell mostly wholesale and some retail, and it might cost me less and be more mechanized. What I do is very labor-intensive because we grow so many crops all year long. I don't want to eat two things all year round. I want to be able to grow and have a selection of a huge variety of food. [Myself], the people who work with me, and my neighbors are all eating this food."
Liz's produce can be purchased locally in stores around Columbia, through her CSA program, and year-round at Columbia Farmers Market. While CSA customers receive a selection of items that are grown in any given week, Liz says she has a loyal following of customers who order directly through her website where they can choose exactly what and how much they want. Liz says that half of her sales come from CSA shares, while 40% of her business comes from the farmers market and 10% comes from wholesale.
A Flower for You
About five years ago, Liz also began growing flowers, something she used to do with her grandmother as a kid. As there was with produce, there was an enormous amount to learn about growing cut flowers. As she learned more and grew more, the demand for her product also grew. Today, Liz grows lisianthus, campanula, zinnias, sunflowers, and celosia, along with many others. She offers 17-week CSA flower shares that include one large bouquet each week. She also sells to a Columbia florist and a local events designer, and she takes orders for delivery through her website.
"In the grand scheme of things, flowers are a small percentage of my total overall business, but it is a profitable part of the business," she says.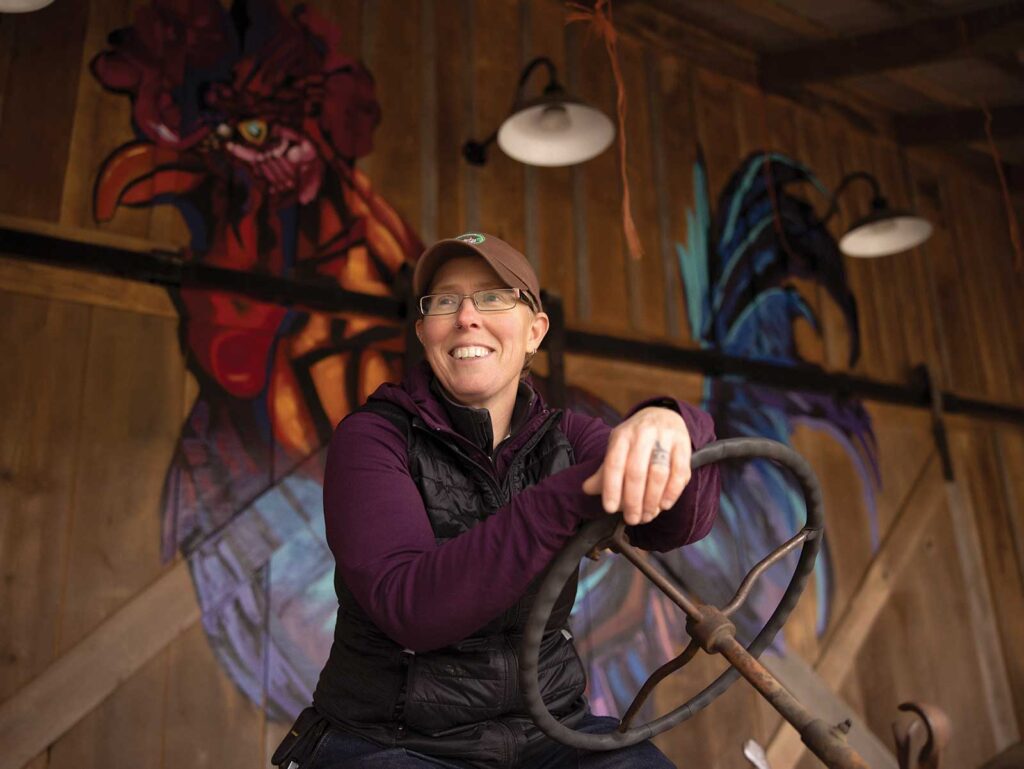 Liz has poured every ounce of herself into growing Happy Hollow Farm, and she prides herself not only on supplying sustainable food to her community, but also on providing meaningful employment and mentorship and growing relationships with customers. Her hard work and dedication haven't gone unnoticed. She was recently awarded the prestigious Organic Farmer of the Year award by the board of the Midwest Organic and Sustainable Education Service, or MOSES.
"I was going to the MOSES farming conference since before I had my farm, when I was working for other farmers," Liz says. "I could not believe it when I got the phone call. It's amazing."
As she reflects on the many DIY projects, trials and errors, and long days of hard work in the hot sun, Liz says that Happy Hollow Farm, where she lives with Katie and daughters Sylvia, 8, and Ellowyn, 2, fulfills her in ways she can't express in words. "When Sylvia wants a vegetable, she walks out to the field and picks it or goes to the barn to the walk-in cooler," Liz says. "She will go out and harvest her own kale, bring it in the house and make her own kale salad. The first time she did it, I about fell over. I cannot put into words how much it means to me that I'm giving my kids that opportunity. I don't know how to say how important it is to me."