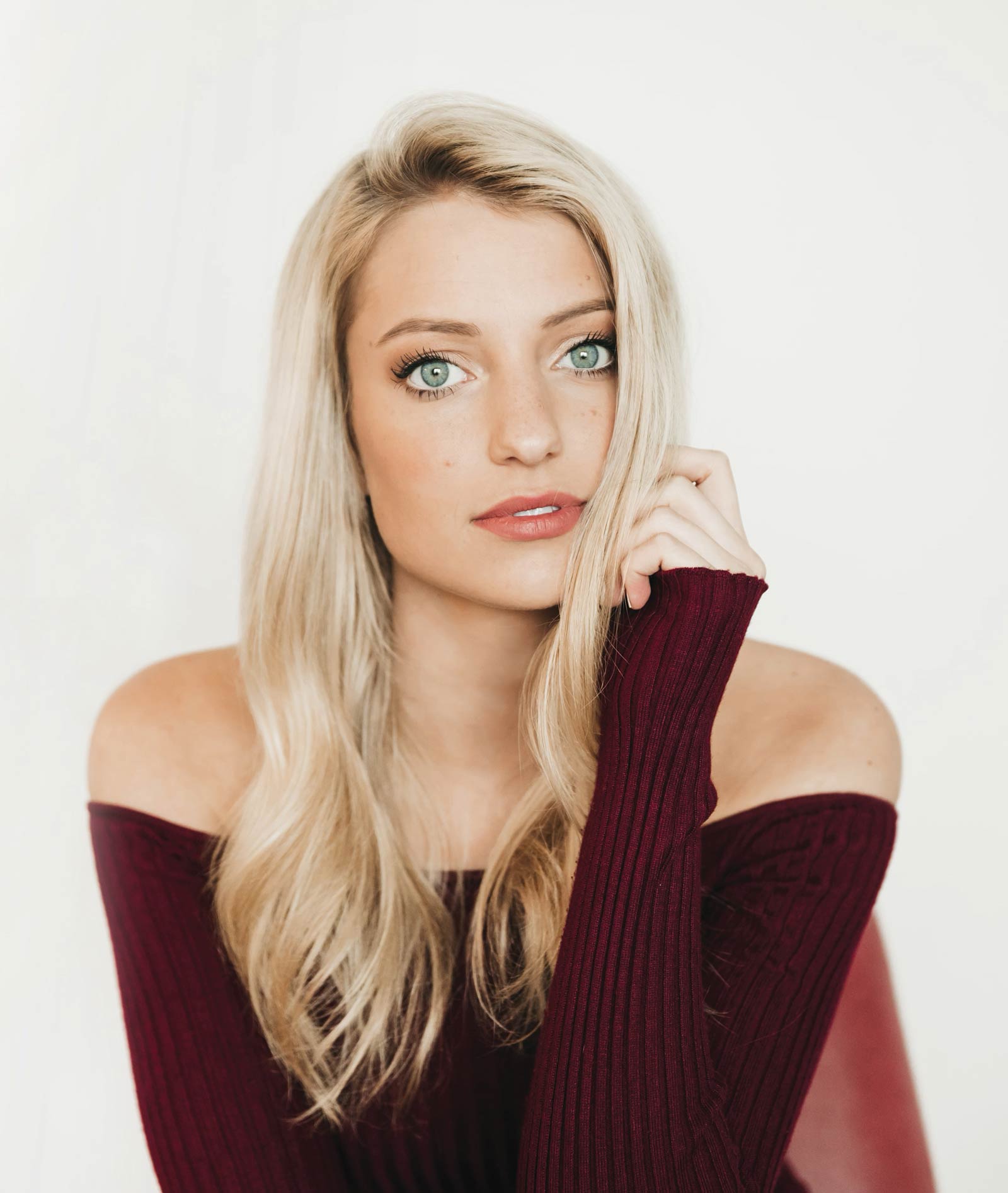 How Columbia local Halle Kearns has become a rising country star in Nashville.
Halle Kearns performs with such effortlessness and passion that you'd never guess the self-made country singer-songwriter from Columbia was once a shy little girl who was nervous about singing in front of people and who struggled with stage fright. Halle, 23, now lives in Nashville, where her smooth voice, catchy pop-country tunes, and Midwest girl-next-door authenticity are garnering acclaim.
If her name sounds familiar, you may have seen her play Taylor Swift covers at open mic night at The Bridge, or at a show at the Blue Note, or a sold-out gig at Rose Music Hall with local artist Alec Davis, or on Clear 99 FM.
This rising star demonstrates that no dream is unreachable when you have talent, drive, a level head, a dose of good luck, and the unwavering support of people who love and believe in you.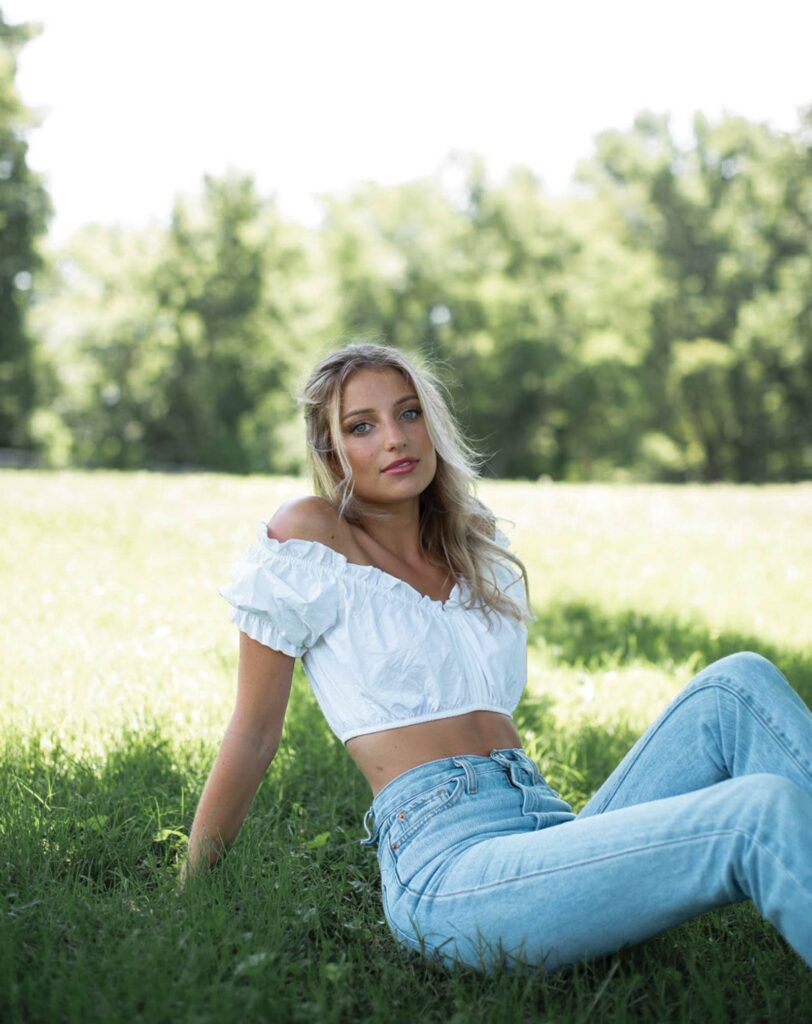 The Early Years
"With four girls, everything was always pink and purple," Kevin Kearns, Halle's father, recalls. "We had a little built-in stage in the house, and we bought a life-size Barbie stage that went on top of it for Halle when she was 6."
Halle remembers putting on little performances with her friends on that stage. When she was still small enough to be riding in a car seat, she was asking her mom to put on one of three CDs in the car: Faith Hill, Martina McBride, or the Dixie Chicks.
"I would sing along, tucked away in my car seat, and I guess I would hide so [my mom] couldn't see me in the mirror, and sing along before I ever knew what the words were. I'd make up my own words and sing along. I was so shy all of the time," Halle says.
That shyness would follow Halle into high school at Rock Bridge. She had picked up the guitar at age 13, and after two weeks, she abandoned traditional lessons in favor of YouTube, where she quickly learned the chords she needed to sing along as she strummed. In school, she didn't participate in choir or theatre or even take voice lessons. Instead, she found alimentation in a creative writing class that helped her explore the urge to write her own songs through poetry. The encouragement she received from her teacher, Mr. McGinty, who knew that she played guitar and sang, still sticks with her.
Halle's dream of becoming a country musician started to take shape in 11th grade. When all of her friends were making college plans, Halle knew she didn't need a degree to pursue her dream.
"I was pretty reserved about music until my junior year when I decided that's what I wanted to do. No one really knew I sang, and if they did, I wouldn't sing for them because I was so nervous about it," she says. "I think I was way too concerned about what other people thought when I was in high school."
But she wasn't reserved about telling the person in her life who it was safe to tell — her dad.
"I remember going up to my dad and telling him I wanted to be a musician full-time. If it weren't for his unconditional support, I wouldn't be doing this. He reminds me not to give up on my dream just because it's hard," Halle says.
Kevin, a pragmatic businessman who works in construction and real estate, quickly formulated a plan. "We made a deal. I said if you really want to prove to yourself that you're going to do this, you should do 150 gigs — they say it takes 10,000 hours to master something — because you might do 50 shows and decide you don't like it," he says. "She played all of those gigs. I was proud of her."
Instead of heading straight for Nashville after graduation in 2015, as Halle had intended, she and Kevin moved to the Kansas City area, where he grew up and where there were more opportunities for Halle to explore her dream. And she started working on those 150 gigs.
"She booked all the gigs herself. She would walk into a place with her music and say she wanted to play there — for free or for $50," Kevin remembers. "It was about the experience, not the income."
One day, while in a music store in Kansas City, Halle met a fellow female country singer-songwriter. After talking, the musician offered to mentor Halle.
"She said she'd like to teach me a thing or two about songwriting if I was interested," Halle remembers, and of course, Halle said she was. The musician also was doing a campaign to benefit farmers, and Halle joined her team behind-the-scenes, promoting her song to DJs and scheduling what turned into a seven-state, seven-week, 70-radio-station tour across the Midwest. Halle says it taught her a lot about being on the road and how unglamorous it is — and how, despite that reality check, she still wanted to pursue her dream.
After that, things started happening for Halle in Kansas City. She started applying what she'd learned on the road to her own shows and says it snowballed: She ended up playing some 250 to 300 shows in the four years she was in Kansas City. She played the bar circuit extensively, playing lots of covers and some original music.
"Then she started playing Missouri wineries. I liked that better than the bars, which could be a little seedy . . . and wineries paid better," Kevin says. "The feedback was phenomenal. I don't think she's ever played a gig where they haven't asked her back."
Life in Music City
In March of 2019, Halle took the plunge and moved by herself to Nashville. After having played so many shows in Kansas City, Halle slowed down when she got to Nashville.
"Once I made it to Nashville, I decided to take a break from [playing shows] for a while and focus on the writing element of things, make sure I had figured out what I wanted to say and be as an artist, and make sure that first impression of my music was really authentic to who I am and what people know as Halle Kearns the artist."
And then another lucky break came when Halle secured her publicist, Craig Brooks. Halle played Whiskey Jam — an open-mic type of event at a popular music venue in Nashville known for featuring talented aspiring artists. After her performance, Craig, who was in the audience, approached Halle.
"He came up to me and told me he followed me on Instagram and that he loved what I do. He said he had some contacts he could help get my music out to," Halle says. Craig immediately went to work, getting exposure for Halle's music. "He's one of the best things that's happened to me this year, all because he truly believes in me."
"I've been blown away by Halle's passion right from the beginning," Craig says. "This girl pours every bit of her heart and soul into all that she does in her career. Her work rate and desire is like nothing I've ever seen before and [motivates me daily]. While striving for her goals, she always manages to lift those around her and make people like me feel so valued and appreciated."
A little more than a year after moving to Nashville, Halle released her first single, "Pick Me Up," in July 2020, along with a music video. The song received positive reviews. It was named song of the week in the U.K. and Australia, and was been picked up by Disney Radio, Pandora, Spotify, and Apple Music. It was on one of Spotify's editorial playlists, curated by genre experts for six weeks; making such a list is considered an exciting milestone for up-and-coming artists. But perhaps the cherry on top was Country Music Television picking up the music video, which Halle's youngest sister, London, shot for her.
"CMT picked up the 'Pick Me Up' video, which is a milestone I wrote down in my journal that I figured was years away, and it happened on my first release. It's wild," Halle says, her excitement tempered by an innate sense of humbleness.
To follow "Pick Me Up," Halle released "I Drink Whiskey" in September, accompanied by a carpool-karaoke-style music video. The second single also received strong reviews. In October, Halle released her third single, "Shoes to Fill," a ballad that pays tribute to the father who has believed in and supported Halle every step of the way.
For Kevin's part, backing Halle's dream was the only logical choice.
"There's nothing worse than what-ifs," Kevin says. "I always tell the girls there's always time for the cubicle job later. Let's figure out why you're on this earth, and I'll support you all the way. It wasn't about protecting her — it was about her doing the work. And she's killing it. It's a labor of love, of passion, not fun."
What's Next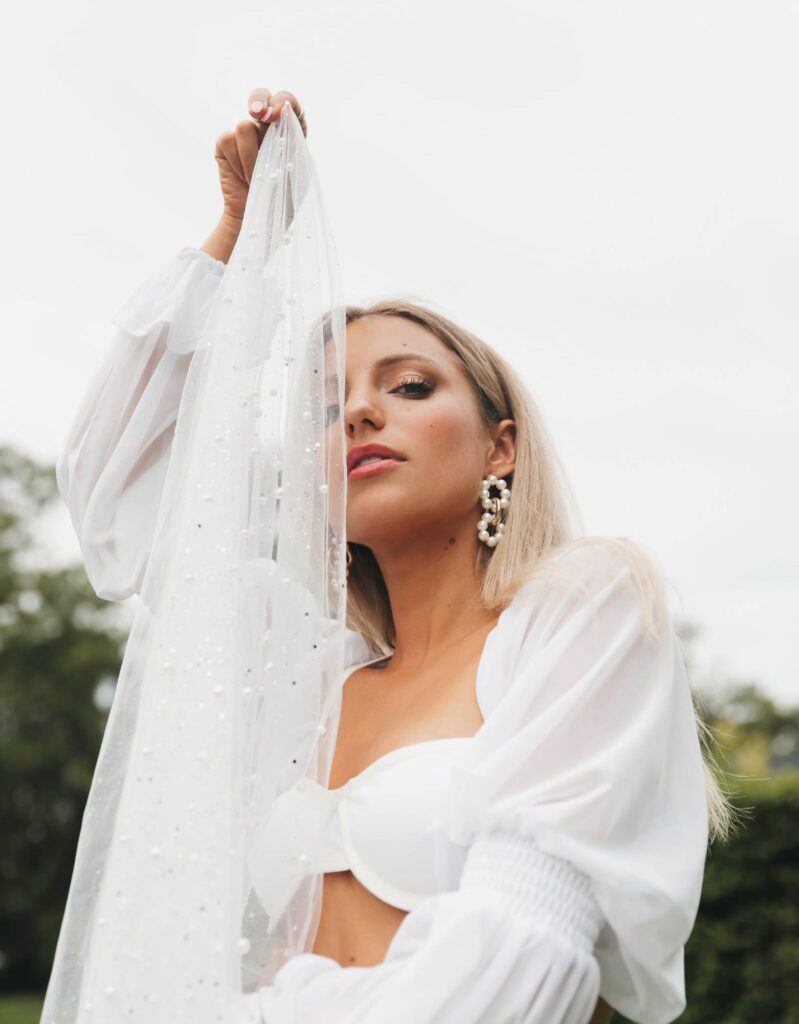 Halle plans to release a five-song EP in December, which normally would be accompanied by a tour, but COVID-19 has put that plan into question. That hasn't stopped Halle from asking, "What's next?"
It's a question her dad has asked to keep Halle observant of her intentions — to make sure they're always pure and striving for a greater goal than fame and fortune. The question has had such an impact on Halle that she has it tattooed, in her dad's handwriting, on her wrist.
"Going on tour to open for someone — that's the dream for what's next," Halle says, mentioning Brett Young or Seaforth as artists she thinks she'd pair well with. Opening for Kasey Musgraves would be a huge dream come true for her as well, as would playing the Grand Ole Opry, Ryman Auditorium, and Bridgestone Arena. "I would love to play Roots N Blues. That's pretty much the only Columbia-based thing I haven't been able to do — that would be incredible," she says.
Recognizing that overcoming her shyness to succeed took some work, Halle reflects on some advice a good friend once gave her that she would like to offer to other aspiring artists: "I think some of the best advice I got early on is to get out of your own way. It's something that I struggled with in the beginning and still do sometimes because it's easy to compare yourself to others and get in your head and get down on yourself. But as soon as you allow yourself to dream and fully go for what you want, worlds of possibility open up to you. As soon as I got out of my own way, as soon as I got out of my head and allowed myself to create the music I wanted to create and put it out to the public, regardless of what people were going to think or if they're going to judge me, my whole life changed."