Photos by Keith Borgmeyer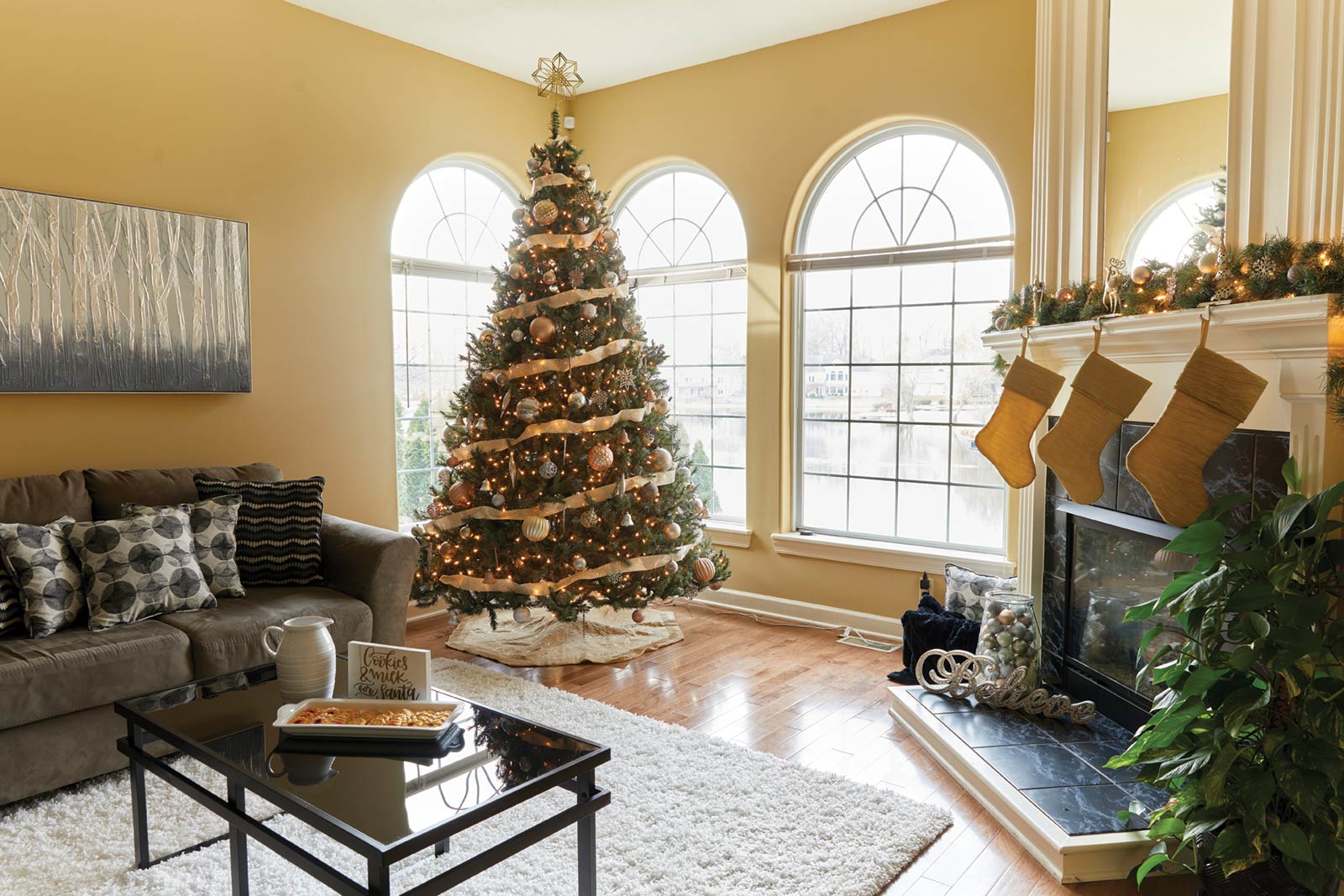 Jonathan and Megan Higgins share their gift of hospitality through their holiday décor.
The scene is so tranquil that it appears surreal. Looking out the picturesque windows of Jonathan and Megan Higgins' Katy Lake Estates home, you see the reflection of trees on the lake, observe the quiet rippling of the water, and hear the honking of geese.
It's a feeling that translates inside, too, as you glance around the rooms and absorb the festive yet classic feel of the holidays captured through the couple's decor. You just can't help but feel at peace.
"I love to decorate for Christmas. It's my favorite," Megan says. "Jon also loves Christmas, so when we got married, we had double the decorations."
Jonathan and Megan met when they were younger, but reconnected as adults through Redemption's Hill, a local church started by Megan's cousin, T.J. Dreyer, that they were helping to plant. The couple married in May of 2017 and moved into their home less than a year later.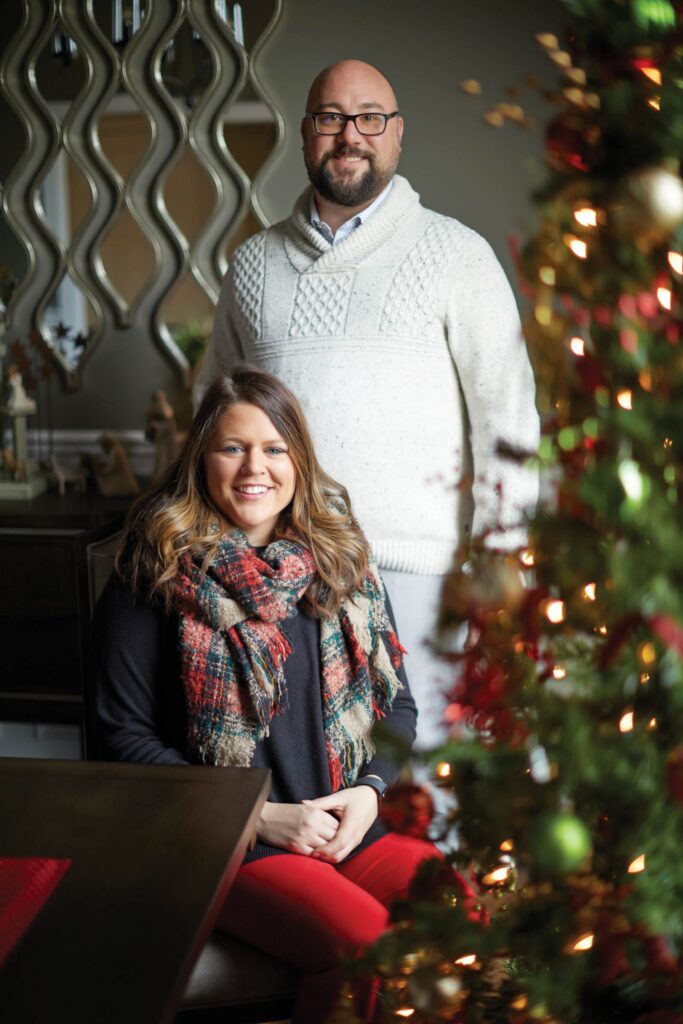 They were drawn in by the lake. "It's so close — it's like we're on the lake," Jonathan says. "It's an active lake community and a fun neighborhood."
Jonathan is a benefits and compensation specialist for Columbia Insurance Group, and Megan is the manager for retail services within the dining and nutrition services department at MU Health Care.
"We love to host, so the decorations lend themselves to that," Jonathan says. "We have lots of friends over during the week just to eat, hang out, and spend time together. The decorations make for a fun hosting environment."
Each room has a different feel. "We're both from rural areas," Jonathan shares, "so downstairs, you'll see a rustic area. But we also both felt we were city-bound, so then you'll see the posh city lights when you look into the living room. We have the glamorous part of the decorations without leaving out where we came from."
Contemporary Glamour
After moving in, the couple tackled remodeling the dining room first. It was covered in dark green trim with marble painting, and the hunter green walls extended to the exposed beams. Megan describes it as "medieval."
They opted for a neutral color palette, painted the trim white, and finished at midnight on Wednesday right before their family showed up for Thanksgiving in 2018. They love the exposed beams, vaulted ceiling, and shadow box trim.
"It's my favorite area because we put our expression into it," Jonathan says. "And we did all the work ourselves," Megan adds.
For the holidays, the dining room will seat 12 and is adorned with a beautiful nativity scene on the sideboard and a glamorous red-and green-themed Christmas tree by the arched window.
As Jonathan described earlier, the living room has a city feel that features a see-through fireplace and metallic adorned trees. Gold and silver ornaments shimmer in the sun as daylight streams through the expansive windows, and stockings are hung by the chimney with care.
In the kitchen, a hand-painted snowman sits by the fireplace, and the decorations are pulled together with the use of buffalo check. In the hallway, elves frolic on the most playful tree in the house and add a whimsical touch that the elves themselves seem to enjoy.
Rustic Roots
The basement game room, once fraught with bright orange and aqua walls and various colors of trim, now serves as the area they love to host small groups.
Their favorite project was their Mizzou tree. "That's where we got our start when we were young, so that was our first tree, and we went from there," Megan says.
The remaining rustic décor features a rotating tree adorned with red ribbon, pinecones, and ornaments handcrafted by Megan. The area takes Jonathan back to his childhood in Boonville and reminds Megan of her roots in Moberly. A basket of handmade fabric candy canes accentuates the fireplace.
"Megan loves to craft," Jonathan says.
"That's part of what draws me to decorations," Megan adds. "If Jon would let me, I'd quit my job and do crafts."
The couple loves to shop at estate sales, particularly to search for decorations for the holidays. Megan has found wreaths, garland, and even one of their larger trees. "It's a great place to find bargains and fill our house," Megan says.
Early on in their marriage, they loved touring houses in their free time. "So now we've replaced our house hunting with estate sales," Megan says.
The couple has a total of 11 trees inside, seven full-size and four others. And while that might seem daunting, it is tastefully done and a nod to the couple's desire to make their home an inviting and comfortable place for their guests over the holiday season.