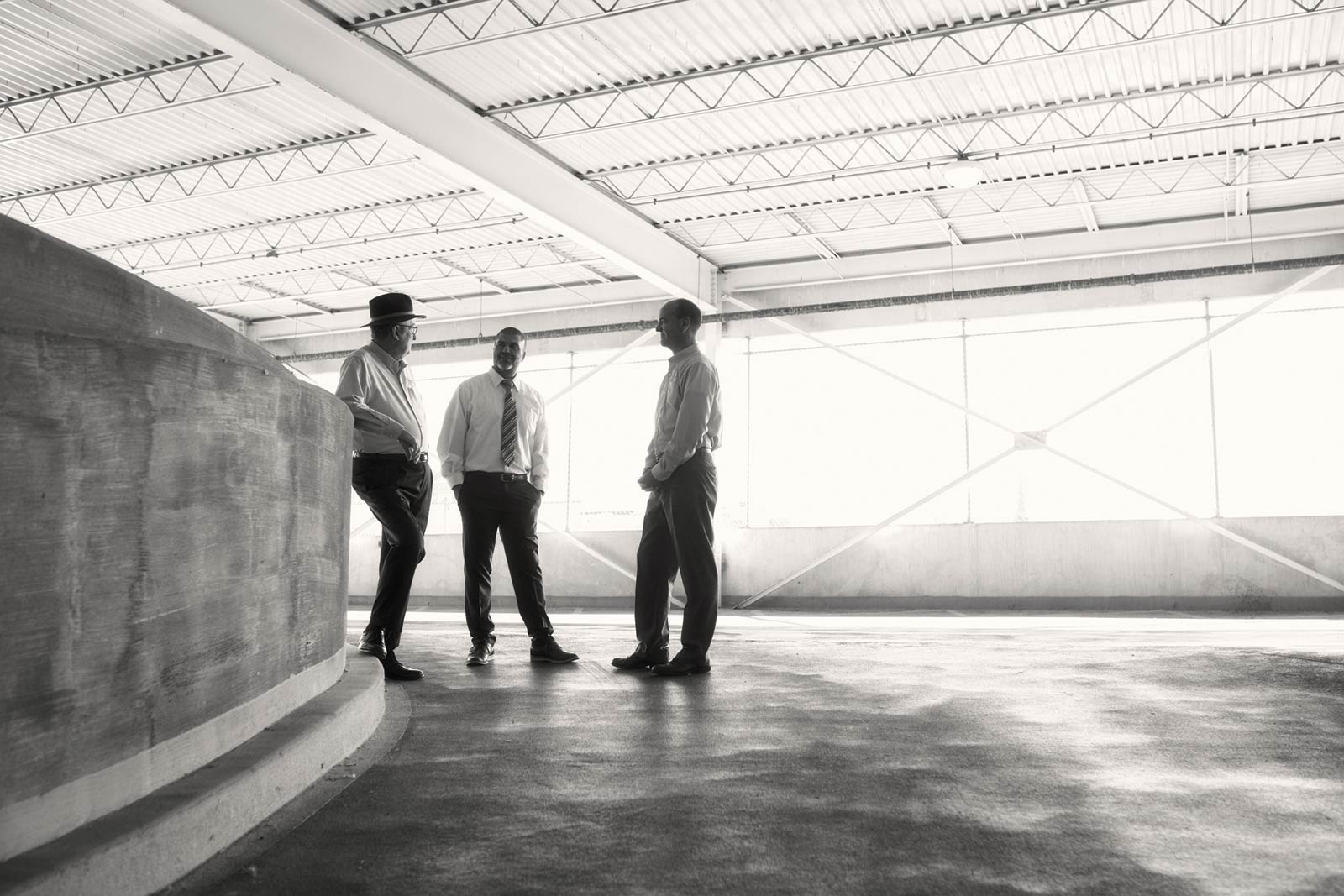 Job Point furthers their community benefits by developing affordable housing for Columbians.
To be "housing-cost burdened" means that housing costs 30% or more of one's gross monthly income. According to data released by the City of Columbia Housing Programs Division in 2019, more than 16,000 Columbia households are housing-cost burdened; 7,500 of those are paying 50% or more. The same data showed the median house cost in Columbia is around $208,000, while the median family income in Columbia is just $47,236. Moreover, according to the 2019 Columbia Board of Realtors data, the average "sold price" of a single-family home rose by more than $60,000 from September 2015 to September 2019.
"The shortage of affordable housing in Columbia is really big," says Randy Cole, manager of the City of Columbia's Housing Programs Division. "Homeownership is getting out of reach for many low-to-moderate income families. [That's a problem because homeownership is] the best way to build equity and wealth. When they can't afford to own, it can perpetuate generational poverty. But, wages don't keep pace with rising housing costs."
The answer to the affordable housing shortage may lie partly in the efforts of a well-established local nonprofit organization, Job Point, and the part it plays in a unique public-private partnership.
Filling Two Needs At Once
Job Point has been helping connect people with employment opportunities through education and hands-on training since 1965. Since the early 2000s, Job Point has built more than 15 houses in conjunction with the city, including four with the Columbia Community Land Trust. They've also completely renovated two others, built five for Central Missouri Community Action, and have assisted in building 16 with Habitat for Humanity.
ComoCHDO was incorporated by Job Point in 2014. A CHDO (pronounced cho-do) is a community housing development organization. CMCA, Job Point, and Habitat for Humanity are all CHDOs.
In 2003, Job Point added YouthBuild to its lineup of services. YouthBuild is a federal job training program administered by the U.S. Department of Labor that's described as "a community-based pre-apprenticeship program that provides job training and educational opportunities for at-risk youth ages 16 to 24 who have previously dropped out of high school."
"While in the YouthBuild program, [youth] spend about half the time working on HiSET [high school equivalency test], along with 'soft skills' like mock interviews, resumés, and other life skills," Job Point Executive Director Steve Smith explains. "The rest of the time, they're working on houses that we build."
In addition to offering certificate programs in office technology and health care occupations, Job Point teaches construction and other trades, including highway heavy construction, HVAC, and carpentry. To qualify to participate in the YouthBuild program, Job Point must build at least one house per year for community development, which it achieves by training low-income, at-risk youth in a high-demand, employable home-building trade like construction.
"Students in our carpentry, construction, and HVAC [programs] assist with the housing construction," Steve says. "The highway heavy construction students pour the foundations, footings, driveways, etc." Carpentry students get to try their hand at various projects within the homes. It's a shockingly sensible strategy, and it's one that is supported by the city and the private banking industry.
A Public-Private Partnership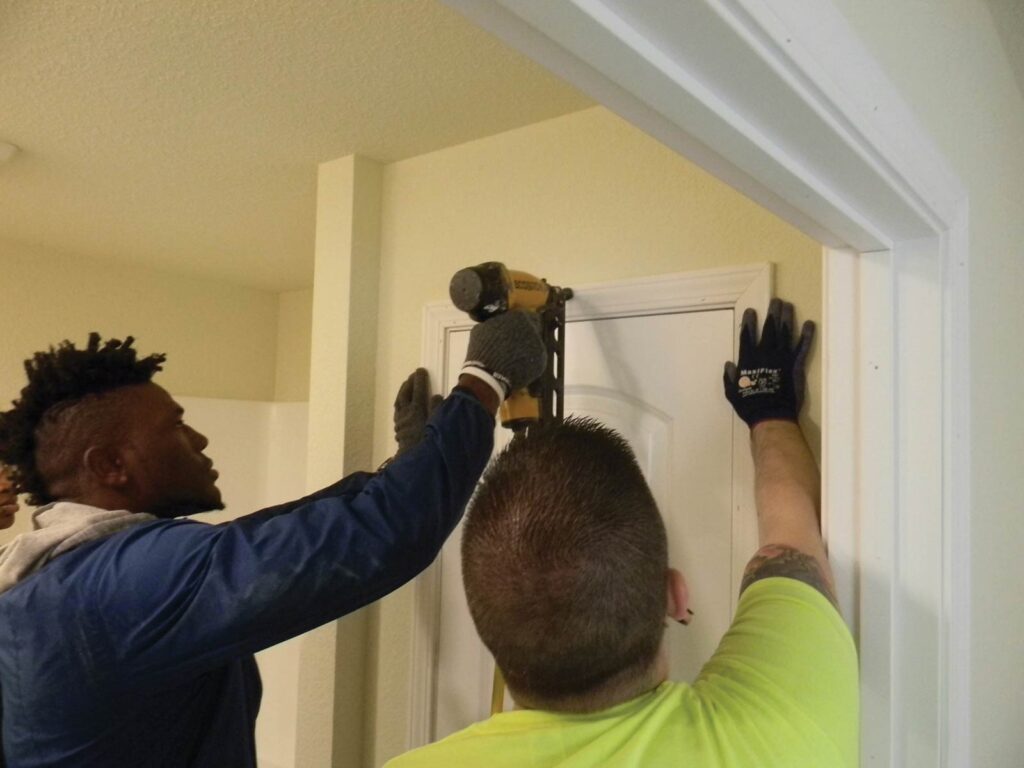 Job Point has partnered with the Columbia Community Land Trust, a separate 501(c)(3) organization that is currently staffed by City of Columbia Housing Programs Division staff through an administrative services agreement to make affordable housing a reality for more Columbians. A land trust accesses grant funding and charitable dollars to purchase lots on which to build affordable housing. The CCLT deeds the lots to Job Point, which builds the houses with federal HUD funding and community development block grants from the city.
Once built, the buyer buys the house, but not the land it's on. The homebuyer pays a small monthly fee to lease the land. When the homeowner decides to sell the house, they retain some, but not all of their equity in the property, with the trust retaining the rest of the equity, which makes it possible for the homes to continue to be sold at an affordable price in perpetuity. But, the equity the homeowner builds can help propel them to greater wealth on their next home purchase.
"Community land trusts are unique in that they maintain ownership of the land and sell only the home structure," says Randy. "This ownership structure allows community land trusts to manage the resale price of the homes and ensure the public and private subsidies used to create affordable prices are protected for future buyers."
"[The homeowner] is going to come out with more than they went in with due to the down payment gift and closing costs paid for them," Steve says.
Families or individuals at or below 80% of the Boone County median income level are eligible to purchase these homes. First-time homebuyers are given preference, and up to 20% of the purchase price may be provided in down payment assistance.
"For those who qualify for first-time homebuyer loans, Providence Bank facilitates federal grant monies for down payment assistance," says Eric Morrison, Mid-Missouri president at Providence Bank and board member of Job Point. "Providence Bank has provided well over $100,000 in down payment assistance to first-time homebuyers. We've been very intentional in engaging organizations like Job Point to support their initiatives and create affordable housing. We see it as a great way to bring affordable housing to Columbia."
Right now, Job Point's ComoCHDO and the CCLT are building two houses on Third Avenue, and the next big project will be The Cullimore Cottages on N. Eighth Street. Currently, there are 10 homes in the CCLT. These include properties on Oak, Forest, King, Lynn, and Eighth streets. Initial plans were to have 12 homes by 2022; however, the CCLT will likely have 22 homes in the trust by the end of 2022. The houses are 1,200 to 1,300 square feet with three bedrooms and two bathrooms, and they're energy efficient. The sale price for new homes is generally around $118,000 if the buyer does not qualify for homeownership assistance. With homeownership assistance, the sale price is approximately $90,000.
Eric says this type of public-private partnership is unusual and that "our goal is to model a partnership on how to engage nonprofits in nontraditional ways toward a greater outcome," adding that their role in this partnership has gotten other local banks excited about contributing similarly.
Affordable Housing for the Homebuyer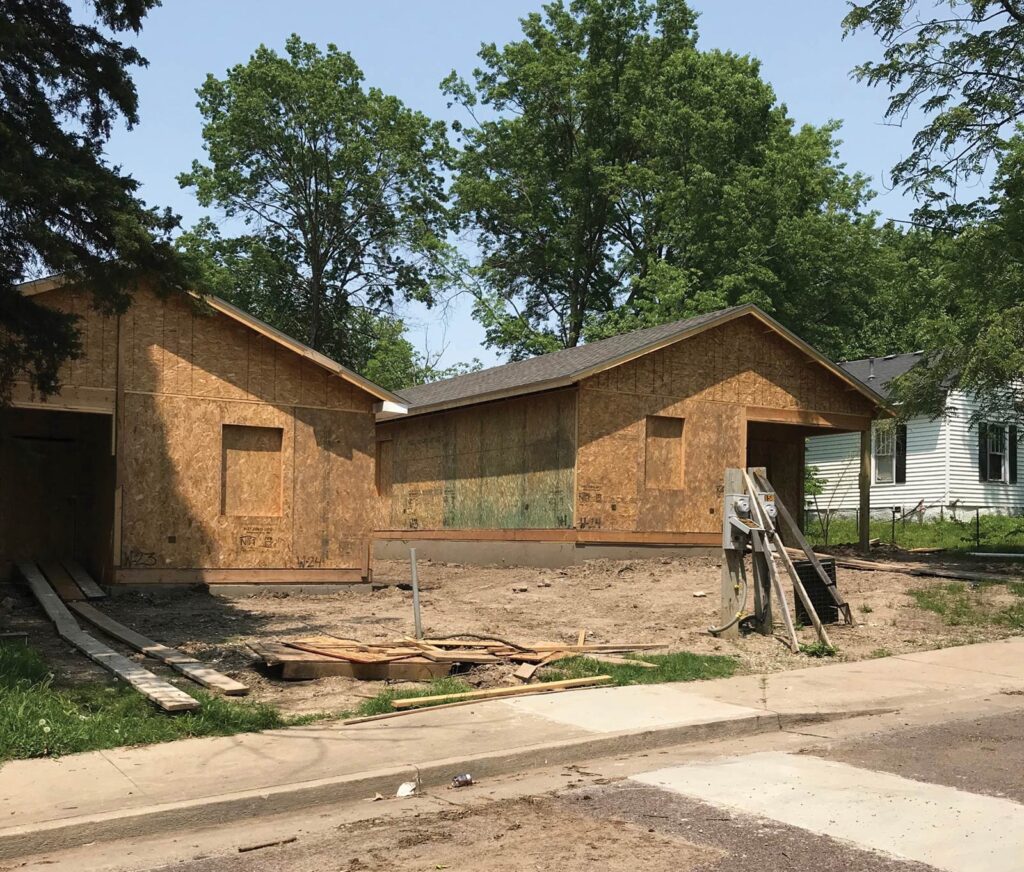 One such homebuyer who has benefited from Job Point's affordable housing initiative is Jaclyn Shipma, who bought a home on Oak Street in July 2019 as a first-time homebuyer. Jaclyn, 27, a direct support professional at Boone County Family Resources, resides in the home with her boyfriend and young daughter. She found the listing for the house on Zillow, and her real estate agent connected her with Job Point and Providence Bank, which provided her with the mortgage and down payment assistance.
"It was pretty simple," Jaclyn says about the home-buying experience. "I just had to fill out some paperwork. My loan officer at Providence Bank walked me through it."
Jaclyn previously rented, so homeownership means a lot to her.
"It means a lot to have security, not having to sign a lease every year or look for another place to rent. My daughter stays in the same school district. It's nice to have a place to come home to at the end of the day that is yours."
Jaclyn loves her home and encourages others in her position to look into Job Point's affordable housing.
Jaclyn says, "Anyone who is looking to buy a home — it's possible to make that dream a reality."