Photography by Lana Eklund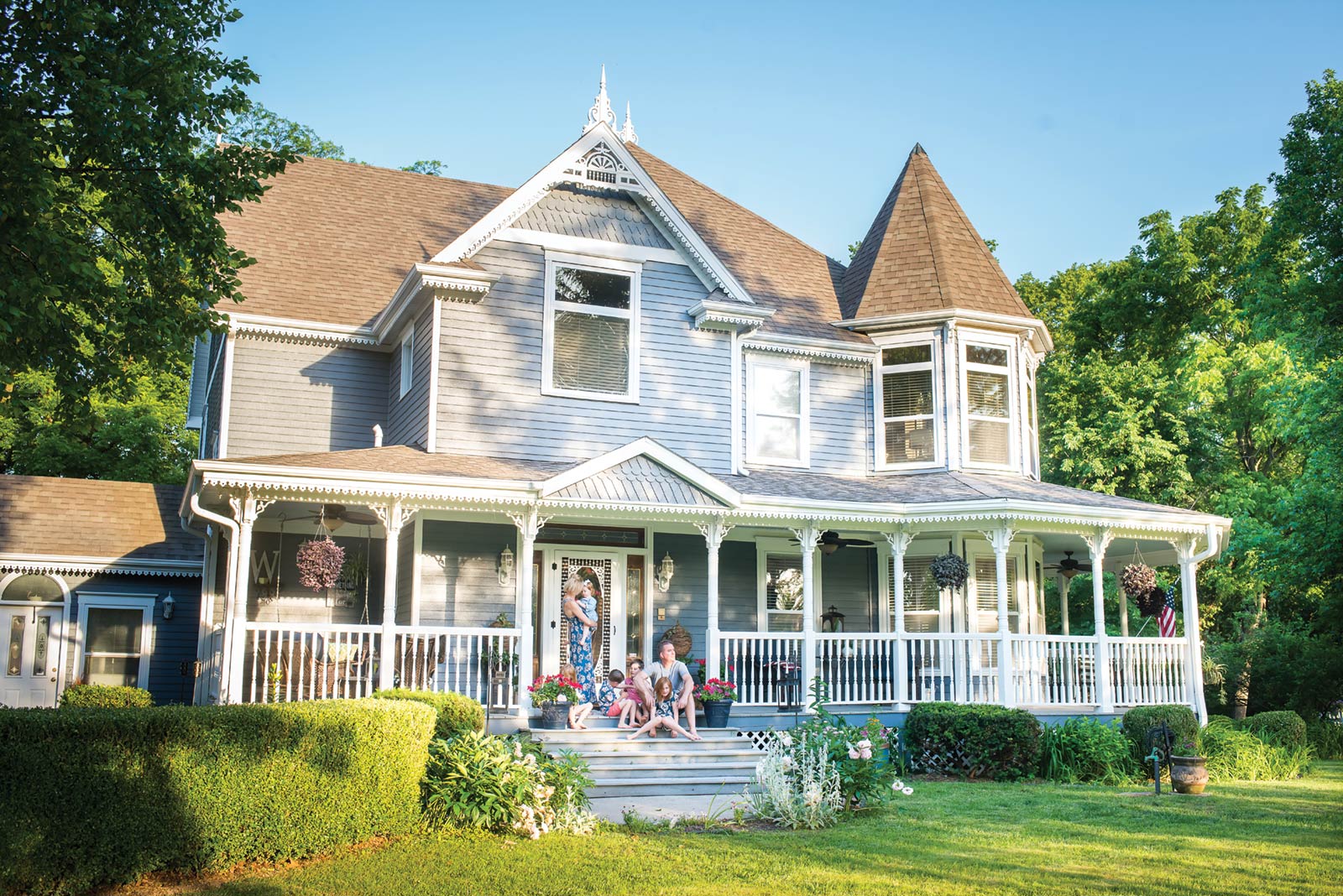 How front porches have played a role in business endeavors and family memories during the pandemic.
A front porch is often the first thing you see when you look at a house. And just like any other space in a home, styling and curating a look for a front porch where friends and family can gather takes time and careful planning.
During the stay-at-home orders, front porches played a vital role for many Columbia families and even a local photographer. They were a space to escape the confining walls of the home and enjoy fresh Missouri air, to watch children and dogs play, or to simply drink a warm cup of freshly brewed coffee to start the day.
A Photographer During A Pandemic
During this time, Lana Eklund, photographer and owner of Art and Soul, was looking for more business, as the weddings she had been booked to shoot had been canceled or postponed until 2021. She joined in with several other photographers around the country to begin her own series of the Front Porch Project, where she would capture family portraits on their front porches — socially distanced, of course.
"As the shutdown started and quarantine was taking place, I started hearing rumblings of other photographers in bigger cities of this idea being shared, and I thought this was a beautiful way to capture this tricky time," Lana says.
Lana emailed and shared with her followers an announcement of her new photography endeavor, not knowing how many responses to expect. "I thought maybe five families would do it, but it kind of exploded. I think people really connected with the idea," she says. In the end, Lana photographed 30 different front porch sessions for families around Columbia.
Despite the multiple cancellations Lana experienced with studio and wedding sessions, the Front Porch Project eased some worry and helped people feel connected during a disjointed time. "I feel like the Front Porch Project springboarded things back into life. It helped keep things flowing during the really hard and tricky times," Lana says. Now that stay-at-home orders are no more, Lana has been able to resume her normal business with masks and proper social distancing measures.
A Place of Love
With three different seating areas in the front of the traditional Victorian-style home, Alissa Wood loves inviting people to gather and relax. It's a space where Alissa can sit and enjoy the Missouri weather and time with her family.
Decorated with an abundance of flowers, each sitting space has a touch of greenery to help keep things cozy. "I like to keep things mathematical, so every two sections of decking has a flower hanging or a plant hanging," Alissa says. "When people look at [my front porch], I want them to know that there's love here."
The charm of Alissa's front porch (and the home behind it) is something that she remains grateful for nearly four years after moving from Texas to Columbia. She makes a point to reflect on how God blessed her family through their home.
The family's front porch holds so many special memories for Alissa. "I have a picture of the first four kids on my porch swing, all lined up together, eating popsicles in the middle of the summer," Alissa remembers. "They were just beaming with laughter."
The front porch has been a place of laughter, a place to play (especially during quarantine), and even a place of naps for the family, another one of Alissa's favorite memories on the front porch.
"The key to making a front porch come together is to find what you love. Make those spaces comfortable so you want to be in them — that's what gives them life," Alissa says.
A Full House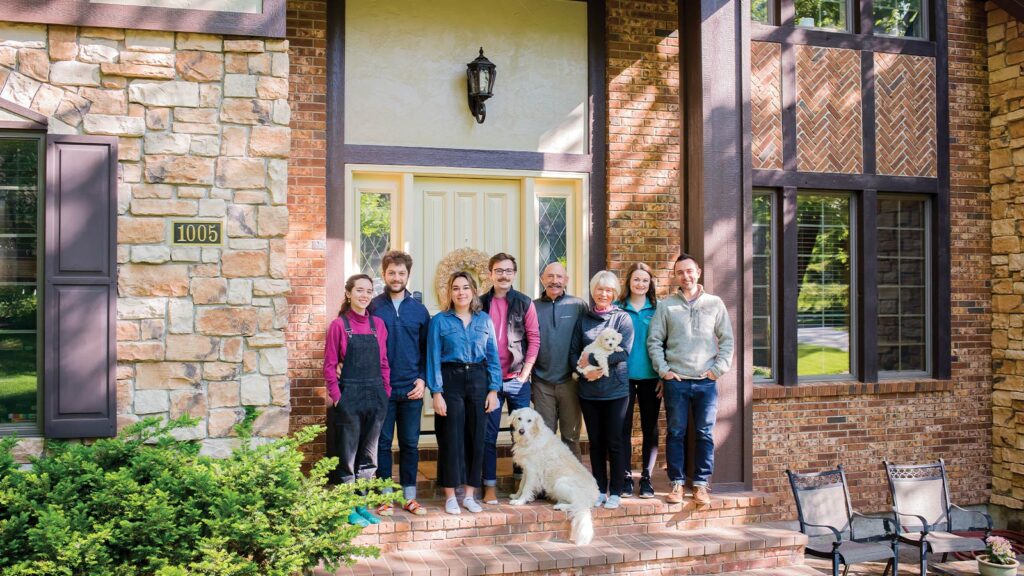 With a niece and four children, three of whom have returned to the family's brick-and-stone Tudor home during the pandemic, Jodie Brand had a full house during the stay-at-home orders. "We have six people in our house on a regular basis," she says. With so many bodies in the house, the front porch and seating area played a big role in the family's relaxation time, especially when her son and his fiancée came to visit the family.
"When my son and his fiancée came to see us from Kansas City, they were very cautious about social distance, so it was easy to sit out there or on the terrace," Jodie says.
Jodie takes pride in having a welcoming atmosphere for her home. And the front porch helps to encourage this inviting atmosphere through interaction with others in the neighborhood. The cobblestone seating area is a perfect space to enjoy a glass of wine or warm cup of coffee in the morning as the family enjoys the yard and chats with the neighbors. Jodie says that it's these small interactions with neighbors that created the welcoming atmosphere.
"When people are out there, people gather," Jodie says.
A Place for Free-Range Children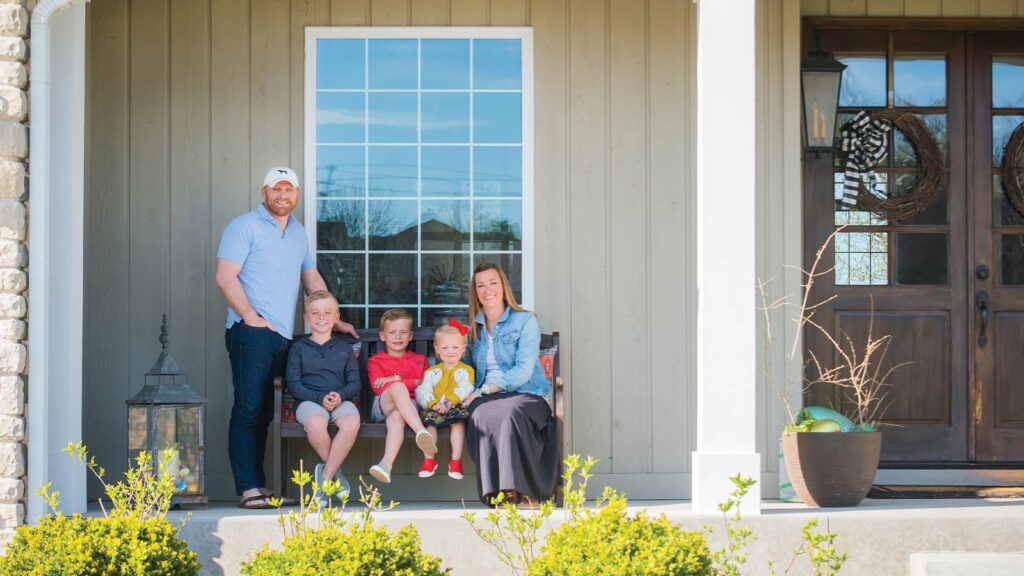 At Kyle Dyer's farmhouse-style home, the front porch is where she can sit on her cushioned bench and watch her kids play with the other neighborhood children and race their bikes. "I like to sit on that bench and watch the kids. We call them 'free-range children' since they run all over the cul-de-sac area," Kyle says with a laugh.
The front porch is a space that the whole family enjoys watching evolve. Kyle changes decorations with each holiday and season, and her kids love to see the changes she makes. "My boys will get off the bus and come home excited about the Halloween decorations," Kyle says.
Kyle and her family spent a lot of time on the front porch during the stay-at-home orders. So many memories were made, including watching her 3-year-old girl learning how to ride her bike with training wheels, seeing caterpillars transform into beautiful butterflies, and watching her boys explore the art of origami. It forced her family to slow down and spend time together that wasn't out-and-about. "[The pandemic] made us have those memories that I don't know we would've had if we were racing around," Kyle says.
The pandemic brought uncertainty upon everyone, but it also made us pause our hectic lives and enjoy the little moments — like spending time on the front porch in the fickle Missouri weather.
Little by Little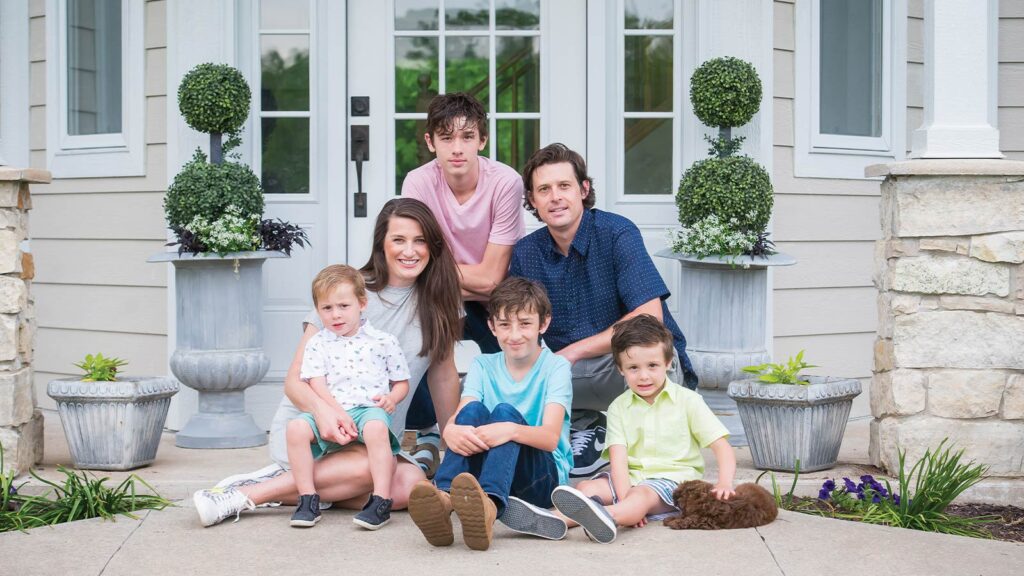 Outside of city limits on the southwest side of Columbia, Brei Cornell and her family enjoy the seclusion and space of their home where she and her husband can watch their kids grow, play, and feel comfortable. Comfort and "hominess" are a priority for Brei, especially when it comes to her front porch. "I love to play and experiment with flower pots, and I've always dreamed of having rocking chairs on my front porch, which I now have," she says.
This area of their home has been a great place for Brei to have a place to sit, drink a cup of coffee, and watch the kids play with the puppy. It's such a vital part of the family's home that it's where Brei starts her mornings every day at 7 a.m. as she sips her coffee and takes their puppy out for its morning bathroom break. The kids follow suit as they get their scooters and trikes out to ride around.
"The flowers-and-rocking-chairs is what I was going for, little by little," Brei says. "I add something to it every year. I'm definitely adding a new flower pot every year, or even a new little garden stool. I'm always adding to it — nothing is ever finished at our house."