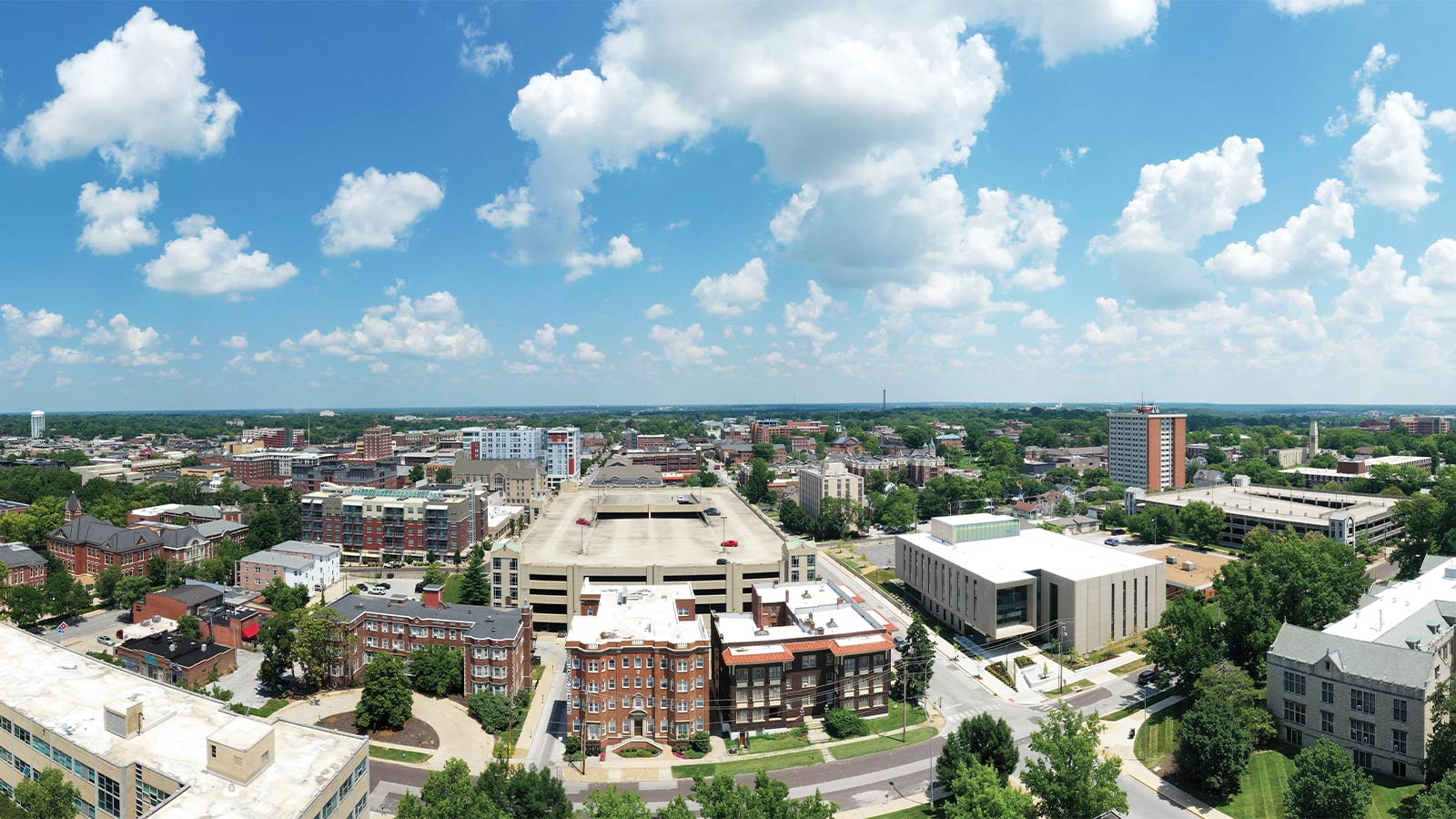 This month, we continue our development series with a look at downtown Columbia. From the completion of the new MU School of Music to additions to The Broadway Hotel, there are lots of exciting new developments downtown.
Jeanne and Rex Sinquefield Music Center
MU recently completed phase one of a new building for the school of music, with a grand opening and ribbon cutting of the Sinquefield Music Center on February 1 of this year. They began teaching classes there at the beginning of the past spring semester.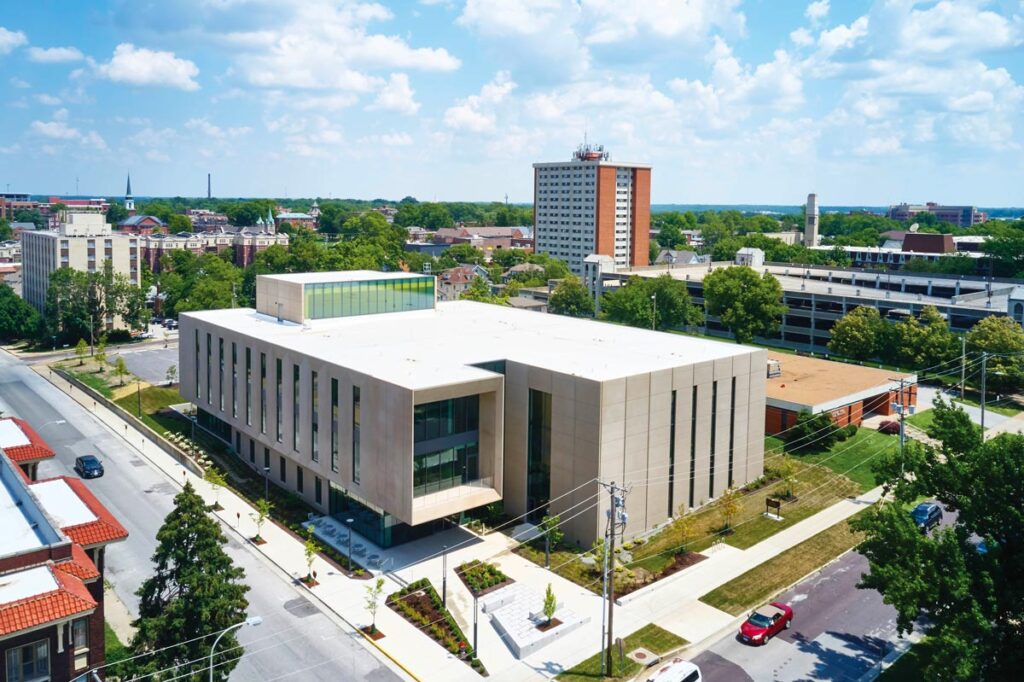 "The current music program was spread out over six different buildings with no appropriate spaces for large ensemble rehearsals," says Dr. Julia Gaines, director of the school of music. "The last music building was built in 1960, and we had outgrown that one within a decade. We've been working on trying to get a new building for literally decades."
In April 2015, the school announced a $10 million gift from donors Dr. Jeanne and Rex Sinquefield to go toward the $24 million total cost of the building. In all, donors contributed $16 million and the university $8 million to the overall project. Designs began in 2018.
"The Jeanne and Rex Sinquefield Music Center is not exclusively for students and faculty in the school of music, or even in the college of arts and science," says Patricia Okker, dean of the MU College of Arts and Science. "It belongs to all of us, and I am excited to imagine the kinds of new community-university collaborations that will arise because of this beautiful facility. We are grateful to the Sinquefield family, whose generous support brought the long-held dream and vision of a state-of-the-art music center to life."
The 47,000-square-foot building houses acoustically appropriate rehearsal spaces, a recording studio, 21 classrooms and practice rooms, and the technical capability to live stream as well.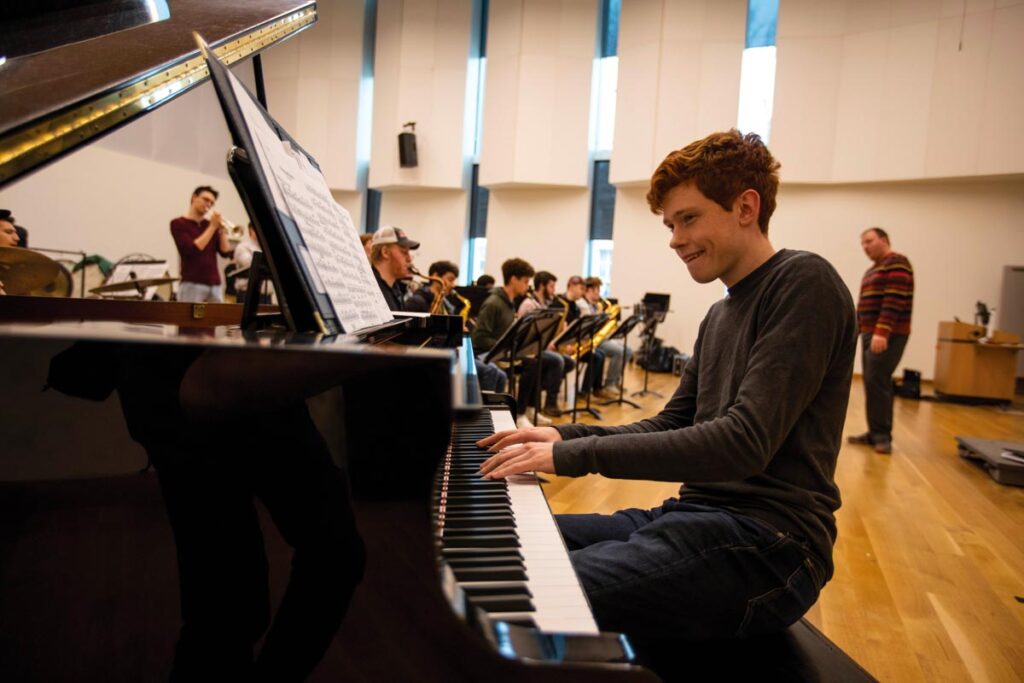 "The primary spaces in the new building are acoustically designed rehearsal places — we've never had that before," says Julia. "Now we have dedicated choral and instrumental rehearsal rooms. It's really great to have walls with acoustical treatment that makes teaching and learning easier."
This facility is phase one of the music school project, as they had to retain some faculty and classes in the original building. They look forward to finishing phase two in the future, which would bring the entire school of music under one roof.
Julia adds that within the first two weeks of the new building opening, there were students who immediately noticed a change in their ability to practice and perform.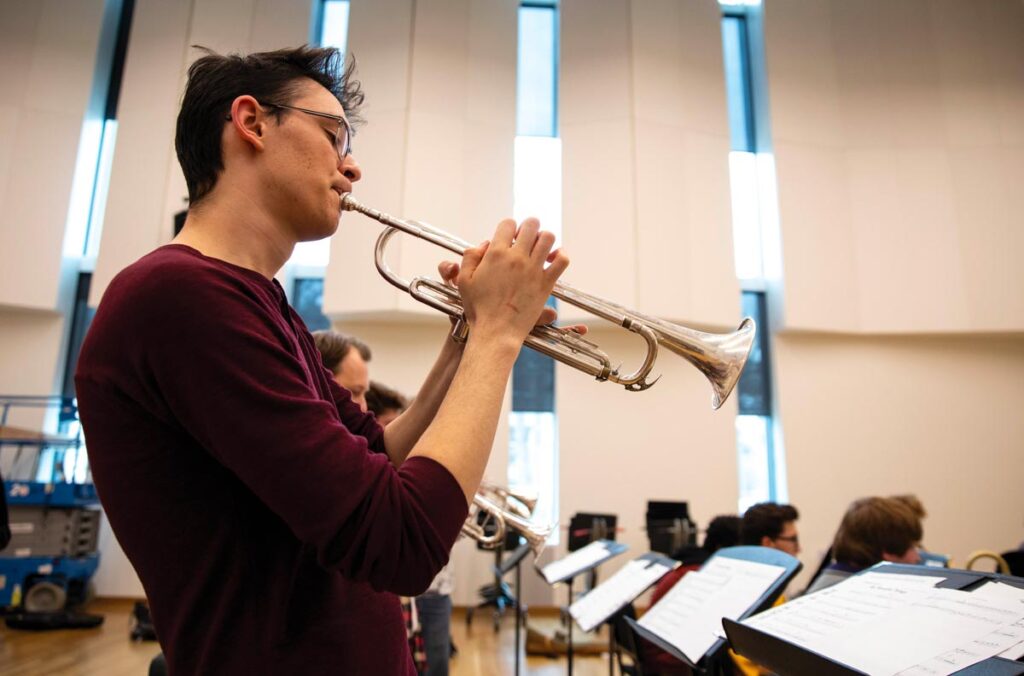 "It's just been a game-changer for the school of music," Julia says. "Our students have always been fantastic, but to now actually have the facilities to match their talent means we can show more people via technology. Our students are getting a better learning opportunity and learning how to operate in a 21st century world with the new technology. This should prepare them better for future jobs."
This all comes at a time when adapting to technologies is so important. They will be having concerts this fall, but they will be live-streamed or pre-produced; there will be nothing with a live audience due to the COVID-19 pandemic.
"If we hadn't had this facility, we would not have been able to do that. This facility has actually prepared us to be able to shift to use technology better. We're trying to see this as a wonderful opportunity for these students to work on a pre-produced concert," adds Julia. "They still will be learning how to make music and art even during a pandemic. Art has seen us through this. It's clear our students and community see that as an amplified experience."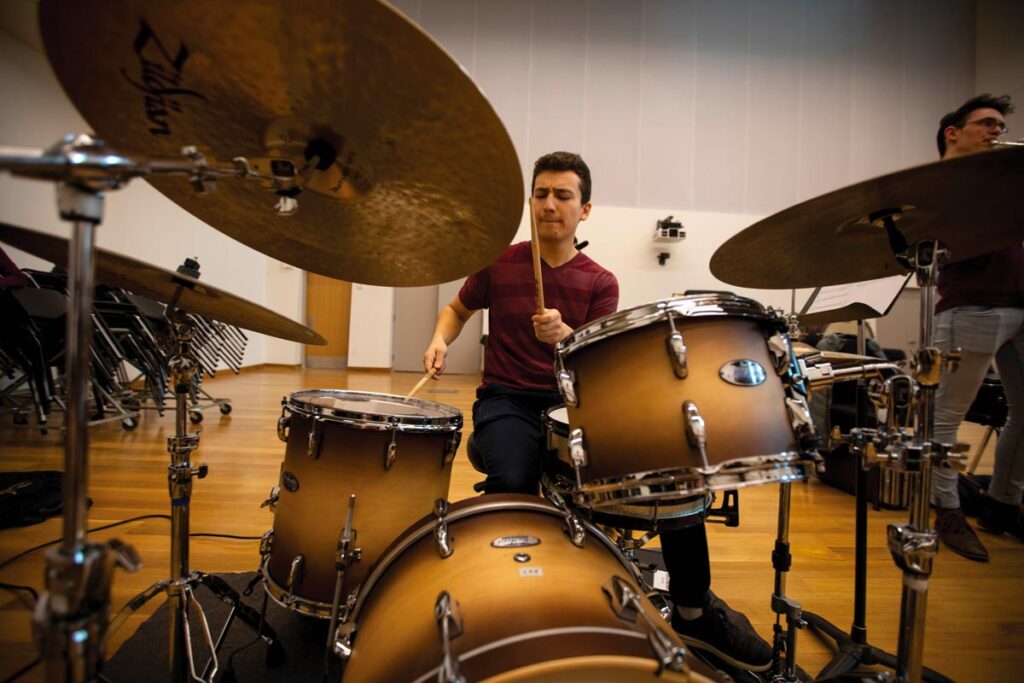 Diggs Meat Packing Co. Building Renovation
John and Tanner Ott, local businessmen of Alley A Realty, are working on a renovation on Rogers Street. Located next to Walt's Bicycle Shop, the historic Diggs Meat Packing Co. Building will soon see new life.
"We were approached with the option to purchase the building last fall, and since then, we've been doing some light demo work and evaluating the building to see what its next use might be," says John.
They've come up with preliminary designs for the outside of the 9,500-square-foot building. "Right now, we're doing demo work and analyzing the property and determining what direction we want to go with it," says John. "At this point, we're convinced it will be one restaurant that will take up half that space, and the other half could be a combination of retail and restaurant space, depending on what type of interest we get. There's a strong possibility that we will do exterior work this fall, and over the winter and spring, we will begin work on the inside."
John adds that there is a grassy lot to the west of it, which is rare in downtown Columbia. He is evaluating the best way to use that space as well.
"This area seems to hold a lot of promise for the downtown. It's an exciting, vibrant location and has good pedestrian and vehicular access to it. It's a busy corner, yet it has a lot of usable space inside and out. We're fortunate that the area has been developed with Logboat brewery, the Mule Barn, and of course, Walt's Bike Shop. We're fortunate that we're surrounded by some great neighbors," John says. "And the building has a lot of history as well. It's the former Diggs Meatpacking building. Over the years, the Diggs family have been good stewards of the area."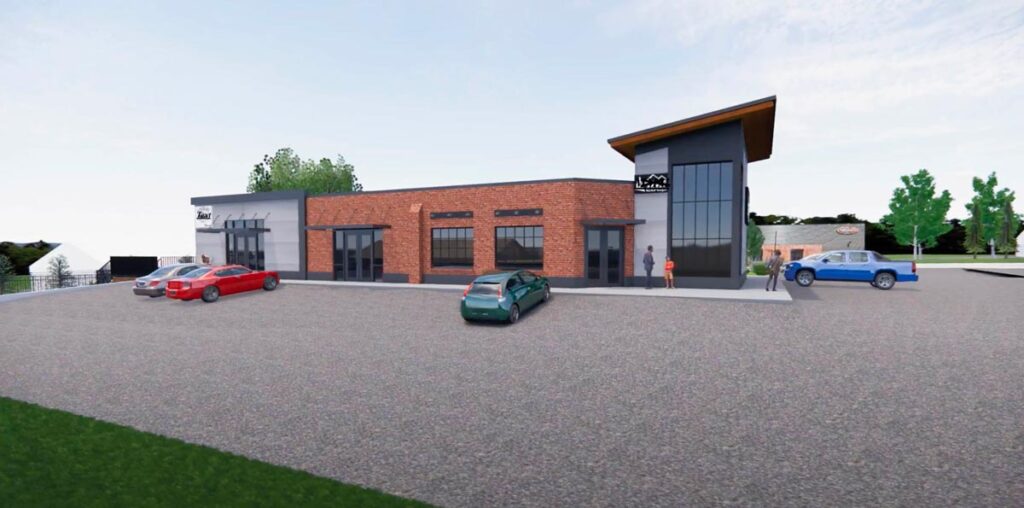 The Broadway Hotel
The Broadway hotel has been a staple of downtown Columbia since 2014. It was recognized by Hilton Hotels and received its worldwide award for the best new DoubleTree development that same year.
The hotel is currently in the process of adding a second tower to the property. The lot is cleared, and construction plans for the new seven-story building on Walnut are underway for this Fall. The hotel will be working with Paric Construction from St. Louis on this 14- to 15-month project and hope to open in early 2022.
"That parcel is located due north of our existing hotel and just west of the Short Street garage. Our original hotel is 98,000 square feet. With our new tower, we're adding 73,000 square feet with 80 additional rooms and suites, and over 8,000 square feet of meeting space," says David Parmley, President of Broadway Lodging LLC.
David adds that the new tower will almost triple the amount of meeting space the hotel has to offer.
"Currently we have 3,000 square feet of meeting space, and our largest meeting space will accommodate 150 people in banquet style seating," he says. "This has limited our ability to host larger events. The new ballroom will seat up to 300 people. The existing space has been very popular, but this additional space will allow us to host more small- to medium-sized meetings, and I think attendees like the destination space of downtown Columbia."
"The hallmark of the property will be the large ballroom and reception area on the top floor that will feature panoramic views of downtown Columbia." When completed, the two towers will be connected by 20-foot walkways on the fourth and eighth floors. This will allow guests to walk directly from the top floor of the new ballroom over to The Roof bar in the first tower.
"When we built the original tower, we wanted to create an upscale hotel that would serve as a gateway to downtown Columbia, act as an anchor to the North Village Arts District, and be a catalyst for future development in the area," says David. "I think we've accomplished these goals and created a hotel that the city can take pride in. Guests at our property appreciate our hotel's unique, vibrant boutique design and the convenient location, which provides them easy access to explore all of the exciting shopping, dining, entertainment, and nightlife that The District has to offer."
---
What to Do
Silverball
Silverball arcade, bar, and restaurant is located on South Ninth Street. Since September 2017, they've offered a fun atmosphere with pinball machines, arcade games, Skee-Ball, Pop-a-Shot, air hockey, foosball, bubble hockey, and more. Grab a drink from one of the 18 frozen drink machines or their full bar, enjoy it with a slice of pizza or wings, and have a night of fun. They also feature an LED dance floor and DJ booth.
Ragtag Cinema
Ragtag Cinema is Columbia's nonprofit arthouse cinema that screens new-release indie and foreign films. The seating is comfortable, and Uprise Bakery is under the same roof, giving the theater a full bar, bakery, and delicious café — and any food or drinks you purchase from Uprise can come into the theater with you. This makes for a unique environment to take in a film. Stop by for their next showing on Hitt Street.
Top Ten Wines 
Top Ten Wines is located on South Ninth Street. For over 20 years, Top Ten Wines has been a downtown Columbia wine retailer. With over 2,500 bottles of wine, novice and experienced wine enthusiasts alike will find the perfect glass. You can visit their bar for a drink and a bite to eat or purchase a bottle to take home. They also have a full selection of other beers and spirits, and guests have the chance to join a wine club for ongoing recommendations and selections.
---
Where to Shop
Tallulahs 
Melissa Alabach and Mary Stauffer opened Tallulahs in April 2011. Their love for cooking and entertaining was the catalyst needed for these friends to open their own shop. Tallulahs is a kitchen specialty shop located on Broadway in the heart of The District. They have everything from kitchen gadgets to serving dishes and items to make your next gathering a wonderful experience.
Alpine Shop
For more than 45 years, Alpine Shop has focused on a vision to see "generations transformed by discovery outdoors." What began as a mostly climbing shop has evolved to serve almost all types of outdoor enthusiasts, whether you're a backpacker, hiker, camper, paddler, cyclist, snowboarder, skier, or climber. Stop in to the Broadway location and gear up for your next adventure.
---
Where to Eat
Coley's American Bistro
Since 2008, MU alum, chef, and owner Brian Coley has been proud to have his restaurant be part of The District in downtown Columbia. His guest-first and inviting approach has made Coley's a downtown destination since they opened their doors. "Our approach is simple: we want to create items that we like to eat," Coley says. Stop by South Sixth Street for a great meal!
Barred Owl
The Barred Owl Butcher & Table is located on East Broadway. They bring what they call "seasonal, local ingredients and a whole-animal philosophy" to Columbia. Barred Owl focuses on sourcing local Missouri ingredients responsibly and making delicious food that changes with the seasons. In addition to their restaurant and bar, Barred Owl also has a butcher shop where patrons can purchase a wide array of steaks, chops, roasts, smoked meats, sausages, rendered fats, broths, salami, artisan cheeses, fresh-baked breads, condiments, wine, and more.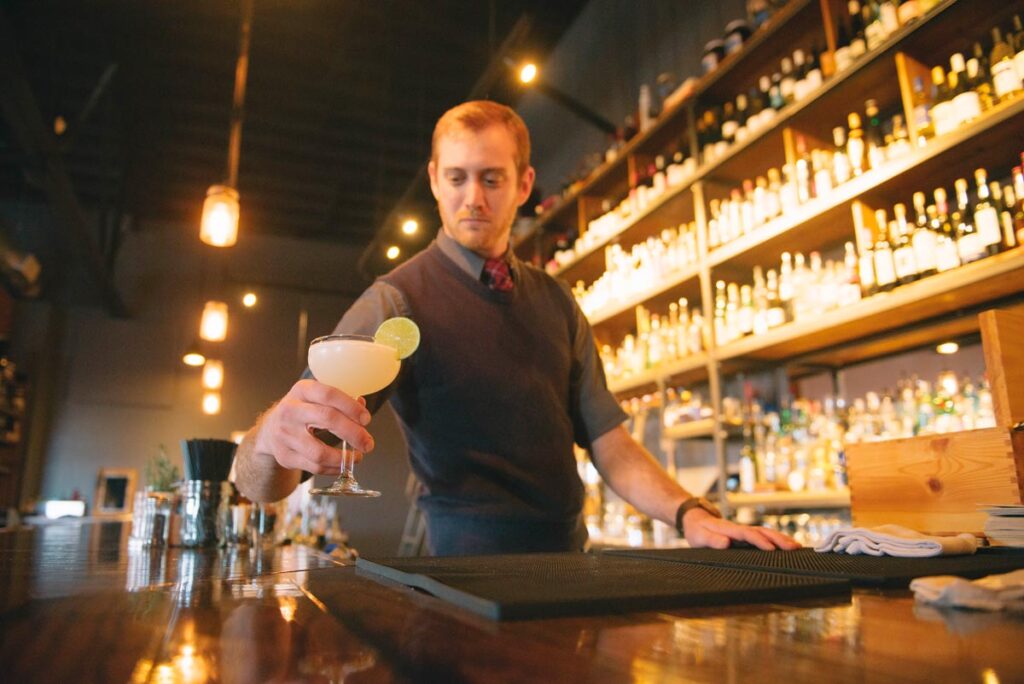 Bangkok Gardens
Stop by Cherry Street for a delicious Thai experience in the heart of downtown. Whether it's the No. 9 with curry sauce or phat Thai, you'll enjoy the dishes from this locally owned and operated restaurant.