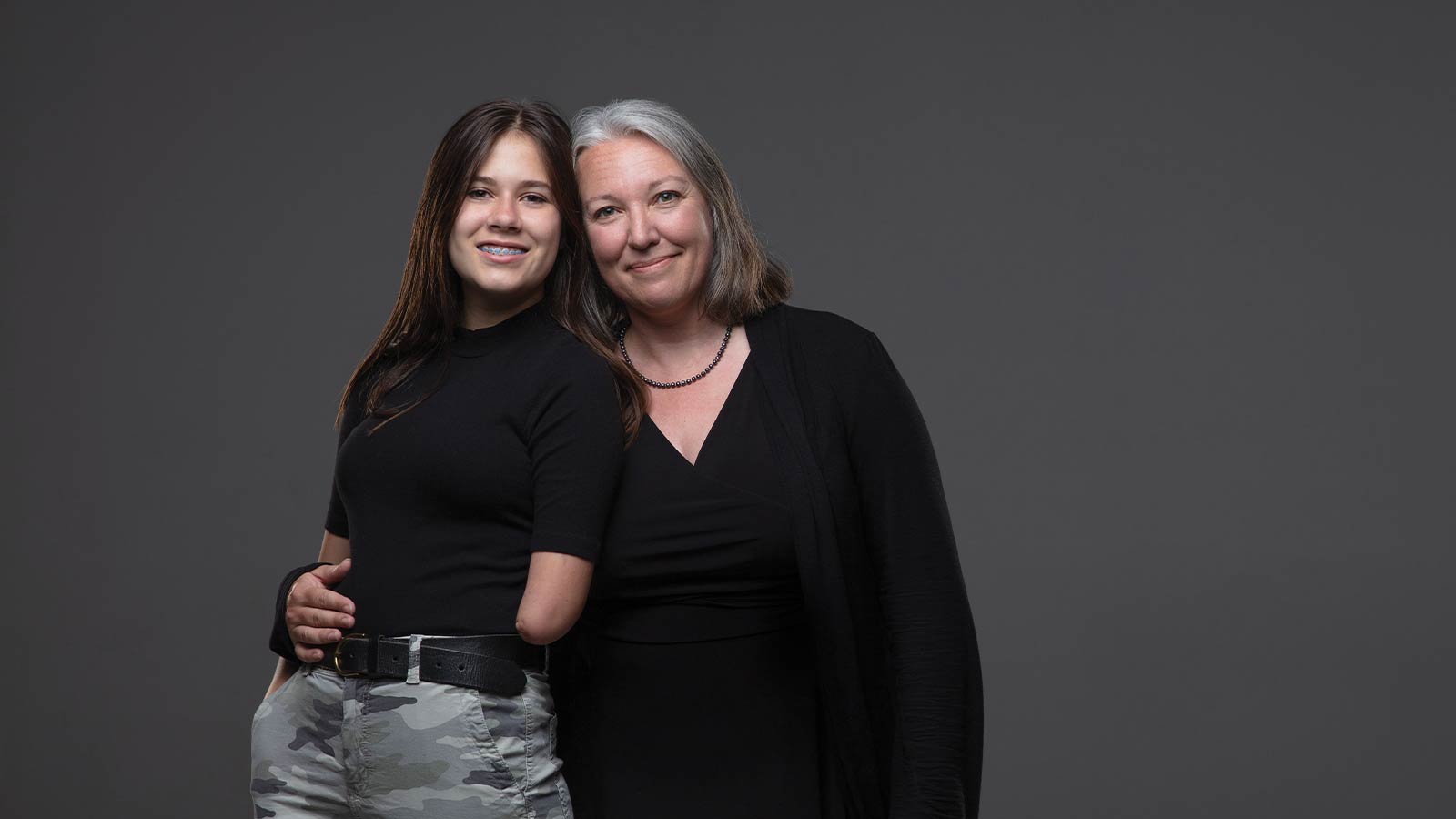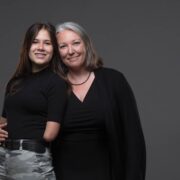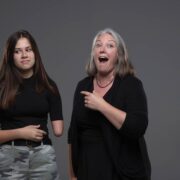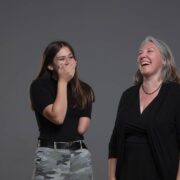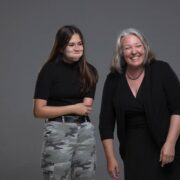 View Gallery
Mother-daughter duo Jen and Jordan Reeves advocate for the disability community.
Jen Lee Reeves learned early on not to make assumptions about her daughter, Jordan. Jordan, now 14, was born with a left arm that stopped just above the elbow. Jen was the first one to notice. The doctor said Jordan was fine, and from the very beginning, her family knew, indeed, that Jordan was born just right.
It's a parenting lesson that applies to all families. "It's important not to guess what your kid can and can't do," Jordan says. "They'll figure out what they can do, and there are so many ways to figure things out."
The Reeves have done more than figure things out. Together, this mother-daughter duo has become advocates for the disability community, and their journey has taken them on many adventures, all while remaining grounded in their life here in Columbia.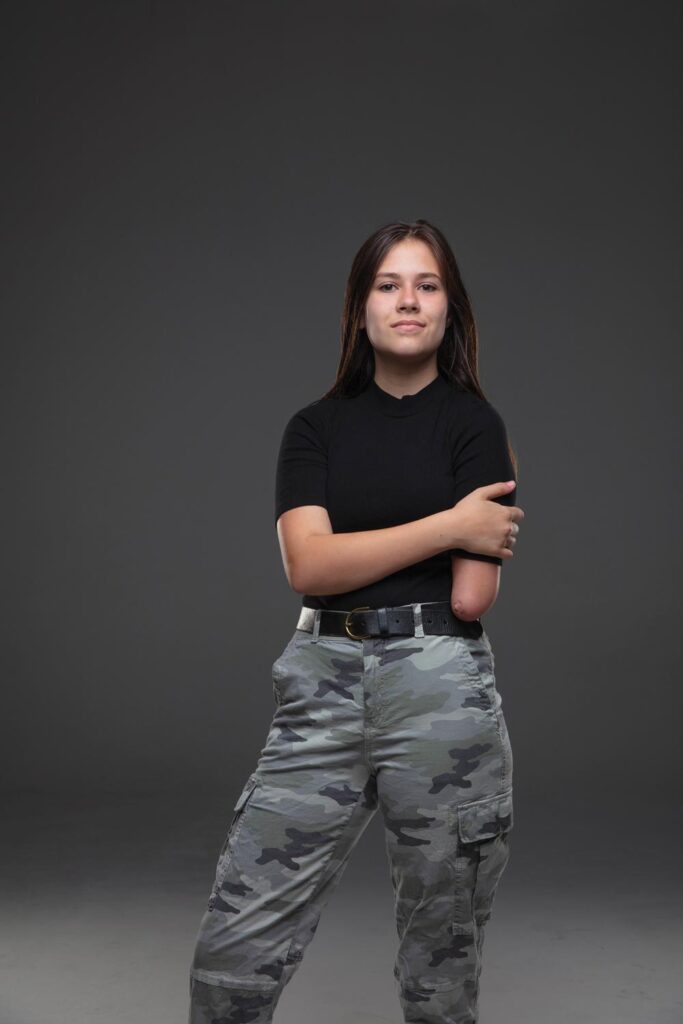 Becoming an Advocate
When Jordan was born in 2005, Jen reminds us, the internet was not what it is today. Still, with her journalism background, Jen was intent on researching and learning as much as she could about limb differences. "When you're a new parent with a new experience, and you've never experienced a disability before, it can feel very isolating," she says. "As a journalist, I felt like why not report about what I was learning and try to find more resources."
That process led to the start of Jen's blog, Born Just Right. Jordan's family says she's "just right," and she was born with "just" a right hand — a play on words. "I've realized that the power of using the internet is about learning from the entire disability community," Jen says. "We learned from other kids too, and learn from people who are in it every day."
The advocacy continued in daily life, as Jen learned to step back and let Jordan discover how to do things herself, from putting on socks and shoes in preschool to sharing a book with elementary school classmates that encouraged everyone to ask questions about Jordan's left arm.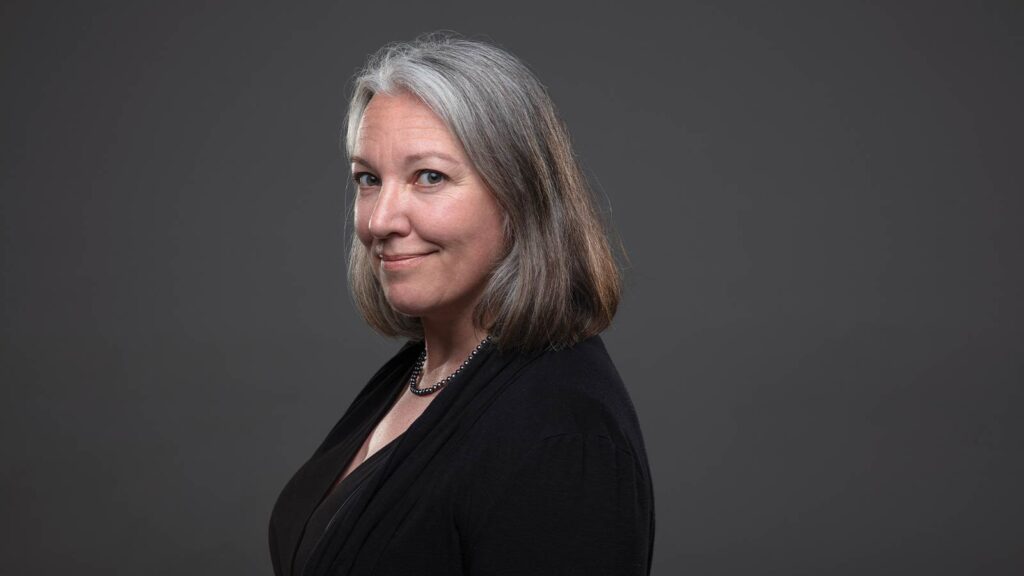 "It's important not to guess what your kid can and can't do. They'll figure out what they can do, and there are so many ways to figure things out."

Jordan Reeves
The Reeves family also made sure that Jordan had plenty of opportunities, like camps across the country, to travel and meet other kids with differences. It was at one such camp when she was 11 that Jordan's life began to take a different direction.
At a camp called Superhero Cyborgs in San Francisco, she was invited to join kids with limb differences to learn about design. They were asked a question: "If you could build something for your little arm that helped you become a superhero, what kind of superhero would you be?"
For Jordan, the answer involved glitter. A lot of glitter. Partnering with industrial designer Sam Hobish after the camp was over, Jordan and Sam continued to work on and refine her design for a prosthetic arm with a unicorn horn that shoots out glitter. The name: Project Unicorn. And the glitter? "Glitter brings a lot of joy," Jordan says.
The camp exposure made Jordan realize how interested she was in STEM and designing. "Project Unicorn showed me a whole different world," Jordan says. "This brought such a positive look onto disabilities. Kids have fun, and it adds more diversity into the design world."
The Adventure Begins
Project Unicorn was shared on social media, and from that point on, the Reeves' world exploded with glitter. The adventure was about to get bigger. "We had no idea what we were doing," says Jen. "I didn't think it would be something that would catch attention. It was cool to share it, and then Jordan naturally identified that this was a way to talk about disability."
Jordan was invited to present her design idea at Maker Faire Bay Area, one of the largest events in the country for design. More opportunities followed, from speaking engagements at TEDx to the Rachel Ray Show, where she presented her invention to the team from Shark Tank.
"We're good at traveling, and we like adventures," says Jen. Jordan has learned how to work and then shut it off, she adds. "She's so much more aware of what she needs to decompress."
All the while, Jordan was attending school in Columbia and enjoying her regular life with her friends and family, including an older brother, Cameron, and dad, Randy, and the family's two beloved dogs. How does Jordan balance regular life with these amazing experiences? "I separate the public work from school," she says. "That's not what I'm known for at school."
It was at school that Jordan first became inspired to write a book. She credits her fifth-grade teacher at Fairview Elementary, Renee Wilcoxson, for inspiring a love of reading that gave her the confidence to tackle writing. "How does she do that?" Jordan asks in amazement — teachers clearly have superpowers, too. One day, after reading "Wonder" and wanting a book that was about more than a disability, Jordan came home and said she could write a book.
In the early mornings and after school, Jordan and Jen worked together and had half of their book written when they submitted it to publishers. "Born Just Right" was published in 2019 and tells the story of Jordan's journey of becoming an inventor and advocate.
The adventures didn't end with the book launch. Jordan was featured on the first episode of the Disney+ series "Marvel's Hero Project," a new documentary show that shares the positive impact young, real-life heroes have on their communities. At the end of the episode, Jordan is surprised by the presentation of a new Marvel comic — starring herself as the superhero.
"She's not a hero because she has a disability," Jen says. She was initially hesitant about such a large brand placing a label on Jordan without context. But after the year-long process of working on the show, they're pleased that the episode brings further attention to Jordan's work and hopes it inspires other kids that they too can work to create change.
Creating Change for the Future
It's the desire to make positive changes in the world that led to the founding of their nonprofit, Born Just Right, with a mission of building creative solutions that help kids with differences live a more enjoyable life. The foundation believes that giving kids design and STEM knowledge empowers them to create their own solutions.
Jen balances her work at MU with running the nonprofit. During a typical summer, Jen and Jordan would be traveling to Cambridge to work on Born Just Right's BOOST workshops to teach kids design. This summer, during the COVID-19 pandemic, the workshops will be remote. Jen sees a silver lining in a wider audience the virtual workshops can provide. "There are a lot of kids interested in design," she says. "Our workshops help kids learn how to design with others and with different perspectives. Bringing real people into the design process changes design."
It's a life lesson that applies not only to kids with disabilities. "The magic of design is realizing you have a voice, and input is something every kid can learn," Jen says.
Jordan will start her freshman year at Hickman High School this fall, and she's excited to meet new people and wants to try her hand at acting. Her own design work continues, and she's working with designer Sam Hobish again on a new project to create other cool designs. By her own admission, she's moving into a more practical phase of design, past the sparkle, but whatever she does, it's sure to involve her own brand of magic.
"It's been a wild ride, and it's not over," Jen says. "Jordan is going to continue to teach us, and I will continue to run the organization as best I can."