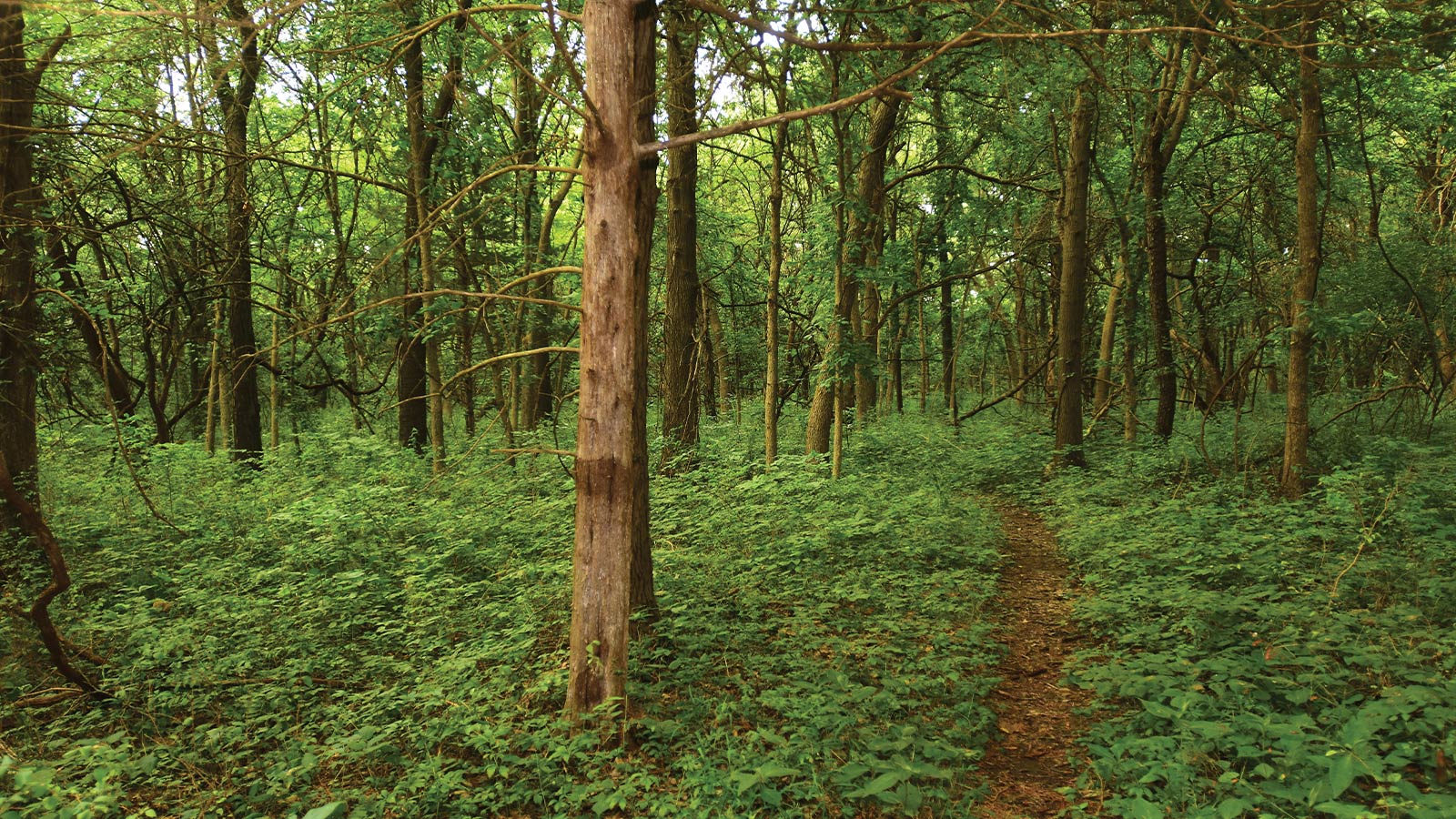 People by nature are hunter-gatherers, although, for most, foraging for food means making a trip to the grocery store or local farmers market. But the thrill of eating something you procured with your own hands can give you an appetite for learning more about all the abundance nature has to offer.
Although he wouldn't call himself an expert, Mid-Missouri native and avid hunter and angler Josh Glover has been foraging one thing or another for most of his life. "When I was a kid, I didn't think 'forage' when I was out stripping mulberry bushes and blackberry brambles, devouring them until my white T-shirt was stained a deep purple," he laughs. "Now I know that what might appear as a weedy hayfield or cow pasture may actually be a treasure trove of unharvested edibles."
Gathering your own food offers a wide variety of benefits. Foraged food is basically free, costing nothing except your time and effort. Not only are wild foods often loaded with nutrients and health benefits, but hunting and gathering can also provide exercise and a connection to nature.
Common Local Edibles
Here are a few of the countless local goods that any beginner can easily find, identify, and utilize.
Herbs and Tubers
Dittany (Cunila organoids) is sometimes referred to as "wild oregano," and pairs well with poultry as a culinary herb and in teas. Dittany grows on dry, wooded slopes, borders of woods, shaded rights-of-way, savannas, and prairies.
Dandelion (Taraxacum officinale) is commonly thought of as a weed, but they are actually one of the most nutrient-dense plants you can eat, and they're likely growing in your backyard. All parts are edible, and the taste resembles a slightly bitter green, like arugula. You can eat them fresh in salads or boil them with other greens.
Groundnut (Apios americana) is one of the more unknown native edibles. Related to beans, groundnuts form a vine that produces a tuberous fruit and can be used in recipes as a substitute for potatoes. Groundnuts take two or three years to grow to a usable size and can be found in low thickets and along streams and ponds, or they can be grown in raised beds or pots.
Jerusalem artichoke (Helianthus tuberosus), also known as sunchoke, can be found on the borders of streams, ponds, and prairie wet spots. The edible parts of sunchokes are the elongated tubers, and these can be consumed raw in salads, pickled, or used to flavor meat stews. The flower petals are also edible and can be used to garnish salads.
Native Fruits
Elderberry (Sambucus canadensis) grows in the open woods, in streams, along fencerows, and along roadsides. The lacy white flower clusters can be breaded and fried for a tasty fritter. The berries become ripe in August through September and are best when dried and used for baking or in the production of wine.
Persimmon (Diospyros virginiana) is one of the tastiest wild fruits and can be found along the borders of woods, in prairies, and abandoned fields. According to the Farmer's Almanac, a locally grown persimmon can predict the weather according to the shape of the kernel inside. If the kernel is spoon-shaped, expect plenty of snow to shovel. If it is fork-shaped, plan on a mild winter with powdery, light snow. If the kernel is knife-shaped, expect frigid winds that will "cut" like a blade.
Serviceberry (Amelanchier arborea) is similar to a blueberry and can be found in open woods and steep wooded slopes and bluffs. The fruit is delicious to eat raw or can be made into a jelly or pie.
Mushrooms
Hen of the Woods (Grifola frondosa) is not only a delicious mushroom, but also has health benefits like lowered blood pressure, blood sugar, and cholesterol levels. These clusters can be harvested from September through November and are usually found at the base of oak trees.
Chanterelles (Cantharellus cibarius) are a summer mushroom harvested June through August and best sautéed in butter and onion and used in soup or even as a pizza topping. Beware as they are dangerously similar to the poisonous Jack-o-lantern mushroom (Omphalotus illudens).
Wild Game
Following in his father and grandfather's footsteps, Josh remembers squirrel and rabbit hunting when he was barely able to carry a gun. As he grew, hunting became more than a hobby — it became a passion. "It's the connection to nature and experiencing all the woods has to offer that keeps me coming back for more," he shares. He remembers the first time his dog, Ina, had a successful quail hunt. "She was looking birdie, pointed, and then flushed a giant cubby of quail," he reminisces, smiling.
While most might assume hunting deer is best for a novice hunter, he suggests squirrel hunting. "They are a small game but there are lots of them – teaches you how to be quiet and sneak around in the woods," Josh says. "And don't worry if you scare one off — there are dozens more."
Josh loves the challenge of cooking the parts of wild game that are usually discarded. "The front shoulder of the deer is tough and sinewy, but braised low and slow with a little red wine, and you've got something surprisingly flavorful."
Foraging Ethics
According to Dr. Nadia Navarrete-Tindall, it's important to not only learn what can and cannot be eaten, but also how to harvest safely so that the supply is not destroyed.
"Wild leeks grow naturally in woodlands and shaded areas. You can find extensive locations where they grow, but when people discover them, they harvest too much. I want to teach people to grow them on their own land and learn to take only a little," she says.
As a native plant and specialty crops specialist at Lincoln University, Dr. Tindall is Mid-Missouri's expert in native plants. She says, "It is vital to increase awareness about the importance of native plants in people's lives and for wildlife habitat in order to restore and enhance native plants in Mid-Missouri."
Through her part-time business, Native Plants and More, she offers training as to how to identify, grow, and utilize native plants. She also offers training for farmers on how to grow native plants more effectively.
Tips and Tricks
Initially eat only what you can identify and in small amounts (particularly mushrooms). Even safe edibles can irritate certain stomachs. Be sure to save some to identify if there is a problem.
Avoid foraging near roads or polluted water sources that may contain chemicals from vehicle pollution, herbicides, or heavy metals.
If you're unsure of the laws around foraging in specific areas, ask the appropriate parties for permission prior to entering private property or federally designated wilderness areas, where there may be specific protections around what may and may not be picked.
Free resources are easily available to the novice forager. The Missouri Department of Conservation website has information on hunting, fishing, and native plants, as well as an extensive library of wild game and edibles recipes.
Armed with the right knowledge, resources, and stamina, your next deliciously nutritious summer meal could be waiting right outside your back door.
---
Braised Front Venison Shoulder
Recipe by Josh Glover
Ingredients
2 ½ pounds venison shoulder
⅓ cup oil
½ stick butter
1 tablespoon flour
1 yellow onion, chopped
3 carrots, peeled and chopped
3 sticks celery, chopped
8 ounces fresh mushrooms, sliced
2 cans beef broth
½ bottle dry red wine (don't cook with something you wouldn't drink)
3 cloves garlic, minced
1 teaspoon salt
1 teaspoon black pepper
Directions
Preheat the oven to 300 degrees.
Dust the deer shoulder with the flour, salt, and pepper. In a large Dutch oven, heat oil on medium-high heat. Sear all sides of the shoulder until a brown crust forms.
Remove the shoulder and add butter to the same pan on medium heat. Add vegetables and garlic and cook for five minutes until slightly softened. Return shoulder to the pot and add equal parts wine and broth until the liquid is two-thirds covering the meat, stirring to deglaze the pan.
Cover partially with a lid and cook in the oven for three and a half to four hours, checking periodically to make sure the roast still has cooking liquid. Add broth as needed.
Remove meat from the oven when it's falling off the bone. Discard bones and any sinew or cartilage that remains. Serve over mashed potatoes or grits, and use basting broth as a sauce.
---
Wild Greens Soup
Recipe by Veronica (Ronnie) Taylor
Ingredients
1 tablespoon olive oil
1 carrot, peeled and diced
1 cup wild leek leaves. Can be replaced with 1 large potato, peeled and sliced
8 cups vegetable stock
4 cups blanched stinging nettles, lamb's quarters, goldenglow, or cup plant
½ teaspoon salt
½ teaspoon pepper
¼ cup heavy cream (optional)
Directions
Warm the olive oil in a large pot over medium heat. Add the carrot, wild leeks, and potato, and cook until soft. Add the stock, bring to a boil, then reduce heat to a simmer and add the native greens. Cook for 15 minutes, then remove from heat. Blend the soup with an immersion blender until very smooth. Return to pot and season with salt and pepper. Lastly, stir in the cream and serve hot.
---
Pickled Raw Sunchokes
AKA Jerusalem Artichokes
Recipe by Randy Tindall
(Adapted from a Japanese temple or shojin cuisine recipe for pickled potatoes)
Ingredients
Sunchokes, washed well, drained, cut into bite-sized pieces, rubbed with salt and left for 10 minutes, then rinsed. (Use any quantity you like.)
1 part soy sauce
1 part rice or white wine vinegar
1 part mirin, a sweet Japanese cooking wine. If unavailable, use maple syrup.
Sesame oil to taste (optional)
Directions
After sunchoke pieces are rinsed of salt, put them in a container and add enough of the pickling mixture to just cover. Cover and let marinate overnight. Sunchokes can be eaten the next day.
This is a simple, mild pickle that allows the flavor of the 'chokes to come through without overpowering it.