Photos by Emily Sewell | Scout & Nimble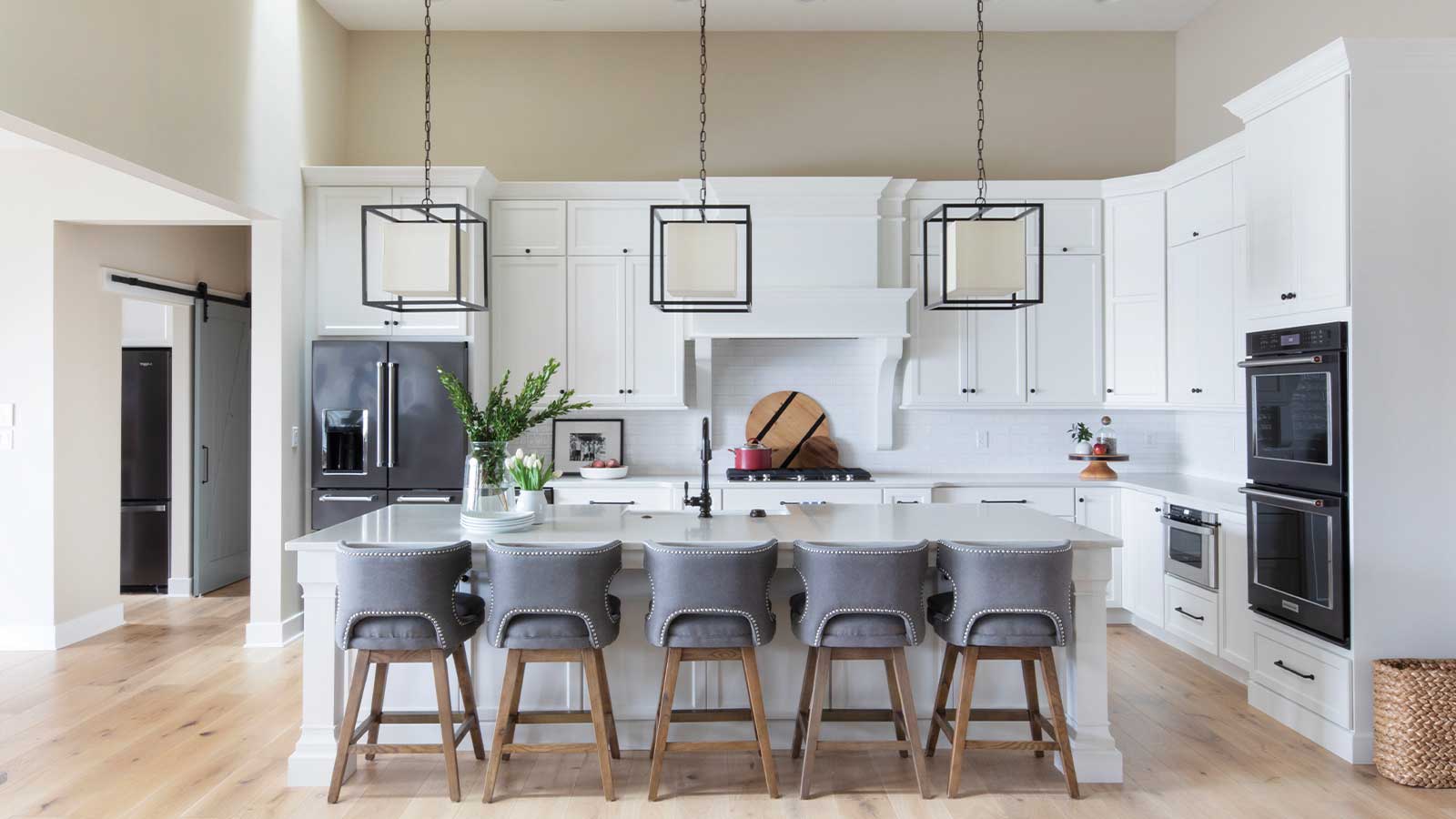 Kent and Rebecca Willett transform their farmhouse into a modern residence with a lake view and ample space for their family.
When Dr. Kent Willett and his wife, Rebecca, open their front door and invite you to walk in, you are home. Natural light rushes into the open floor plan, where modern design interacts with a rustic ambience. A seat at the kitchen island or a cozy spot on the living room sofa are equally inviting.

The Willetts' home is decisively special. Zeb, their real-life pet zebra, would likely confirm the statement. (If you're still in doubt, a glance at the peaceful lake view should do the trick.) However, what makes the Willetts and their home more special is that they are all about serving others.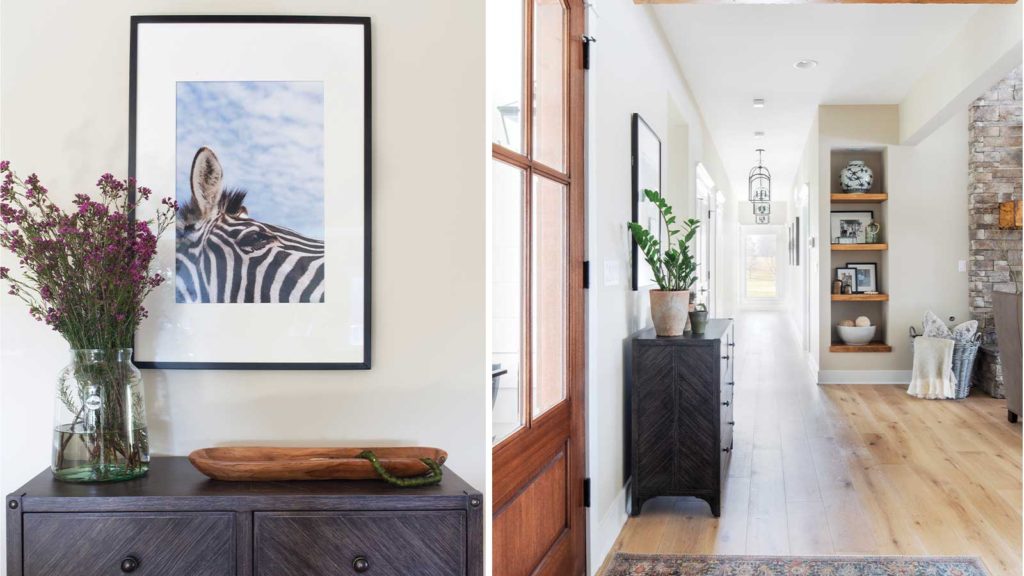 A Couple with a Mission
The couple serves people at Kent's comprehensive dental practice, Willett Dental Associates. They also travel to Jamaica on mission trips, where Kent offers dental extractions in remote mountainous areas. The dental practice has been doing these mission trips every February for approximately 25 years.

"It's eye-opening," Rebecca says, "When you have a toothache, you might have to wait 48 hours if it's over the weekend to get into the dentist, but [in this area] if people have a toothache they are just in pain and some try to take their own teeth out."

The Willetts' affinity for people motivated them to renew their home to have more space for their extended family to visit. Hidden on Mexico Gravel Road, the home was initially built in 1969, and Kent purchased it in 1981. "It was a cedar house with green shag carpet and old-style paneling on the inside," he recalls. He was captivated by the home's lake view and appreciated it was in a space where he could fish and hunt.

"I enjoyed raising kids on it, living in the country, and still being 20 minutes from work," Kent says. Since then, the home has seen graduations, older kids move out to get married, and the addition of new family members such as Hap, the Willetts' 2-year-old grandson.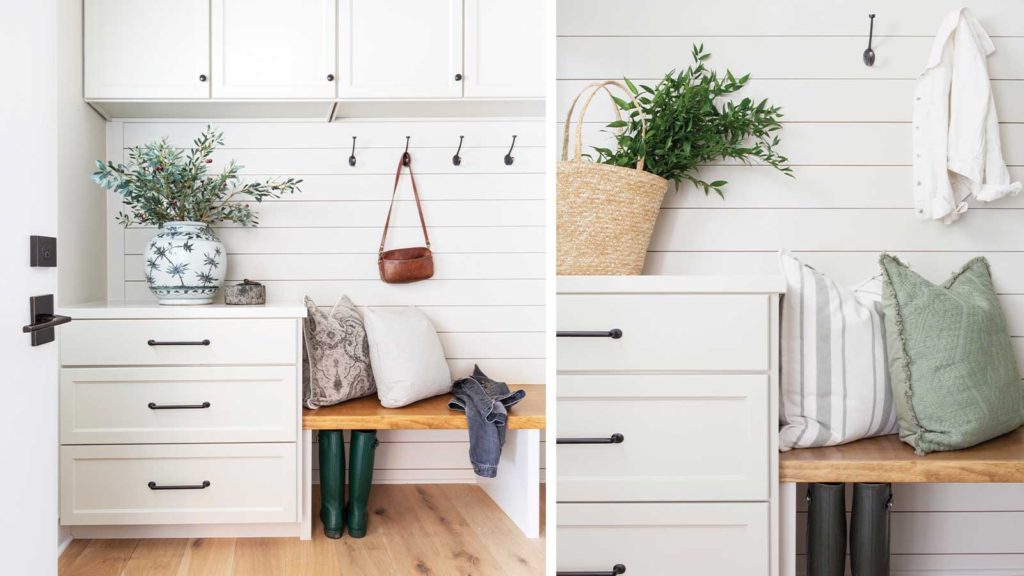 From Farmhouse to Contemporary Luxe
In 2018, the Willetts decided it was time for a revamp. "The home was dated, and we didn't have enough room for all of our family members to come stay," says Kent. The couple worked with architect Bill Howell, builder John Hansman, and interior and exterior designer Jesse Bodine, of Scout & Nimble. "The old house was small, and it was very cozy. We didn't want to lose that cozy feeling. Jesse really helped to honor that," Rebecca says.

The old cedar house gave room to a modern home with rustic charms. A palette of ivory, vanilla, and warm beige reigns throughout the house, highlighting the unique textures of custom wood doors and furniture and the bathroom's marble floor. "The designer got to know us and our style. She was very helpful," Rebecca says. The Willetts wanted to make sure their home's design was as timeless as possible, so Jesse helped them create a look that wouldn't go out of style quickly.

Weekend mornings at the lake house usually begin with coffee, eggs, and toast. "He makes the best eggs," Rebecca says with a big smile. Two skylights bring natural light into the kitchen, where the all-white cabinets and marble countertops create a sleek look. The black hardware cabinet knobs and the kitchen faucet accentuate a clean minimalist aesthetic, but the presence of wood floors and hand-crafted cutting boards keep the kitchen homey.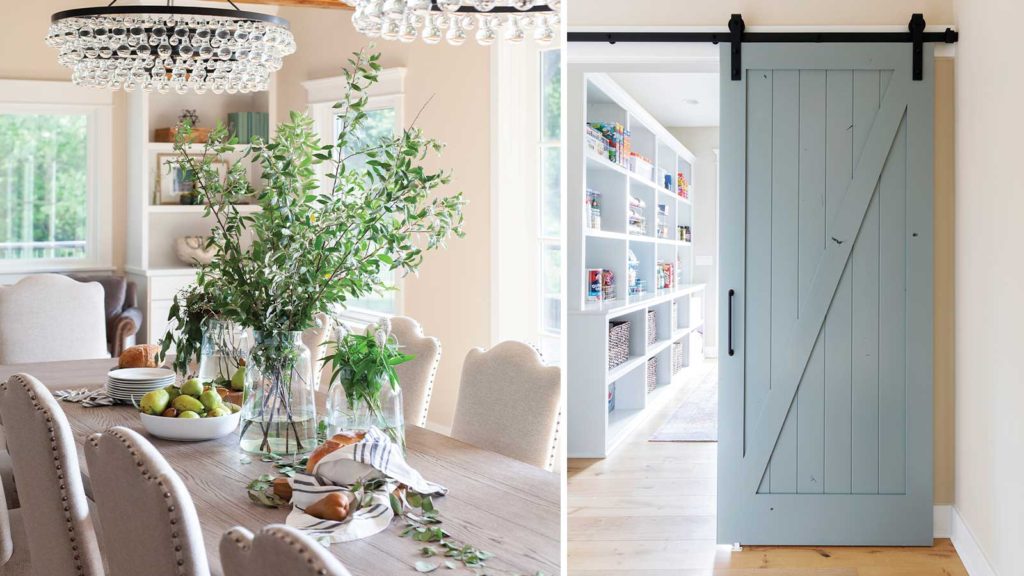 Next to the heart of the home is the living room and the dining table. The table is placed below two glass chandeliers, and it can sit about 15 people. Rebecca and Kent already treasure the times they've spent with family and friends in this area of their home. Last Thanksgiving, they had 17 family members visiting; they sat together and played spades.

"At Christmas time our favorite game is Left Center Right [also known as LCR], so you can put 15 people around this table and play. It's fun," says Kent. "And then everybody loves football — we have a big TV downstairs, but everyone is just right here," Rebecca says, as she points to the sofa in the living room: "We love that. Even the teenagers will stay up here and watch football."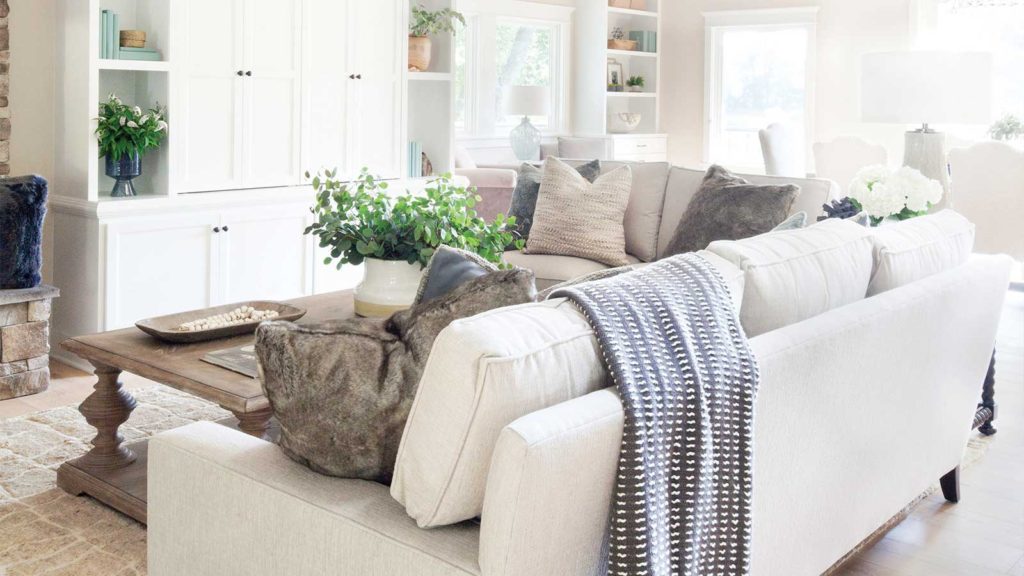 Home is Where the Heart is
The Willetts have five children: Brie Chandler, 35, married to MMA fighter Michael Chandler and mother of Hap; Landon Willett, 32, married to Taryn Willett; Drew Meyer, 21; Kale Meyer, 19; and Colten Meyer, 15.

While Colten is the only one who lives with Rebecca and Kent at this time, there are spaces for everyone throughout the home. There's an in-progress workout room, darker rooms for the college boys to sleep in, a crib for Hap, and an adjacent barn with ping-pong and pool tables. "This seems to be the place where our kids have always loved to bring friends," says Rebecca.

The new bathroom is one of Rebecca and Kent's favorite additions, and it's easy to see why. The spacious room is full of personality with its patterned marble floors and his-and-hers vanities. The glass door zero-entry shower and the bathtub have a breath-taking view of the lake. It's a dream come true for anyone who enjoys reading while taking a nice bubble bath.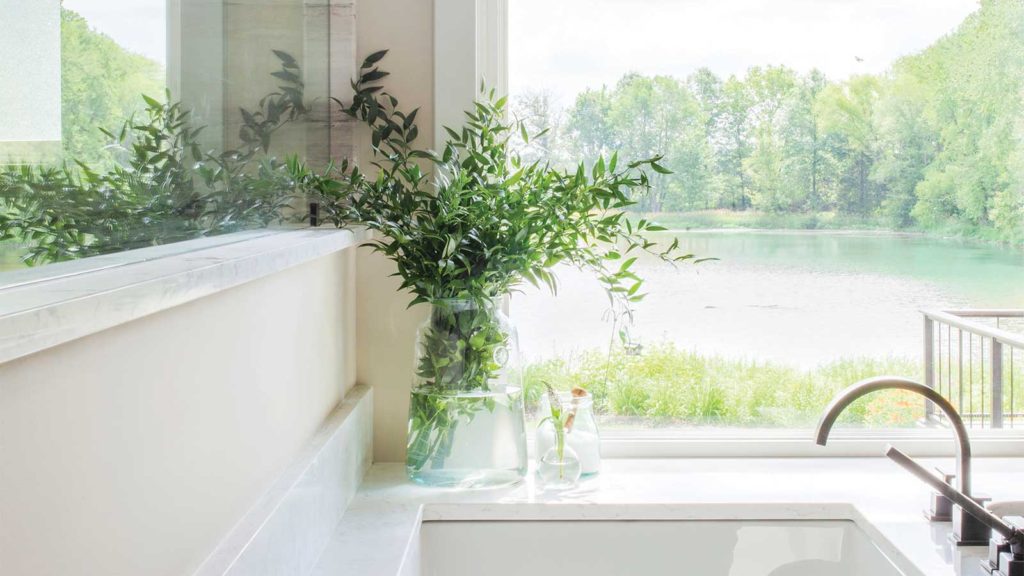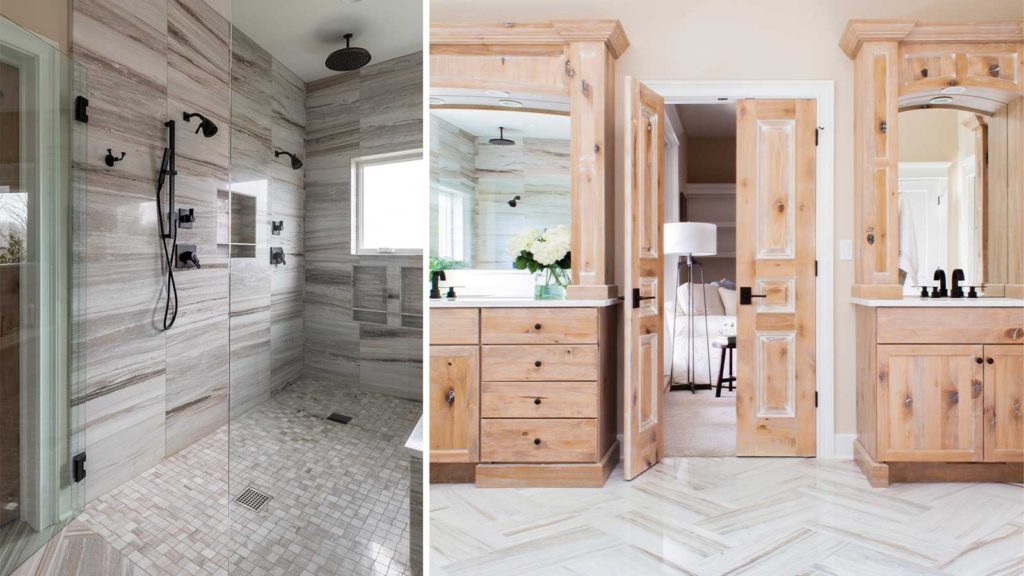 Rebecca holds a special place in her heart for the white living room chair where she sits to relax and read in the mornings. The two of them enjoy the view of nature out back and say they spend a lot of time outside. There's always sticks to pick up and lawn to mow.

The Willetts are grateful for their home, but they assure visitors that the dwelling is not the most important thing. "In the end, it's just a home. People are always more important. We want people to feel welcome and safe," says Kent.

"We didn't build a nice home just to sit in it and be selfish. God has blessed us, and our desire is to give away," Rebecca says. "In loving people and having them here, we feel like it's something we can share. That's where our heart is."