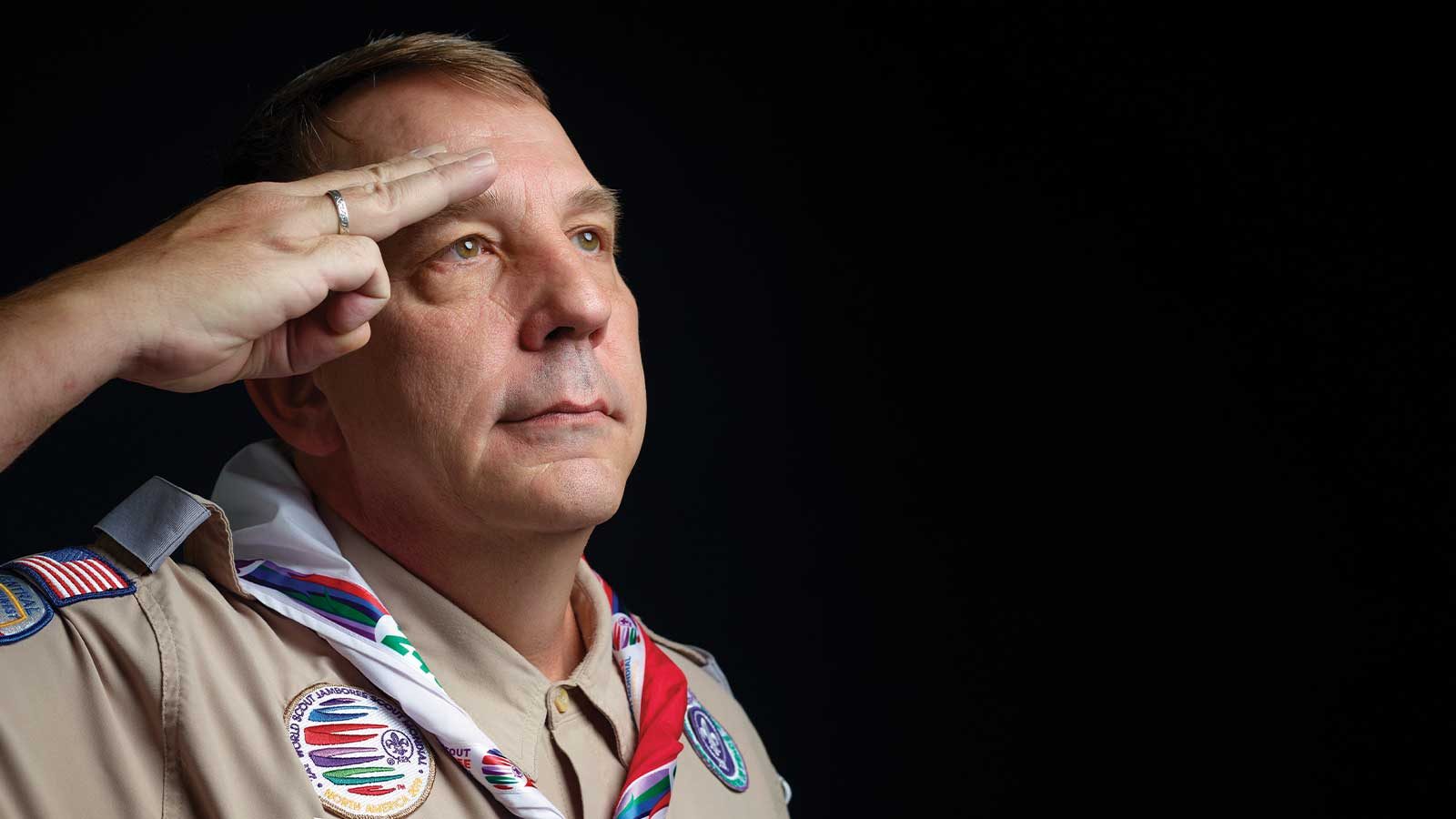 District Executive, Boy Scouts of America, Great Rivers Council
Hometown
Columbia, Missouri
Years lived in Columbia
All my life except for studying abroad in Guadalajara, Mexico.
Job description
I work with a volunteer board of directors and other community and business leaders to identify, recruit, train, guide, and inspire them to become involved in youth programs. I recruit leadership for finance campaign efforts to meet the financial needs of the organization. I ensure that all program sites are served through volunteers, regular leader meetings, training events, and activities. And, last but not least, I collaborate with adult volunteers and oversee achievement of training for their respective roles.
Education
BA in communication from MU.

Professional background
I was a business owner for more than 20 years. I graduated from MU and began working in customer relations for a local company. I liked the customer part. but hated the corporate part. I've always been a passionate sales person — to be great at it, you have to be able to sell vampire fangs and rubber dog poop! I also have experience in marketing, event coordination, and athletic announcing, and I've gained experience working with diverse audiences through volunteer and paid positions in USA Cycling and the U. S. Census Bureau.
Favorite memory from owning Gotcha
There are so many! I really should write a book. I learned so much from my clients and co-workers. We had plenty of famous musicians open their wallets. My motto was, "Treat the rock stars like regular clients and treat regular clients like rock stars." A couple of memories stand out. When my oldest daughter was born, I took her to the shop with me quite a bit. The Misfits were playing the Blue Note and stopped in. If you're not familiar with the band, they're a pretty hardcore "horror" punk group. One of the musicians saw my infant daughter and begged to hold her because he missed his own kids. Hank Williams III stopping in for tips about making fire shoot out of his fiddle was also a good time!
Biggest lesson learned as a business owner
Owners get paid last!
Why you are passionate about the Boy Scouts of America's programs
As an Eagle Scout, I'm living proof that scouting works. Scouting kept me focused and motivated as a young person, and so many of the skills that I use today stem from my progression through scouting. This past summer, I had the amazing opportunity to participate in the 24th World Scout Jamboree. Over 45,000 scouts and scouting leaders from 150 countries came together for 12 days at the Summit Bechtel Reserve in West Virginia. I met scouts from Africa, South America, Sweden, Russia — the list goes on. Despite language, cultural, and religious differences, we came together as brothers and sisters with a common goal: to become helpful, active, and positive global citizens. It's hard to not be optimistic about the future in the presence of such amazing young people and volunteers.
Why you are passionate about your role as district executive for the BSA
Being a Boy Scout changed my life in so many ways. It's wonderful to work for a program that I really believe in. I am humbled by the volunteers who give their time and energy to support scouting. It never gets old to see the spark of excitement in a young person's face when they accomplish a task or a goal in scouting.
What people should know about the scouting programs today
Scouting is fun — and it's not just for boys! Our programs are open to young men and young women who want to have fun, make friends, and learn leadership and self-reliance through service, outdoor adventure, and ongoing education.
The next challenge facing the nonprofit sector
Financial support is always going to be a challenge because there are so many competing interests. However, a donation to scouting gives a young person the chance to test themselves, to gain confidence, and to learn what it takes to be a leader. An equally important challenge is motivating a large group of volunteers; they make such a huge impact, but it's easy for them to get burned out.
If you weren't doing this for a living, you would
Travel and announce for regional bicycle races.
Favorite volunteer activity
Judging barbecue cook-offs or cookie baking competitions.
How you want to impact the Columbia community
Both of my parents were teachers, so there wasn't much in the way of extra money. I benefited from people who believed in and were willing to take a chance on me. I hope that through my work with the Great Rivers Council, we can expand and strengthen opportunities for young people to participate and to find their path.
Favorite place in Columbia
I'm happy mountain biking on any of the trails!
Your go-to restaurant in Columbia
I have too many friends who own restaurants! Let's just say that there are lots of great places to eat in Columbia. I'm not going to lie — I enjoy a good, strong cup of coffee, so Rocket Fuel at Coffee Zone is one of my favorites.
Most people don't know that you . . .
I'm kind of boring. I like to hang out at home with my family, watch old Westerns, and collect bicycle parts and Cadillac parts.
Family
Wife, Michelle, and two daughters, Skyler and Sophie. My mother, Sally; sister, Sarah; and brother, Ethan, also live in Columbia.
What you do for fun
Riding any of my bicycles, telling dad jokes, and spending time in remote locations.
Accomplishment you are most proud of
This is a hard question to answer. Most all my successes have been accomplished through teamwork and collaboration.
What's next for you professionally or personally
I want to visit Philmont Scout Reservation, Sea Base Scout Reservation, and Northern Tier Scout Reservation.