Home » Summer's Sweetest Crop
photos by Keith Borgmeyer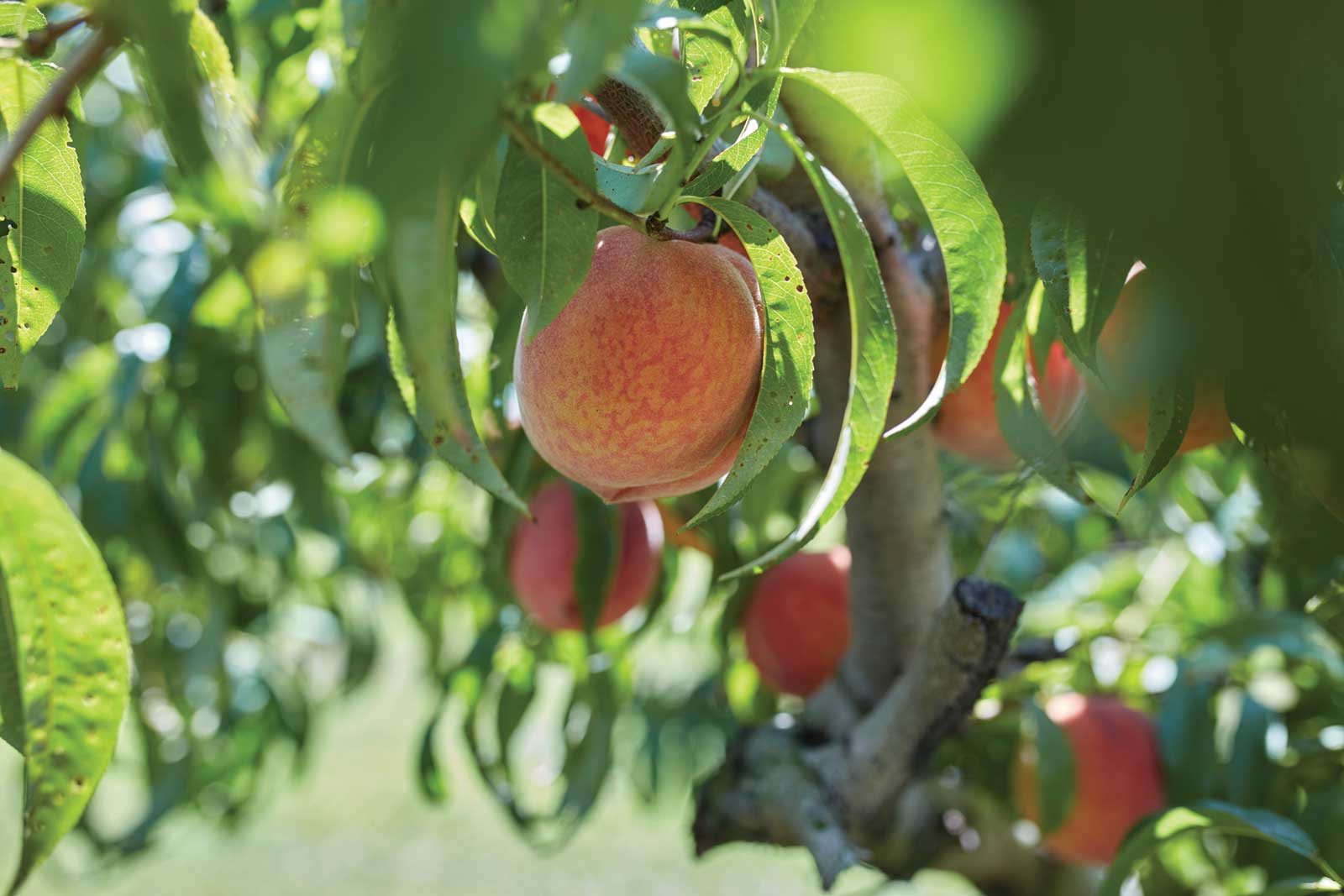 Peach Tree Farm has been growing the delicacy that Missourians love for three decades.
"Sheer chaos." That's how Bruce Arnett describes the line of work he fell into almost 30 years ago.

Peach tree farming isn't too common in Missouri, and there's a reason for that. It's difficult here, which is something he realized early on.

Bruce and his wife, Judy, planted their roots in Boonville 30 years ago on 20 acres filled with old peach trees that they bought from Oliver Sieckmann. The Arnetts took out the trees to build their home, but the finicky plants were still in the back of Bruce's mind. He decided to try and raise some himself. Bruce planted 550 trees that first year and 600 the next.

"If you were to tell me 10 years before I bought this place that I'd be a peach farmer, I'd tell you you're crazy," Bruce says.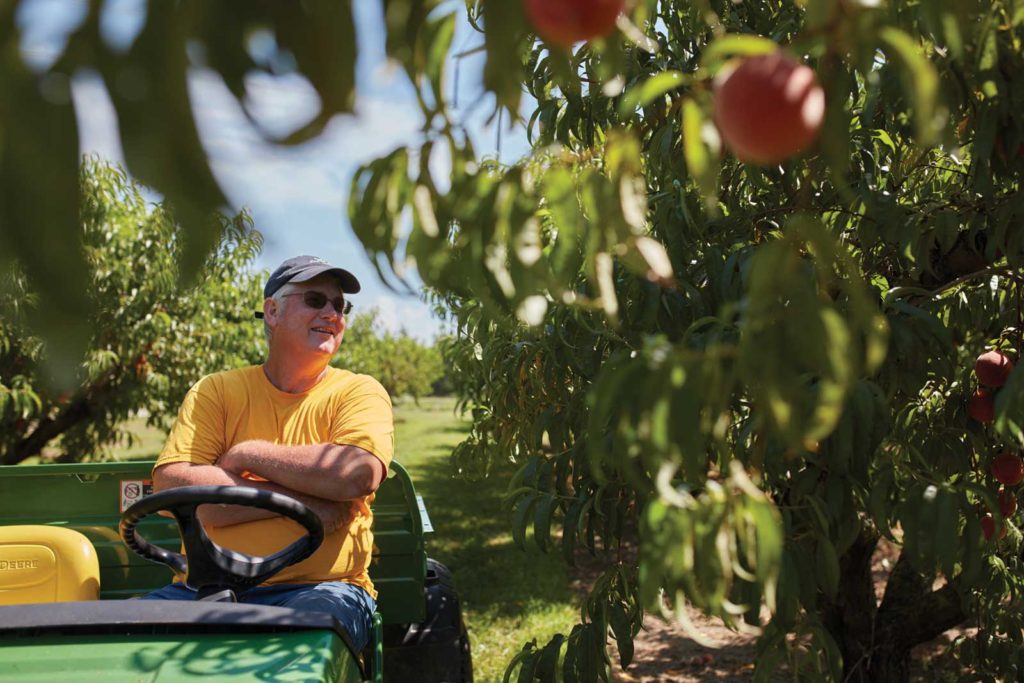 When Bruce started farming, he wasn't planning to live off of the profit from the peach trees. He and Judy had full-time jobs in Columbia at the time, which is something he recommends to everyone who decides to take on this career.

"Any kind of farming is very scary. You'll wake up one day and you don't know if you'll have a crop or not," he says. "When you've got so much at stake, it's like rolling the dice." The high humidity and rain in Missouri can cause trouble for the trees, but luckily for Bruce, he had a little bit of guidance from Oliver when he started out.

"If you want information [about farming], you don't necessarily go to university. You go and find someone who's actually doing it," Bruce says. Oliver offered tips about the trees and even brought some of his customers from his furniture business up the road to the farm to purchase the peaches.

For the first 15 years, Bruce kept his job in Columbia while he and Judy raised their six children. As their kids grew, the farm continued to grow and become well-known in the area. They began to make some profit from the peaches, but it wasn't until Bruce quit his job that Peach Tree Farm became his family's full-time business.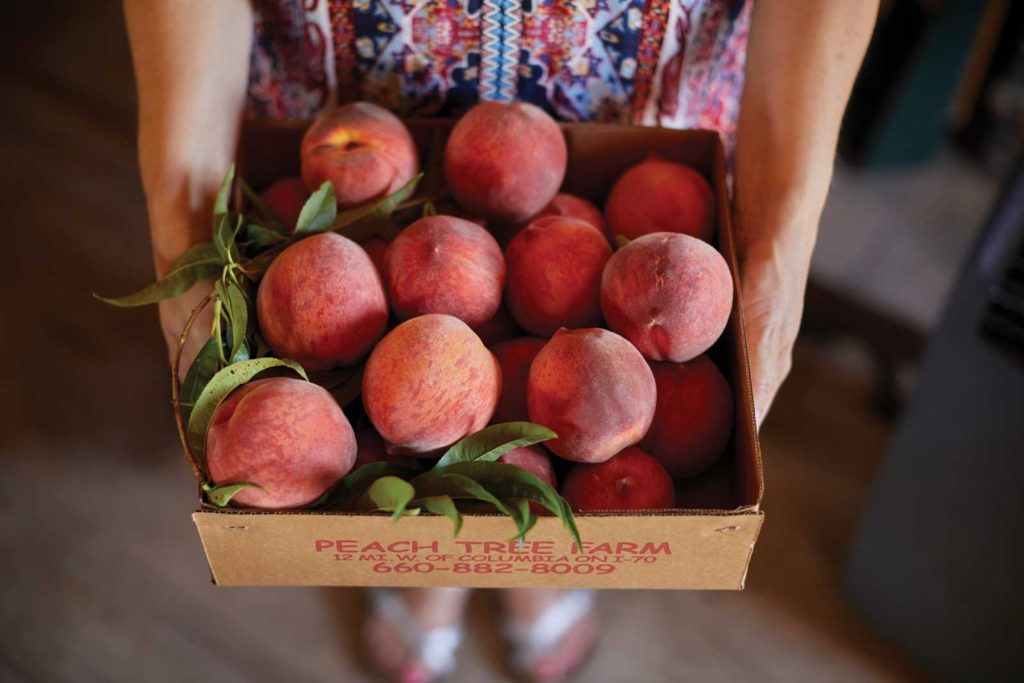 The Arnetts farmed on the property around their home for about 17 years before needing more space. They purchased 20 more acres at a serene orchard up the road 13 years ago.

Guests can visit Peach Tree Farm (24863 MO-98) in Boonville, Missouri, just 20 minutes outside of Columbia. Customers can't pick the peaches themselves, but they can purchase them in the cabin next to the Arnett's home during picking season and occasionally catch them at farmers markets in Columbia, Jefferson City, and Sedalia.

Although peaches are harvested in the summer, this year-round business keeps the Arnetts on their toes. "I think the thing that really drives me on this is that it's really difficult, and for me, I've always liked a challenge," Bruce says.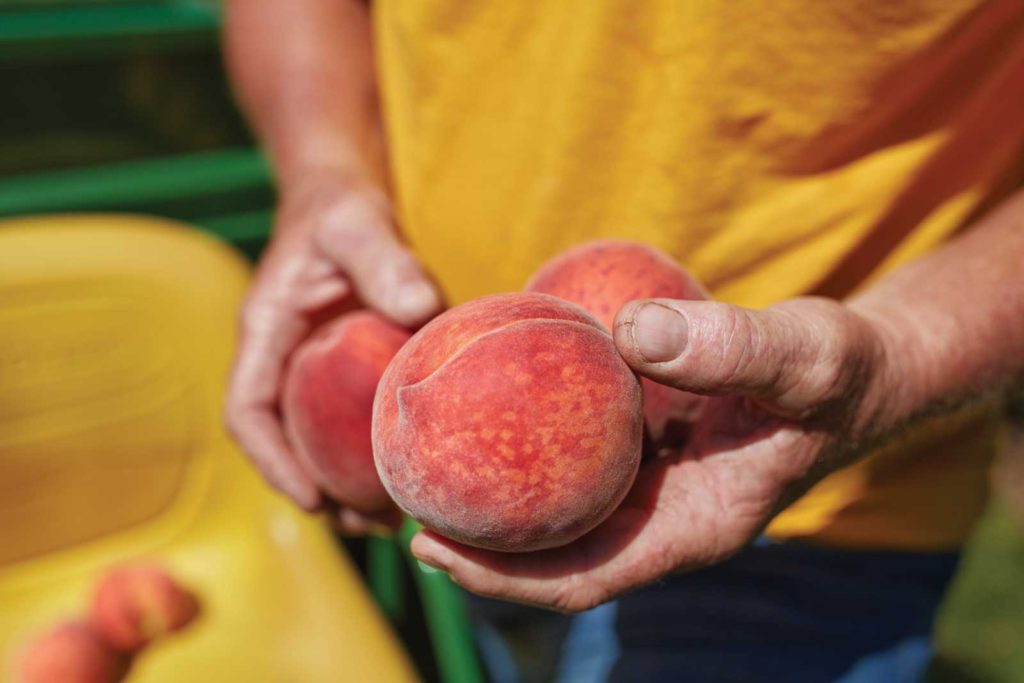 The Peach Process
The first step to raising a successful peach crop is pruning in January, February, and March. This is when the stems and branches are removed to help the tree grow better. "The pruning is hard labor. I know it's good for me, but it's hard work," Bruce says.

Next, the Arnetts have to thin the trees by hand in April and May. Judy runs the thinning and picking crews that consist of a few of their children and close friends that help out at the farm. If you don't thin them, the peaches won't have room to grow very big. Some of their trees can produce up to 1,000 peaches, but they have to get them between 140 and 180. "Everything about these things are labor," Bruce says.

The most rewarding part is picking season, when the trees are heavily burdened by fruit. It begins in late June and continues until mid-September. "There's something about seeing the red on the trees," Bruce says.

Customers from all over Missouri flock to purchase the sweet fruit during those months. When they're ripe, the Arnetts start harvesting 30 minutes after daylight and sell them at their cabin the same day until they're completely sold out. Even before harvesting season, people are knocking on the Arnett's door asking when they'll be ready. "The peaches sell themselves, and I'm just a bystander," Bruce says.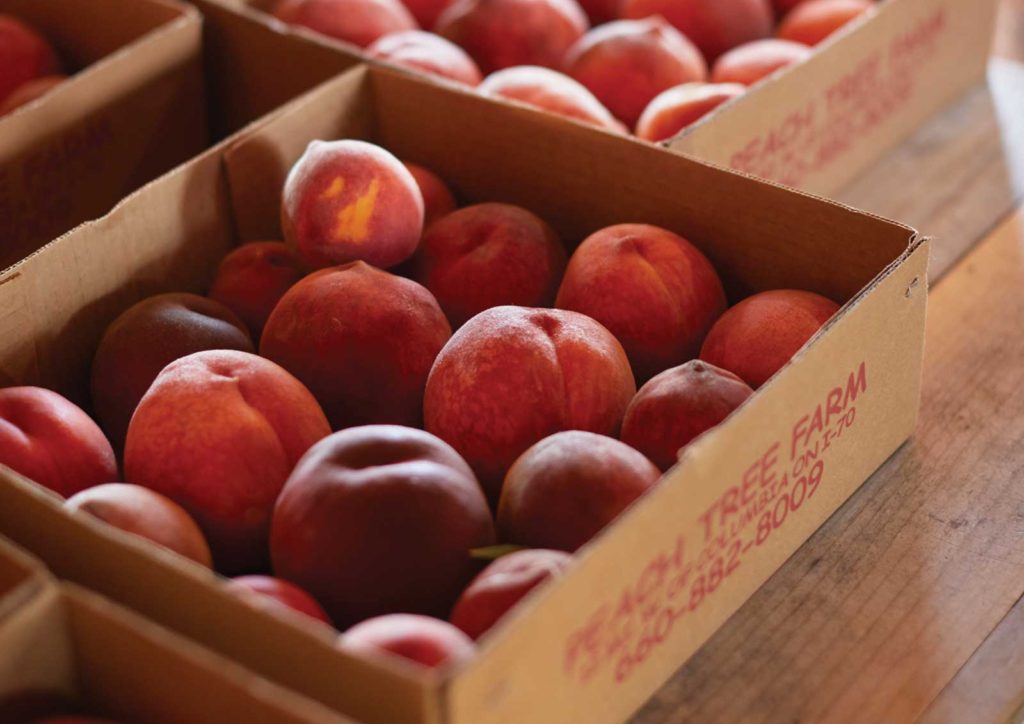 The Fall and The Future
Peach Tree Farm started out of curiosity, but it grew to be much more for the Arnetts. Despite the name, it isn't limited to just peaches. After picking season, they immediately start gearing up for the pumpkin patch they host throughout October. They have apple trees, pumpkins, corn stalk horses, animals, hayrides, and various other fall staples for families to enjoy.

The Arnetts focus on this venture at home while most of the peaches that are sold now come from the orchard up the road. In three decades, the Arnetts seem to have done it all.

"I could retire — I just don't want to," Bruce says. "It's never boring here." After 30 years, six children, and about 40 acres of land later, the Arnetts are still thriving in the peach business with no end in sight.
Peach Tart
Crust:
¼ cup butter, softened
3 tablespoons sugar
¼ teaspoon ground nutmeg
1 cup all-purpose flour
Filling:
2 pounds of peaches (about 7 medium-sized peaches), peeled and sliced
⅓ cup sugar
2 tablespoons all-purpose flour
¼ teaspoon ground cinnamon
⅛ teaspoon almond extract
¼ cup sliced almonds
Whipped cream, optional
Directions:
Preheat oven to 375 degrees. Cream butter, sugar, and nutmeg until light and fluffy. Beat in flour until blended (mixture will be dry). Press firmly onto bottom and up sides of an ungreased 9-inch fluted tart pan with removable bottom.

Place on a baking sheet. Bake on a middle oven rack until lightly browned (about 10 to 12 minutes). Cool on a wire rack.

In a large bowl, toss peaches with sugar, flour, cinnamon, and extract. Add to crust. Sprinkle with almonds.

Bake tart on a lower oven rack until crust is golden brown and peaches are tender (about 40 to 45 minutes). Cool on a wire rack. If desired, serve with whipped cream.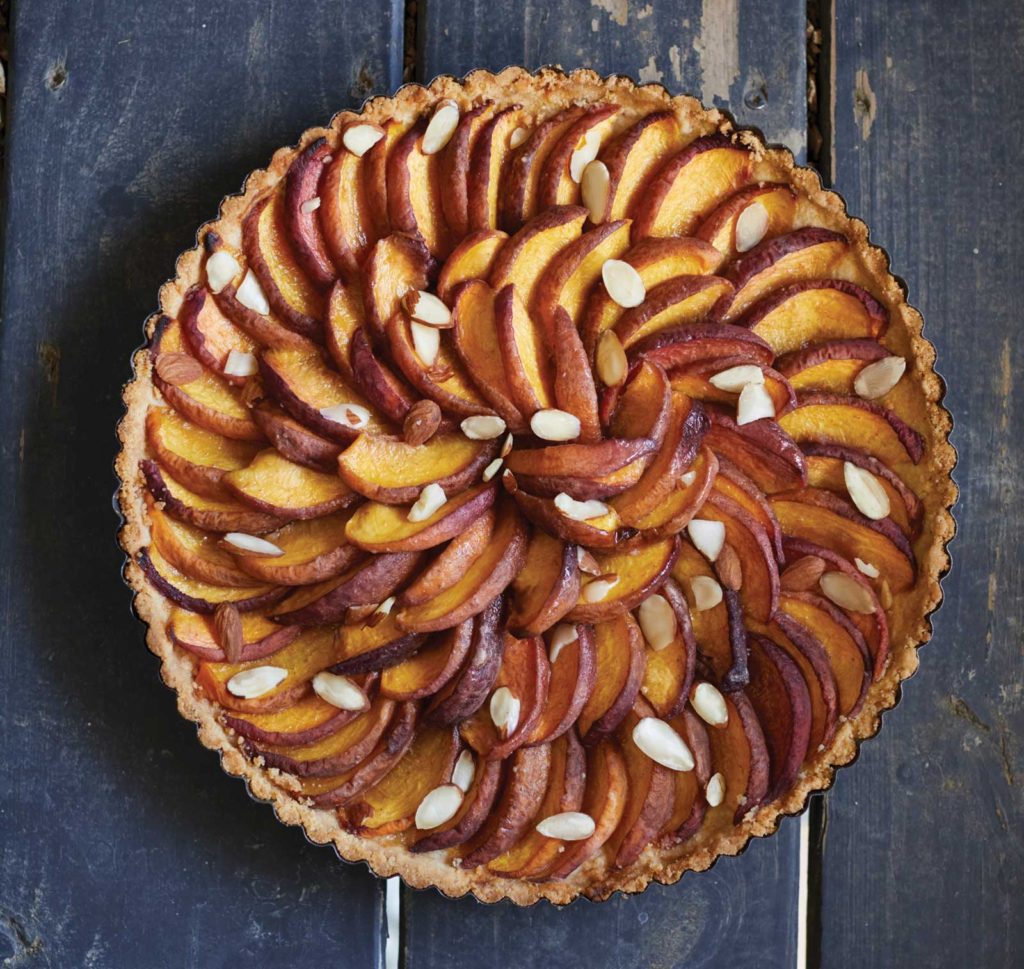 Pickled Peaches
Ingredients:
6 cinnamon sticks (3 inches each)
24 whole peppercorns
18 whole cloves
2 teaspoons thinly sliced fresh ginger root
12 medium peaches, peeled, pitted, and quartered
3 cups sugar
1 cup white vinegar
1 cup water
Directions:
Divide cinnamon sticks, peppercorns, cloves, and ginger slices among six hot pint jars and add peaches.

In a large saucepan, bring sugar, vinegar, and water to a boil. Carefully ladle hot liquid over peaches, leaving 1/2-inch headspace. Remove air bubbles and adjust headspace, if necessary, by adding hot mixture. Wipe rims. Center lids on jars. Screw on bands until fingertip tight.

Place jars into canner with simmering water, ensuring that they're completely covered with water. Bring to a boil and process for 15 minutes. Remove jars and cool.