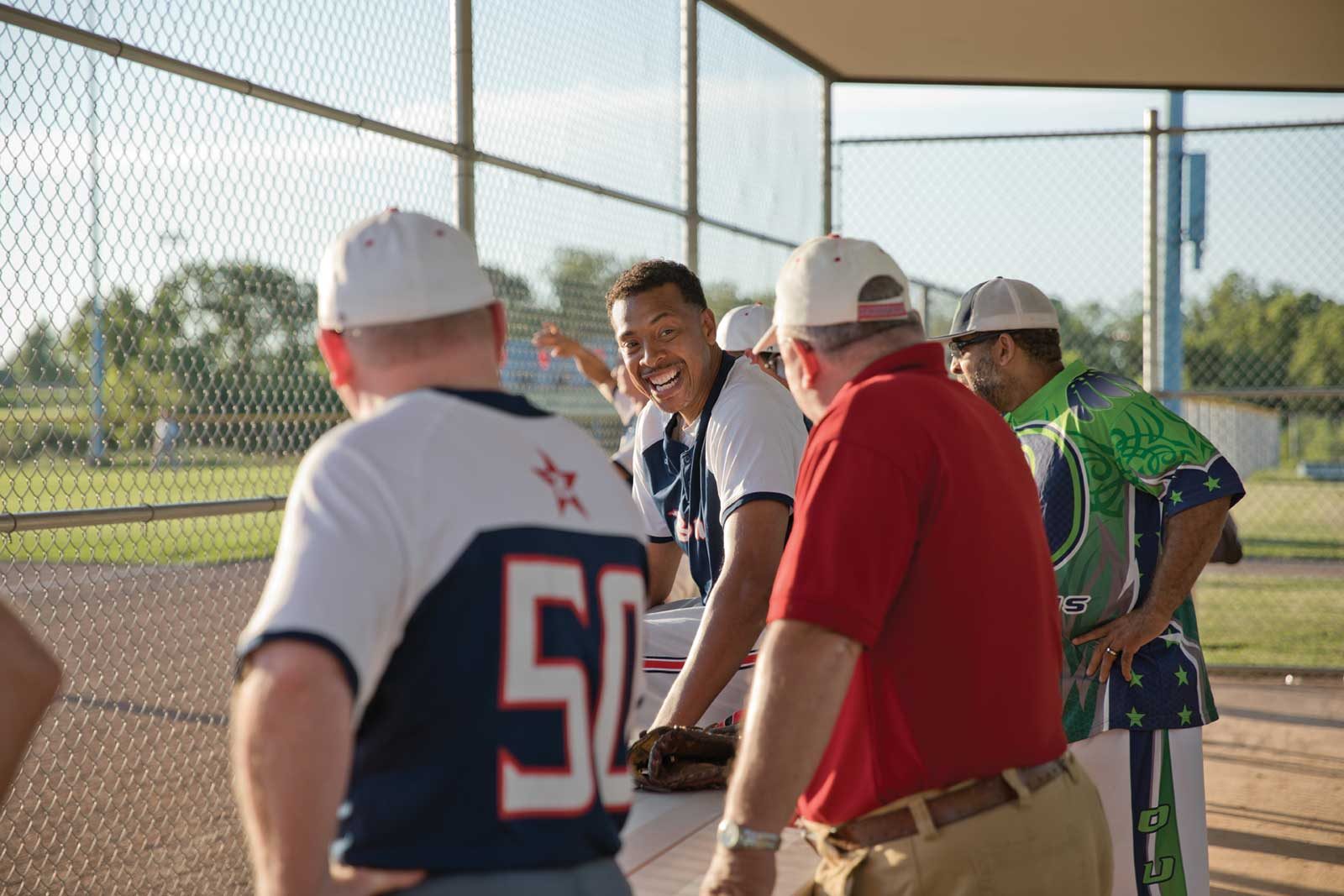 Boone softball team celebrates a legacy 30 years in the making.
Softball has been part of my life since my first date with my husband, Chris, back in 1988. Honestly, he couldn't stop talking about it. It didn't take long for me to find myself in the bleachers at Rainbow Softball Center on a regular basis. I became accustomed to dirt in my sandals, the sun in my face, and a hot dog in my hand as I watched countless games unfold on hot summer evenings.

It was there that I first noticed the Boone Hospital team. Unlike most of the teams, which seemed to be a bunch of scrappy guys getting together to pass the time, Boone's team had a regal presence. In their sharp, matching red and navy uniforms, they took the field and owned the game.

It's no wonder they're still capturing my attention 30 years later.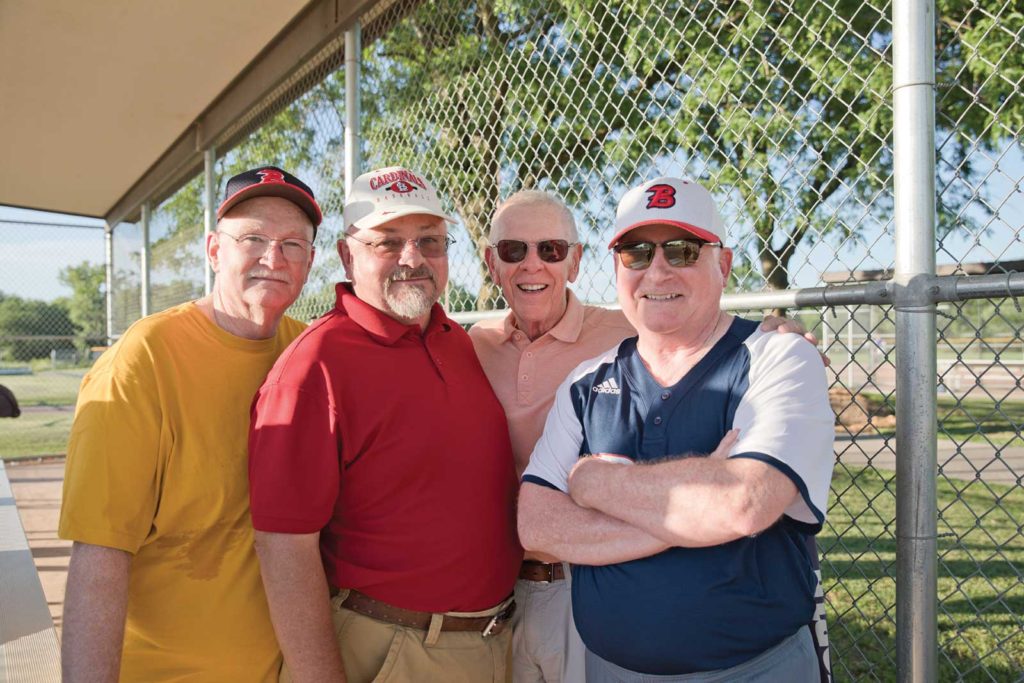 The Original Characters
"Our team was originally put together in 1989 as Boone Hospital Center," says Mike Phillips, the team's founder, first coach, and a perfusionist at the hospital for 40 years. "Basically, this began as a social group and stress relief from the rigors of hospital work," he adds. "The original team was a cross section of the entire hospital, from the CEO all the way to the orderlies."

That CEO was John O'Shaughnessy, who now resides in St. Louis. Other original players include Willis Richmond, former lab tech; Greg Wren, from the IT department; and Mike Dulak, who now runs the over-60 softball league. Now, the team huddles together in the dugout to reminisce about the early days.

The originals (pictured above) admit that the beginning of the legacy was not all that glamorous. Willis recalls, of being invited to the team, "They said, 'Hey, you want to come and play?' And I said sure.'"

"I really enjoyed playing and made some lifetime friends," adds John. "I learned more about what my team thought about how I ran the hospital out here on the field. They weren't afraid to tell me," he adds. He also admits, with a smile, that they weren't afraid to bench him either.

Greg, the team's historian, recalls one of the many moments that had the group in stitches. "One of our players hit a clean single to right center," he explains. "He came around first as the right center fielder bobbled the ball, so he headed to second and slid in. When the ump called him out, he popped up and yelled, 'Come on, blue, everyone knows Diet Dr. Pepper tastes better than the original!" The group admits they were all expecting an ejection until it registered what he'd actually said.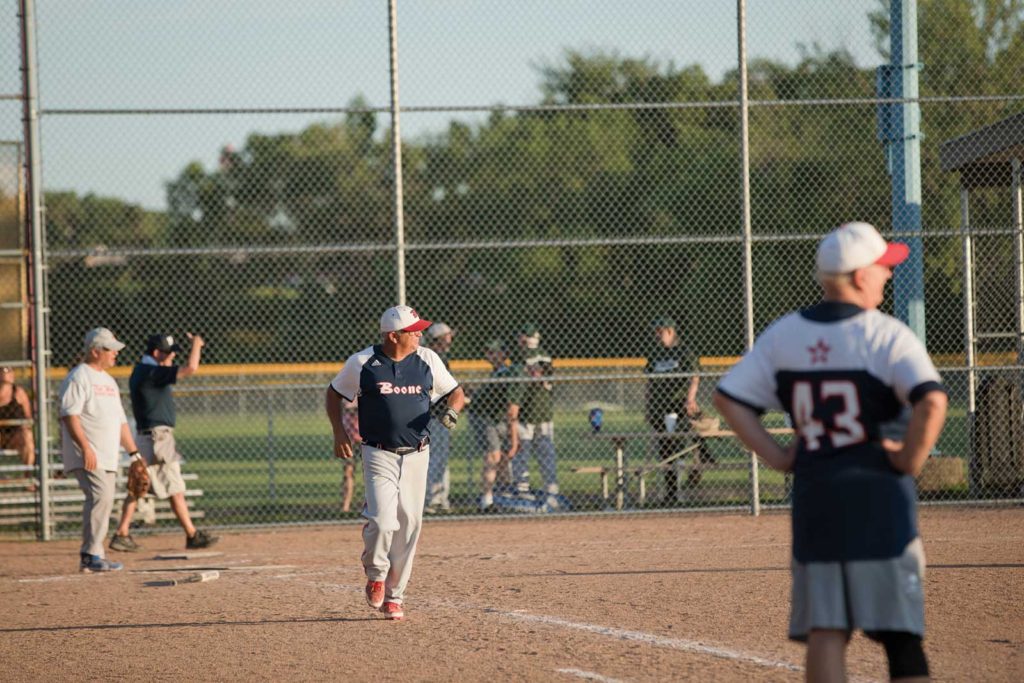 Another fond memory is of their teammate Jim Edwards, their first recruit from outside the hospital. "Man, he could hit the ball," says John. Mike remembers him hitting the longest home run he'd ever seen on Rainbow's "blue" field. "It cleared the lights and landed in the soccer field," he recalls.

John remembers another player, Brent Walker, for his rocket arm. "When he threw, you could hear the ball whizzing through the air," Willis says, picturing the scene in his mind.

They admit that the current team is a little more competitive than they were back then, and they're not sure why. "It's still just bloop ball in the park," John says with a smirk.

John was the first player to hit 50 and move up to what the group affectionately calls "geezer ball," and Mike Phillips is the last of the original group to be playing on the team.

Bo Hendley has worn a Boone jersey since 1997, and he took over as coach when they started playing senior ball. "I love to play ball. It's all about the camaraderie," he says. It also doesn't hurt that the over-50 League includes modified rules: no plays at home plate, double plates on first base to avoid collisions, 11 players on defense, and an allowance for pinch runners.

Mike Jackson is one of the team's current pitchers. Although he's only played for Boone the past two years, he's been a regular at the ballpark for the last 10 years. He takes a break from watching the action to share what the team means to him. "Hanging out with the group is what it's all about," he says. "We've been playing together a long time."

First baseman Kevin Cheadle adds, "It's been 12 years and it seems like yesterday."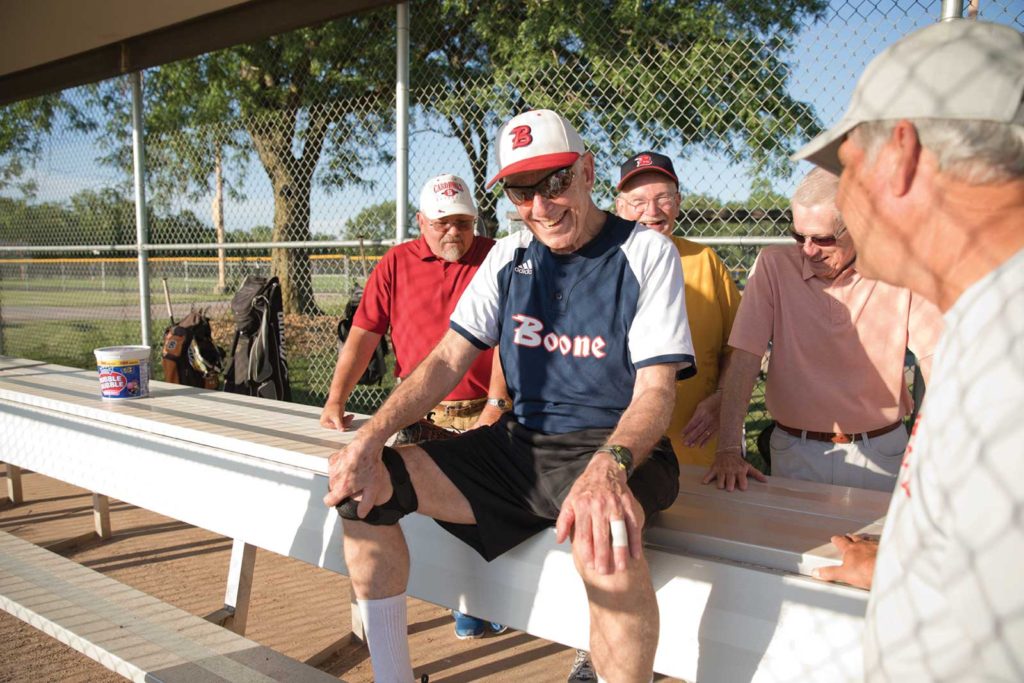 The Motivation
Most games you can find Bob Stanley (pictured above), the oldest member of the team, behind the catcher's plate, and tonight is no exception. He's been with the team four years, but he's played at Rainbow since it opened more than 30 years ago.

"It's about the people, the atmosphere, being 16 again, chewing bubble gum, and doing the things we used to do," Bob says. "It's a reason to get up in the morning."
Bob admits it's not so much about the winning or losing, but about getting the chance to play. "Everybody likes everybody," he adds. "It's a different class of people. You've got just about every profession represented out here."

The mood is light tonight as the Boone team gains a healthy lead over their opponent. "You used to pitch and hit to right field," my husband says as he visits the dugout and points to Greg. "You used to wear our right fielders out."

When I need help identifying all the players, Chris names them all, along with their positions. How? Because that's how it works at Rainbow. Everybody knows everybody. Everybody has played with or against everybody. Most can recite a play by play of each game. And Boone is a household name.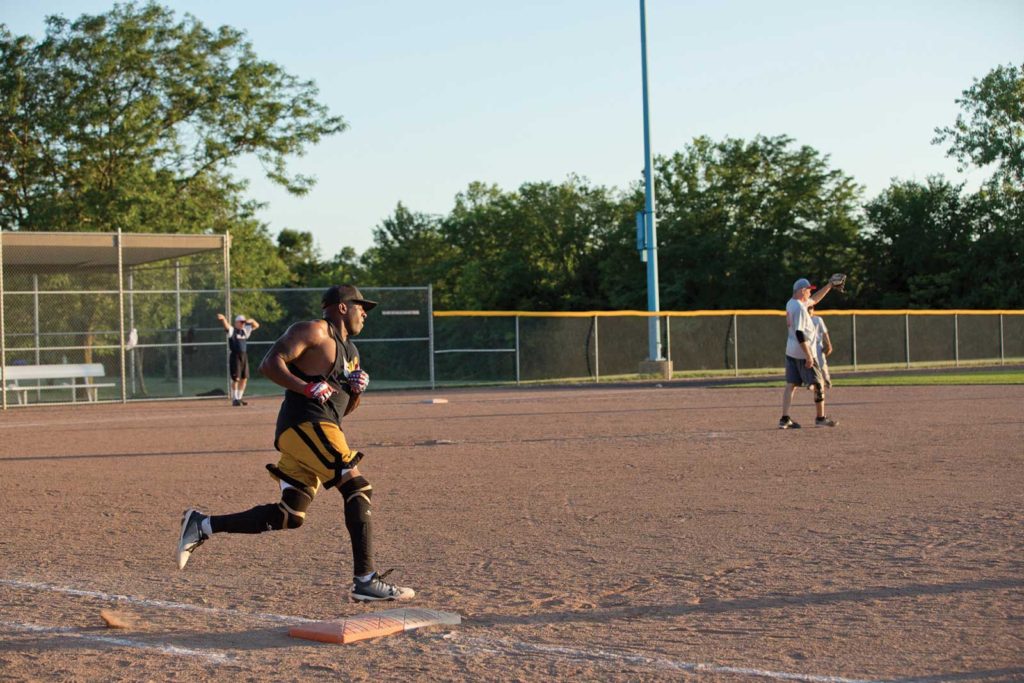 "For me personally, the most memorable moments were getting to play this game with my son, Graham Phillips," adds Mike. "He played first base and I played second base for several years. To have taught him to play and then get a chance to be on the field together is a priceless memory for us both."

It was Graham who drove home the winning run in 2009 when Boone won the Show-Me State Games. "Graham grew into being a really good ballplayer," Greg adds.

Whether it's the team picnic and party following the Show-Me State Games or the play-by-play announcer and barbecue pork steaks at the annual Knights of Columbus tournament in Pilot Grove, each experience is a memory. Beyond the wins, the men say that the memories include countless laughs and postgame time spent with friends.

"We're just a bunch of old guys that still love playing a kid's game," Mike says. "We all have to grow old, but we don't have to grow up."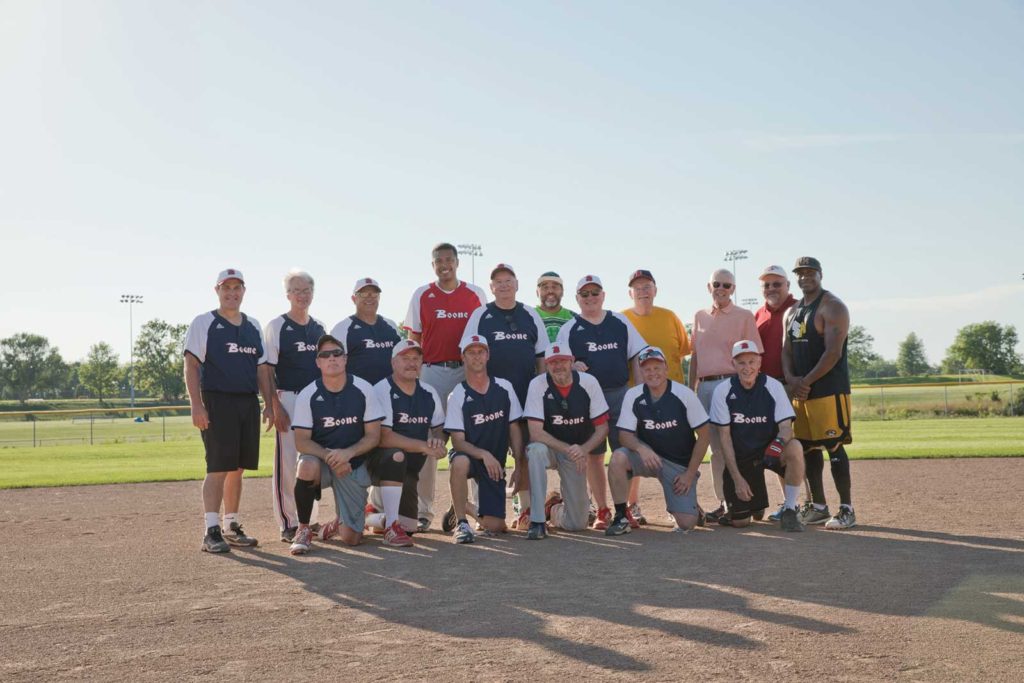 The Celebration
As the sun sets and the scoreboard illuminates a 15-13 Boone victory over Red Weir, the men of Boone softball head up the hill to eat, drink, and celebrate their 30 years together.

As more than 40 people gather over barbecue, the evening gets sweeter and the stories get better. A memorable moment is the arrival of Ken Turner, also known as KT. A former football player for Rock Bridge High School and a state champion in track and field, Mike considers KT one of the best athletes Columbia has ever produced.

"KT and I have played ball together since 1980, and he was one the originals in 1989," Mike shares. "His speed and power led us to many of our victories. He was blessed with a great throwing arm and loved to throw guys out at home plate from center field."

KT was forced to retire from softball due to health concerns, Mike tells me later, and earlier this year he nearly lost his life from a stroke. "Needless to say, that's why tears were shed when he showed up," Mike says.

And so the story goes, and so it will continue to go as Boone heads into next season.

As for the rest of the party, I'm afraid I can't say. I had to promise that whatever happens in the parking lot would stay in the parking lot.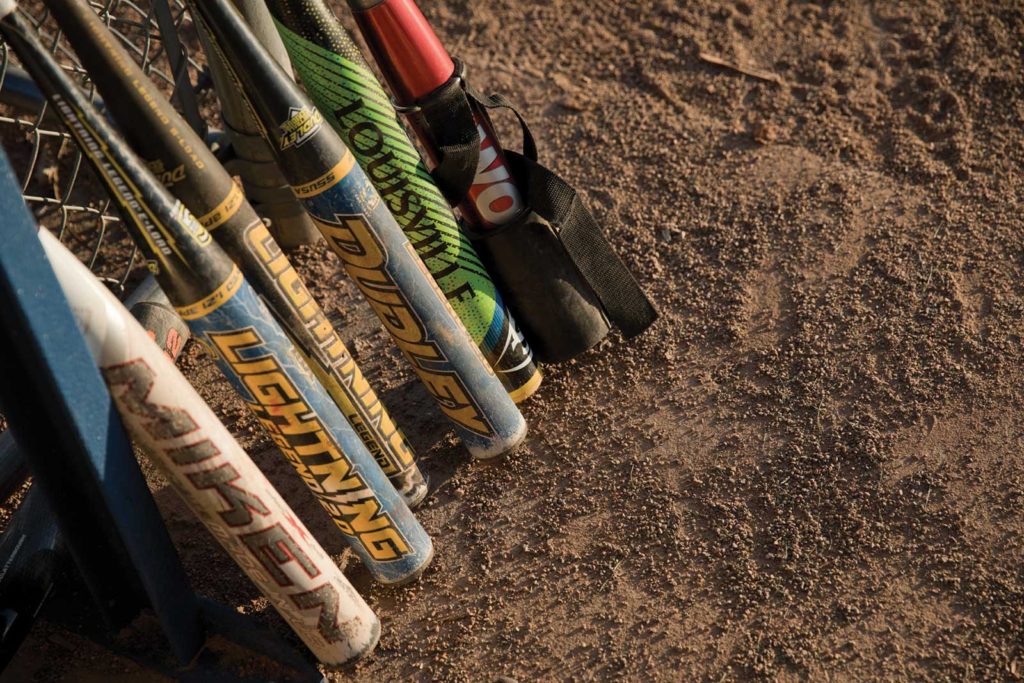 The Trophy Case
Went 48-12 their first year
Went 32-0 in 2007
Won the gold medal in the Show-Me State Games in 2009
Placed in the ASA state tournament in 2010 and qualified for nationals
Won the annual Knights of Columbus tournament in Pilot Grove in 2012
Since 1989, have won 1,100 games
Have had 75-plus men wear the uniform
Have won the over-50 League the last seven years