CYSK: Mike Morgan & Carrie Bax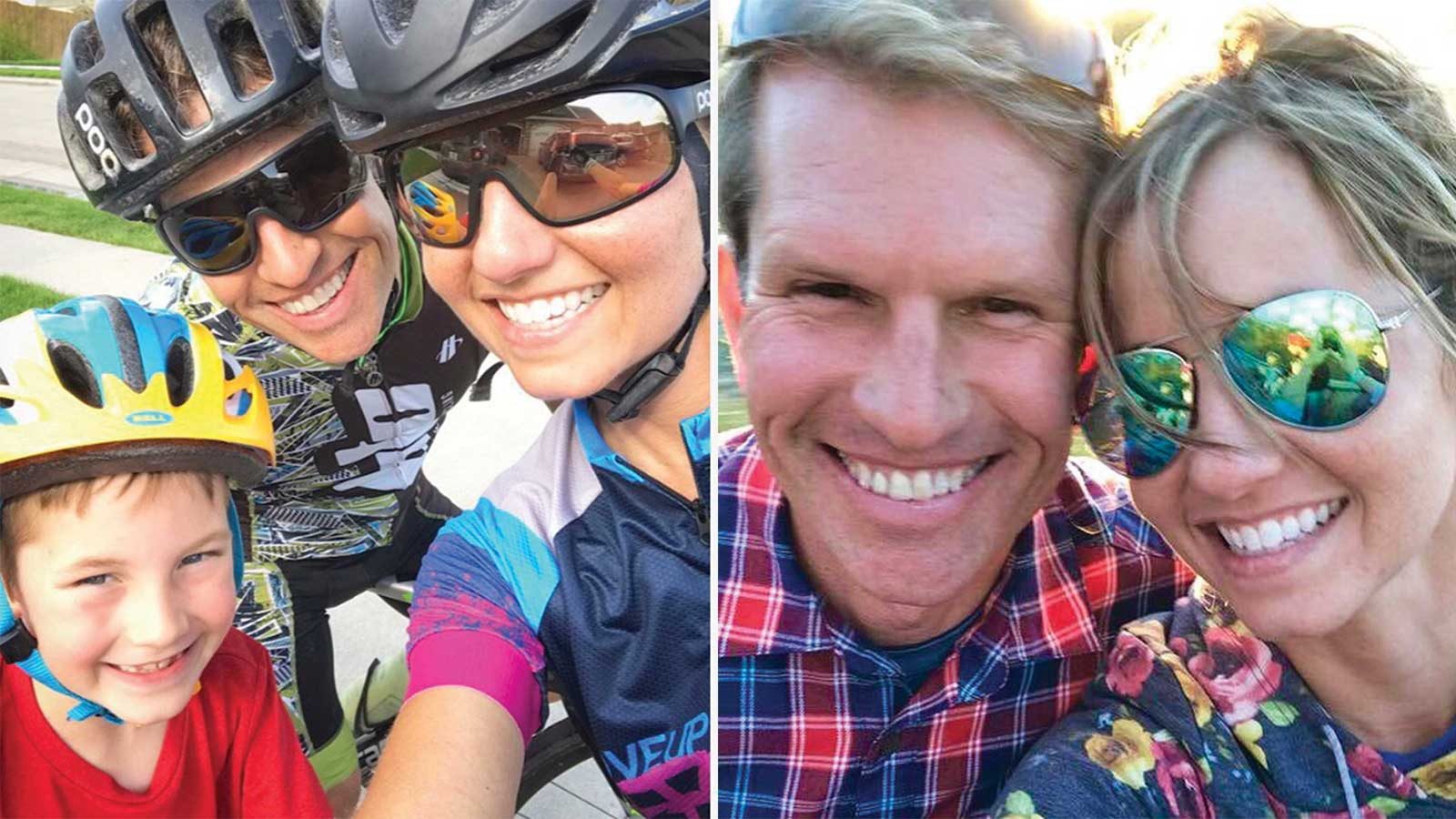 Mike Morgan and Carrie Bax share about their competitive nature and love of cycling.
How did you meet?
Mike: We met on a group bike ride.
Carrie: We met at local cycling events. I remember on a Walt's Bike Shop weekly ride he rode by me and told me he liked my socks. Nothing else on that day, just that he liked my socks. And then he rode off.
What was your first date?
C: Our first date was a day of hiking at Rock Bridge State Park followed by coffee at Shortwave.
What do you like to do in your free time?
C: I like to spend time doing fun things with my son, Aiden (he is 8 years old), ride/race my bike, listen to live music, or just be outside.
M: I enjoy riding bikes, talking about all things bikes, listening to music, cooking, and learning.
What is your favorite arts or culture activity in Columbia?
C: We love to go to The Mud Room and paint pottery for our kitchen at home. It's a great way to express our creativity and so much fun!
What is the best quality of your partner?
C: Mike is the most thoughtful and caring person that I have ever known. I'm so lucky to have crossed paths with him.
M: That's a challenging question to answer. It's like what is your favorite song of all time? Among many qualities, I appreciate her lovingly fearless approach to life. Whether helping one of her patients heal by providing comforting thoughts during difficult treatments, to going on new, unknown adventures or signing up to race a bike for 340 miles, she does everything with a bright smile and enjoys each life experience.
How do sports play a role in your relationship?
C: We both race our bikes near and far. We motivate and help each other along the way. It makes a huge difference to have someone by your side that supports you every step of the way.
M: Sports provide recreation, social interaction, meditation, and competition. They play a large role for living a healthful lifestyle.
What are some of your favorite outdoor activities?
C: We love riding bikes. We also love hiking, playing baseball, listening to live music at Cooper's Landing or Katfish Katy's.
M: Riding bikes on our trail system and hiking in our beautiful parks.
What is unique about your relationship?
C: We both see the world very similarly, love life so very much, and love to learn and grow. He is the best life teammate.
M: While we both are very supportive of each other's pursuits, there are very few people who enjoy traveling together to race bikes on the weekends. One of our ideas for a fun weekend is to travel to a new place, race bikes, enjoy each other's company, and appreciate the friendships and camaraderie of our fellow cyclists.

What is your favorite restaurant in Columbia?
C: Main Squeeze is amazing! Fresh, local, and oh so tasty!
M: Main Squeeze
How would you describe your relationship in one word?
C: Sunshine
M: Brightness
How does your competitiveness play into your relationship?
C: We are both pretty competitive. I have certain things I am better at (chess and racquetball) and he has his (cycling). We both know that fun is the most important thing when it comes to competition, so it works great and makes things even more fun for us.
M: We are both competitive people. It's fun to challenge each other like seeing who can ride to the top of a hill faster, win an air hockey game, or miniature golf match, or just about anything that involves a result. We've placed many a friendly wager on lots of things! Most of all, I dig that we share our competitive goals with each other. It's great to hold each other accountable and support one another as we try to reach them.