Aspiring to Change and Giving Hope
photos by Sadie Thibodeaux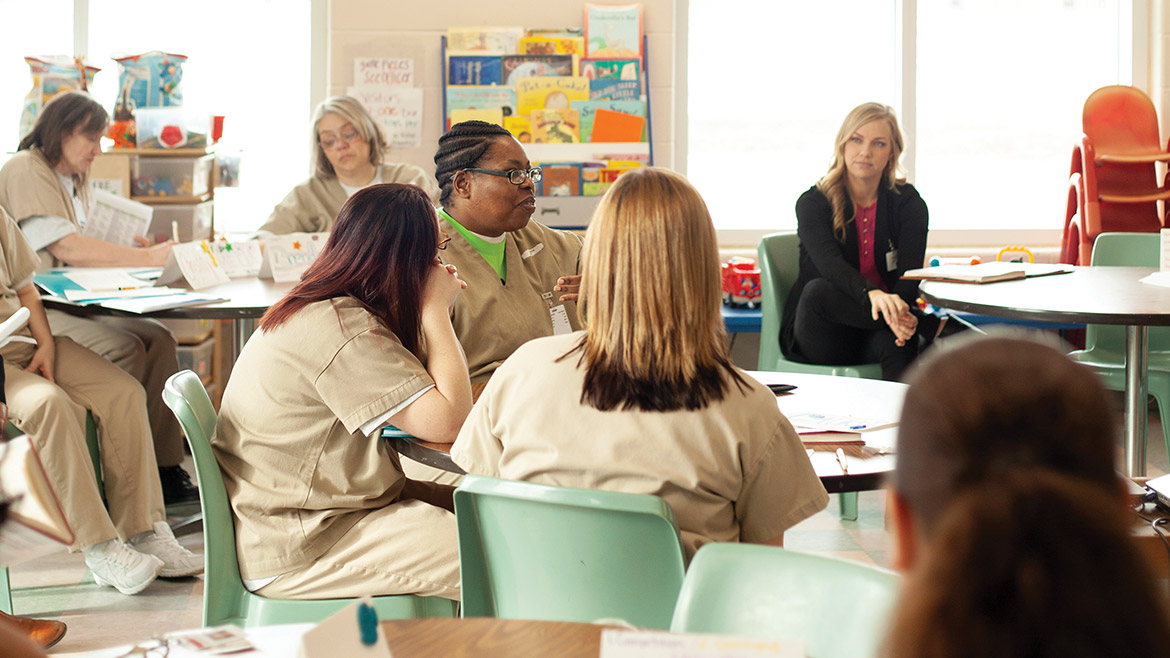 ASPIRE MO's historic pilot program creates lasting ripple effect for incarcerated Mid-Missouri Women.
Missouri has the highest female incarceration rate in the U.S. Fifty percent of incarcerated Missouri women are products of recidivism or criminal reoffending. On a whole, Missouri's prison system is running at 105 percent of capacity.
In March 2018, Kellie Ann Coats, executive director of the Missouri Women's Council, and Ken Chapman, women's/offender reentry program manager at the Missouri Department of Corrections, met to discuss what could be done about lowering those numbers.
Their initial conversation turned into a longer discussion about the possibilities for improving Missouri's correctional system. They formed the idea that would become ASPIRE MO, an entrepreneurship program for incarcerated Missouri women.
First of Its Kind
ASPIRE MO's pilot program launched on December 20, 2018, at the Missouri Department of Corrections Women's Eastern Reception, Diagnostic, and Correctional Center, in Vandalia, Missouri.
The core of the 20-week program is based on Missouri Women's Business Center's LaunchU program. Developed at Southeast Missouri State, LaunchU is a nationally recognized, 36-hour intensive business planning course.
"We work with you from day one," says Jessie Yankee, executive director of the Missouri Women's Business Center. "People often come in with nothing but an idea."
The only alteration made for ASPIRE MO was an added front section of soft skills classes to prepare participants for LaunchU's core concepts. The soft skills section dives into participants' individual strengths and weakness using the Gallup StrengthsFinder test, the results of which are weaved throughout the rest of the course.
"It was very important, to me in particular, to incorporate StrengthsFinder in this program," says Coats. "I want to get them in the mindset. I want to get their confidence up, and I want them to feel good about themselves."
The correctional facility participants meet once a week for three hours. At the end of the 20 weeks, they will pitch their business plans and celebrate with a graduation ceremony, cap and gown included.
Post-release, participants will have mentor support access from the Missouri Women's Business Center or one of their partners.
"We're not only giving them the tools to start their own business, but we're also giving them soft skills for employment," says Coats. "We're going to be working with case managers to help them find jobs when they get out."
Potential ASPIRE MO participants began their application process through their case worker. For an inmate to be considered, they must have a projected release within four years and no excessive violations. Few violent offenders were given consideration. While there is a mental competency evaluation, no education requirement is needed for the course.
One day before the program's start date, participants found out if they were accepted into the program. Out of 62 applicants, 10 were selected for the pilot class. The first ASPIRE MO participant accepted could be released as early as June 20, 2019.
Fly by Night
Considered a workforce development program, ASPIRE MO has gained special attention from Governor Mike Parson. It supports one of his major agenda focuses: workforce development.
"When you talk about workforce development, you're not just talking about getting a job. You're talking about what goes into getting a job, how you keep the job, and how that job becomes a career pathway for you" says Chapman. "I see us opening career pathways for these women."
The class has been heavily supported by two of Governor Parson's cabinet members, Rob Dixon, director of the Missouri Department of Economic Development, and Anne Precythe, Department of Corrections director. The Department of Corrections is currently massively understaffed and dealing with overcrowded prisons, and the program's existence shows a firm commitment to reform.
There are few similar programs in the country to model ASPIRE MO after. Chapman, Coats, and Yankee, each newly instated to their respective positions, have curated every detail of the program while keeping up with its swift timeline.
The program has sourced $10,000 in private donor committees and an additional $20,000 from both federal and state government agencies. That money covers two rounds of programming, LaunchU books, discounted coaching fees, and a one-time purchase of Chromebook laptops. The bare bones budget does not include Chapman's, Coats's, or Yankee's time or travel.
"It's fly by night, right now," says Yankee.
As internet was crucial, the use of computers inside the prison was a big question. The questions of space, inmate time, and supervision also posed difficulties. Almost as a product of divine intervention, doors and windows have opened for the program to continue full-steam ahead.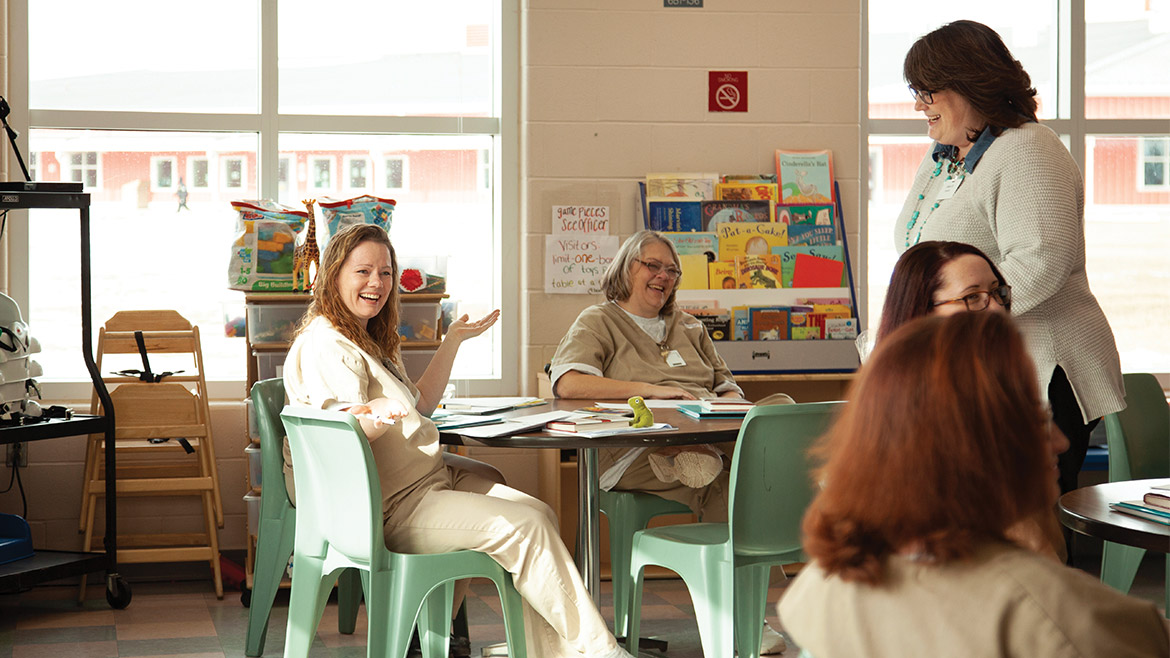 In the Classroom
ASPIRE MO's class space doubles as the visiting center.  Watching each inmate walk into the room, smiling and chatting, ASPIRE MO feels like any college class.  The environment is relaxed as participants visit with one another, discussing homework and the lesson ahead.
"I feel very privileged because not only do we have these people helping us, but they're going to stay connected to us when we leave here," says Lorie Barnes, an ASPIRE MO participant.  "If I run into any problems, I have someone to turn to. Who has that when they leave prison?"
At age 46, Barnes is in the midst of a 13-year sentence, projected to be completed on February 13, 2022.
Her business idea revolves around her almost six years of specialty dog training at the correctional facility. Upon release, Barnes plans to dive headfirst into her business plan, starting out of her home with her own dog training business. She plans to grow the business by including dog grooming and selling locally made specialty dog items.
Inmate Janiece Moore has lived half her life in prison. Serving a 25-year sentence for gang related activities, Moore has distinguished herself in the prison with her heavy involvement on the prison's campus.
"Before time behind the gates, I would only think for today," says Moore. "One of the big things I've learned to do is to think for tomorrow."
Moore evolved her personal training certification, which was obtained inside the correctional facility, into a personal therapy study. Her business idea is a vehicle-based physical therapy company that travels to immobile patients.
Other ASPIRE MO business ideas include a produce production in Alabama and a family bakery.
"They [ASPIRE MO participants] already have a lot of skills," says Yankee. "They just don't know how to take them to the level of being an independent contractor or business owner."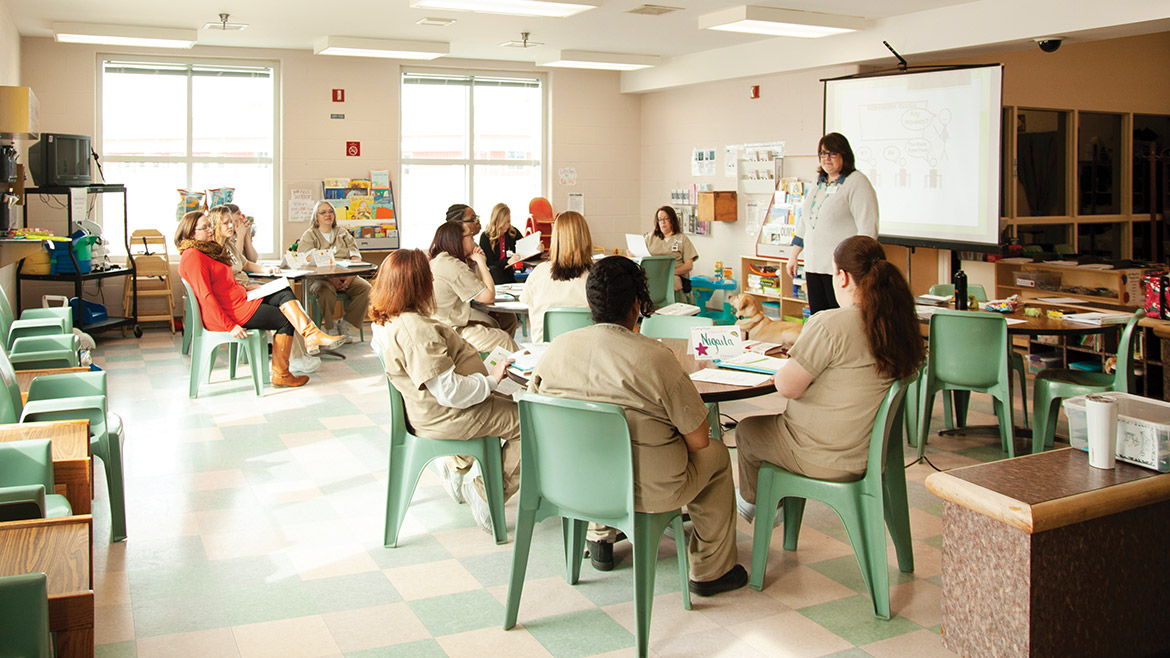 Ripple Effect
"We have 33 applications waiting for the next session that doesn't have an official start date yet," says Chapman. "There's more going on than just an entrepreneurship program."
Indeed, there is an undeniable metamorphosis underway.
"I think when they come to a program like this that's safe, where you know that there's nine other women who have the same shared vision, that creates a certain atmosphere to truly let their guard down and be who they are and learn to be comfortable in those shoes," says Chapman.
The ASPIRE MO women are being formally introduced to new versions of themselves, to their strengths and weaknesses, and what's more, they're being given the tools to turn their weaknesses to strengths. As Yankee and Coats lead each class, they are changing the way these women think about themselves for the better.
"I love the inmates so much," says Yankee. "When you actually get in there and meet them, you want to help them. You want them to succeed."
The participants are not shy to share with fellow inmates about their experience in ASPIRE MO. Their confidence and chatter have been infectious.
"People want to take the class," says Moore. "I'm completely ruining it for them because I say, 'Let me show you what we did in class today, and what do you guys think about this?'"
Most of the women in ASPIRE MO are facing the consequences of being in the wrong place at the wrong time without the resources to get out of the situation.
"There's so much trauma that women who are incarcerated have to deal with," says Chapman. "There's the physical, emotional, and the sexual trauma that a lot of times comes with criminal activity. And there's also trauma that comes with being separated from your children."
As almost every participant is a mother, their children are nine times more likely to go to prison because their parent is a felon, says Chapman. A program like ASPIRE MO, empowering women to support themselves, may not only reduce the recidivism rate, but also positively impact the lives of their children.
"They're aspiring to be better — to be better moms, to be better citizens, to be better employees, and to be better than where they are right now," says Coats.