Destinations: The Best of the Wurst
photos by Tiffany Schmidt and Jordan Watts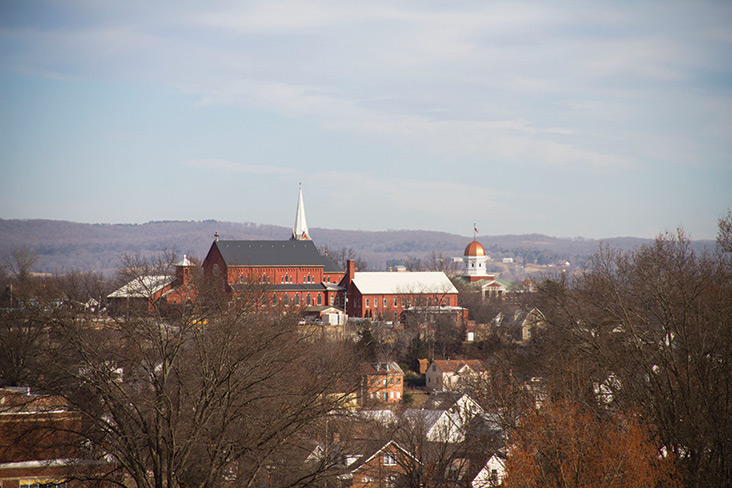 The cozy town of Hermann offers good eats and plenty to drink.
I had at least two good reasons to spend a day in Hermann — to experience a taste of my family's German heritage and to whet my appetite for a cruise on the Rhine River later this spring.
I also had two good reasons for declining the opportunity — I'm not a fan of either bratwurst or beer (sad, I know).
Thankfully, I didn't let the second two reasons deter me from what turned out to be a refreshing, and very filling, Friday excursion.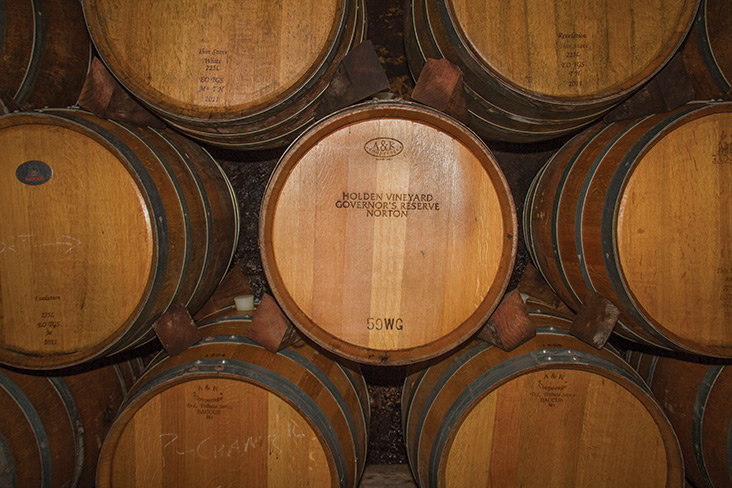 The Pride of Stone Hill
Hermann is a picturesque town tucked away in the Missouri River Valley. Just an hour east of Columbia, its scenic views, 19th century brick buildings, and historic wineries lend themselves to strolling, tasting, and exploring.
Our adventure started with a tour and tasting at Stone Hill Winery, Missouri's oldest and most awarded winery. Although the sky was blue and sunny, we still donned our coats and gloves for a short walk outside and a trek into the depths of their historic wine cellars.
Stone Hill was founded in 1847 and once commanded 197 acres in the area. In the days before the Napa Valley Wine industry, it was the second largest winery in the United States, shipping more than 1.25 million gallons of wine annually. Then came Prohibition, and for decades, the arched, underground cellars stood empty.
Today, thanks to farmers Jim and Betty Held, who bought what remained of the winery and restored it in 1965, Stone Hill is once again making wine. The winery now sits on 13 acres, produces 300,000 bottles of wine each year, and is tended by Jim and Betty's son, Jon, and his wife, Karen. Five of the original nine cellars are full of state-of-the-art production equipment and wine barrels, which our guide, Rob, told us about as we wound through the maze of rooms.
"We do a lot of Norton," Rob said as he pointed to one set of wooden barrels. Norton is Missouri's official state grape, and Stone Hill's 2011 Norton won the coveted Missouri Governor's Cup award. Rob describes Norton as a "dry red, like a cabernet." Because the grapes are tightly clustered, each one is hand-picked — one of several reasons the wine is considered the pride of Stone Hill.
We completed our tour and walked up the narrow staircase to the tasting room. There, we each chose six wines from their numerous selections. Being a lover of sweet wines, I chose the moscato, Kickin' Sangria, and Demi-Sec sparkling wine, which did not disappoint. I also found new friends in the reserve chardonel and concord. And the cream sherry, although stronger than I'm accustomed to, was a complex mix of sweet and nutty flavors that warmed my entire body.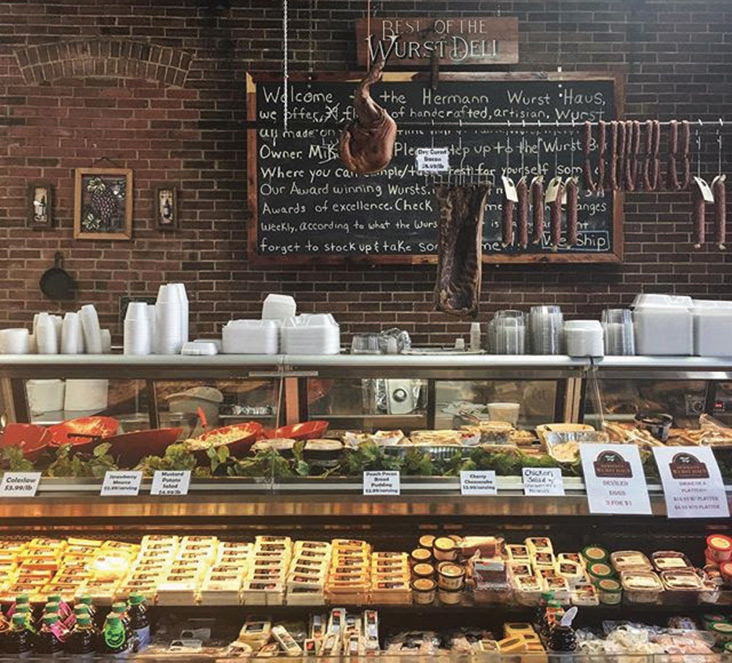 Brats & BBQ
After perusing the gift shop and deciding which wines to purchase, it was time to find some substance. Our recommended destination: Hermann Wurst Haus for brats and barbecue.
From the minute we smelled the smoke, we knew we were in for a treat. Owners Mike and Lynette Sloan have been making bratwurst and sausage for more than 70 years and opened the downtown restaurant and retail space in 2011.
While you can buy 70 different flavors to take home, thankfully the restaurant offered limited options for dining in. My group perused the menu and strategized on the best way to try as many as possible. Our selections: The Best of Show, caramelized pear and gorgonzola, and bacon cheddar potato bratwursts, as well as a beer marinated beef brisket sandwich with various potato and pasta salads for sides. I also couldn't pass up the homemade root beer.
The verdict? For a non-bratwurst fan, the caramelized pear and gorgonzola was the perfect combination of sweet and smoky flavors, and it was the favorite of my travel companions as well. Lunch alone was worth the trip.
Pick Your Poison
If wine is not your pleasure, downtown is also host to the Black Shire Distillery and the Tin Mill Brewing Company.
Tin Mill's beer is made on site and reflects the ever-changing seasons of Hermann. You can take a self-guided tour of the 100-year-old building and view the original grain processing equipment. The downstairs brew hall, with its concrete walls, wooden beams, exposed copper pipe, and picnic tables, makes for a nice gathering spot for friends and family.
We knew it would be unwise, and downright wrong, to leave Hermann without trying the beer, so we opted for the Skyscraper, a German-style pilsner. For a non-beer drinker, it was tolerable. (And actually, that's saying a lot.) But my beer-drinking friend was a fan, and she sucked down the remainder of the glass without giving it a second thought.
Our last stop was the newest tasting room of Hermann Farm's Black Shire Distillery. The distillery uses Missouri fruits, corn, and rye to craft small batches of high-quality spirits by hand. Their product list features whiskey, wine, and gin, and all proceeds go to care for the farm's endangered Shire draft horses and to preserve the education and history of the Hermann Farm itself.
While visiting Black Shire, we met tasting room manager Molly Nichols. When asked what all there is to do in Hermann, she simply replied, "Eat and drink." This is just fine with her, and we would have to agree — eating and drinking in Hermann makes for a pretty good day.