Strong Woman: Rebecca Walden
photo by Sadie Thibodeaux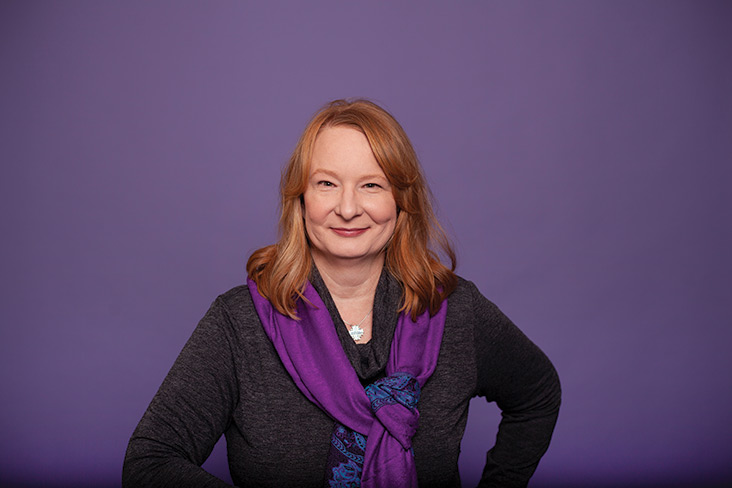 Following her family's battles with cancer, Rebecca Walden draws strength from God and others.
Age: 50
Years Lived in Columbia: 27
On a typical weeknight, we could find you doing what?
Spending time with friends or my son, Wyatt, or reading.
Who or what has been your biggest inspiration?
Unconditional love. That absolutely inspires me to know that anything can be overcome or conquered, but more importantly, it inspires me to be fully me.
Tell us about your family's journey.
My first husband of 16 years passed away from brain cancer, and my second husband lost his battle with leukemia in December of 2017, a month after I had an avocado-sized tumor (benign) removed from my head. I had to use a walker to leave the hospital in November of 2017. I was grateful to return to work in early 2018. I am grateful for my son, my family, my extensive extended family and friends, and I choose to celebrate any and all victories in life.
What's the biggest lesson you've learned?
The biggest lesson is that I'm not built strong enough to do it all by myself. I try as I might to do it all or be it all, but I've found I would have absolutely missed out on so many important moments, treasured friends, and amazing experiences along the way if I handled everything that has come my way in life on my own. My days are fuller when they are shared with others, especially when I'm going through tough times. The gratitude is inspiring and uplifting and makes me feel loved and cared for.
From what do you draw strength?
Faith in God that there is a bigger plan.
What is your passion?
I get excited about working with others to move forward. I love cheering others on, and I get excited about finding ways to help others succeed.
Favorite restaurant in COMO?
Too many to choose just one, but I love Flat Branch, G&D, Murry's, D. Rowe's, and Glenn's Café.
Favorite outdoor activities?
Walking, biking, gardening, and photography.
What makes you smile?
Lots of things! Good news, sunlight, beach waves, getting excited about a project, puppies (and actually dogs of any size and age, including my 17-pound Yorkie named Emmy).
Where does your strength come from?
Believing in God and knowing there is a higher power at work in my life. Also, knowing my family and friends are there for me.
What songs would be included on the soundtrack of your life?
My favorite song is "Walking on Sunshine" by Katrina and the Waves. One of the songs on my life soundtrack would be "Praise You in this Storm" by Casting Crowns.
Authors that inspire you?
Brennan Manning, Brené Brown, Mother Teresa.
Motto?
Unconditional love is more inspiring than what anything else has to offer.