Auld Lang Syne, Gatsby Style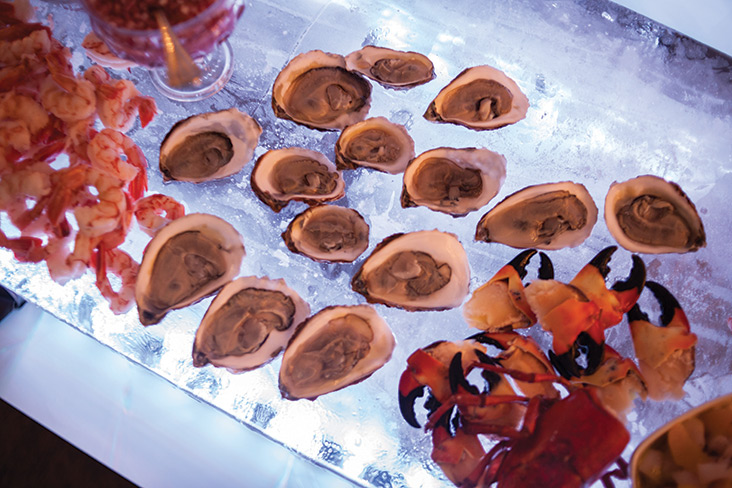 Peachtree Catering celebrates a year of Sunday Suppers with flair.
Lively crowds gathered 'round tables to lay down bets on games of craps and roulette. Couples and singles took to the dance floor to sway and spin and sashay. Champagne flowed, glasses of gin clinked, and camera shutters snapped open and closed, capturing the last moments of the old year.
And then appeared a giant baked Alaska. This beast — or masterpiece, a more apt moniker — was almost cartoonish in size, with waves of stiff meringue the size of fists. A chef in a catsuit bespeckled with sequins wielded a blowtorch and walked the circumference of the dessert, toasting the meringue to a perfect shade of russet. Then it was set ablaze; a spectacular flambé that stole the show away from the New Year's countdown even before it happened. How could it not?
I dug in. Spiced rum cake, simple vanilla ice cream, and whipped cream were buried beneath a high hat of meringue. Moments later, a man in a tailcoat exclaimed between bites, raising his fork in the air, "Flavor! This is what we're after — it's the flavor!" I nodded, mouth full of baked Alaska, in agreement. It was the flavor. It's what I'd been waiting for, anticipating for weeks.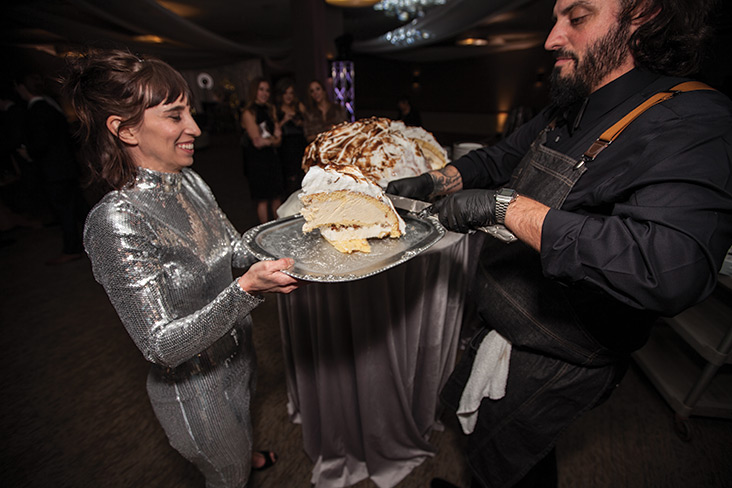 The Concept
It's what everyone had been waiting for, what they'd come to expect from the talented culinary team behind Sunday Suppers, Peachtree Catering's newest event series.
The brainchild of chefs Benjamin Hamrah and Amanda Elliott, Sunday Suppers commenced in early 2018, beginning as small, intimate dinners held in various locations in the Columbia area. Each event was cloaked in mystery; an emailed invitation sent out weeks in advance, ceding only a few details about the upcoming experience: the time and date (always on a Sunday evening) and maybe a hint about the food. That's it.
With few exceptions, there are 20 tickets available — the first 20 to claim them earn a seat at the table. The mystery has been an integral part of the Sunday Supper experience. "We take all the tiny little aspects of the eating experience pretty seriously, and just kind of the social psychology behind it is really interesting to us," Ben says. "How people look at food, how they take it in, how they experience it, what's going on for them that's making them think, 'Oh I like this!' or 'Oh, I don't like this.' That's one of the reasons we don't want them to know menus or the spot — those preconceived notions. We want to take all that out of there."
Those preconceived notions might have kept guests from eating cow tongue, ants, or other unordinary foods served at previous Sunday Suppers, facts Ben revealed only after plates had been licked clean. The surprise factor might make some potential guests nervous. But for Ben, that's half the joy. "The fun of the Sunday Supper for our followers is that there's so much left up in the air; they know so little about it," he says. "It's fun for us because we don't have to divulge all of the things we're doing, so it stays very fluid for us. We get to change things day-of sometimes and the guests don't know anything about it. It just helps us make it that much better of an experience overall."
Each supper is its own extraordinary experience, calling to diverse cultures, flavors, and eras for inspiration. In February, Sorenson Estate played host to a vintage Mardi Gras masquerade dinner. In the spring, a secluded lakeside home turned into a dining room for Sunday Supper guests, who gazed upon a lightning show from inside a wall of windows and dined on tender meat that had been slowly cooked over an open fire before the thunderstorm blew in. In November, a whole event was created for a birthday party — still a surprise experience, but tailored specifically to the special guest.
The focus has always been the fare, and a major emphasis is placed on sourcing ingredients from local producers. Ben and Amanda have worked with a number of small farmers, including folks from Three Creeks Produce, where one Sunday Supper was held, Sullivan Farms meats, and more. "A big reason for why we're doing this in particular is to spread awareness about all things involved in the food experience," Ben says. "From the food itself to where the food's coming from to the people in the community that it's helping to provide for. Those are things that we're all passionate about and the core of what we base Sunday Suppers around. Moving forward, we're gonna really solidify those things."
An Extravagant Experience
To cap off the year, the team turned to Jay Gatsby, a character who is known for great mystery himself in F. Scott Fitzgerald's classic novel, for inspiration. And Jay would have raised a glass. The night was lapped in luxury. Translucent fabric was draped down from the ceiling, lavender luminescent lights lit up the ballroom, and voluminous plumes fluttered inside vases.
Guests arrived in black tie attire, and this time, there was no limit on attendees. Invitees had one of two ticket options: the Sunday Supper experience, which included unlimited food, access to an open champagne bar, and a full cash bar, along with the promise of a night filled with surprises. The full package, "The Way Gatsby Intended," was a step up from the base ticket. Attendees were chauffeured in a private SUV and gained access to a secluded VIP area complete with a cigar bar and an open selection of top-shelf wine and spirits.
Guests were greeted with a glass of fine sparkling wine and a ticket to cash in for betting chips as they entered through the doors of Peachtree's banquet hall. A live jazz band serenaded the guests, giving way to a DJ as dancing began. No small detail was disregarded; bathroom attendants handed out small vials of specialty curated perfumes from Makes Scents. Amanda and local chef Shelly La Fata went table to table, spooning caviar onto plates. A tiered tower of fresh shellfish and seafood awaited, from which we filled our plates throughout the evening.
Three varieties of oysters (two from the west coast, one from the east), smoked salmon, crab legs, and bites of lobster were among the iced delicacies. Across the room, landlocked favorites of leg of lamb and the most tender, flavorful beef wellington were sliced and served. Pâté and other charcuterie were spread amongst warm rolls and house-made crackers. The best bites were in the details: a lightly fried ricotta gnudi the size of a silver dollar capped with thin slivers of shaved white truffle topped my list of favorites.
As quickly as the sun set that evening, the stroke of midnight arose, cueing an explosion of silver streamers, which were released from cannons with such force that several panels of translucent fabric came floating down from the ceiling. We shared a toast to the New Year together, raising our glasses and exchanging embraces. As the night came to a close, guests plucked single plumes from centerpieces and floated to the dance floor, where they swayed together still draped in streamers, feathers in hand, into the wee hours of the new year.
To receive Sunday Supper notifications, sign up for emails from Peachtree Catering at peachtreebanquet.com.