Nonprofit Profile: "We Always Swing" Jazz Series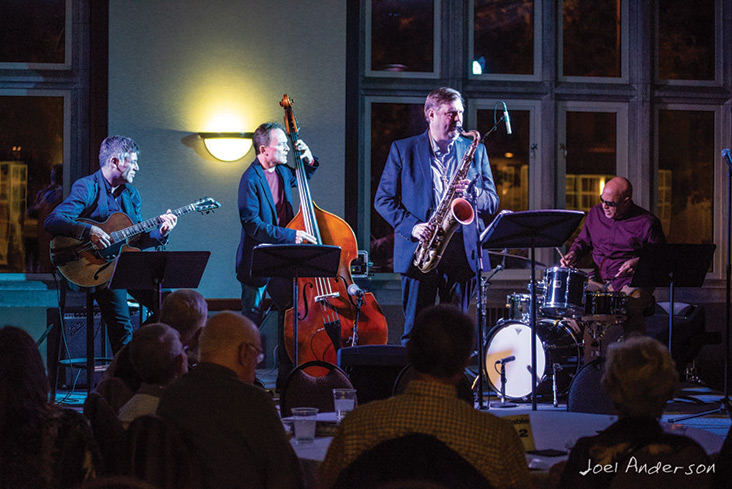 "We Always Swing" Jazz Series is a nonprofit organization dedicated to presenting, preserving, and celebrating jazz. The Jazz Series was founded by Jon Poses out of his home in 1995 as a way of providing a platform for concerts and educational opportunities within the community.
The Jazz Series strives to bring great musicians to Columbia through a series of concerts featuring national and international acts. Players have included Grammy winners and MacArthur Fellowship recipients.
Concerts have been held everywhere from The Roof to Jesse Auditorium. On Sundays, the Jazz Series holds matinee and evening shows at Murry's. The concert series season occurs from early fall until late spring.
Educational programming is another major part of community outreach. The Jazz Series works closely with Columbia Public Schools to introduce jazz to students at a young age. An annual children's concert is held at Hickman Auditorium, and different clinics have been developed for students from elementary ages on up.
Additionally, the Von Freeman Memorial Lending Library is free and open to the public. The library houses about 7,000 titles spanning more than 100 years of jazz music and spanning multiple genres. Members of the community are encouraged to stop in anytime to listen to the library's CDs and records.
"People shouldn't be afraid to try jazz just because something didn't sound good to them — there's probably something out there that does sound good to them," says Assistant Director Josh Chittum. The library is located at the Jazz Series location on Tenth Street.
As the Jazz Series approaches its 25th season, Josh's focus for the future is to expand by getting more people in the community interested in jazz. "We don't have to tell people jazz exists," Josh says. "We just have to help facilitate and encourage them to explore it."