Destinations: Discovering Historic St. Charles
photos by Tiffany Schmidt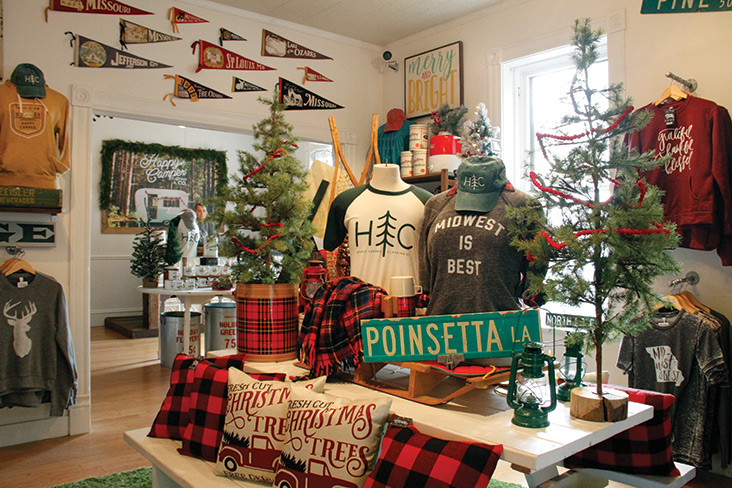 Main Street offers a full-sensory winter experience.
As the temperature plummets into the 30s, I dig out my hat and gloves, load the CR-V with my editorial teammates, and hit the interstate ready to lose myself in the day.
Our destination: downtown St. Charles, once a thriving riverport trading center and now a nationally registered historic district where visitors can stroll the brick-lined streets and shop in 19th century buildings.
The morning is crisp — not quite cold enough to see our breath, but close. The leaves have changed color and the green, orange, and yellow hues drop from the lifeless tree limbs and swirl around our feet. Parking is easy this time of day, so we ditch the climate-controlled protection of our car and stroll the walking trail at Frontier Park (wearing our most fashionable boots, of course).
The river is calm, a sheet of glass under the gray skies. It's as if the sun is trying to say hello, peeking its way through the cloud cover. The Katy Depot, originally constructed in 1893, stands as a proud symbol of the history of the area.
Main Street is quiet as well, as if those lingering have been transported back to a quiter era. Time moves slowly, and strangers stop to speak to us on the sidewalk as we pass.
A charming house catches our eye, and the open door beckons us inside. The smell of the holidays captivates our senses, and the vibrant fabrics draw our attention. In my peripheral vision, I spot a cozy sweatshirt. As the soft texture caresses my fingertips, I'm captured by the words on it — "Midwest is Best." I'm immediately taken back to my roots and decide the garment must come home with me.
We look around and realize we've wandered into Happy Camper Clothing & Co., a local business featuring the owner's original designs and screen printing. After immersing ourselves in every square inch of the store and introducing ourselves to the cheerful sales attendant, we pay for our purchases and wander on down the street.
We can't even make it a block before being drawn to a red brick building with black shutters. The sign invites guests to "find the joys in your life." We meander inside to find rooms full of home décor, clothing, jewelry, gifts, and hand-painted signs. The name of the store, "Joys," is fitting. Just strolling the aisles lifts our spirits and instills a feeling of gratefulness for the day.
A side door calls to our adventurous spirit, and a winding path leads us to a charming barn the color of ripe apples. Outdoor furniture and brightly colored mums welcome us to the special space, which we later discover is home to the wares of 56 local vendors. The clerk is eager to provide the background: Both "Joys" and "Joys Collective Market" are owned by Austin and Ali Warren. Austin started the business in one room when he was just 19 years old.
Among the booths tucked in every nook and cranny of the open structure, we find the handmade jewelry of metal artist Lisa Mack, owner of COG Zita. And she happens to be in the store and open to sharing her story.
Once a fire sprinkler engineer for Questec Mechanical in Columbia, Lisa had to rethink her future when a disease left her blind in her right eye and visually impaired in her left. She found new direction in using recycled copper from local roofers to forge, fold, form, and weave intricate, one-of-a-kind wearable art. Lisa uses four layers of magnification to overcome her blindness and can even create custom pieces using her client's handwriting.
I am mesmerized by her journey and talent and choose an engraved copper necklace to wear as a reminder to slow down and "be still."
Elated with our discoveries, we continue our stroll down Main Street until we reach Magpies Café. The house is cheerful and cozy, and we are eager to peel off the layers of outdoor wear and relax with glasses of sweet tea. The weather calls for warm and savory fare, so we settle on a cheese theme and prepare to feast.
We begin with the buttery richness of the baked brie served with apples, cranberries, toasted almonds, and signature French bread. After devouring every bite, the meal continues with another signature dish, the creamy baked potato soup topped with bacon, green onions, and, you guessed it, cheddar cheese. The sandwiches follow, featuring turkey and smoked gouda, and we top off the experience with a Bing cherry crêpe stuffed with sweetened cream cheese and topped with warm cherry sauce and whipped cream.
As we stand to leave with full stomachs and warm noses, we can't help but loosen the buttons on our jeans and sigh with contentment.
The walk back to the car yields more shopping, including stops in the Olde Town Spice Shoppe, Moss Boutique, and Grandma's Cookies. We leave with happy tummies, cookies to share with friends, and a few more treasures to fill our closets. All the makings of an inspired day.
Plan your own getaway to historic St. Charles during their Christmas Traditions festival going on now through December 24.