Coyote Hill: More Than a Safe Place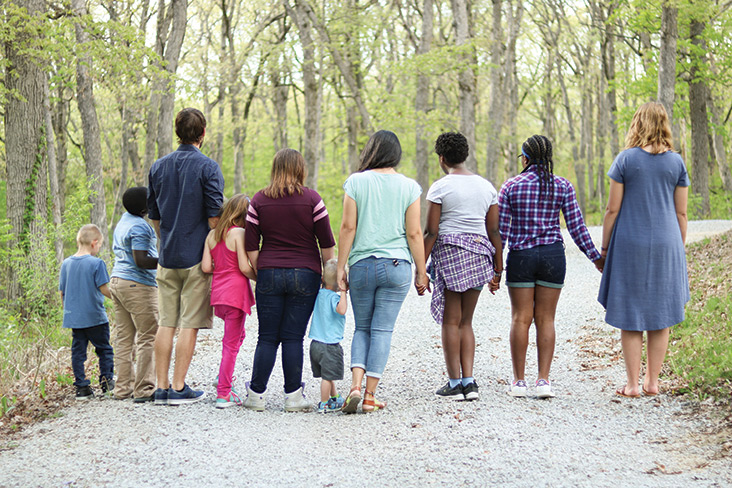 For more than 25 years, foster children in Mid-Missouri have found a safe place to grow up at Coyote Hill Christian Children's Home in Harrisburg. Whether the children come from abusive or neglected home lives or they're part of a larger sibling set that makes them more difficult to place in a traditional foster home, Coyote Hill specializes in providing these children with the care they need.
The children at Coyote Hill live in blended families comprised of home parents who raise their biological children alongside up to eight foster children in the home.
"Foster children experience everyday life in a functional family home," says Larry McDaniel, founder and executive director. "They see a marriage working and a couple deal with frustrations and conflict in a healthy way. They see problems resolved without someone getting hurt, and they know parents will care for them no matter the circumstance."
Home parent Mandy Wallace enjoys seeing the growth of the children she takes care of. "My life is enhanced with the amazing 'firsts' that so many of my kids get to experience. I find great joy in sharing new life experiences with these precious children. Each day becomes an opportunity to celebrate all of their firsts in our home," she says.
These firsts include a young child's first night of sleep without fear, their first time to travel outside of Missouri, their first night of sleeping in their own bed, their first time shopping for their own clothes, and their first time feeling safe while playing a board game with a father.
Spouses not only parent and manage the home, but they also work together professionally as trained behavioral specialists equipped with the skills needed for living and working with high-risk children in a family home. This blended family environment allows Coyote Hill to serve sibling groups who would otherwise be separated and placed in multiple foster homes.
Andrew and Merri Heberlein have been home parents since 2012. Keeping large sibling sets together is the biggest reason they became a part of Coyote Hill. They served as foster parents within a traditional care setting for a few years prior to joining Coyote Hill. They loved it, but they were heartbroken every time siblings were split apart because the Heberleins didn't have the space for larger sibling sets. At Coyote Hill, the Heberleins have had as many as six siblings living together in their home.
"Even if the siblings don't arrive together or become part of one family [at Coyote Hill], they're still on the property and the siblings can see each other and play together. We really strive to keep siblings together, as they should be," says Merri.
Building and maintaining a stable home environment is important for every child at Coyote Hill, and the home parents are the key to making this a reality. The foster children, home parents, and children of the home parents make a family unit, so when it's time for the foster children to leave, everyone feels the sadness.
"We've been home parents in the Wright Home [one of the Coyote Hill houses] for five years," says Andrew, "and we've had 44 kids come in and out. It's rough. Some of them were here for two years. We attach to all of the children, but we get really attached to ones who get to live here for quite a while."
Amy, the Heberleins' daughter, says: "I think the most challenging thing for our family is to watch kids leave because we bond and develop a good relationship and watch them walk out. But they're always going somewhere new, so that's good."
That "somewhere new" is often the child's reunification with their biological family or their adoption into a new forever family.
New Additions to the Campus
Coyote Hill will have six homes at the end of this year, but only five will house families. The original home has become an education and resource center.
In 2014, an emphasis was put on improving and expanding Coyote Hill's programs in order to meet the additional needs of the foster children. For example, 45 percent of school-aged children placed at Coyote Hill in 2017 tested below their grade level upon arrival.
"Many of our kids come to us with learning gaps because the environment they've been in has not prioritized school or valued academics," says McDaniel. The re-purposing of the original home allows Coyote Hill to provide "tutoring and classes to help kids catch up and not feel behind or embarrassed when they attend school," explains McDaniel.
The educational space also offers activities for younger children and provides a space for family therapy sessions to be completed on site. "These therapy rooms provide a family environment. They're large enough for an entire family to be comfortable in a living room with additional play space," says McDaniel.
In addition to the education and resource center, Coyote Hill added a duplex this year. One side of the duplex serves as the residence for full-time relief home parents who step in to give home parents annual vacations and a weekly 24-hour day off. The duplex allows them to always be on site and available to step in at any given time.
The other side of the duplex provides space for parent aides and missionaries to spend the night, hang out during their hours off, or live in during a short term of service.
Coyote Hill's future efforts are focused on continuing to grow their programs. The Success for Life program, for example, lets preteens and teenagers who live at Coyote Hill to work on-site and earn a weekly paycheck, helping them to develop the vocational and communication skills they will need for a successful transition into the workforce.
As Coyote Hill continues to grow, these programs will be an important part of the value they provide to children — not just a safe place to grow up, but a place to grow up and thrive.