photos by Keith Borgmeyer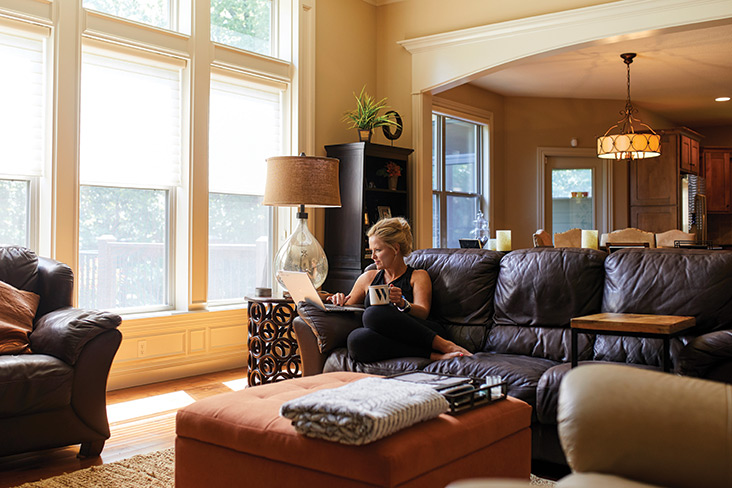 Wendy Wiederhold reduces her commute to a few short steps.
You can't help but notice Wendy Wiederhold's bright blue eyes and warm smile as she sits curled up in a living room chair, sipping a cup of coffee.
Today is somewhat out of the ordinary. Her hair is done, her makeup is applied, and she is sporting a classy black outfit and flip flops — not necessities for someone who has worked from home since late 2016.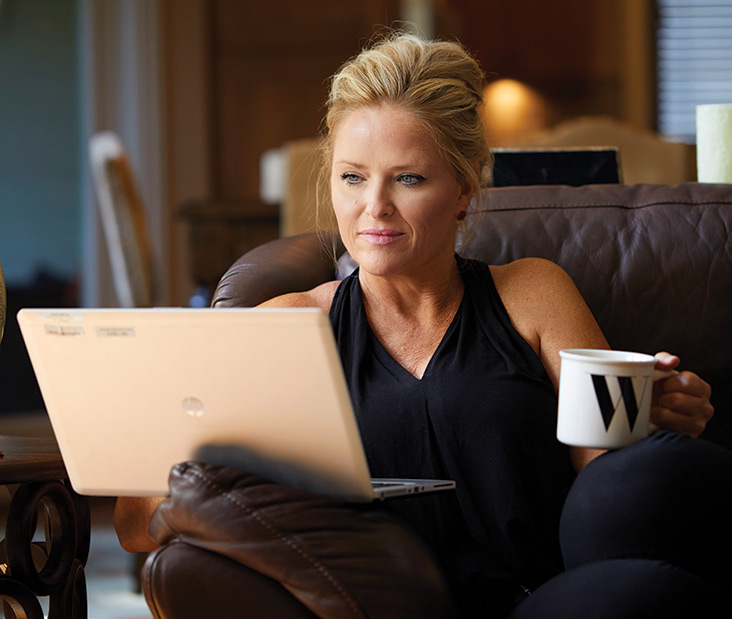 Wendy is regional executive director and benefits consultant for Michigan-based LSG Insurance Partners. As a work-from-home professional, she considers her entire house her office. She moved back to Columbia in 2013 and purchased a sprawling ranch with a walkout basement on Madison Park Court for its open floor plan, work-friendly layout, and amenities.
"I love the open floor plan," Wendy says. "I can navigate from room to room easily." The space lends itself to natural focal spots like the dining room table, kitchen counter, living room couch, and screened-in porch with a private view of the woods, where it's easy for Wendy to work from her laptop for a change of scenery. One of her favorite perks is having control over and access to her workspace in order to make the most effective use of time and space based on the work she's doing.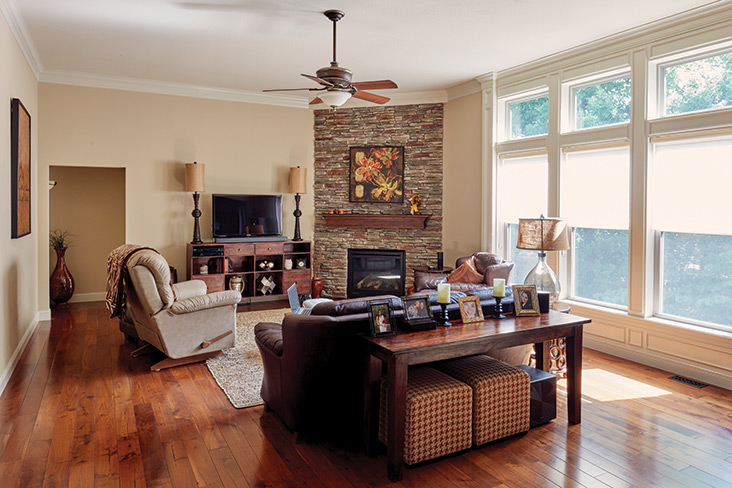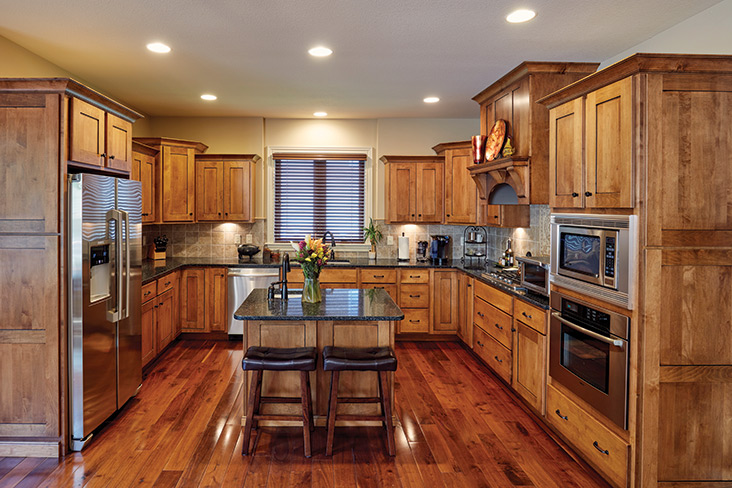 The home also includes an office space near the front door with large windows that showcase a magical view of her plants and bird feeder. She has outfitted the space with enough gadgets, including a portable bike pedal under her desk in case she needs to move her legs, to solve any problem. "It's set up to be productive, but without the formality of a corporate office," Wendy explains.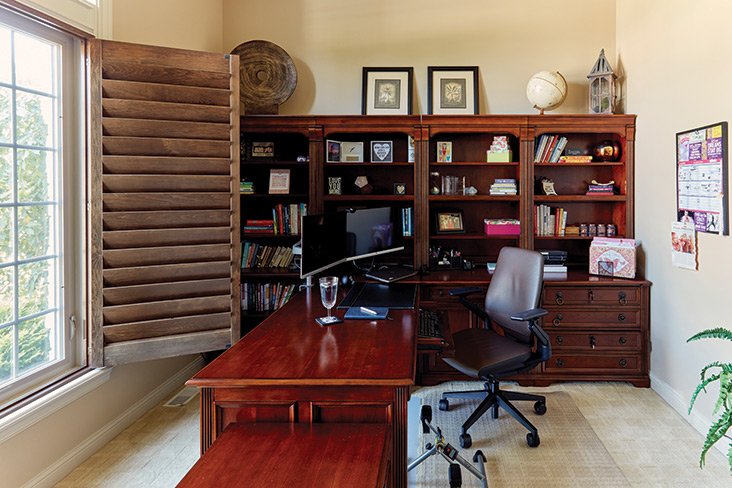 Wendy has chosen colors like brown and orange to decorate her space, and she often opens her home to the network of business professionals she has met over the years. "It has a warm, homey type of feel," she says. "I love when my friends tell me they feel comfortable here."
Wendy also appreciates the health benefits of working from home. The flexibility gives her the opportunity to exercise during the day in her basement gym, eat more intentionally, plan meals, and resist sugary snacks.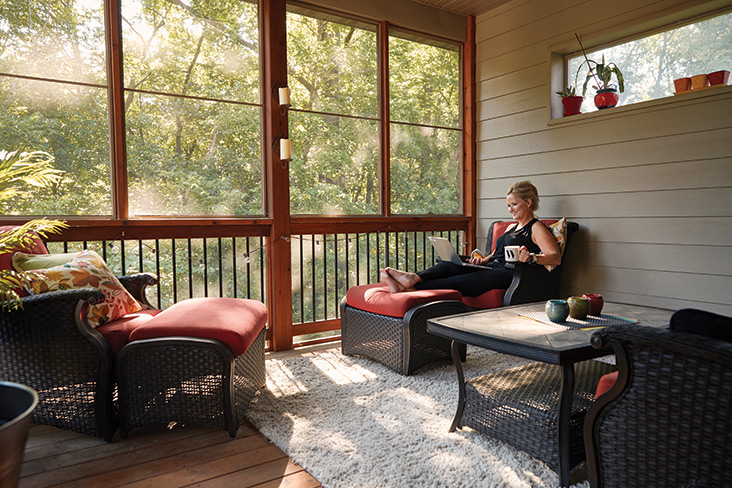 Formerly with Anthem Blue Cross Blue Shield, Wendy managed people across the country who worked remotely, but she always worked in an office personally. Now, she still finds herself managing a team across the country, but aside from the time spent traveling to support them, she finds herself with a short commute.
"The way I approach my day is so different but much more effective," Wendy shares. "I'm definitely more productive working at home. I have the convenience of having everything I need right here."
Outfitting Your In-home Office
"I am surrounded by tech in this office," Wendy says. Here's her list of necessities for working from home.
• Cell phone
• Good headset
• Webex or similar video conferencing program
• Dual computer monitors
• Organized desk area for work flow
• Laptop (or two)
• High-speed Wi-Fi
• An Amazon Echo Dot (great for listening to a podcast or using as a back-up phone)
• An old-fashioned hourglass (provides a dedicated time to focus)
• Portable bike pedal exerciser
• TV (for background noise and news)
• Basement gym with treadmill desk