2018's 20 Under 40: Nic Parks, The Pinball Company and Parks Amusements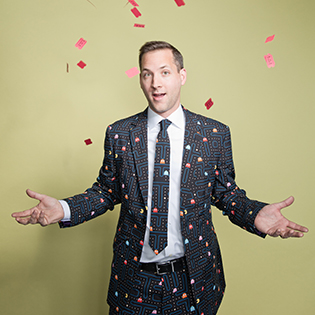 Nic Parks
CEO, The Pinball Company and Parks Amusements
Age: 39
Hometown:
St. Louis.
Years lived in Columbia:
17.
Tell us about your job:
It's not really a job — It's my life and I love what I do. We sell pinball machines and other game room products to clients nationwide.  We get to entertain children and adults at Lazer Lanes, The Arcade at Columbia Mall, Tiger Bounce, and Silverball. It's a blessing to be able to earn a living doing these things.
What are some misconceptions about your job?
People come to The Pinball Company and often assume that I play pinball machines a lot or that I'm good at playing pinball. Neither is true.
What is the single best thing about your job?
I get to work alongside my wife. We're a great team.
What was the last professional goal you accomplished?
I've always wanted to open an arcade and pinball bar in Columbia, and I accomplished that in September when we opened Silverball downtown.
What motivates you?
I'm motivated to make an impact on my community and people around me. I enjoy knowing the products we sell and the machines we operate in the amusement business are making people happy. It's also motivating to know that the better I do as a business owner, the more jobs I can create.
What's your favorite community project?
I enjoy serving as President of Tigers on the Prowl. I get to work with area charities, artists, business owners, and my fellow board members. I enjoy knowing my efforts and donations affect so many lives in our community.
If you had unlimited funds, what is the one specific thing you would do to improve Columbia?
Open an amazing water park! I hope to do that someday.
What is one business goal you have for 2018 and how do you plan to achieve it?
Make Silverball the place to have a party or corporate event in Columbia. I'll keep working on every detail of the business to make sure people love going there.
What trait do you most want in a coworker or employee?
Hard-working. I don't get along well with people who are lazy or expect good things to happen for them without working hard.
If you could improve one thing about yourself, what would it be?
For the sake of my family, I need to work on being content with what I have and not putting so much pressure on myself to do more and more and more. (And more.)