Meals on Wheels: The Spirit of the Driver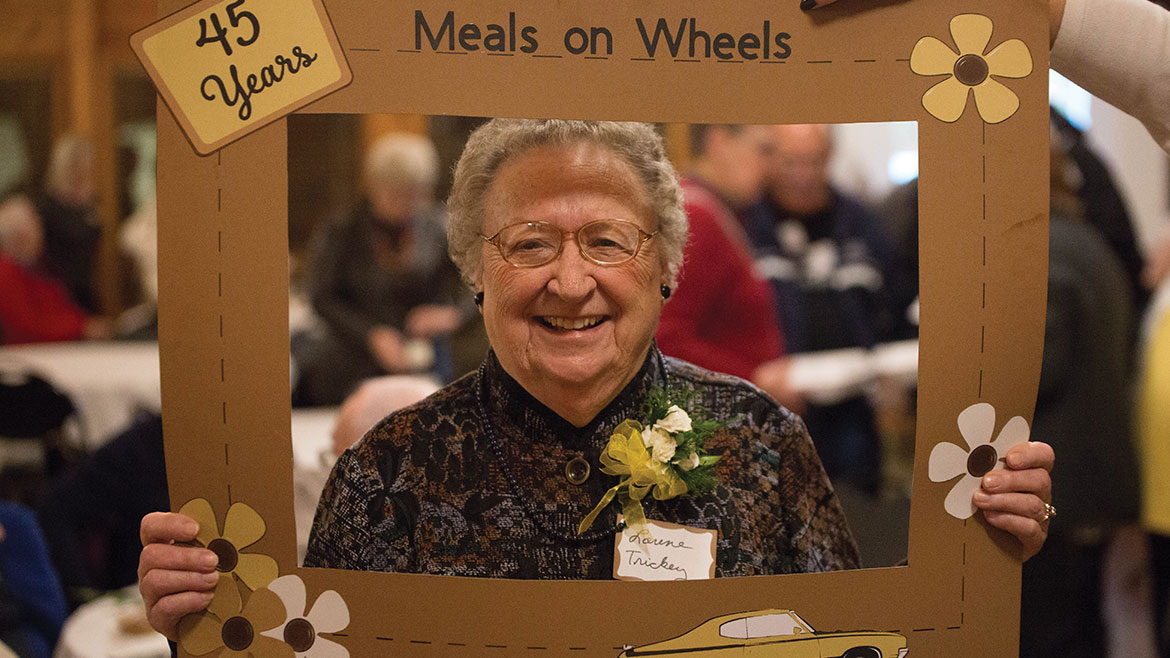 One evening in 1972, Lorene Trickey was flipping through the newspaper. She was 40 at the time, married with kids, and kept a busy volunteer schedule through her church, mostly working with homebound seniors. She felt fulfilled. She wasn't looking to add much to her life.
"I came across a sheet that said 'Volunteers,'" Trickey remembers. "Usually, I'd ignore that, cause I'm already doing a lot in my church, school. But somehow or another, that caught my eyes, and it said they were wanting to have a meeting to organize a Meals on Wheels program for Columbia."
Trickey hadn't heard of it — Meals on Wheels America, the largest MOW organization in the country, wouldn't be founded for another two years — but it seemed to fit her interests. And she likes meeting people.  "I admired them for thinking of this and for doing this, but I told them right off: I wanted to be a part, but I wanted to drive."
In early November, at the Meals on Wheels Columbia volunteer appreciation dinner, Trickey became the first recipient of the Dale and Carol Sechler "Spirit of the Driver" Award — a recognition for 45 years of volunteering. Trickey still drives every Wednesday. She turns 86 in February.
Meeting a Need
Since that first meeting in 1972, grassroots volunteers have been Meals on Wheels Columbia's greatest asset. The organization has grown from one short route in Columbia to many, spanning the city's whole map, delivering a meal to more than 100 homebound seniors a day; still, there are only two paid employees. They make meals with the help of kitchen staff at Truman Memorial Veterans' Hospital, where MOW also keeps a small office. Ninety-four percent of all their revenue goes back into the cost of delivery. Their signature fundraising event, Big Wheels, is a partnership with the Panera Bread on Conley Road, which makes lunches for volunteer drivers to deliver to donors around town.
"In 2016, our drivers gave almost 9,000 hours to serving the seniors of Columbia," says executive director JoNetta Weaver. "No pay, no banner — they do it because they know it's the right thing to do."
According to the National Council on Aging, more than 10 million older Americans are at risk of hunger; and 10 percent of adults experience malnutrition. Having access to a healthy diet is pivotal for seniors who want to live at home; when their mobility degrades, meal balance can easily fall out of sync. "I think people wait too late sometimes to get Meals on Wheels," Weaver says. "They're already in crisis. Start early."
By providing a nutritious, hot meal, MOW helps more seniors maintain their independence. Drivers and clients often become friends, and deliveries usually include a chat. "I remember one little old lady in her early 90s that I delivered to," Trickey says. "She went to my church, so I would bring her the church bulletin whenever I came by. One week, I didn't deliver to her and she said, 'Lorene, did you know they took me off your route?'" Trickey laughs. "So I went and talked to 'em and I got her back. You do get attached to them."
MOW Columbia delivered 29,225 meals to 283 clients in 2016. The group has 186 active volunteers. Weaver says the group has pondered expanding the program to other Boone County towns like Ashland or Hallsville.
Making Memories
"At one point, I said I would quit if I made it 45 years," Trickey says. "But now that it's here, I feel so good, I don't want to give it up. I would miss it! That's gonna be one of the hardest things."
There are a lot of clients that stick out in Trickey's memory. "One old gentleman — It sure helps my ego, so I have to tell this story — he said if it wasn't for me bringing his meals, he wouldn't even take Meals on Wheels!"
That story gets a big laugh from fellow volunteers at the MOW office. "He had an old pump organ, and my daughter used to love to pump that organ. I can still remember him — Mr. Maxwell on McBaine Street. Of course, he's been gone a long time. But those things keep you going!"
When she first started driving, Trickey took her daughter with her on deliveries, and later on, she took her grandson. He wrote her a letter once about it, saying it taught him "respect for the elderly."
Tricky has taken some steps back — she doesn't drive in the snow anymore, and she doesn't like to leave her route, which runs around Ash and Worley streets. She used to invite people to ride along with her, but she doesn't anymore. Keeping up conversation while driving was too distracting, she says, "and of course, I don't want to just sit there like a bump on a log."
But the same things that led Trickey to go  to the first meeting in 1972 keep her driving every Wednesday.
"There was another gentleman I delivered to who really wanted me to have his lemon tree," she says. "Of course, I didn't want it for the world, but I didn't want to be rude, so I took it. And then when I went to his visitation, after he died, I ran into a niece who really wanted it, so I said 'I hoped he understood!' and gave it to her. It's just things like that that keep me going."
She says she's honored to have received the Spirit of the Driver Award, which was named after her friends and fellow Wednesday drivers. "The spirit — why wouldn't you have a good spirit if there's something you can do for somebody else?"
Meals on Wheels
Mission: Provide hot, nutritious meals to those in need and extend independence to seniors in our community.
Founded in: 1972
Board Members:
Dick Ramsey, president
Polly Reynolds, vice president
James Heavin, secretary
Geoff Karr, treasurer
Fred Boeckmann
Adam Brietzke
Debra Harrington
Barbara Melson
Gail Metz
Lynn Mitchell
Mark Mills
Jennifer Peck
Edward Schnedler
Josie Zimmermann
Sharon Lynch (advisory)
Kelly Menscher (advisory)
Pam Soloman (ex officio)
Needs: Drivers; special gifts, such as gift cards, to be delivered with meals.