photos by Keith Borgmeyer and Jim Robertson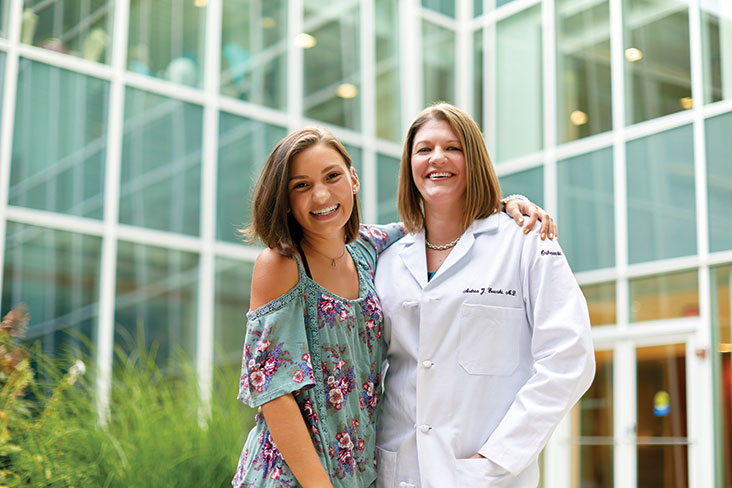 Dr. Andrea Evenski teams up with Kaitlynn Burnbridge to save her leg.
Kaitlynn Burbridge has a soft voice and beautiful smile. She lives in Ashland, loves soccer, and has three siblings. She is the second born, the oldest girl, and currently a senior at Southern Boone High School. Kaitlynn lived the typical teenage life until June of 2014, at age 13, when she noticed an unusual bump on her left leg.
Andrea Evenski dreamed of becoming a doctor. As long as her parents can remember, it was something she wanted to be. Her dream became reality. After practicing at the University of Pennsylvania for four years, she moved to Columbia in June of 2013. She joined the staff of MU Health Care and the orthopedic care team, and became the first orthopedic oncologist in mid-Missouri.
Meeting Dr. Evenski was not in the plans for Kaitlynn Burbridge and her family. But they can't imagine where they'd be without her.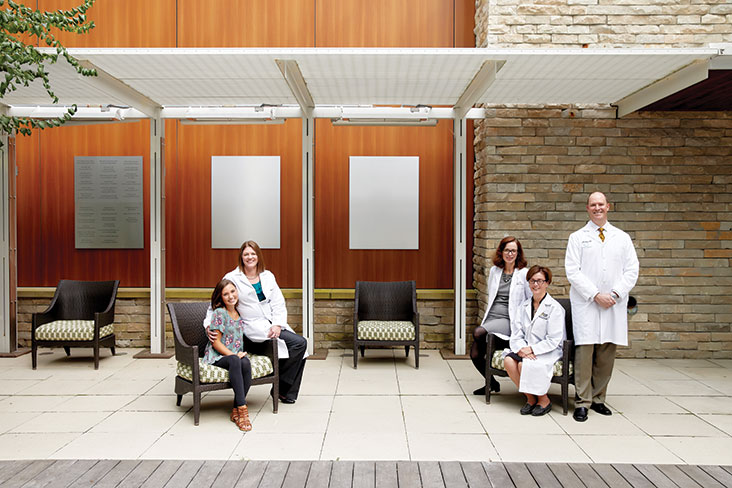 Kaitlynn and Dr. Andrea Evenski (left). Also pictured are doctors Julia Crim (radiology), Barbara Gruner (pediatric oncology), and Stephen Colbert (plastic surgery), from Kaitlynn's care team at MU Health Care.
Discovery and Diagnosis
During the summer after her eighth-grade year, Kaitlynn Burbridge was playing soccer when she discovered a bump on her leg. "We thought it was a shin splint, so we waited a little while to get it checked out," she shares. Once they did, her family doctor noticed that something didn't look right. "After that, almost every day there was something new, a new appointment or scan," Kaitlynn remembers.
Teresa Egbert, Kaitlynn's mom, is the office manager for the MU Veterinary Health Center. One of her friends there, chief oncologist Dr. Jeff Bryan, was concerned about Kaitlynn's scans and offered to introduce the family to his research partner, Dr. Andrea Evenski.
"Jeff offered to make the introduction if we needed it," Teresa says. "And we did."
"Teresa asked Jeff to look at her X-rays, and he forwarded them on to me," Andrea recalls. "We had concern for a possible tumor and malignancy and therefore had her come to the clinic right away. She presented with all the appropriate X-ray images, so we were able to proceed quickly with a biopsy to get her a diagnosis."
"No one would call it cancer. They wouldn't say it," Teresa says. "The first biopsy came back and they weren't sure. They had to do a second biopsy to give us an official answer."
A week before her 14th birthday, Kaitlynn was diagnosed with Ewing's sarcoma, an extremely rare cancer that occurs in and around the bones.
Kaitlynn was in the room for every discussion about what came next, and she knew about all the possibilities. Her reaction was a calm and steady force for those around her. "We had prepared ourselves beforehand," she says. "I liked knowing. I wasn't as scared once I knew what to expect."
"She's an inspiring girl and a sweetheart," Andrea says. "She was amazing," Teresa adds. "I don't even remember her crying. She was the one who kept everyone up, especially her dad."
Next Steps
After the diagnosis, things moved quickly; more appointments and more new things every day. "It was a worrisome process," says Andrea. "After the biopsies, we sat with our tumor board. We all put our heads together to come up with a treatment plan that worked for her."
Kaitlynn received staging studies, bone scans, CTs, and more to see if the tumor was anywhere else in her body. She underwent several phases of chemotherapy, then more staging studies prior to surgery. "Thankfully the cancer was localized to her tibia," Andrea says.
Kaitlynn's biggest struggle came during chemotherapy. Her treatments lasted for five days every other week. She could go home between treatments if her body was responding well, but she basically lived in the hospital for a full year. Kaitlynn would sleep most of the time because it was the easiest thing to do. "I even gave myself my own injections," Kaitlynn explains. "It was only when I was really sick and couldn't eat that it got me down."
At the hardest points, she went days without eating. "I avoided apples because they would get stuck, and I could not eat sushi," she says emphatically. She lost so much weight, she got down to 83 pounds.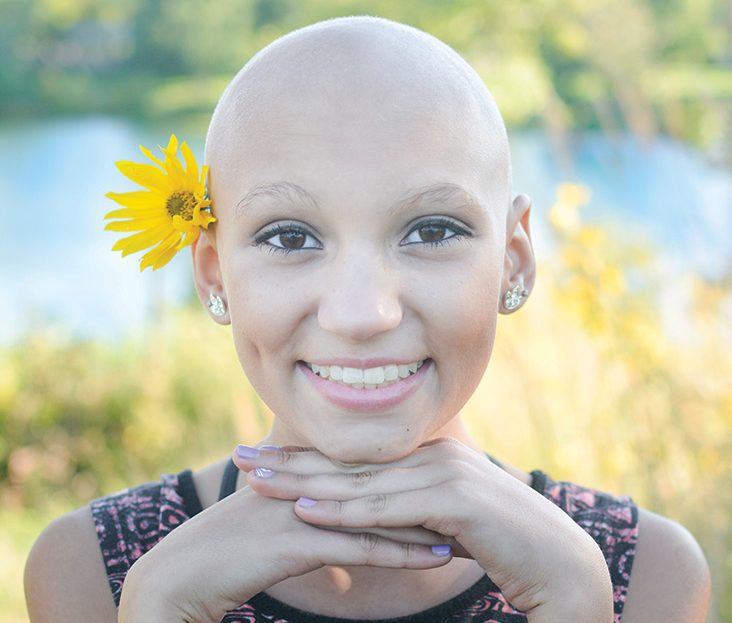 Over time, Kaitlynn learned what worked for her and what didn't. She discovered that chewing gum during treatment would help, and slowing down how fast the nurses pushed the medicine also made a difference. By the end, she'd deduced some weird foods that she enjoyed and didn't make her sick, like baked potatoes with hot sauce, macaroni, and fried chicken. "I would ask my dad to go get it for me, and he would spoil me with whatever I wanted," Kaitlynn says with a smile.
Teresa remembers the day when Kaitlynn's hair fell out in the shower and they knew it was time to shave her head. "She didn't even cry," Teresa says. "But the hardest part for me was when her surgery kept getting postponed." The family had to wait for Kaitlynn's body to be ready for the grueling 13-hour surgery. "Dr. Evenski had to be so patient with me," Teresa adds. "I cried both times it got postponed. I just wanted that tumor out of her body."
Surgery and Recovery
On October 28, 2014, it was finally time.
The surgical team took out the tumor and part of surrounding tissue and reconstructed Kaitlynn's leg. "She was still growing, and we were able to save her growth plates," Andrea shares. "We reconstructed it with part of her bones and part cadaver bones. Our plastic surgeons harvested the fibula on the other side of her leg, with its blood vessel attachment, and slid it down a bigger cadaver bone and plated it back into her tibia. Then they hooked up the blood vessels of the fibula to provide blood flow to help with healing."
The surgery was an all-day adventure for Andrea and a team of surgeons. Kaitlynn stayed in the ICU afterward to make sure the blood was flowing through her leg. "It was a long recovery after that," Andrea says. "As soon as the site was healed, she underwent post-operative chemotherapy for about a year. After that she was considered tumor-free."
How did Kaitlynn pass the time in treatment? "We watched 'One Tree Hill' — all nine seasons!" she says.
While they were in the hospital, she would go down to the teen room when she felt good. "We would do lots of arts and crafts, and I was asked to mentor another young cancer patient who was struggling," Kaitlynn says.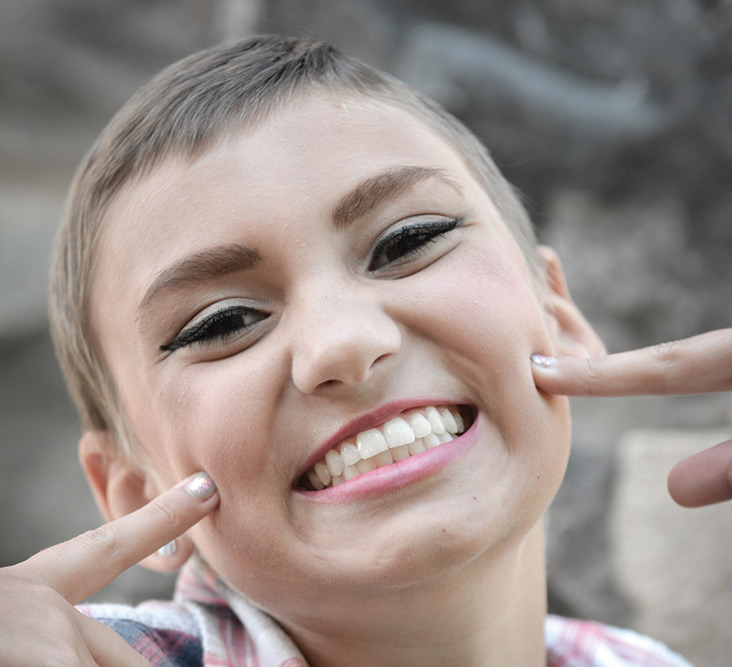 Another aspect of recovery was learning to walk again. After months in a wheelchair, then crutches, then a hip-high cast, she had to re-learn the basic skill. "I had no strength. We did a lot of therapy," Kaitlynn says. "It progressed with time, but I couldn't do many of the exercises because, with no strength or balance, I would fall over."
Throughout the process, Kaitlynn received care packages, had lots of visitors, and never spent a night alone. "All the people who supported me helped a lot," she says. She also built a special bond with "Uncle David" at the front desk of Women and Children's Hospital. "We became very close," Kaitlynn says. "He went above and beyond," Teresa adds. "He would take his lunch hour and sit with her, even if she was sleeping."
Teresa says Kaitlynn was the strength for her and Greg, Kaitlynn's dad. "This was a difficult journey to say the least," Teresa says. "I did a lot of in-the-shower crying because she was so strong. She took everything in stride. She's what made me get through."
Where did her strength come from? "I knew it would be better to fight through best I could than feel bad for myself and always be sad," Kaitlynn says. "I kept up the energy I had and tried to find things to be happy about. I didn't want to be sad all the time."
Looking Forward
What was the goal with Kaitlynn's case? "We wanted to minimize her re-operation rate, maximize her function, and keep her tumor-free," Andrea says. "It's a lot to figure out, and it took a team." Yet the outcome was a triumph. "The treatment plan worked, her leg healed, and she's tumor-free!" Andrea says. "She has a leg she's walking on and she doesn't have cancer."
"I really like Dr. Evenski," Kaitlynn says. "She's very caring. She did that crazy surgery, and I still have my leg, and that's a big deal for me."
Andrea loves the relationship she has with her patients, and Kaitlynn is no exception. She was even invited to Kaitlynn's post-chemo birthday party. "My daughters know her so well," Andrea says. "It's been a wonderful experience for both sides. I get hugs all the time. I feel like her family is an extension of my family."
Following surgery and treatment, Kaitlynn and her family have adjusted to a new normal. She still struggles with breathing, has less energy, and gets nervous with any new soreness or pain. "It's our normal. It's not anybody else's. It's not normal normal," Kaitlynn explains. "It's just adapting to our kind of normal. We're all used to it now."
Kaitlynn still has regular check-ups and surveillance studies every several months. "Most reoccurrences will happen in the first two years, so she's over that first major hump, which we're excited about," Andrea explains. "Five years is the next big hump."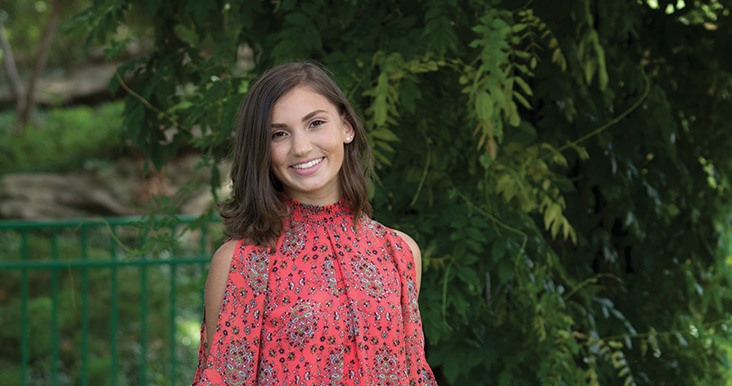 Besides working, finishing high school, shopping for clothes, and eating West Main pizza every chance she gets, what's next for 17-year-old Kaitlynn? "After everything I went through, I got a real big interest in nursing, so I took a class at the career center and got my CNA [certified nursing assistant certificate], so now I'm working at a nursing home. My mom and I are talking about me going to college to be a pediatric oncology nurse."
Kaitlynn has chosen Columbia College for school and hopes to work for MU Health Care in the future. This year, she'll finish up a few high school classes but leave for work–study at Ashland Health Care. She and Evenski have switched their focus to work on strengthening her legs and feet so she can stand for the 12-hour shifts.
"She's made it her goal to become a nurse and she's not stopping," Andrea says. "She's doing everything she can to get there."