What's Going On Down There?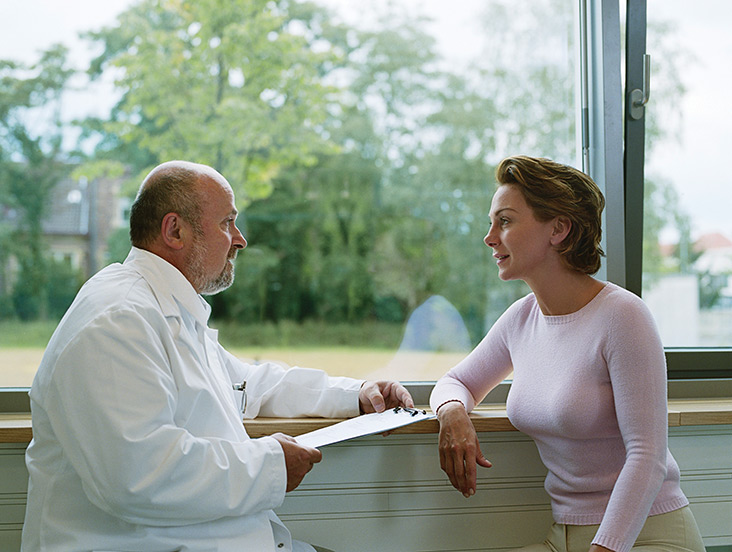 Some things you need to know about your pelvic floor.
Sex isn't supposed to hurt, but Sarah Cranston didn't know that. She assumed her discomfort was normal — she didn't even tell her husband. Sarah had no idea she was experiencing problems with her pelvic floor muscles until she sought treatment after her second C-section.
"I asked my OB for a referral to see Jen Stone," Sarah says, "because I'd heard good things about her from my doula. She told me that Jen specialized in C-section recovery, so I should have her evaluate me to make sure I wouldn't have any long-term issues."
Dr. Jennifer Stone, a physical therapist and orthopedic clinical specialist, is the clinical supervisor of rehabilitation services for Mizzou Therapy Services. She's specially certified to treat pelvic floor issues. "She put me so much at ease that I got to talking with her and ended up asking questions," Sarah says. "Just little things, like painful sex, that had always been there, and that I hadn't asked anybody about because I thought they were normal."
Stone examined Sarah's C-section scar and checked her pelvic region. Sure enough, Sarah's pelvic floor muscles were extremely tense.
Explaining Pelvic Floor Dysfunction
Sarah was experiencing a type of pelvic floor dysfunction, an umbrella term for disorders specific to the pelvic region. "Up to 80 percent of women experience some type of pelvic floor dysfunction at some point in their lives, and 30 to 40 percent of men experience it," Stone says. "And those numbers only reflect the people who have complained to their health care providers about their symptoms. The rates could be higher."
In Sarah's case, her pelvic floor muscles were too tense. The muscles would contract and then fail to relax, leading to her discomfort during intercourse.
Sarah had some other abdominal issues related to childbirth, including the nerve problems with her C-section scar and a diastasis, or gap, left between her abdominal muscles. She went to Dr. Stone for several months of physical therapy. "Some of it was hands-on," Sarah says, "helping to show my muscles which way they should move and help physically remind my muscles and bones the right paths of motion." It wasn't painful, and Stone gave Sarah exercises to do at home as well.
Talking about Pelvic Floor Issues
"I've heard so many patients say, 'I had no idea it wasn't just me,'" Stone says.
"After I got treatment and found out that I didn't have to live with these things," says Sarah, "anytime I got one of my girlfriends off in a corner without kids or men around, I'd be like, 'Guess what? Guess what?' I did lots of talking afterward. But not before."
While pregnancy is not the only cause of pelvic floor dysfunction, it is a leading contributor. Stone says, "In almost every other first-world country, it's standard practice for women to see a physical therapist after giving birth — both with vaginal births and cesareans, because it's really the process of pregnancy that puts strain on your pelvic floor muscles more than birth itself."
The state of Missouri requires a prescription from a doctor, nurse practitioner, or chiropractor to see a physical therapist. Stone recommends that all mothers ask their OB/GYN for a referral to a physical therapist that is specifically trained in pelvic floor health.
"Don't let embarrassment keep you from talking to your doctor," Stone says. "People should know that we're certainly not embarrassed to talk about these issues, so they shouldn't let embarrassment keep them from getting the help that they need."