photos by Keith Borgmeyer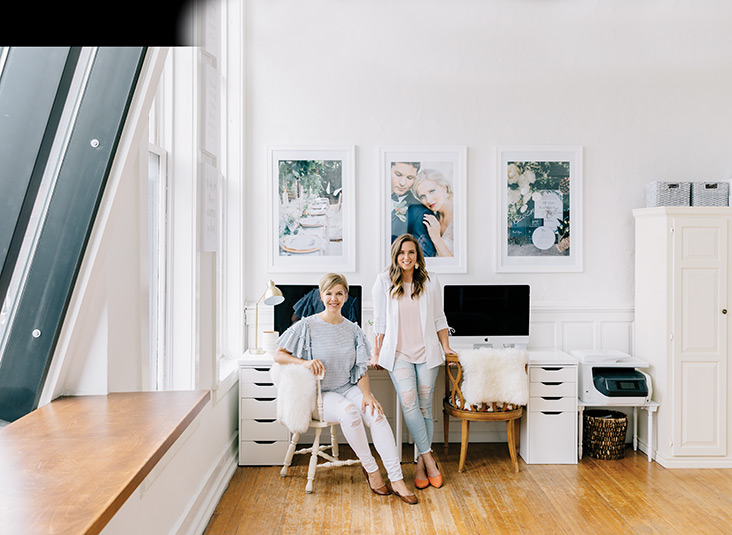 Local entrepreneurs create spaces where they love to work.
Aubrey Rowden and Jessica White, Love Tree Studios
Aubrey Rowden and Jessica White (pictured above), wedding and portraiture photographers, opened Love Tree Studios in 2011. For most of the past three years, they called 910 E. Broadway home, nestled in one of the office suites on the second floor, above Breeze.
They loved the location but had their eye set on Suite 200, an open studio space featuring two large windows, white bead board accents, and lots of natural light. "When we heard the previous tenants were moving," Aubrey says, "we contacted our landlord immediately."
The ladies got their wish and moved in last November. "I wanted an inspirational space for us and our clients," Jessica says. "We love their reaction when they walk in."
"It's so light and airy," Aubrey adds, "and it's so consistent with our brand."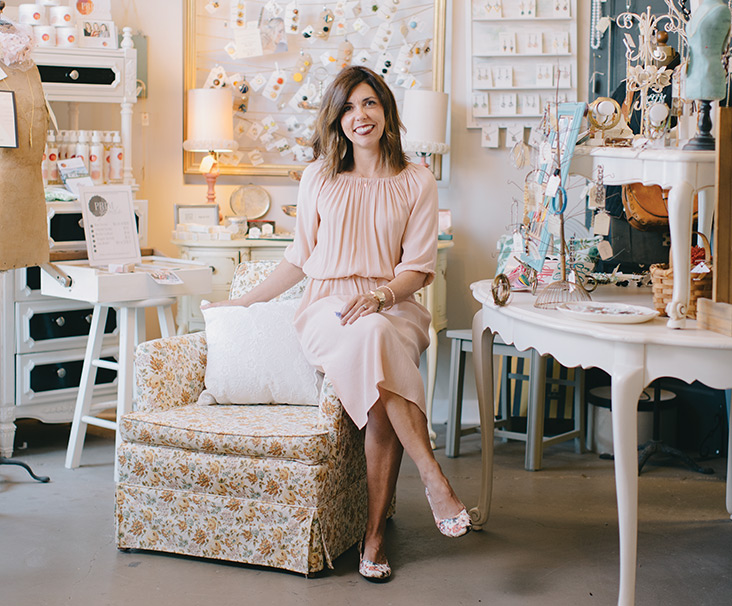 Kelly Gilion, Plume
Before Kelly Gilion (above) opened Plume in November of 2013, the space off Route K in south Columbia was home to a vintage retail shop. "It was one big fixer-upper,"Kelly says.
Today, it has been spruced up and is home to handmade gifts and furniture from local artisans. "I had a heart to create an outlet for moms who were making and selling items from home," Kelly shares. "It's a little bit of everything that all goes together."
Kelly recently added a private office. "I needed to pull myself off the sales floor and have a private place for appointments," she says, some place that showed off her personality and style as much as the store does. "I wanted a really bright and inspired place to work, one that was beautiful and fun."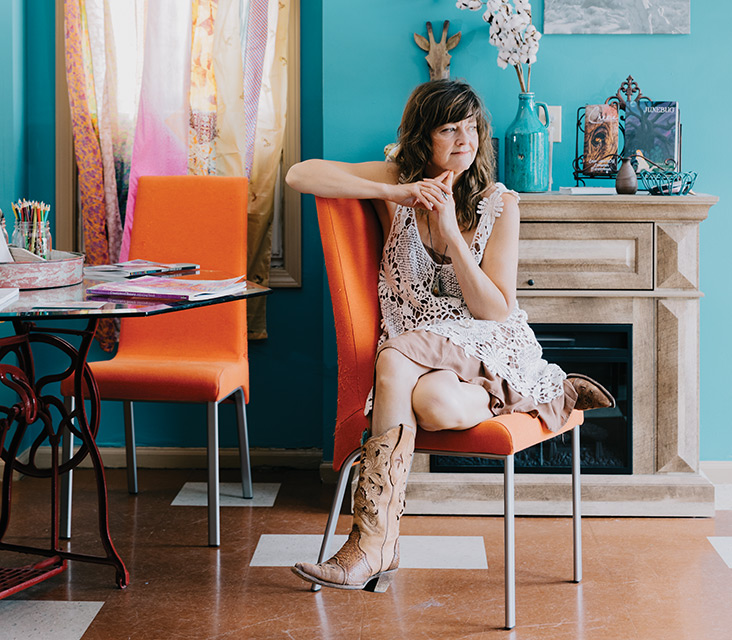 Cherie Doyen, Trauma Coach
The quaint two-story building on Santana Circle in south Columbia has been home to Cherie Doyen since 1995. While it opened as The Loft Hair Design, it's also the place Cherie authored her first book and where she currently coaches women to help them leave their PTSD behind.
"Most spaces that people come to heal are dark and clinical," says Cherie. "I wanted to use color because it activates the creative space in our brain."
Cherie chose teal, the powerful color of the sea, to adorn the walls. She also chose fabrics and textures that exude comfort. Her curtains are made from pieces of old saris, and illustrations of elephants artwork symbolize community and the strength of women.
Each table in her group space also includes coloring books and pencils. "Coloring promotes art," Cherie says, "and art is meditation in motion."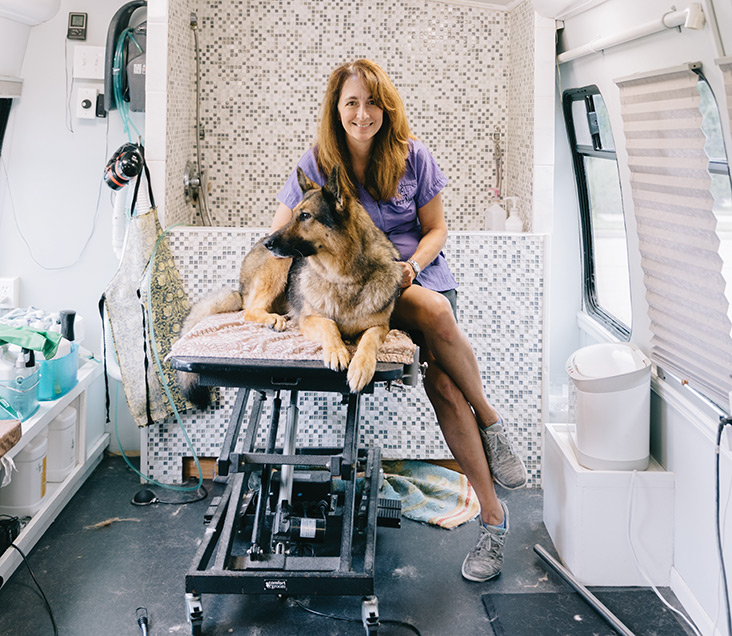 Josie Mickey, The Pet Fair
After 20 years working at her pet grooming shop, Josie Mickey wanted to expand her business with mobile grooming, but she knew most grooming vans were unattractive and felt like a closet.
"I wanted to have part of my day in a space that was quiet and completely mine," Josie says, pictured here with Gilda. "I wanted it to feel tranquil, peaceful, and beautiful."
Josie found her van online, already equipped with a generator and lots of windows. All she had to do was add plumbing and her distinctive touch.
Aaron Dolan, from Studio Home, helped bring her vision to life with the tile he picked for the tub surround, wall colors, and floor. Josie and her husband put the mechanical pieces together and added a few accessories.
"In the end, we created a one-of-a-kind grooming space," Josie says. "It's open, airy, and pretty."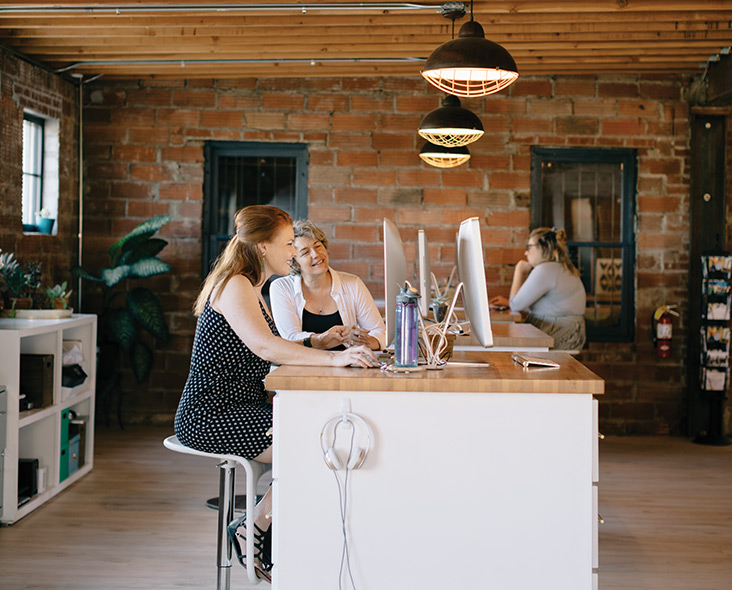 Kim Wade and Annika Miller, SilverBox Photographers
Kim Wade and Annika Miller, of SilverBox Photographers, are thrilled with their new office space on East Walnut and the opportunity to share the space with Hoot Design Co.
"We were able to afford a bigger and more versatile space than if we were on our own," says Kim. "It's a really great synchronicity."
SilverBox moved into the former home of the Root Cellar in April of this year. "The space kind of chose us," Kim says.
"Our last studio was a white box," adds Annika. "This space has so much more historic character with the wood beams and brick."
SilverBox changed the flooring, added windows, brought in white furniture, and added splashes of color to make the large room feel trendy. They also included a separate viewing area for clients.
"Our first studio was a leap of faith," Annika shares. "We call this our grown-up space."
Kristen Brown, Hoot Design Co.
Kristen Brown, owner and founder of Hoot Design Co., has shared space in the North Village Arts District with SilverBox Photographers since 2011.
First in the Berry Building, a former warehouse and grocery, Kristen got used to working with eight or more people in the same room. She is glad that designing their new digs, just a few doors down, gave them the chance to liven up their look and create some separation.
"We wanted something hip and fresh," Kristen says. "Both of us stay on top of trends and are style leaders in what we do. We wanted the space to feel modern and cool for our clients."
For Kristen, the change meant a private space outside the larger work area, a conference table for gatherings, and an electronic garage door that she can open when the weather cooperates.