photos by Tiffany Schmidt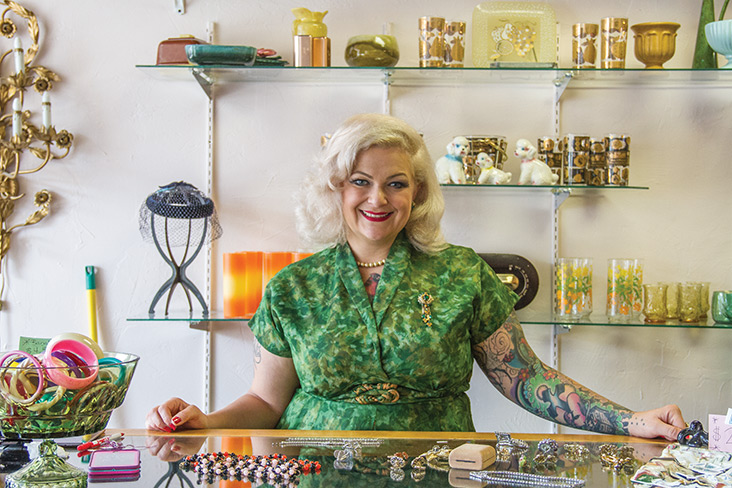 Shop owners showcase local art and clothing.
Though our own upstairs art gallery is 24 years old, we are relative newcomers among the prize-winning galleries south of Broadway.
The Columbia Art League was founded in the 1960s, and Bluestem and Poppy have been exceptional galleries for decades. All three of these purveyors of fine arts and crafts have histories of being run by women owners and directors. Diana Moxon at CAL, Liz Tucker at Poppy, and all the partners at Bluestem, like Cindy Messer, have stellar reputations for exhibiting works with quality, inventiveness, and professionalism.
But interspersed among these venerable art venues, several young women have opened new stores that offer a fresh look and a fusion of vintage design, artisan wares, and hard-to-find contemporary items.
Among these creative women are Sabrina Garcia-Rubio, Nickie Davis, and Heather Garcia, the new owner of Absolute Vintage. Heather's personal style mixes vintage and contemporary looks, and I hope to be among the first to explore her new store. Heather has recently reopened Absolute Vintage with her own format and her own vintage merchandise. A grand opening is planned for late August or early September.
Other women store owners mix art with their traditional business. For instance, you can always browse local artists' work on the walls of Main Squeeze while you're waiting for your order of organic and local food. Make sure to tell owner Leigh Lockhart which work is your favorite.
And, Makes Scents has recently moved to their new location next door to Kaldi's on South Ninth. Makes Scents is the go-to local store for essential oils and other olfactory pleasures, and owner Christina Kelley also has local art shows.
First Fridays, a nationwide trend adopted by Columbia, have made the first Friday of the month a celebration of the arts, and the galleries south of Broadway are welcoming and festive during this monthly art holiday as well. In fact, every Friday evening is an impromptu gallery crawl. Come out and enjoy it.
Come see us in The District!
Melissa Williams Fine Art
Paintings — mid-century and older
11 S. Ninth St.
Melissa Williams
Bluestem
Fine regional artisans
13 S. Ninth St.
Sandy Litecky, Cindy Messer, Ruth Walker, Laura Bullion
Poppy
Artisans and unique gifts
920 E. Broadway
Liz Tucker
Maude Vintage
Vintage clothing and costumes
88 E. Broadway
Sabrina Garcia-Rubio
Absolute Vintage
Vintage clothing
917 E. Broadway
Heather Garcia
Muse Clothing
Local clothing and jewelry
22 S. Ninth St.
Nickie Davis
Columbia Art League
Local art exhibitions
207 S. Ninth St.
Diana Moxon, Karen Shortt-Stout
Pictured: Heather Garcia of Absolute Vintage