With Fringe Boutique, the Smarrs Keep It All in the Family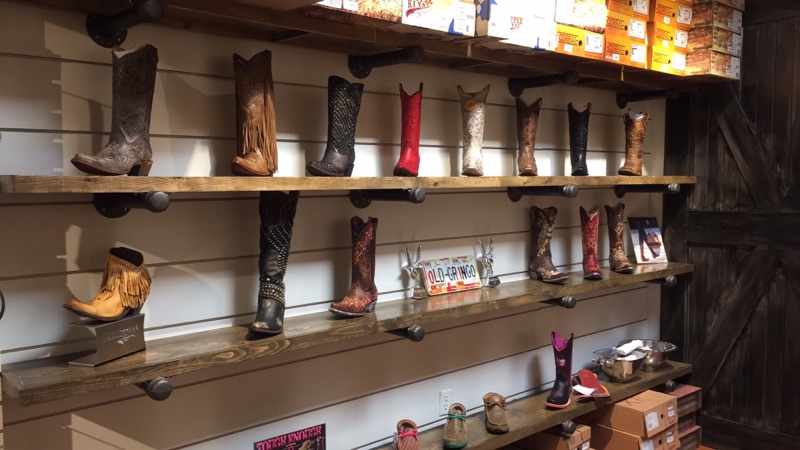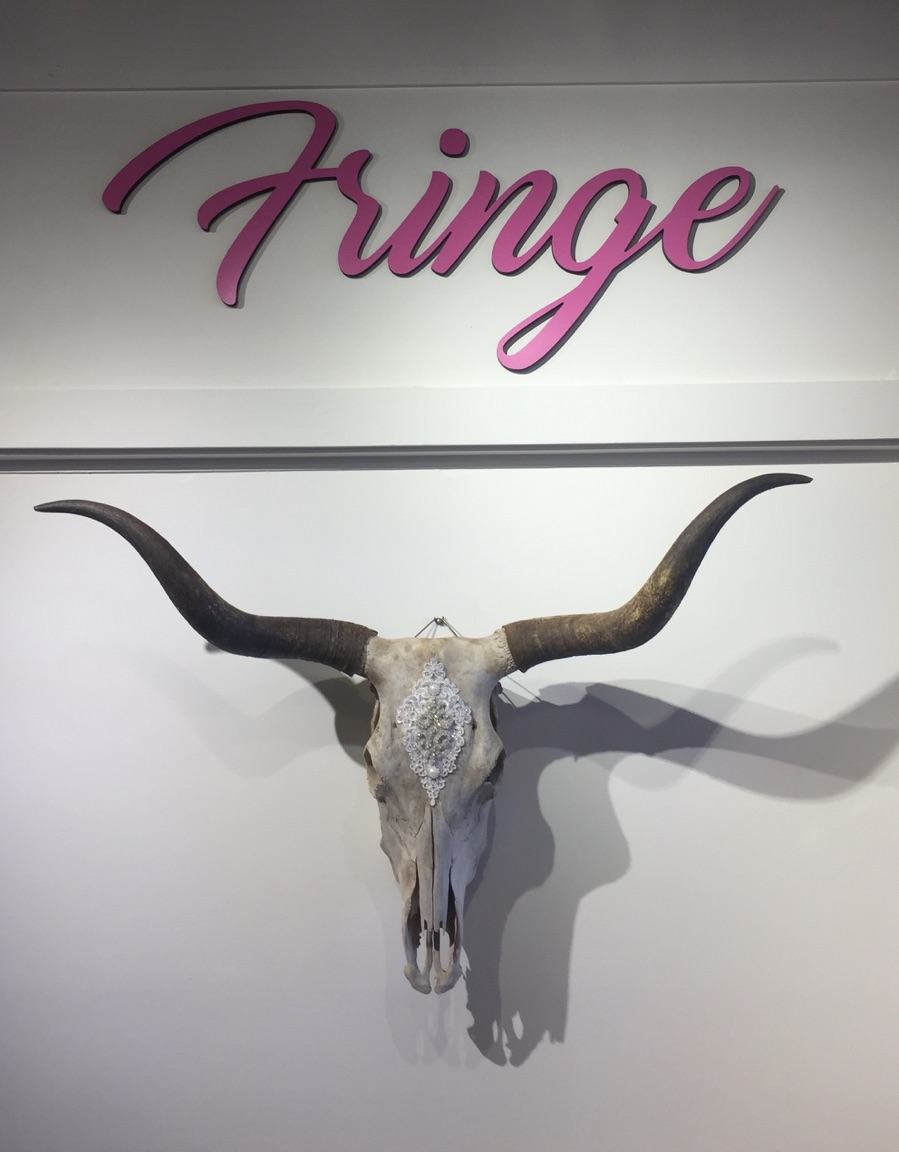 After years of working in their family's various construction companies, it was time for Charlotte Smarr and her daughters, Riley Smarr and Morgan Smarr Pingel, to do something "for the girls." When a landlord called offering them their "dream location" on Broadway, the three women jumped at the opportunity to open their own women's clothing boutique.
Fringe — filled with cowboy boots, country-chic attire, and jewelry from local artists — opened its doors to the public in mid-April.
"This was our dream location," Morgan says. "We really never thought it would come about at the right time, and somehow it came up absolutely perfectly. Here we are."
The Smarr women have always dressed "a little country," and the Western flair carries through Fringe. Top country hits play over the speaker in the store, which they've decorated complete with chandeliers, wood floors, and a warm brown-painted ceiling. Cowboy boots line an entire wall, and there are black barn doors leading to the fitting rooms — an area with comfy seats and a mini fridge of beer and wine. "We want everybody to feel welcome," Charlotte says. "We want it to feel like the setting is comfortable and we want to make you feel like you're at home here."

An Idea Turned Reality
Charlotte Smarr and her husband, Mel Smarr, have co-owned several construction and excavation-related businesses for more than 30 years. Morgan graduated in 2013 from Columbia College with a degree in business administration and a minor in marketing. She worked alongside Charlotte for 10 years, through high school and college. Riley, 20, will be a senior at Columbia College — also pursuing a business administration degree.
Morgan and Riley were tired of having to go to Kansas City or further to get a good pair of cowboy boots. The Ashland natives recognized there wasn't a store in Columbia that carried the Western-style they love, so they decided to bring it here themselves.
"We kind of wanted to get out of the construction aspect — very male-oriented workforce — so we talked for a while about what we wanted to do and we landed on a boutique," Morgan says. "We thought it would be fun, and we've always loved clothes; what girl doesn't?"
It was important for Charlotte, too, that her daughters pursue something they were really interested in, and to establish something they could keep within their family. "I wanted something to pass on to them, and it came down to 'what do you guys really want to do?'" Charlotte says. "They decided this is what they really want to do, so now they've got to throw their life's blood into it and make it work."
The women started making trips to Dallas about a year ago to "get a feel for things and check things out," Morgan says. They wanted to wait until they had a physical location before they began buying for their store. When they got the call from their landlord late last fall, they headed back to Dallas — this time with the intent to start buying clothes to fill the space on Broadway.
"It felt like our basement was about to explode with clothes," Morgan says.
After remodeling the store with new floors, paint, and shelving, Fringe was ready for Columbia just two months after the Smarrs got the keys.

From Construction to Retail
The young sisters have been able to take skills learned from working with their family's various construction companies and apply them to opening their own boutique. Morgan and Riley agree that a common thread in both industries starts with customer satisfaction. "Obviously, it's two completely different industries, but I would say our values and goals are still very similar," Morgan says. "Everything is so customer-based. In both of them, without customers, you're absolutely nowhere and this wouldn't even be possible."
Morgan says the sisters have a good sense of small business ownership through working with the Smarr's various companies. "You can buy topsoil and mulch from us, or you could go to a bigger home goods store," she says, referring to Ri-Mor Topsoil and Ri-Mor Mulch, two of the family businesses. "It's the same thing here; you can go to a factory store, big department store, shop online, or you could shop local and come here."
Over time the women have learned "word of mouth is everything," Riley says. Before Fringe opened, their Facebook page had over 1,000 followers. Many customers have visited the store saying they heard about Fringe via Facebook. "It's nice because it's free advertising," Morgan says.
It helps to have Charlotte, with more than 37 years of small business-ownership under her belt. Charlotte says "no" is not in her vocabulary when it comes to customer service. "Even in rough economies, we have worked really hard and had like seven businesses that have thrived," she says. "We want this to play out here where we want to meet everybody with a smile."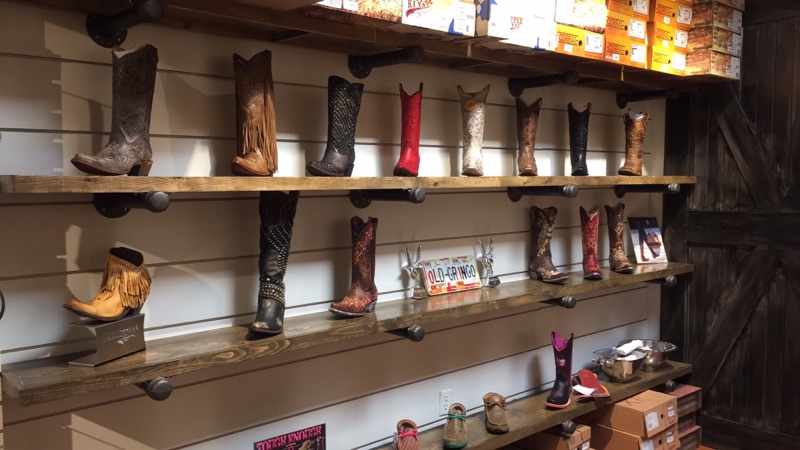 Family at Fringe
Morgan and Riley say the benefits of working with family are two-fold: honesty and trust. "I feel like sometimes business partners that aren't family fall through and it just doesn't work out, but with us being family, we might have difference of opinion, but we're family," Riley says. "We're going to get over it and it's going to be okay."
When picking out pieces for the store, the sisters try to combine their personal styles — Morgan prefers prints and Riley likes neutrals. "I think we can be brutally honest with each other, like 'Hey I don't like that piece' or 'I don't like the way that looks' and we're like okay let's move on to something else," Morgan says.
The sisters hope Fringe will be something they can pass on to their own daughters someday. The Smarr women would like to eventually expand Fringe to an online store, but for now, they are focused on "getting their footing" and establishing themselves in downtown Columbia, Riley says.
Although they know college students will be a large customer base, given Fringe's downtown location, Riley and Morgan want to reach people in the community other than students, as well. "We're hoping that since we have a little bit of different stuff here, we'll bring a new group of people downtown," Riley says.
The sister duo agree that they have created something they can both be passionate about. "I'm excited to come here because we've put passion into it," Morgan says. "It's cool to feel like something is your own."