Eclipse: Making the Most of the Experience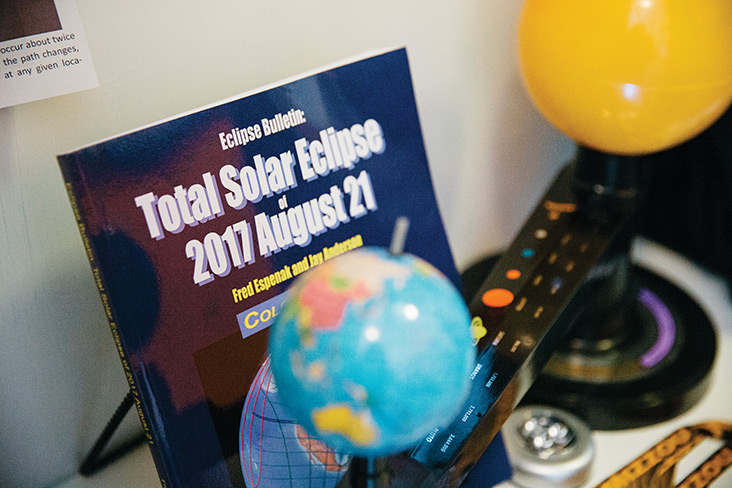 A look at the weekend's events and the best places to view.
Wednesday, August 16
Family Fun Fest: Mad About Science
6:00 to 8:00 p.m.
Cosmo Park, free
In celebration of the solar eclipse, the Family Fun Fest will delve into the scientific world. There will be entertainment for the whole family, including activities, music, hands-on learning, entertainment, face painting, foods trucks, and more.
Saturday, August 19
Kaleidospoke
7:30 to 10:30 p.m.
Meet at Flat Branch Park, ride on MKT to Twin Lakes
Get ready to glow with your bike on the MKT. This non-competitive, family friendly nighttime bike ride will take place on the illuminated trail.
Movies in the Park: "Guardians of the Galaxy"
8:30 p.m.
Cosmo Park, free
Bring a blanket and enjoy a movie on the large, inflatable screen under the stars! Concessions and food trucks available. Sponsored by KPLA 101.5, Missouri Care, and Boone Electric Community Trust.
Sunday, August 20
The Totality Run 5K and 10K
9:00 a.m.; packet pick-up and registration at 7:00 a.m.
Cosmo Park
The Totality Run will take place on a crushed limestone trail passing through wetlands, creeks, wooden boardwalks, and wooden terrain. The trail is flat with one crazy hill. The run will leave Cosmo Park at the skate park. After the run, there will be Shakespeare's pizza and beverages waiting.
The Totality Ride
Start time at 11:00 to 11:30 a.m.; packet pick-up registration at 10:30 a.m. Cosmo Park
Enjoy a fun and relaxing ride on the Bear Creek Trail. The ride is 9.6 miles on a crushed limestone trail. Riders will leave Cosmo Park and travel to Oakland Park (4.8 miles), then stop for Shakespeare's pizza and a live musical performance at the park shelter. After lunch, riders will return on the trail back to Cosmo Park. After the ride, there will be a festival awaiting with live music, beer gardens, entertainment, and fun throughout the day.
Monday, August 21
Solar Eclipse Golf Tournament
11:00 a.m.
Country Club of Missouri
This four-person scramble will include food, beverages, and snacks. Each participant will receive a commemorative golf shirt, eclipse viewing glasses, and a glow in the dark ball. Sponsored by Joe Machens Ford and hosted by the Great River Council of the Boy Scouts of America.
 Monday, August 21 Viewing Options
For the eclipse guru: Gans Creek Recreation Area
Whether you're coming from near or far, this is a good space to set up equipment in a less hectic setting than other spots in Columbia. "There will be some basic services — parking, bathrooms, some food — but we want to keep it a little more low-key for the eclipse enthusiasts," Megan McConachie, of the Convention and Visitors Bureau, says.
For a family-friendly festival scene: Cosmo Park
Cosmo's large open space is ideal for viewing the eclipse. There will be food trucks, children's activities, and live music for viewers of all ages.
For a brew while you view: Logboat Brewery
Logboat's Shipyard will offer eclipse viewers a relaxing atmosphere to watch the skies, interact with friends, and enjoy a beer.
For those south of town: Foodstock at Corporate Lake
Foodstock is a free festival celebrating the eclipse with live music, food trucks, beer tents, restaurants, local craft vendors, games, hot air balloons, a kid's area, fireworks, contests, and more. Hosted by Serve It Up CoMo from 11:00 a.m. to 8:00 p.m. in the field behind Las Margaritas.
For the crowd-avoiders: At home
"Honestly, if you can put together a street party or something like that, don't go too far from home because it's going to be nuts," Angela Speck, MU professor, suggests. "You only need to be able to see South."
On Comoeclipse.com, there's space for the community to add their own eclipse events for the public to see. "We want people to create their own eclipse experience, so anyone who's having events, please add them to our calendar," Megan says.
What is a total solar eclipse and why does it matter?
Concerned about viewing safety? MU Health Care doctor offers tips on protecting your eyes.