Artist Spotlight: Jordan Heckemeyer
by Kennedy Robinson
photo by Keith Borgmeyer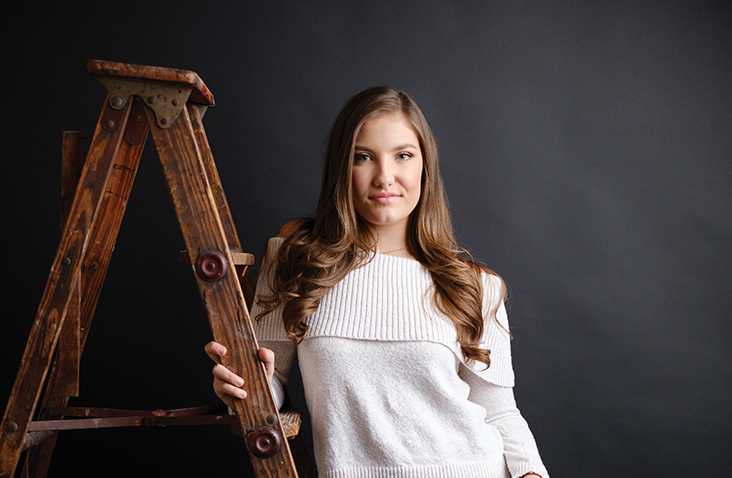 Local singer balances college courses and a career in music.
Intimate. Relaxed. And a mixed bag of everything else.
That's how singer and Mid-Missouri native Jordan Heckemeyer describes her performances, which have evolved as she's grown up. Born in Jefferson City, Jordan moved to Ashland in the fifth grade; after getting through the "awkward middle school years," as she remembers them, Jordan's singing talents began to flourish. She got involved in musical theatre, ultimately landing the lead role in many of her high school's musicals. When the singer in her dad's band quit, Jordan, at 15 years old, found herself propelled into the spotlight.
Now at age 21, Jordan is singing throughout Missouri and Tennessee. She still performs with her father's band, Shiloh, most weekends, but for her bigger gigs, she frequently utilizes a larger band and performs under her own name. During the week, you can usually catch the father-daughter duo playing an acoustic show at West Main Pizza in Jeff City.
With over 500 cover songs, ranging from Adele to Keith Urban to Justin Bieber, on the set list, Jordan prides herself on playing a variety of songs catered to her audience. Being able to ask the audience what they want to hear keeps her shows high-energy and personal. Although she's still a so-called "emerging artist," Jordan has learned that the key to being successful is trusting in her natural abilities and talents. "Music runs in the family," Jordan explains. "I used to sleep under picnic tables with a blanket and bring my own earplugs. I was raised around music and got thrust into it."
Her father, Jim, has played in a band since 1987 and has been her No. 1 motivator throughout Jordan's music journey, securing his position as "Dad-ager." But surprisingly, growing up in her small town, only her family knew she sang. As a shy girl, Jordan kept her friends in the dark about her hidden talent. She now has a steady schedule of paying gigs, but while her confidence has grown with each performance, Jordan still refuses to self-promote.
"I have a very different take on self-promotion," she says. "There are bands and musicians that will shove their performances down your throat. I'm not like that. My music is not something I like to push on people."
The only marketing tool Jordan employs is creating events on Facebook, letting people know where she'll be and when. She admires country stars like Miranda Lambert, Chris Stapleton, and Maren Morris for similarly shrugging norms in their career paths.
Currently, Jordan is living a Hannah Montana-inspired "Best of Both Worlds" lifestyle. A student by day and musician by night, Jordan is currently a junior at Lincoln University in Jefferson City; she's set to start in the nursing program next fall.
While she makes the balancing act seem easy, there have been times she's wondered whether she was overwhelming herself. "Last year, I found myself needing to choose between continuing in nursing or taking a year off," Jordan says. "Along with having the tough decision of what to do, I was struggling with the busy-ness of it. I was in school full-time and playing four times a week."
But 2016 ended up being a record year for the small-town artist. Jordan played over 140 gigs. She sang the national anthem for both the Chiefs and the Royals, and she performed in the Nash Next 2016 Showcase at The Blue Note in Columbia.
How did she find time to do it all? "Time management," she says. For Jordan, having time to study and perform takes precedence over everything else — by giving up most of her free time, including weekends with friends, she has made sacrifices most college students aren't prepared to make.
But while performing will always make her happy, Jordan says a full-time music career is not a life-or-death situation.  "Music will always be in my life," she says. "I'd love to go to other cities and do shows wherever I can. But, I'm not relying on this as a career. School will have to remain a part of my life."