Get to Know a Local Business: Scout & Nimble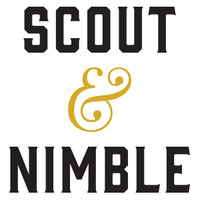 Search, click, and ship — Scout & Nimble is an online marketplace for shoppable designer rooms and home decor, a marketplace that makes shopping for your home a personal experience. The business wants to bring "exceptional designers and enthusiasts together with unique and stylish products so consumers can browse, discover, and shop fully curated rooms," a line from the company's mission statement.
Founded by Jesse and Sam Bodine in 2013, the husband–wife team works together to make designing and transforming your house to a humble abode, but with a twist.
What they do:
What started out as a blog by Jesse in 2011 evolved into a successful home decor business extended to designers, stylists, and customers around the United States. After seeing a need in the market, Jesse and Sam decided to launch Scout & Nimble as a business in 2013.
The company enlists designers from all over to create some of the shoppable rooms, eliminating the hassle of shopping around for pieces one at a time. The customer is able to access a stylist, interior designer, and store all in one with the click of the mouse.
How it works:
Essentially, you are able to look at a variety of designer portfolios and profiles, pick some of your favorite staples, and buy the products, which then ship right to your home. Because Scout and Nimble is an online marketplace, everything is customizable for the consumer. They're able to shop by room, designer portfolios, color, product, etc., all to fit their particular needs and interests.
How they've grown:
The company, since starting in 2013, has experienced consistent growth, and they've been a REDI Innovation Hub client since 2014. This year, Scout & Nimble has nearly doubled their sales from 2015. Comprised of nearly 20 creative professionals located throughout the United States, the company is able to reach a broader market with different styles and perspectives. Both Jesse and Sam have plans for expanding the business by implementing new tools and methods not only for the consumers to utilize but also for the designers to increase engagement.
How they got their name:
The name Scout & Nimble is a nod to Jesse's late grandmother, Yaya.
Yaya, a successful farmer, owned two vehicles that she would use for select transportation. One, an International Harvester Scout, was used for feeding the horses, while "Nimble," a Buick Riviera, was used for getting groceries and attending church. Jesse explained that knowing whether Scout and Nimble were in the garage affirmed that "Yaya" was home. Jesse started her blog with the ever-so-catchy name, which helped grow the business to what it is today.