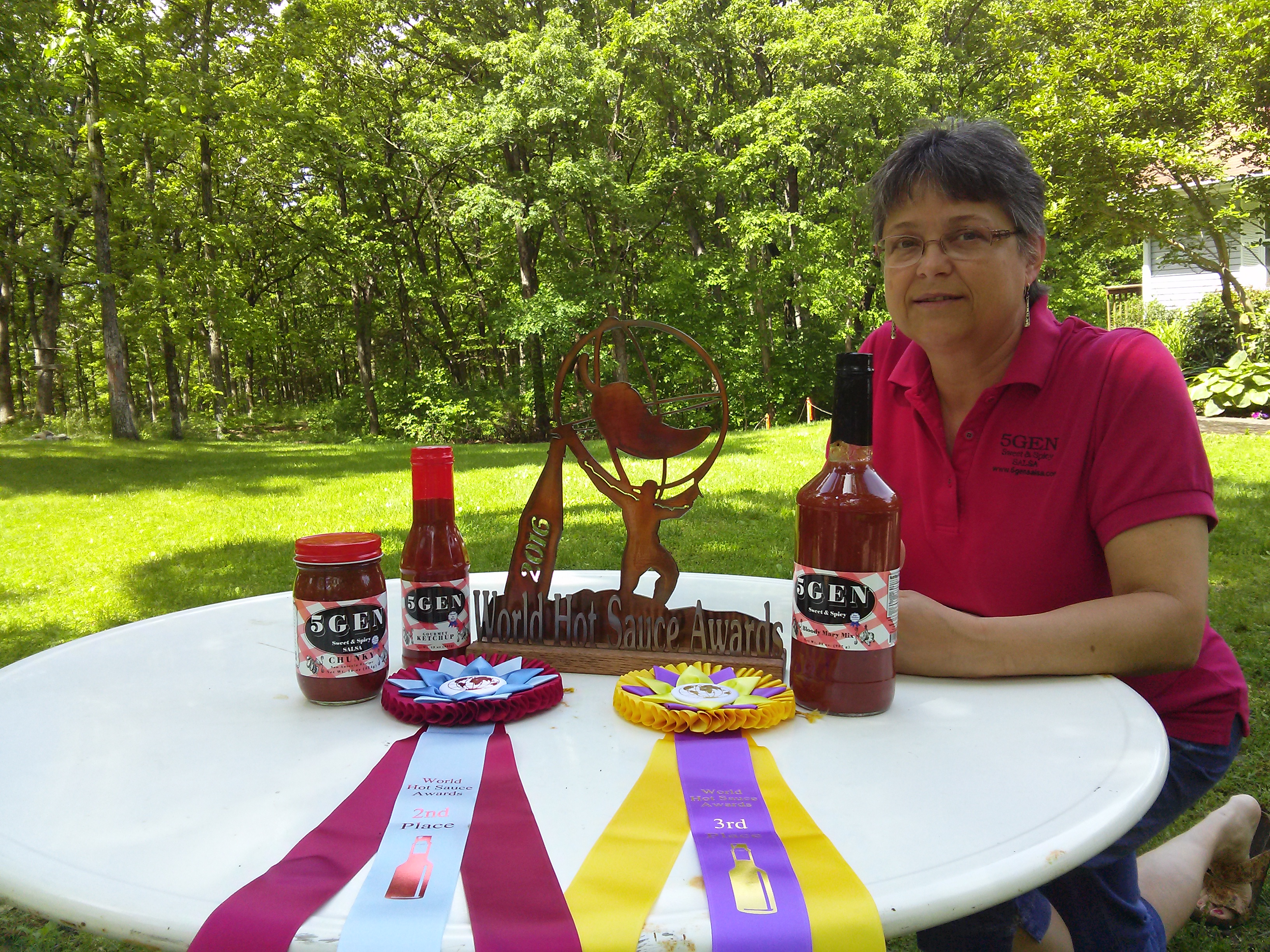 The Columbia salsa company 5Gen Salsa was recently awarded first, second, and third place awards at the 2016 World Hot Sauce Awards in Louisiana, the latest success for the small company with a family history. 5Gen's ketchup, chunky salsa, and bloody mary mix all had a chance to compete against over 1,000 entries from other states and countries. The 5Gen Gourmet Ketchup won first place in its category; the 5Gen Sweet & Spicy Salsa, Chunky, won second place; and the 5Gen Bloody Mary Mix won third place. The bloody mary mix also won a silver medal in the Bloody Mary Division of the 2016 Spirits International Presitge Awards.
5Gen owner Kimberly Ham said, "The guy that runs the Louisiana Hot Sauce Expo has been inviting me to come down to the Expo, to actually participate in that for a couple of years."
All 5Gen products share a history. "All four products are based on the one recipe." Ham said, when explaining her family's ketchup and chili sauce recipe. "They're just different consistencies. Whether there's crushed tomatoes, diced tomatoes, or tomato paste, for the Bloody Mary Mix. It's all based on the one recipe."
The recipe she refers to is the recipe that has been passed down her family for five generations, hence the name 5Gen. "My mother's mother's grandma taught her how to make it, and my grandma taught my mom how to make it, and my mom taught me," Ham said.
The salsa, ketchup, and bloody mary mix is currently distributed to eighteen locations throughout Missouri, including Hy-Vee in Columbia and Jefferson City, C & S Grocery in Harrisburg, and Schnucks in Columbia and Jefferson City. "Right now, I am just a one-man-show," Ham explained. "I'm my own distributor, so wherever the store picks it up, I have to deliver it. So I would like to get into a store in Kansas City or St. Louis, but the same time, I would have to go there to deliver it." 5Gen has made it easier to get your hands on their products by recently expanding to Fayette and Boonville at C & R Supermarkets.