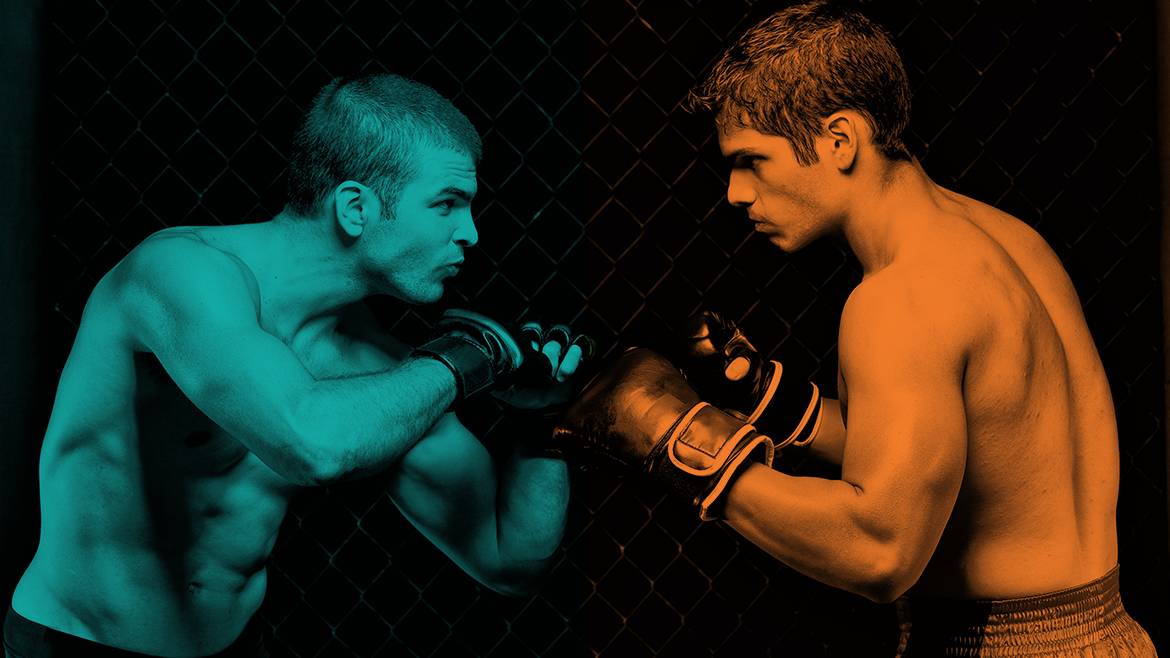 Columbia has its share of hot issues. 

Head to Head: New Development vs. Historic Preservation
How should Columbia build its future while protecting its past?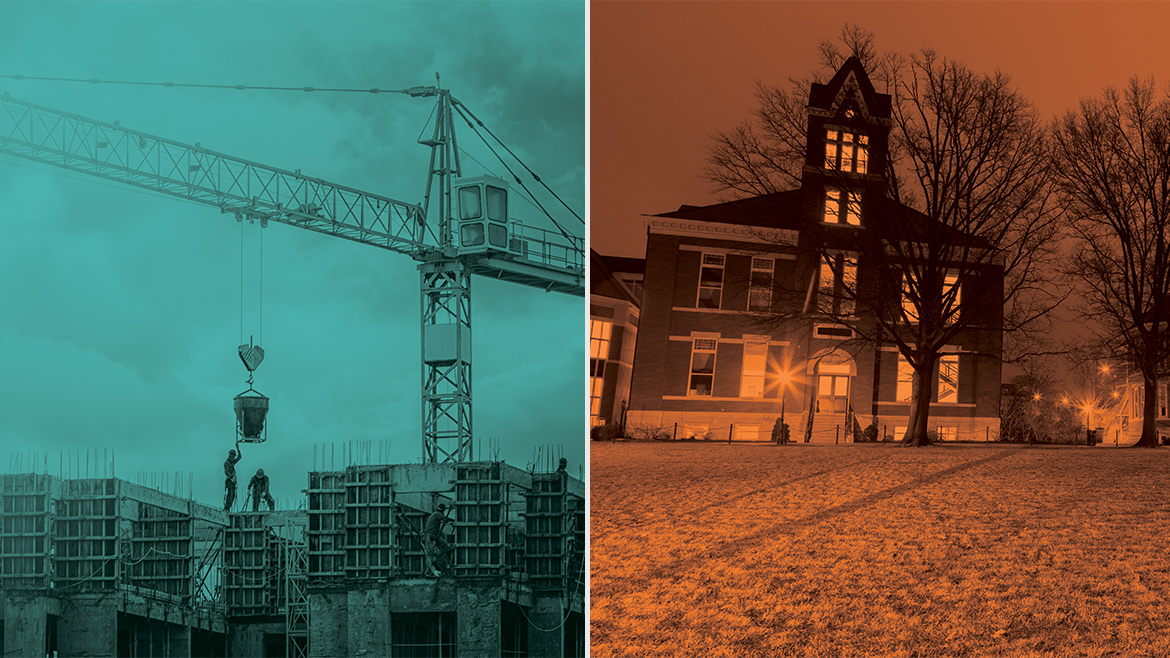 Originally, Tom Mendenhall loved development because of the dirt. Beginning in 1896, his family operated Boone Realty (now partnered with RE/MAX), and young Tom grew up playing in the dirt piles on the construction sites his family had brokered. That was in the middle of the 20th century, when Columbia was still in the process of growing out.
Now, it's growing up. Mendenhall is a player in that too. He's a part owner of the Lofts buildings on Ninth Street and on Broadway, just two of the multistory projects that have been built in Columbia over the last decade, as decades-old properties downtown have been swapped out for bigger, newer buildings.
Those buildings have mostly been apartments, putting hundreds more captive consumers in the central business district. Mendenhall points out that his Ninth Street building includes a crop of new business tenants on the ground level, including a well-performing Wal-Mart Express for grocery shopping. As development has gone up downtown, more services have moved in.
Mendenhall says, "I think that the legitimate thing that people have to realize is that Columbia is growing at two to three percent every year." If the city is growing, then development, somewhere, is unavoidable.
But there's been pushback against developing downtown. One apartment project, District Flats, led to a lawsuit being brought against the city. The May 2015 demolition of the Shakespeare's Pizza building, in favor of a multistory building with Shakespeare's on the ground level, aroused public outcry and a proposed moratorium on all demolition downtown.
"You have a certain group that are just against everything," Mendenhall says, "and you have some people that are for everything, and we've tried to make a happy medium moving forward. I think that's important, to try to make quality growth of different things."
In many cases, old buildings in Columbia are in bad shape, and some do make sense to restore — Mendenhall helped update and restore the Stephens building on Broadway that's now home to Strange Donuts, Seoul Taco, Imago Gallery, Günter Hans, and the Factory Lofts. Other times, it can be more profitable to the owner and to the community to build something new.
While large new buildings have posed a challenge for some city infrastructure, they also bring in thousands of dollars in utility revenue for the city. Thirty years ago, Mendenhall says, downtown had a vacancy problem. New development has helped the area become vibrant again; it's a short-term change for a long-term investment.
Unless Columbia stops growing, development will be a part of its future. "I think that people need to be reasonable," Mendenhall says. "I think we have a code of what we can do in Columbia."

Like Mendenhall, Robert Tucker inherited a passion from his family at a young age, watching his dad buy, renovate, and rent old shotgun houses in St. Louis. Through this, he fell in love with the art of old buildings, but also the utility of using them profitably.
Tucker is the presiding chair of the city's Historic Preservation Commission, which has come to occupy an antagonistic role in the public debate about downtown development.
"People come to us all the time, asking us to save a building," Tucker says. "That's not really what we do."
Chiefly, the HPC advises city council. They also talk with building owners about how to best preserve the history of old properties. One of Tucker's favorite responsibilities is to teach people how to maintain old design features in a responsible way, like removing lead paint from cedar siding without ruining it. When a building is scheduled for demolition, the HPC conducts documentation and salvage trips. They recently led a team of historical preservationists in saving some features of the James Condominium, which is being torn down to make space for a 10-story apartment building.
An obvious argument against putting new buildings downtown is that it requires that old ones be torn down — and Columbia doesn't have many old buildings to spare. In 1998, the HPC began awarding special designations for notable historic properties around town, originally planning to honor ten buildings per year. After 2010, they cut back to five or six. Tucker says they're running out of old places to honor.
"We don't have much inventory," he says. "We don't have many significant old buildings."
So, the argument goes, we should preserve the few we have. The HPC helped lead the public search for a new owner of the Niedermeyer building, the oldest building in downtown Columbia, after a developer submitted plans for a 13-story apartment building on the complex. The HPC also supports historic restoration development, a concept successfully executed downtown by developer John Ott.
In 2012, aided by a state grant, the HPC published an economic impact study for historic preservation in Columbia. The study estimated that $88.8 million dollars had been invested in historic preservation between 2002 and 2012, creating more than 950 jobs. Much of that investment was the result of the state's historic preservation tax credits, which offer incentives to developers to redevelop historic properties.
Not every property is restorable, or even worth restoring, but old buildings mean something to the people of Columbia. If they didn't, then the HPC wouldn't exist, and there wouldn't be any debate about the best strategy for city growth.
"The reason the HPC works is that you've got people who want to work on old structures and save the old buildings and keep them going," Tucker says. "And there's so much economic development there."
Head to Head: Online Sales Tax
Should Columbia collect revenue from online purchases?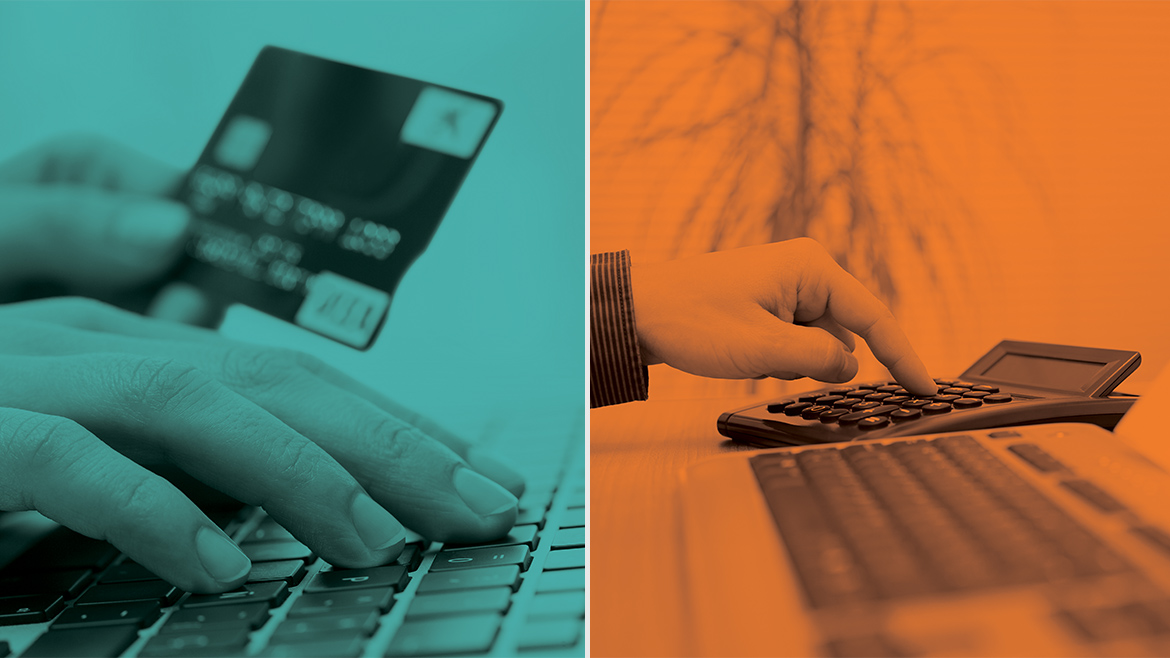 Columbia is a sales tax city. Sales taxes, at 28 percent and $23.7 million, account for the most significant fraction of the city's general fund (three times more than property taxes). The city uses them to pay employees, including police and firefighters, and maintain operations. Sales taxes have also been an important bargaining chip in development incentives, like transportation development districts and community improvement districts. The city has said that it likes to lean heavily on sales tax to keep property tax low, which gives property tax increases, such as the one recently passed by Columbia Public Schools, an easier chance to win with voters.
But the 21st century has highlighted a few vulnerabilities in this system. First, sales taxes are more wounded by economic slumps, like the recession from 2007 to 2009. Second, sales taxes can be easily avoided in Missouri by shopping online.
Currently, the state of Missouri can't collect sales tax from any business without a physical location in the state. A study from the Truman School of Public Affairs, at MU, estimated that Missouri lost $2.3 billion in sales taxes to online purchases between 2001 and 2009, or about $467.9 million per year.
Deputy City Manager Tony St. Romaine says staffing emergency personnel, particularly police officers, is a concern for the city. But, he says, "we can't hire more officers without funds." Proposition 1, a property tax increase rejected by voters in 2014, would have brought in $6 million dollars to hire 40 police officers and 15 firefighters. The city estimates they lose about $10 million in revenue per year to online purchases.
The city is lobbying for public support of the Federal Marketplace Fairness Act, a bill in the House of Representatives that would require all remote retailers to collect sales tax, even in states where the retailer doesn't have a physical location. St. Romaine says that the city's talks with federal legislators have been productive, and the public reception has been positive.
"There hasn't been any negativity I've experienced locally," St. Romaine says, "for businesses or consumers."
Federal legislation would give brick-and-mortar retailers more equal footing with their online counterparts. Currently, states can elect to participate in the Streamlined Sales Tax Agreement, a cooperative effort that makes it easier for states to collect sales taxes from willing online retailers. Missouri is not currently one of the participating states, and collection still wouldn't be mandatory. The FMFA would mandate sales tax collection for all online retailers, allowing the city to begin collecting revenue and brick-and-mortar businesses to have a more equal system of taxation.
If it's not passed, the city fears that Columbia's economy won't grow as fast as its population.
"What else can you do?" St. Romaine says. "I think the only other thing that you can do is reallocate resources."

If the Federal Marketplace Fairness Act is passed, it will effectively override a Supreme Court decision. In Quill Corporation v. North Dakota, a 1992 case involving an office supply company whose customers used computer software to order products, the Court ruled that businesses without a significant physical presence in a state cannot be required to collect taxes. Amazon successfully used this precedent for more than a decade to avoid tax for its sales, until mounting political pressure forced the company to make collection agreements with a handful of states.
At the heart of that decision was the commerce clause of the Constitution, which some have argued limits states' abilities to discriminate against interstate commerce. Requiring interstate retailers, no matter how small, to collect and then report taxes on every purchase made would place an unconstitutional burden on those retailers.
This argument has carried less weight as the scope of interstate sales has grown — at the time of the Quill decision, the court was mostly concerned with mail-order purchases, which accounted for $180 billion in the U.S.; online sales now total a few trillion dollars.
But there's another angle to the expansion of online retail: now almost any business can make an online sale, and most businesses don't have the resources that Amazon has. Would accounting and collecting sales taxes be too big of a demand for a small business potentially making sales in an array of different tax jurisdictions?
The FMFA partially takes this into account — retailers with less than $1 million in annual sales are exempt — but the fragility of online companies still poses some questions. An article published in Total Retail, a trade publication, says: "Small online businesses believe [the FMFA] would cripple their businesses. They argue that the Internet is an incubator for startup companies and enables small businesses to access a national market for their goods and services." That article was published in 2012, in response to an earlier version of the bill with an exemption limit of $500,000.
St. Romaine says he's heard principle-based arguments about the Internet in general: that the government shouldn't legislate any of it. Any regulation of online activity would pose a threat to the Internet's value as a free and open exchange of information. Even mild regulation put in place today could lower the threshold for more oppressive laws at some point in the future.
Online shopping won't fade from the economic landscape in the foreseeable future, and it doesn't seem likely that questions about sales tax will go unanswered much longer. In a city like Columbia — reliant on sales tax with a young population that does a lot of online shopping — the questions only become more important.
Head to Head: School Attendance Areas
Which students should go to which schools?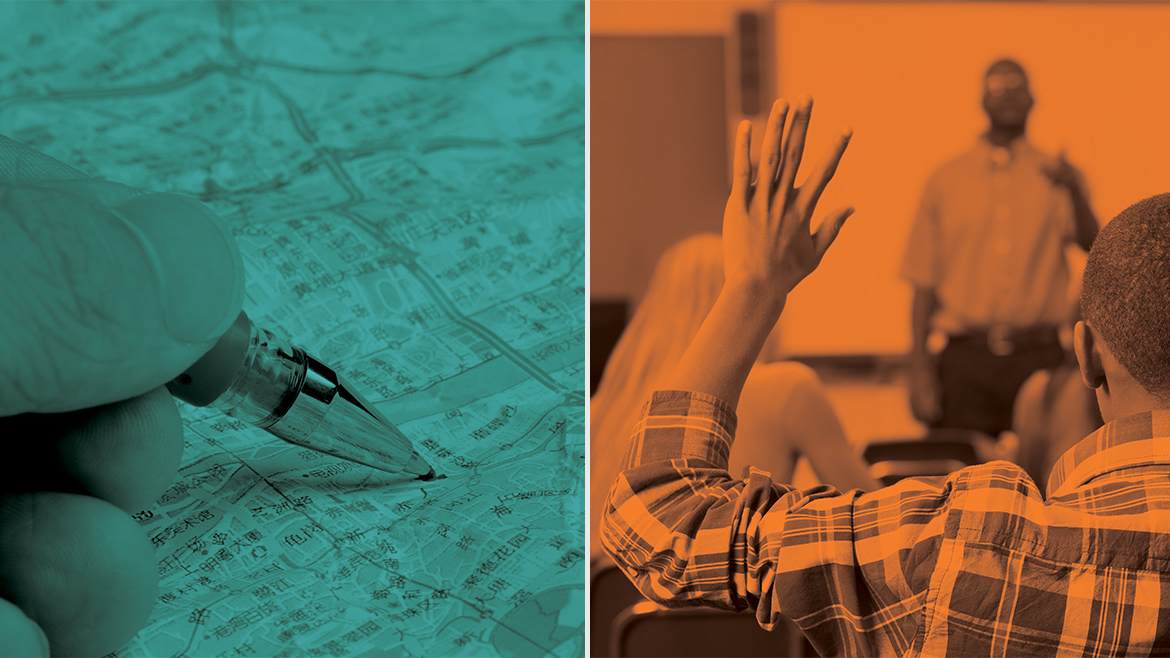 If only Columbia grew in perfect, socioeconomically balanced squares. Attendance areas would be so easy to draw. If only.
Instead, the process is complicated. Balancing demographics with geography, while also steadying building-to-student ratios and constructing new schools, poses a constant challenge for the school district and the parents of its students.
Paul Moessner, a reverend and pastor at St. Andrew's Lutheran Church, is a veteran member of the Columbia Public Schools Enrollment Study Committee, the citizen group responsible for making recommendations about attendance areas to the school board.
"I like geography, and I also like the opportunity to be involved in something so significant for the community," Moessner says. "Public schools are the foundation of our society."
An extension of that logic suggests that an unsound public school system can also contribute to society's problems, including economic inequality. Neighborhood-based attendance areas tend to be comprised of students with similar economic backgrounds; these schools also tend to drive property values up or down in their attendance area, which reinforces or widens the wealth gap.
"It becomes pretty apparent that when attendance areas are defined, protection of privilege becomes pretty important," Moessner says. There's not even anything necessarily malevolent about this — parents just want their kids to attend the schools closest to their homes, which Moessner says is only natural. Many parents have idyllic visions of their kids walking to their neighborhood schools every day. That becomes difficult when their school is a few miles away, across busy roads.
Attendance areas carry an inherent tension between geography and social engineering. These two factors shape the attendance map, which is made up of bunched and asymmetric shapes, particularly in the middle of the city.  The attendance areas of Russell, Grant, Fairview, Paxton Keeley, Mill Creek, and Rock Bridge elementary schools were realigned, amid public debate, in 2015, to anticipate the opening of Beulah Ralph Elementary in southwest Columbia. The school board worked with the enrollment study committee and a consultant, RSP, to draw new lines. The process emphasized diversity but also simplicity — for example, the new lines eliminated "Russell Island," a spot of Russell territory that was completely surrounded by Paxton Keeley's attendance area.
And the schools did become more socioeconomically balanced. In the 2015 school year, the average percentage of students qualified for free or reduced lunch at the six schools was 30. Five of the six moved their percentage closer to the average (Fairview's stayed the same, at 32), and Beulah Ralph opened at 28 percent.
But was it enough? Or does the district need another comprehensive redraw to even the balance between schools?
Moessner, playing the role of teacher, gives the current attendance area boundaries a C-plus grade. "I'm not going to say 'absolutely [redraw the boundaries],'" he says. "Is it the best it could be? I don't think so."

The most fundamental goal of attendance areas is to make sure schools aren't overcrowded. The district has had trouble with this. By 2010, while coping with a budget crisis and increasing enrollment, the district had deployed 164 classroom trailers to alleviate crowded schools. In 2013, the district was forced to redraw the boundaries for Mill Creek Elementary after enrollment there swelled to more than 100 students past capacity.
School Board Vice President Jonathan Sessions says that situation was an example of attendance areas gone bad: negotiations with the Mill Creek PTA had been hostile at times, and the new boundary was more of a temporary stopgap — until Beulah Ralph could open and absorb some students — than a permanent solution.
Growing up in Columbia, Sessions lived in "Russell Island." Every school day, he drove past Paxton Keeley to get to Russell. Early in his first term on the board (he was elected in 2010), CPS established a comprehensive 10-year plan to deal with overcrowding and attendance area issues. Armed with comprehensive enrollment projections from consultant RSP, the board mapped out a series of bond issues, budget strategies, and improvement projects to build new schools, eliminate trailers, and establish durable attendance areas.
"When we're at a place where we're not overcrowded, our attendance areas won't change as much," Sessions says. "That's really the goal here. But no matter what your real estate agent says, there's always a chance that the attendance areas might change. If you buy a house and there's a school being built near you, you should expect an attendance area change."
The tax levy and bond issue approved by voters last month was the latest installment in the district's 10-year plan. The $30 million bond will be used for a handful of elementary school additions and a new middle school; by 2018, the district plans on having 61 trailers in use, 103 less than in 2010. By 2022, Sessions says, overcrowding will hopefully be a solved issue. Until then, attendance areas may fluctuate.
Which isn't to say that diversity isn't a factor in drawing new attendance areas. Sessions says, "We want our attendance areas to be as representative of the community as possible."
But the operative term there is "possible." Creating perfectly representative attendance areas would have consequences. Parents would protest. Students would have to be shuttled all over town, something that Moessner says isn't practical or desirable. The "neighborhood school" ethos, and the community that an elementary school builds, would cease to exist. Existing property values would become less relevant, for better or worse. These are delicate sacrifices to make, especially under the constant pressure of overcrowding in a growing school district.
The problems at stake are more than lines on a map. "This is people's lives," Sessions says. "These are people's children. These are future versions of adults, and we want to give them every chance to be successful."