2016's 20 Under 40: Kelsey Meyer, Influence & Co.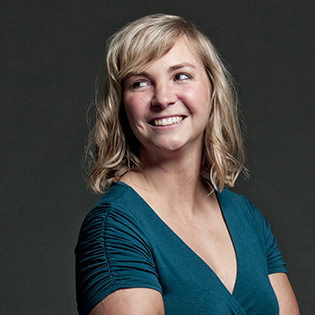 20 Under 40
Kelsey Meyer
Co-Founder and President, Influence & Co.
Age: 27
Job description:
As the president and cofounder of Influence & Co., I manage all of the day-to-day operations for our more than 100-person team (including full-time, part-time and contracted employees). My average day ranges from helping solve client issues, to doing financial productions, to taking a sales call or two, to working on professional development with team members or researching new product or service lines. I am most fulfilled in my role when I am helping our team grow and improve in their roles.
Hometown:
St. Louis.
Years lived in Columbia:
Nine years.
Education:
Bachelor's in business, with an emphasis in marketing.
Professional background:
Prior to founding Influence & Co., I had started a small marketing company while attending Mizzou, and I helped get the Museao co-working space and event venue, and I got the entrepreneurial organization The League of Innovators off the ground.
Personal mentor:
My dad, Jerry Meyer, has run a real estate company for more than 20 years. I have learned so much from him on how to treat your team well and truly care about those you work with. I have so much respect for my dad, and he has set such a wonderful example for me of doing business the right way by always treating people with respect.
Professional mentor:
I've had many amazing mentors over the years, but Greg Bier, the director of the entrepreneurship alliance on MU's campus, has been my biggest advocate and most valuable mentor. He has been supportive of me since my freshman year at MU. From providing a scholarship and acceptance into the Flegal Academy of Entrepreneurs, to helping me win seed money for my first company on campus, to helping us recruit and find amazing talent for Influence & Co, he's always been supportive and given wonderful advice.
What don't people know about your job?
People don't know that while we have offices in Columbia, St. Louis and Kansas City, most of our clients live in New York, San Francisco, and L.A. I spend a lot of time on Google hangouts, Skype, and in email, interacting with people all over the country!
What is the best thing about your job?
My team. I feel so lucky to work with people who I genuinely enjoy being around every day. I consider my teammates some of my best friends, and I am incredibly impressed by the talent, drive and work ethic we have on our team.
A favorite recent project?
We recently started working with the 11-year-old son of one of our clients and wanted to publish articles about growing up with entrepreneurial parents. It's definitely out of the norm for us, but he is an amazing young man, and we were honored to help get him published in Entrepreneur magazine.
What was your New Year's resolution in 2015? Did you accomplish it?
My New Year's resolution was to not injure myself any further! In November 2014, I had surgery on my neck, then I fell the day I got home from the hospital and broke, sprained, and dislocated the arch of my foot. I was out of commission for a few weeks after the surgery, and my team was amazingly supportive in taking over my work and bringing me cookies and flowers. My goal for 2015 has been to remain healthy, but unfortunately I had an issue on my knee scooter and chipped my tooth, and then I was in a car accident and injured my neck again. I'll be making the same "no injury please!" resolution for 2016! Wish me luck.
What are your specific professional goals for 2016?
2016 is going to be an exciting year for Influence & Co. My professional goals include:
Work on training and development for the individuals in leadership roles in our company. We have a lot of individuals who are in their first leadership role and who we can help improve in their ability to motivate, lead, and support their teams.
Focus on our technology to improve efficiency and create better results from our work with clients. We've created a proprietary software that allows a streamlined interaction with clients in creating and publishing their content. In 2016, I want to put even more focus on technology and its impact on our company.
What about your day do you look forward to most? What motivates you?
My favorite part of every day is when I get to collaborate and interact with individuals on my team. I'm motivated by seeing people develop professionally, and by seeing the gratification our team gets when we do something amazing for a client. We recently received an email from a client telling us that she was able to secure $1 million in funding for her company as a result of an article we helped her publish. That was incredibly motivating for our team, but what was more motivating to me personally was seeing the reaction of the individuals who worked most closely on that account, and how proud they were of what they had helped her accomplish.
If you weren't doing this, what would you be doing?
Hopefully I'd be running a different company. I've known that I love starting businesses since age 5, when I would "borrow" my neighbors' rocks, paint them and sell them back to them. Then at age 9, I started our first neighborhood newsletter, charged 50 cents for a copy, and gave the proceeds to the Leukemia Society. I've been starting little businesses from such a young age, I can't really imagine doing anything different.
Community involvement:
I am the vice president of the board for Voluntary Action Center. I've been involved in VAC for about two years now, and I am honored to be part of such a wonderful organization. VAC's mission is to help bridge the gap between crisis and stability for individuals and families in Boone County, and I'm consistently impressed with Nick Foster, the executive director, and all of the staff at VAC for how hard they work to bring this mission to life.
I'm also involved in the Alumni Mentor Program with the MU Business School. I was the original organizer for Startup Weekend Columbia, and I've been on the organizing committee for every event we've hosted over the last 5 years. I give my time to speak to classes in Mizzou's business school every semester and have volunteered to be on different panels and workshops to help students learn about entrepreneurship as a viable career option.
Accomplishment you're most proud of?
Building a work environment where people genuinely enjoy coming to work each day. When I see my team members posting photos to Facebook with the hashtag #LoveMyJob or #ICOFamily and talking about how much they love working here, it makes me feel very proud and accomplished that we've created not only a company that is profitable, growing, and helping clients accomplish their goals, but also an environment where people can love their work and enjoy going to work each day.
What do you do for fun?
I golf a lot. I've played golf since age 2 and played for Mizzou in college. My dad taught all of us kids at a very young age, so I've grown up with golf as something we all play together as a family, and I love it.
What is your guilty pleasure?
I have a weird obsession with orange foods, mainly orange Gatorade and Cheetos.
Greatest lesson learned?
The greatest lesson that I've learned is that confidence is key to success. When we started Influence & Co., I was 22, one day out of college and had very little real-world experience under my belt. I lacked confidence, and that didn't help anything. Once I realized that age didn't matter and that results did, I was able to be confident by showcasing the results we had with clients, and that gave me a huge boost in confidence. I still struggle with this from time to time and have to force myself to get out of my own head and stop second-guessing myself. Then I can find the confidence that many others have had in me.
Want more 2016 20 Under 40? Check out Matt McCormick's Q&A.